117 Reviews
Recommended by 100% of couples
Quality of service

5 out of 5 rating

Average response time

5 out of 5 rating

Professionalism

5 out of 5 rating

Value

5 out of 5 rating

Flexibility

5 out of 5 rating
46 User photos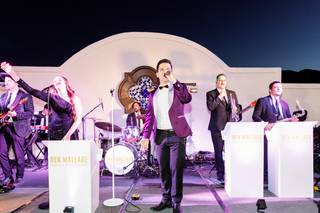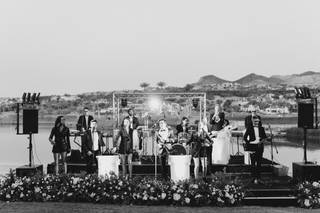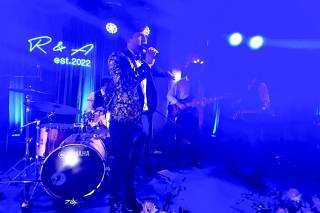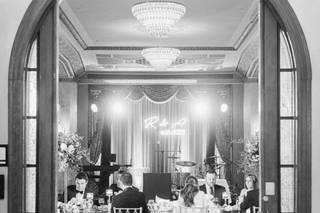 + 42

photos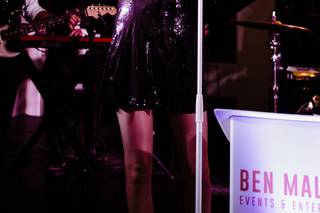 Featured

Shah A.

Married on 05/21/2022

An Unforgettable Night

Having a memorable band was the #1 priority for us when we set about planning our wedding. Ben Mallare, Chance, and their band provided an absolutely amazing experience. Communication was super quick and easy, and they were very clear about the options available for how small or large of a band we wanted on our wedding day. We opted for Chance and a 10+ piece for the reception, and a smaller group for the ceremony.

They were absolutely the best band I've ever experienced at a wedding - from the emotional songs during the ceremony to the high-energy conclusion for the reception, every song hit the spot. They learned the song we wanted for our first dance, and it was magical. The energy was perfect all night. Some of the older guests came up to us the next morning and told us the music and dancing made them feel like they were in their 20s again!

If incredible live music is important to you for your special day, I can't more highly recommend Ben Mallare Entertainment. Thanks for making our wedding night so magical!

Kevin H.

Married on 11/19/2022

Outstanding Wedding Band!

We loved having the Ben Mallare Band at our wedding and would highly recommend them! We hired them for our wedding in Palm Dessert in November 2022 (8 piece band for a five hour reception and 2 musicians for ceremony/cocktail hour) and everything about the experience was outstanding.
They were extremely responsive and easy to work with throughout the planning process, and were very flexible to accommodate special requests. Day of, the musicians and vocalists were extremely talented and professional, and brought great energy and stage presence throughout the day. Our guests absolutely loved the band and were dancing all night long, with a number of guests telling us this was the best wedding band they had ever seen.

Anonymous

Married on 08/07/2022

AMAZING! Truly, amazing.

Run, do not walk, to book Ben Mallare and the Complete All-Stars featuring Chance. We had the absolute joy of working with Ben Mallare and his team for our wedding in August, and it was the best decision we made. Having a fantastic wedding band was a top priority for us--we love live music and can be pretty picky, and we wanted the dance floor to be packed. We were absolutely blown away, and so were our guests. They are the best wedding band we have ever heard, and many of our guests came up to us during and after the wedding to say as much! We were so impressed with not only their musical talent—vocal and instrumental—but also the energy and presence they brought to their performance. We so appreciate how professional everyone was, and how seamless it was to work with Ben and Andy in the planning process—they were both so responsive and helpful. Our only regret is that it all flew by so fast—we could have stayed on that dance floor until daylight the next day. They are SUCH a talented group. 

Are you interested?

Send a message

Mark S.

Married on 06/25/2022

The Best Wedding Band of All Time

The number one priority my bride and I wanted for our wedding was for a night full of dancing--not people begrudgingly on their feet, but truly having the best time on the dance floor. Ben Mallare absolutely delivered that for us. Since getting back from our honeymoon, the first thing people say to us is "that band you had was the best wedding band we've ever seen". If you are reading this review, don't waste another minute--book Ben Mallare--you'll be so glad you did.

PS--they even learned a house/electronic song for us by request--they can truly do it all.

Jason N.

Married on 05/29/2022

Incredible Wedding Band - Highly Recommend!

This band is fantastic. We were lucky enough to have Chance and Samantha perform, and they were absolutely incredible. We're still getting compliments a month+ after our wedding about the two of them and the band overall.

Our wedding was in Carmel, CA, where top-notch bands are few and far between, but we were determined to find a great one, believing the right entertainment can make or break the night. We interviewed a few LA-based bands and ultimately settled on Ben Mallare, as they seemed the most in line with what we were planning -- a high-energy, high-quality, party-inducing band for us, friends, and family to have the night of our lives. Ben Mallare did not let us down and, in fact, exceeded our already high expectations.

They performed acoustic music for our ceremony, recorded for our cocktail hour, and live vocals/full band for our reception. All segments were perfect. Additionally, they were incredibly professional and responsive throughout our planning process. We would recommend them without reservation for anyone looking to plan the wedding of their dreams.

Thank you, Ben, Andy, Chance, Samantha, and team!

Jonah B.

Married on 05/29/2022

Amazing band, great people!

The Ben Mallare band was absolutely incredible. Our guests were raving all night about their energy, talent, and amazingly wide range of music. Through all of our research leading up to their choosing, we found them to be the most well rounded and talented group of musicians in the wedding band circuit (you'll find that a lot of the other bands sound very generic). The price point wasn't nearly as outrageous as some other highly recommended bands — we also found them to be much more talented than some bands that were charging twice as much. They were very receptive to us guiding them through what kind of music we wanted played. They have an extensive song list, and we were able to make some special requests that made our night truly memorable. Our event also had an interesting and unorthodox flow, but the band was flexible and made everything happen without us having to worry at all. They're not just your typical wedding band, but a wonderful group of talented musicians — we absolutely recommend them to everyone!

Ricky L.

Married on 05/28/2022

TERRIFIC band; They made our wedding super special

The Ben Mallare Band took our wedding to the next level. They were fun and professional. Very easy to work with and of course sounded GREAT! They played songs from a wide variety of genres, made every transition in the wedding program seamless and 'read the room' perfectly for just the right amount of energy to bring. I had so many of my guests tell me how much they enjoyed the band's performance.

We knew we wanted to have a live band to celebrate our long, long awaited wedding celebration. I reviewed 50+ LA bands' videos before I found them and ecstatic when we were able to book them. They have that full-band sound, and their performance was tight. Would highly recommend booking them for ANY event.

Jack N.

Married on 05/13/2022

10/10 Band! Would Book Again!

We booked the Ben Mallare Band for our wedding. Holy Moly, they were absolutely amazing.
First, the process was incredibly smooth from start to finish. They provided detailed guides and questions to help ensure your event goes off without a hitch. We also met (virtually) leading up to the event to make sure that we had every detail ironed out. Overall, the planning was wonderful.

More importantly!!! The music was amazing! The band had a lot of energy, great songs, they really knew how to play to the crowd and keep everyone on their feet and having a good time. They were just phenomenal and extremely talented. I cannot recommend them enough!

We literally got so many compliments on how good the band was from our guests.

Brittany M.

Married on 05/01/2022

Incredible energy, amazing vibes!

We booked a band with Ben Mallare for our wedding and they did NOT disappoint! Andy Robbins was our coordinator, and he was extremely thorough and organized with everything. The band itself was AWESOME! We went with two vocalists, 2 horns, piano, guitar and bass. The energy was incredible. They had their own lighting. The singers sounded fantastic. We were able to request up to 4 songs for them to learn. This band was amazing and had our guests boogying all night. Highly highly recommend!

Morgan

Married on 04/30/2022

Best Band!

The Ben Mallare band was incredible!! They played at our wedding in Calistoga and were truly amazing! So many of our guests commented on the band after the wedding saying they were the best wedding band they have ever seen! Highly recommend!!

Arnold F.

Married on 04/10/2022

Simply the best in north america

"WHERE did you find this band?!", "this is by far the best wedding band I've ever heard", and "this band is so fun!" are a few of the many quotes we heard throughout our wedding night and the days since. The entire time, we were (and still are) so proud to share the Ben Mallare name and are so thrilled we could share our day with the All-Stars Band feat. Chance. Our wedding reception and the dance floor was really a highlight of our entire wedding weekend, and the band was world-class.

We could go on and on about how much fun the dance floor was, how engaging the band was with weddinggoers, how great the music was, etc., but you should take all of that as an absolute given. Ben Mallare's All Stars Band brings together truly talented, hard working and fun musicians, the perfect recipe for success. The rest of our review will go more into how easy and reliable the Ben Mallare team was to work with - really one of the most important parts for couples and planners to pull off a big and complex production with little stress.

We came across Ben Mallare Events & Entertainment by pure luck and chance early in 2021 after our engagement. We knew music was going to be a very important part of our wedding weekend and we wanted the absolute best of the best. We searched up and down the entire west of Canada and the west coast of the U.S. for the most impressive wedding band we could find, and landed on Ben Mallare. We got to know Ben and his team as part of the onboarding / planning process, and have only the nicest things to say.

Our wedding was in Banff, Alberta, Canada and we had a feeling the location could be a bit of a challenge for any band - but nope(!). The Ben Mallare team took care of everything, from travel, to lodging, to equipment, to sound, to production. For us, bringing in Ben Mallare and the All-Stars Band feat. Chance was literally as easy as going with a local band. We were so impressed with their execution and ease, and we had literally zero stress throughout the entire process.

In addition to travel, the Ben Mallare team worked very well with our planner and producer, Lynn Fletcher Weddings. We had a very complex schedule, from ceremony, to cocktail hour, to reception with many minute-by-minute details worked out in advance. Everyone worked together so well, it was a very impressive sight to behold watching the symphony of vendors come together to pull off a magical weekend at the Banff Springs Hotel. The Ben Mallare team was a huge part of our weekend and contributed immensely to its success and our enjoyment (a personal THANK YOU to each and every one of the musicians and techs who came up, we loved having you(!)).

We can't wait to look back at our wedding photos, videos and think about all the happy memories we had on our wedding weekend. We will always smile and chuckle at the huge coup we all pulled off (with Ben Mallare's help, of course) having such an incredible band come up to party with us at the Banff Springs Hotel. We also know that many of our guests will have that same memory, and we have only the highest recommendation for everything Ben Mallare.

Suzanne W.

Married on 10/30/2021

Perfection Personified

Planning a destination wedding is challenging...especially when the first time around had to be rescheduled b/c of Covid. And although we were familiar with all the great bands where we live, we could only go off of online reviews when looking for a band in California. So even though reviews were all amazing, and the website is amazing, we were so nervous still b/c a band can make or break a party. To say we were beyond impressed would be an understatement. From the instrumentals for the ceremony, to the dinner music, then on to the "main" event of dancing, EVERYTHING was so perfect. There was not one thing I would have had them do differently. And they were seamless in their setup, etc. All of our crowd loved the band so much and couldn't stop talking about them and asking who they were! This band had everyone on the floor dancing and each song was so perfect! If you have questions about a band, look no further. The communication was brilliant, consistent and timely. There isn't anything they did that wasn't total perfection. They were the highlight of the wedding. Thank you Ben Mallare and team!!!

Ashley J.

Married on 10/02/2021

Oh what a night!!

Ben & team's performance was so far beyond anything we could have imagined! So many of our family members and friends who rarely dance at weddings could not resist joining the party on the dance floor (there was even a mid-dinner dance party because the music was so good and guests couldn't wait until dancing officially begun!!). The energy the band brought to the event made the night *SO* unforgettable, and I get chills thinking about our entrance. In the 2 days since our wedding, we have gotten nonstop compliments about how incredible the band was.

On a practical note, we are particularly grateful for the band's responsiveness and flexibility. Due to COVID 19, and then California wildfires, we postponed our wedding 3x and changed venues; Ben and his team were enthusiastic in meeting these new circumstances. His professionalism put us at ease and we particularly appreciated his willingness to learn a few songs that were special to us (and bring in a vocalist fluent in Spanish for my husband and his mother's first dance).

Catie B.

Married on 09/18/2021

Best band ever!

EASIEST DECISION EVER!! When booking our vendors, the band was the most important to us. We did so much research before booking Ben Mallare. We must have listened to every video of the band and all the different options they offer and we were sold right away! They offer so many different packages so it was super easy to customize to fit within our budget. Communication was a breeze with them! Every question I had they were quick to respond and I was able to customize the proposal as we went. We booked the Signature band with male+female vocals and they were PERFECT!

Day of they were so professional and most importantly of all, they were FUN!! My family was dancing all night and my family is not a dancing family so this was huge. The band was engaging and kept the energy going all night!

To this day, my friends and family are still raving about them! Everyone had such an amazing time and I can't thank Ben Mallare and his team enough for making our wedding day the best day ever! I will continue to refer them to anyone that is interested in having a live band for their wedding or any party!!

Kris G.

Married on 09/06/2021

Highlight of our wedding

The band put on an incredible performance and were extremely professional. Our guests couldn't stop talking about them. Absolute blast! End your band search here.

Heidy F.

Married on 08/15/2021

Amazing, must fun wedding ever!

We are beyond happy we could get the Ben Mallare to entertain our wedding.

Besides their outstanding performance, I loved that they replied promptly to all my inquiries and made all my requests come true. I had two songs for the first dance because we had an interracial wedding, and we wanted both of our cultures to be represented, and the engineering team made it a seeming transition. They arrived and set up early. I never heard a high pitch sound or microphone out tone during the entire wedding.

Initially, I only hired them for the wedding reception. Still, as the event date got closer, I added the ceremony music and then even included jazz for the cocktail hour, and it was the best decision ever. When my husband walked down the aisle, he had to make a double-take to confirm the band was playing his song because he thought it was a recording, but it was Shay singing!

My advice for any future bride or person that needs entertainment at their event is to make room in their budget to hire this incredible band. Flowers die quickly, and no one notices chargers, fancy table cloths, napkins, glasses, utensils, or any of that "fluff." But everyone remembers a good time. Our guests said it was the most fun wedding they had been to and for weeks kept telling us we did a fantastic job choosing the band.

It has been over a month, and I still find myself jumping with happiness while watching the videos and reliving dancing the entire night. Everyone, including my 7 and 8 months pregnant guests, were on the floor all night!

Thank you so much, Chance and Shay our amazing vocalists, and the entire band. Also, Andy for all your help and quick replies.

Jason C.

Married on 08/14/2021

Highly Recommend - A++

The Ben Mallare Band was absolutely amazing at our Wedding in August. They literally made the event a blast for everyone. The amount of guests that told us how amazing they were was off the charts. My wife and I highly recommend.

Liz S.

Married on 08/14/2021

Incredible!

Ben Mallare and his band helped make our daughter and son-in-law's wedding an event to remember! Not only were they the hit of the party, but they hung in with us through four pandemic postponements! We got rave reviews about their fun and energetic performance. Highly recommend!

Thuy T.

Married on 08/14/2021

Unforgettable

We hired The Ben Mallare Band | Complete All-Stars package for our Napa wedding. They were simply amazing; from the moment I contacted the band for information to the last song of our wedding celebration, they exceed all expectations. Our guests were in their 40s and 50s so picking music that everyone can relate to is the crucial part of our wedding planning, so we were nervous, but the Ben Mallare Band assure that everything will be great. Indeed it was, the Ben Mallare Band delivered an incredible performance and our guests were in awe as they danced the night away. The selection of songs were perfect, we ended the night with our hearts full of joy, smiling from cheek to cheek, and partied like teenagers, we knew we experienced full contentment. Thank you!!

Rebecca

Married on 07/16/2021

The Ben Mallare Band was the absolute BEST

The Ben Mallare Band was the absolute BEST - easy to work with, professional, and knows how to party. We danced the night away and our guests are still raving about the band! We would highly recommend hiring Ben Mallare for your next event. Thank you Ben, Andy and team for making our wedding unforgettable!! R&A

Jenna S.

Married on 04/10/2021

Best of the Best

Ben Mallare Entertainment (BME) exceeded all expectations and performed beyond our wildest dreams! BME played at our wedding in St. Michaels, MD in April 2021 and was the best decision we made when planning our wedding. It was the number one compliment from our guests – everyone LOVED them! We got an 8-piece band and were blown away by the quality of the performance. Both Ben and Samantha ROCKED it as lead vocalists! Ben Mallare has a gift for leading all the guests into creating a fun party atmosphere and kept everyone dancing and engaged all night long. We were a thrice-rescheduled COVID wedding and Ben and his planning team were engaged, supportive and sympathetic every step of the way. They are a well-oiled machine in terms of communication, logistics and noticing the small details. If you're looking for the best of the best, a show-stopping band and a night to remember – book Ben Mallare Entertainment!

Elyse S.

Married on 02/26/2021

Hire This Band!!

The most amazing wedding band! Thank you to Ben and the incredible band, for providing the best entertainment! We first heard the band at a friend's wedding in California, and we knew we needed to have them. We had such a great experience booking for our wedding day. They were not only flexible and accommodating, but they even traveled to Arizona for our big day. Every person involved was responsive and easy to work with. They were helpful and understanding as we had to keep rescheduling our wedding due to COVID. I cannot imagine how hard it must have been for them in this industry, and yet they continued to make us feel like our wedding was the most important day for them each time we rescheduled. Due to some unforeseen circumstances, we were late getting them song choices, and they still made it all happen for us! I'm forever grateful. The band was one of the most important things to us and our family, and they did not disappoint. They were engaging with the crowd and never let there be an empty dancefloor! The way they read the room and chose songs to fit our crew was incredible. We had the best time with them and couldn't have imagined anything better! Our friends and family are still taking how about great Ben Mallare's band is. I am forever grateful for you guys!

Abby M.

Married on 02/10/2021

Look no further...this is your band!

When I first set out to find a band for our wedding, I was extremely overwhelmed. There were so many choices, each band had a different vibe, the quotes ranged significantly, and I was worried that in the end, I would be disappointed with my choice. I visited a few of the main wedding planning websites and started looking at their reviews when I came across the Ben Mallare Band. I LOVED their promotional material. It was current, exciting, the vocals and band were impressive but most importantly…everyone looked like they were having a blast (both band and wedding guests)!

I reached out to Ben Mallare and heard back within a couple hours (which wasn't my experience with multiple other bands I reached out to who never got back to me). I could tell he was a pro and he immediately made me feel at ease. My gut said I wouldn't be disappointed, and my gut couldn't have been more on point. Ben and his team made the entire process absolutely painless. He catered to special requests, always responded to my emails and calls in a timely manner and was just extremely pleasant to work with overall. Not to mention, I had ZERO wedding planning experience and he helped guide me regarding the timeline, song choices for father/bride & mother/groom dances, things to stay away from, etc.

Our wedding day was even more perfect than I ever could have imagined due to the Ben Mallare Band…from the 4-piece jazz ensemble during the cocktail hour to the 16-piece band for the reception. They played a great mix of current hits, dance/pop, some throw backs and of course…those classic wedding songs everyone pretends to hate but secretly loves! Everything from their wardrobe to energy to various vocal styles was perfect. To this day, our friends and families still tell us how impressed they were with the band and that it was the best part of the wedding. I can't remember a single second when the floor was not packed with people dancing.

In a nutshell, you can't go wrong with this band. Look no further and scratch that part off your wedding to-do list. You will not be disappointed!


Jessica N.

Married on 10/06/2020

Absolutely Electric!!

The absolute best band for your wedding, our guests couldn't have had more fun. Ben and team made all of the planning extremely easy, and even accommodated us having live guitarists for the ceremony, full band for the reception, and even a dj for the late night. We had multiple people ask us for the band's contact info during the wedding, as people were absolutely impressed with the performance. Everything was perfect - the instruments, the singing, the constant dancing atmosphere. People couldn't pull themselves away from the dance floor. We can't say enough good things about this entire team.

Katie S.

Married on 09/12/2020

We love Ben Mallare!!

The amount of amazing feedback we received about Ben Mallare after our wedding was astonishing. Ben Mallare Events and Entertainment will turn your event into such an incredible and memorable celebration! The band was so talented and performed our special requested songs perfectly. We also hired them for our ceremony and cocktail hour which made the whole music experience stress free. We highly recommend Ben Mallare Events & Entertainment to anyone looking to enhance their event with an amazing live band!
Are you interested?
Send a message