Reviews
4.9 out of 5 rating
Quality of service

4.9 out of 5 rating

Average response time

4.8 out of 5 rating

Professionalism

4.9 out of 5 rating

Value

4.9 out of 5 rating

Flexibility

4.9 out of 5 rating
97%
Recommended by couples
28 User photos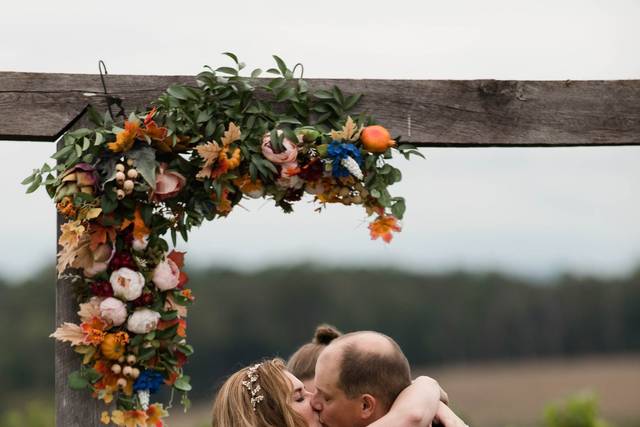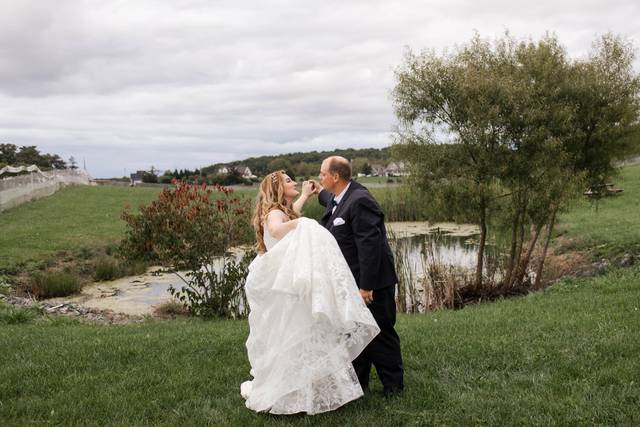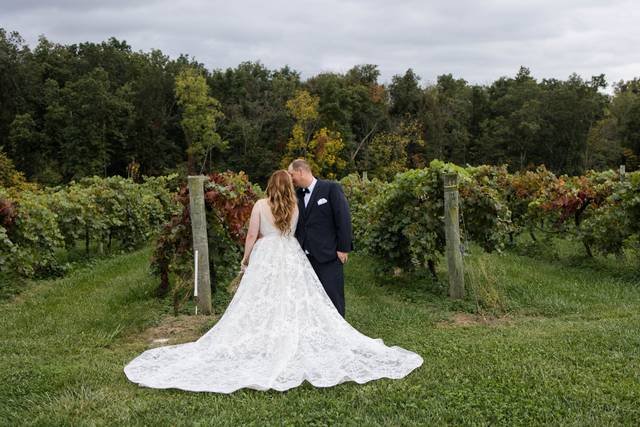 + 24

photos
Rachael U.

Married on 10/09/2021

Outstanding

Out of all of the vineyards that you could pick to host your wedding in Virginia, Barren Ridge is the best. The vineyard has been owned by the same family since it was an apple orchard 100 years ago. The wine is delicious, the views are amazing, but the people make it special. Angela and Robb are excellent hosts and a joy to work with. They made planning our wedding easy and made us feel like we were a part of their family. We also have to mention the tremendous value that Barren Ridge offers. Many vineyards feel like wedding factories, they set you up on the day of your event and move you out that night. Our wedding was the only event that happened at Barren Ridge that weekend and it was treated with the highest priority. We were given the utmost flexibility for setting up and cleaning up after our event, there was no rush because there was no other event that weekend. We look forward to returning to Barren Ridge for years to come, we will always remember our magical weekend there.

+ 5

photos

Barren Ridge Vineyards's reply:

Rachael, I was honored to work with you, your creative sister and your mother and aunt! 4 tough ladies that all had their ideas and we amalgamated it to a wonderful wedding! How much fun we had and how beautiful you looked! I will never forget your table centerpieces! Amazing! Rachael, to many more visits and to much laughter always!

Sarah G.

Married on 09/25/2021

Gorgeous venue for a really reasonable price

Barren Ridge has spectacular wines and beautiful views, a rare gem that has wines for many palates. Their grounds are gorgeous, settled between two mountain ranges and the upstairs banquet room has a deck which takes full advantage. The vineyards could not be lovelier and the price beyond reasonable with compassionate and kind owners who really value their customers.

Barren Ridge Vineyards's reply:

Sarah, it was a nice feast you guys had and I am glad we were able to have a beautiful sunset that eve! Thanks much for being part of our Crush Club also!

Andre F.

Married on 10/10/2020

Perfect place

Vicky and I were not looking for a big elaborate wedding. Instead we wanted something small and meaningful for us. I work full time and so does she so our weekends are the times that we have to go tour sites and stuff. Barren Ridge was our first stop…..and final, lol. I had spoken with Angela over the phone several times and she is great to talk to. She was very flexible with times to meet. When we went to the vineyard and actually met, we got a tour of the vineyard and a little history. The view was amazing from the cabin as the vineyard is nestled between two mountains. There is a multitude of options for pictures and backgrounds. We chose to stay here instead of looking everywhere else. The main thing was that we didn't get a sales pitch. The whole, "this is what we have to offer, and this is what we can do" speech. We felt this was more personal. Angela should drop the "a" from the end of her name because she truly is an Angel. Her and husband Rob are great people that we will most definitely go back and see and drink wine with.

+ 3

photos

Barren Ridge Vineyards's reply:

Dear Andre!
We truly enjoyed you and Vicky and your wedding party a lot! Great, wonderful and salt of the earth people you all are! I wish you all the best and yes, you are part of the Barren Ridge family now, our doors are wide open for you all! Thanks for sharing your day with us!
Angela

Are you interested?

Send a message

Nicole B.

Married on 04/25/2020

Look no further than BRV!

My husband and I had to reschedule our wedding three times due to COVID and were under a time crunch: an upcoming military deployment. We decided LESS THAN A MONTH BEFORE to move our wedding to Barren Ridge. This was one of the best decisions I ever made in my life. In my humble opinion, you will not find a better venue than Barren Ridge Vineyard. Not just because of the unbelievably gorgeous property, the delicious wines and beautifully spaces, but mainly because of Angela and Rob.

Let's first talk about the gorgeous property, we got married out on the beautiful patio. All our guests were able to sit outside on comfortable patio chairs with a view of the vineyard as they watched us exchange vows. Stunning. (You can also get married out in the vineyard, but due to August heat we choose not to).

Next the delicious wine. Go to a tasting. AMAZING. Half our guests bought bottles as they left, they loved the wine that much.

Beautiful spaces. The tasting room was perfect for a grab and take cheese board (we had them individually wrapped for grab and go COVID style) and bar. The room upstairs is spacious, inviting and gorgeous. We were able to have a dinner, cut the cake and do the first dances with plenty of space to social distance. The room is understated in a way that allows the architecture and the vineyard to shine. I hate over the top venues, but this room matches the décor of a vineyard perfectly. Simple flower arrangements and you're done! Rob and Angela had different sized tables and other décor options which made setting up the room an easy feat.

Now on to Rob and Angela. When I met them, I will be honest, I was in tears. My future husband and I were leaving for Japan for three years in September and if I didn't pull off an August wedding, I wouldn't be having a wedding. When I say these two LEAPT into action, I'm not kidding. They leapt! With their unbelievable amount of help we pulled together a wedding in a month. Armed with just a few sketches of seating arrangements and a small number of vendors Angela and Rob pulled off our miracle. I got the most beautiful wedding of my dreams. I also had a lot of COVID "demands" like all the tables with disposable water bottles, silverware and all food in to go containers. They helped make that work with the caterer. They allowed us to play music over the blue tooth speaker. The BRV team is amazing.

When you get married at Barren Ridge, you choose to have Barren Ridge a part of your life forever. You open Barren Ridge wine every year on your anniversary. You have your birthday parties on the patio. You bring your kids on a picnic in the vines. When our original wedding was canceled, I was devastated. Little did I know I would still have the wedding of my dreams. It was better than the dream one I imagined (even with COVID). Our wedding day was so perfect. Barren Ridge is a place I will call home and a place I will keep coming back to, year after year. We are so lucky to have gotten married here. If you choose BRV, it will be the best wedding decision you ever make (after maybe the groom lol).

(p.s. If you are planning a microwedding, Angela and Rob have been doing them since August 2020. They are experts now. Our wedding spread 0 cases of COVID and that's in no small part to the diligence of the BRV team)
Film: https://www.maofilmscinematic.com/films (Scroll to our film)
Pictures: http://www.meredithsledge.com/2020/08/barren-ridge-vineyards-wedding-photographer-nikki-matt/?fbclid=IwAR15ib5yluYsgym7Bv3QjTL_7rg1WyblfZSzo3_q6YUtA31NrwwN15XVtlA

Barren Ridge Vineyards's reply:

Niki, you, Matt and now also Miller Jane are part of our family! We are so happy we are friends and look forward to seeing you always throughout the years! It was a very memorable experience, since in the height of Covid, we did it! With the utmost diligence and care and your wedding was stunning! Love you guys!

Shivani

Married on 03/01/2018

Gorgeous Venue, Amazing Customer Service

After touring multiple venues in the greater Charlottesville area, we decided on Barren Ridge Vineyards as the perfect location for my blended Hindu - Christian ceremony and reception.

The tasting room / reception hall is a beautifully restored barn that overlooks the rolling hills and vineyards. When I first visited Barren Ridge, I was moved by the love and warm touches the owners, Angela and Rob had given Barren Ridge, and everyone they interacted with. The first time I visited, Angela gave me a brief history of the vineyard and the barn, and her family's connection to it - and as we toured the venue, you could almost feel the years of love that the barn represented. I could not imagine anywhere else more perfect to begin my own lifetime of love.

During the wedding planning process, Angela was with me every step of the way. She listened to our ideas, offered creative solutions, and never once made us feel pressured or bullied into a decision.

Our traditional Hindu ceremony took place in the clearing in the vineyards, and was followed by the cocktail hour and vow exchange on the tasting room patio. We used the upstairs hall for our reception. It was an absolutely magical day, and thanks to Angela - we were even able to time our vow exchange right as the sun was setting behind us on the patio.

I would recommend Barren Ridge for your wedding, hands down - 100%. The venue is gorgeous. The wine is delicious. And Angela & Rob are the most wonderful people to work with.

Barren Ridge Vineyards's reply:

Rachael, I was honored to work with you, your sister and your mother and aunt! 4 tough ladies that had their ideas and we all amalgamated it to a wonderful wedding! How much fun we all had and how beautiful you looked! I will never forget your table center pieces! Amazing! Rachael, to many more visits and to much laughter always!

My wedding at Barren Ridge was everything I could have ever imagined. I was thrown a curve ball when it rained on my wedding day but with some quick thinking we decided to have it in the tasting room. All 150 of my guests fit in the tasting room by having half of the guests sit in chairs and the other half stand toward the back of the room.
The staff at Barren Ridge was incredibly helpful throughout the stressful planning process and the events coordinator Cameron was happy to answer the million questions I had.
My favorite part of this venue is the vineyard shut down to the public during the ceremony and reception making me feel so very special. This place was magical to me and I would highly recommend this place to anyone.

Laura

Married on 05/25/2013

It was perfect. Everything about it.

Barren Ridge Vineyards's reply:

Thank you very much for your review Laura! We are delighted that your wedding day was everything you hoped it would be and were honored to have been part of it!

Absolutely an amazing venue...stunning, guests loved it, and the people to work with are so helpful and prompt! I could never have made a better decision!

Dana

Married on 08/04/2012

Absolutely amazing. Came in extra early so I (the bride) would not panic about having time to decorate and finish everything up. Super pleased

Our wedding was now a year ago, but it was so perfect and special. John and Shelby are great, the staff was wonderful, the wines were fabulous, the setting was pristine and we honestly couldn't have hoped for anything better. We had loads of guests from out of the country who were stunned by the quality of the venue and the wine.

Tip = Ask Talcott Limo to drive your guests from out of town to the Vineyard. They're actually near by and gave us a great deal; and it meant that people who were unfamiliar with the roads around the area could enjoy the wine without having to worry about driving.

Virginia

Married on 05/25/2012

Barren Ridge Vineyards is a gorgeous setting for a wedding. Everyone who attended said that our wedding was the "most fun" wedding they had ever attended. Part of the reason is that there are several different areas that guests can go to chat, etc. The outdoor patio has spectacular views of the mountains, and the tasting room offers a great indoor option for guests to sit and visit.
The only possible negative is that the upstairs reception room doesn't hold more that 120-130 people if a band and dancing are involved. I strongly recommend that anyone get married there!!!!

Jess

Married on 10/22/2011

I would highly recommend Barren Ridge Vineyards to other couples looking for a ceremony/reception venue. The location is absolutely beautiful -- our ceremony photos have the sun setting over the vineyard in the background. Really stunning views. I felt the location was perfect for our wedding -- it was convenient to have the ceremony, cocktail hour, and reception all in one location, but we were able to have the ceremony outside, the cocktail hour in the tasting room, and the reception in the room upstairs, so that the guests weren't stuck in one place the whole time. All of our guests commented on what a beautiful and unique location it is, and so far, our photos look amazing due to the beautiful background the vineyard provides.

Kadie and the other staff at Barren Ridge were wonderful to work with. She met with us several times to go over details of the wedding day and was always very responsive to my emails and questions, especially as the wedding day approached and my questions multiplied. :) They were very flexible with us, even closing the vineyard to the public a bit early so that our ceremony could start before sunset, and allowed us to pick up all of our stuff the day after the wedding, rather than having to deal with it all at the end of the night.

I can't say enough about Barren Ridge. The location was perfect, the staff was excellent to work with, and the price is very reasonable. I would highly recommend it to other couples.

Elizabeth

Married on 06/11/2011

I couldn't be more happy with Barren Ridge if I tried!!! It was a GORGEOUS vineyard, and my pictures are stunning because everywhere you turned it was beautiful.

The venue was wonderful to work with, very flexible, and has several different outdoor and indoor options to choose from. I ended up having my ceremony outdoors on the patio overlooking the vineyard, the cocktail hour in the tasting room, and the reception in the Audrey Blackford Room, a large room upstairs that holds 150+ people with a dance floor.

The wines were great, the staff was incredibly friendly and helpful, and I have absolutely no complaints about anything. SO glad I chose Barren Ridge for my wedding!!!


Cathryn

Married on 10/08/2011

Barren Ridge Vineyards provided a beautiful venue for our wedding. The price for rental included use of the space and tables and chairs in the reception room. It would have been nice if they had provided chairs for the ceremony but overall, the experience was great!

Jessica

Married on 09/28/2013

The scenery alone is enough to make this venue worth the money. The staff is great, extremely friendly and overly accommodating. I would highly recommend this venue to anyone interested, worth every penny!

Barren Ridge Vineyards's reply:

Thank you very much for your kind review Jessica! It was a pleasure working with you and Ben, and we're delighted that you were pleased with your experience at Barren Ridge. Best wishes to you both!

Marissa L.

Married on 10/08/2022

Great venue and beautiful

Literally the ONLY complaint that I have with this venue was that the only contact I had with the venue had left and another person had taken over the event planning and I was never told this until less than a month before the wedding. And I only knew because I had to reach out since I wasn't getting a response. But other than the change everything went perfect I would still recommend this venue. The wine is AMAZING and the view is beautiful

Barren Ridge was a great location for our wedding! The venue is beautiful and I love the variety in spaces that you can use throughout the night. We got married out in the field, had the cocktail hour at the bar and the patio, and the reception upstairs and throughout the space.

We looked at several other vineyards around the area and this was our favorite for the wedding because of the wine, friendly staff, price, and location. My main complaint would be that the staff was not overly responsive and I often had to wait a week or two to hear back when I had questions (I think they lost the event person right after we booked). However, in the end, the owner Shelby sat down with us and made sure that everything would go according to plan. We ended up having to do a lot ourselves, but I think that is part of why they are a bit cheaper than some of the others. They did set up the chairs and tables upstairs for us, but they do not have their own ceremony chairs so we had to rent those. They let you mix and match cases for the wedding also which is very nice since they have so many great wines.

Everything went great the evening of the wedding, so we are very happy with the venue overall!

The venue was absolutely beautiful! The employees worked with me to ensure my wedding day was what I imagined. The only slight mishap was with the sound system, but they worked hard to fix the problems before the reception.
Are you interested?
Send a message