4 Reviews
Recommended by 80% of couples
Quality of service

4 out of 5 rating

Average response time

4 out of 5 rating

Professionalism

4 out of 5 rating

Value

4 out of 5 rating

Flexibility

4 out of 5 rating
12 User photos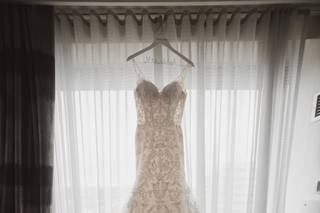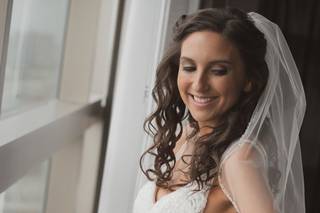 + 8

photos
Shannon

Married on 07/20/2018

James did the photography for my July 2018 wedding and my engagement photos the year prior and is AMAZING. After finding James online, I contacted him about doing photography for my wedding, and we set up a contract and engagement shoot. He was so friendly and made my then fiancée and I feel so comfortable. His pictures were stunning and I was so excited he would be wedding photographer as well the following year.

For our wedding, James and his assistant, Silas, did a beyond INCREDIBLE job. They did photography for us about 12 hours! Before the wedding, James and I went through a timeline and "must have" pictures, and he made sure to stick with it and do those throughout the day. James and Silas made the whole bridal party feel so comfortable and we all trusted their vision. They even showed "teasers" on a screen during our reception which was awesome. The next day, James sent us some teasers and we were in complete awe of his beautiful photos.

Our whole wedding gallery is STUNNING. Azalea Photography is the BEST! I have received hundreds of compliments on my pictures and even the day of people were complimenting their professional work and teaser pics. All of my family and friends love our pictures just as much as my husband and I do, and appreciate the beauty of the wedding that was captured. James and Silas not only captured the beauty of our bridal party and family, but have such a creative, artistic element to each picture that makes them so unique and interesting. We had so many gorgeous, artistic shots that I am in love with. I don't know how I'll be able to choose which ones for an album!

Book with Azalea photography and you'll be so happy you did. The pictures I have from my wedding (and engagement) are ones I will cherish forever. I cannot thank James and Silas enough for so beautifully capturing the best day of my life and giving me memories to have forever. Thank you, thank you, James and Silas. You guys rock!!!

+ 7

photos

Megan

Married on 06/23/2018

Azalea James is a talented photographer. I'm not a photographer but am a classically trained artist. Azalea's portfolio stuck out to me in my search for a wedding photographer - I seriously had looked at hundreds of photographer's portfolios within and over my budget. He truly has a great eye for lighting, composition, and catching special moments and is better than many photographers who charge twice as much. He is super affordable, and has a shockingly quick turnaround. He does a free engagement shoot as a trial too, which is really nice.

I would 100% recommend Azalea Photography. Both our wedding and engagement photos were ready in a few days, and the blog post with teaser wedding photos was up the same night as the wedding! I absolutely love both our wedding and engagement photos. They are creative and beautiful. Even the shots throughout the wedding reception catch those perfect little moments of guests enjoying the wedding. James was also easy going and a pleasure to work with. He had good suggestions and ideas when we needed them. We didn't have a ton of time to do the wedding photos, and he was able to get them all done beautifully!

Cindy

Married on 06/11/2016

James and Cylis photographed my daughter's wedding this past weekend in Lake Geneva, WI. James has already posted some photos on FB as teasers and they look fantastic! After meeting with James a few times, we contracted him for "Save the Date" and the wedding. James is always responsive via email and open to ideas and suggestions. Very easy to work with which is reassuring during the planning process. I always felt confident that James was "on top of it". I would highly recommend James, and, for potential customers to visit his FB page. James even came on Friday evening to photograph the Rehearsal dinner and provided a good sized Photo Booth for the reception which was a HUGE hit with the guests. My advice would be to check out different vendors and go with who you feel most comfortable because you only have one chance to get your pictures right.

Are you interested?

Send a message

Lauren W.

Married on 10/07/2017

Review of Azalea Photography

This review is lengthy and over 2 years in the making, read until the end and you'll understand why.
My then fiancé and I hired James, the owner of Azalea Photography in March of 2016 for our October 2017 wedding. James was a coworker of my fiancé's and was just starting out in the wedding photography world. His work was beautiful and after meeting with him we felt very confident that he'd capture our wedding perfectly.
Being a coworker of my fiancé's, James gave us an amazing deal that included all day coverage, two photographers for the ceremony, and a gorgeous photo album that retailed for several hundred dollars alone.
We booked our engagement photo session for Saturday, October 8th 2016. It was a ways out but I texted James throughout the following months, discussing location, time of day and pose ideas from my Pinterest board. I confirmed the date and time with him several times prior to the shoot and he assured me he had it in his calendar.
October 8th comes, I get my hair and makeup professionally done and we are on our way to our location that is about an hour away from us. My fiancé called James to let him know our ETA, and James informs us that he's out of town and that he thought we were taking photos the next day. To say I was upset would be an understatement. I spent a decent amount of money for hair and makeup and it had gone to waste. I was set on getting our money back but my husband convinced me to give James another chance after he apologized and promised to make it up to us.
We agreed to take our photos the very next day at the same location. I had to do my own hair and makeup because I obviously couldn't make a last minute appointment nor did I have the extra money to do so. Upon arrival to the location, James apologized several more times and promised us FREE videography for our wedding day.
We accepted his offer and continued with our engagement photos, which turned out great. James is incredibly talented.
Our wedding day was on October 7th 2017. James and the second photographer arrived on time and worked very hard to get the shots we had discussed via phone and email the week prior.
We received some teaser photos about two weeks later and the rest of the photos shortly after. We were very happy with them and our family and friends couldn't stop raving about how beautiful they were. They said, "they look like photos from a magazine,".
We were still waiting on the video but understood that the editing would likely take a little longer and didn't badger James for the footage. He has a primary job not in photography, so being understanding of his time constraints we were incredibly patient with him regarding the delivery of our wedding video, only asking him about it's progress maybe once a month beginning in December 2017.
James' excuses from here on out were always the same: he has another wedding coming up, he'll edit our video after he finishes the upcoming wedding; he's going out of town for work; he'll work on it this weekend; he has to look through his memory cards to find it...etc.
After SEVEN months had passed my husband was asking about the video more frequently and James' answer every time was that he has tons of memory cards to look through and it was taking awhile.
Our ONE YEAR wedding anniversary came and went and STILL no video. At this point we told James that we just wanted the raw footage and didn't care about any editing.
It is now November 2018 and we've been informed that our wedding video has been lost. James told my husband that he lost another couple's video as well, as if that validates his carelessness and irresponsibility with ours.

We hired James because he was a friend who has amazing talent. We trusted him to capture every moment of a day we never wanted to forget, and to say he fell short would be an understatement. I was planning on hiring a videographer prior to James' offer and I regret being swayed by the "free" price tag. We now have no footage from our special day and we never will.
There is no doubt that James is a talented photographer and takes breathtaking photos. I will not deny that, and I have attached some of his work so you can make your own opinions.

This review isn't about photo quality, but to reflect on the lack of care and professionalism James had throughout our experience with him. Whether that is because we were familiar with each other and he thought he could slack off or if that's just how he runs his business, we don't know. An entire year is an absolute RIDICULOUS amount of time to make a client wait for anything, and it's very clear that my husband and I were not a priority.

Would I hire James again? Unfortunately, the answer is no. His affordable prices aren't worth the risk of losing precious moments from some of the most important day of your life.
I wanted so badly to give James and his business a great review because his photos ARE beautiful and he is a friend and coworker of my husbands. However, after this treatment and the fact that we aren't the only couple who's memories have been carelessly handled, I couldn't bring myself to do so. I urge you to hire someone who focuses 100% of their time and energy on your photos and isn't running their business "on the side".