15 Reviews
Recommended by 95% of couples
Quality of service

4.8 out of 5 rating

Average response time

4.7 out of 5 rating

Professionalism

4.7 out of 5 rating

Value

4.8 out of 5 rating

Flexibility

4.8 out of 5 rating
Awards
17 User photos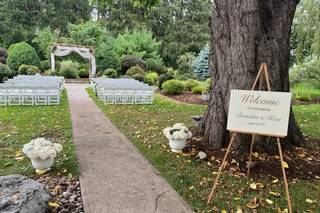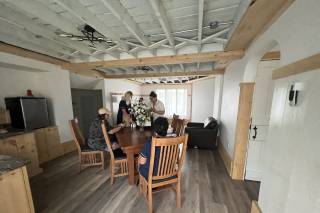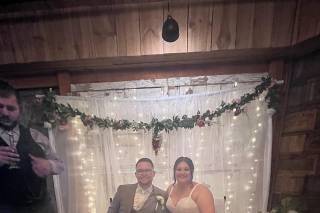 + 13

photos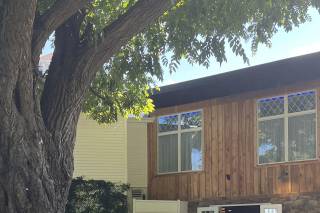 Featured

Anne R.

Married on 04/15/2022

Best decision we made!!!

We booked this venue less than 7 months to the wedding. They took care of everything!! Everything we were promised was delivered and more. Working with Gina, our wedding coordinator, was awesome. She went out of her way to make sure everything was perfect! She took care of all the details so we were able to enjoy the day with our family and friends. Thank you Apple Orchard Lodge for an amazing wedding day for our family!!!

Apple Orchard Lodge's reply:

Anne, thank you so much for reviewing us! We appreciate your kind words. Wishing you both the best! Congratulations!

Tayler N.

Married on 11/13/2022

Wedding tasting

We went to our tasting today and the food was amazing! Such a fun experience, can't wait to get married here next fall!

Mel

Married on 11/13/2022

Wedding tasting

Everything so far has been an amazing experience with Dave and his staff!! Our wedding planning is going so smoothly, we can't wait for our day!!

Are you interested?

Send a message

Ashley R.

Married on 11/05/2022

Shout out to Brittany!

Our wedding coordinator, Brittany deserves more than 5 stars. Along with the staff at our wedding. The venue was set up so beautifully.. again thanks to Brittany.

Barb Duffy, the general manager was the most unprofessional human being we have ever worked with in our entire life. Enjoyed upsetting us the night before our wedding, you could hear her smile through the phone. She argues like a high schooler.. felt like I was talking to my 9 year old.

Brittany Coleman was excellent though and made sure everything was perfect for us!

Kera G.

Married on 08/26/2022

Incredible!!

Dibbles made it so easy, everything all in one place. Tyeisha was my wedding coordinator and I could not have asked for more she answered all my questions, made sure the rehearsal and setting up and wedding went smoothly. She really knows what she's doing and was a major life saver!

+ 3

photos

Cassandra J.

Married on 08/19/2022

Excellent experience overall with a wonderful team

This venue provided so many services that it was easy and uncomplicated. The value was excellent and all the staff members were professional, helpful, and pleasant. Tyiesha my wedding coordinator was EXCEPTIONAL, she was prepared, on task, answered every question, and my wedding could not have been such a success without her.

Patricia J.

Married on 07/29/2022

Accommodating and beautiful!

Our wedding coordinator Tyiesha was great! She Took care of every last detail. She was a perfect fit for us! This venue is a one stop shop. No need to go anywhere else. DJ, floral shop, bakery all on premises. Another big plus is the Bridal suites, You are catered to all day. We had some unique ideas for our wedding, the owner Dave and DJ Jamie were very accommodating. Our room was beautifully decorated by the floral group, incorporating all of our ideas. Our guests commented on how much planning must have gone into the day. We felt like we did minimal planning, We let the professionals do their thing. Our guests also commented on how great the food and dessert tasted and loved the pizza at the end of the party! A good time was had by all!

Skyler

Married on 07/02/2022

Had an perfect Day

I was recently married in the Apple 🍎 Orchard. My day went off without a Hitch. From the flowers, to the food, to our wedding Coordinator Heather. Heather helped my day go very easy, she was there from the beginning to the very end of the process. Thank you to her and the Dibbles Inn staff.

Apple Orchard Lodge's reply:

Skyler, thank you so much for reviewing us! We appreciate your kind words and are happy we could provide you with an excellent experience. Wishing you both the best! Congratulations!

Stephanie

Married on 06/26/2020

Amazing to meet with

Dave was excellent to work with! So upbeat, meticulous and just as excited as you are about your day!

Ashley N.

Married on 01/18/2020

Overall, great experience!

We had a winter wonderland wedding this January at the Apple Orchard Lodge and it went off without a hitch! Our Wedding Coordinator, Danielle was incredible and anticipated our every need. She made the whole day run so smoothly, even the brief outdoor ceremony in the snow!

Photo Credit: Cristina Fenner Photography

Overall, the Premier Wedding Venues company was great to work with, just be sure you get everything in writing and save all paperwork. There are a lot of things changing as they grow and expand, so it can get a little confusing. Keeping track of your own details and paying attention saves you from overpaying or missing something that was lost in translation.

Otherwise, they are truly so professional at executing weddings, their staff makes sure they day runs incredibly smoothly and make the bride and groom feel like royalty for the day. If you want a gorgeous, reasonably-priced, low-stress wedding, this is for sure the way to go!

Jamie

Married on 10/26/2018

Simply Amazing

My Coordinator and the staff were amazing. They took care of a lot details before we even thought of them. Thank You for Making my Wedding Day Perfect!

Kaity

Married on 05/26/2018

Amazing Wedding Experience

My husband and I had our wedding at the Apple Orchard Lodge at Dibbles Inn on Saturday May 26, 2018. Our wedding was beyond amazing, and we were absolutely blown away by the service, staff, food, and atmosphere Dibbles Inn provided us. Carly Bonaventura was our wedding coordinator for the day, and she was attentive, professional, supportive, and an all around boss. Our venue looked stunning, the food and desserts were amazing, and our guests had so much fun! Everyone was impressed and we keep hearing from friends and family that this was their favorite wedding to attend. That means so much to us! Dibbles Inn provided many additional features included in the set price, which really wow'ed our guests. These things included the signature drink, pizza toward the end, shuttle service, champagne fountain, and cupcakes. We hired the DJ vendor that Dibbles recommended, Jammin' Beats, and we were not disappointed at all. When we met Dave, the owner, we knew Dibbles Inn was the venue for us. He was very straight forward and honest about what Dibbles provided, and he did not provide false expectations. He did tell us that there would be minor renovations to the venue before our wedding date, and he exceeded what we expected those to be! The renovations included creation of a bridal suite, redone bathrooms, new outdoor fireplace, new bricks for the ceremony aisle, new orchard style decor and wall features, and removal of carpeting in the space. When we saw the venue the month before our wedding, we were blown away! Thank you so much to the Dibbles team for making our wedding day one to remember! We appreciate it so much!

+ 6

photos

Mathew W.

Married on 08/06/2022

Overall amazing

Our wedding on 8/6 had a few hiccups that were out of our control. However, the staff stepped up in so many ways to make our day as perfect as it could be. Tyiesha, our wedding coordinator, was called in by Barb, the Assistant Manager literally the morning of the wedding to cover someone who had a family emergency. Even though she had nearly zero time to prepare, she was absolutely amazing. Because of her, our minds were at ease right from meeting her, and she excelled in making our wedding everything we could have dreamed of. She is such a stunning person, we could not have asked for a better person to handle our wedding.

The food was great, and the rest of the staff was so kind and friendly, they really need a huge shout out. Kaz even went so far as to walk down the street in the pouring rain to get milk from the store for a toddler. I don't know of anywhere else where you would get that kind of treatment.

The only thing that we feel could be improved upon would be that communication leading up to the wedding was a little bit sub-par. For example, we had to reach out to various people because they were over a week late on contacting us. But because we stayed on top of things leading up to the wedding, everything on the day of went smoothly.

Overall, we would absolutely recommend Say I Do events for your wedding. Tyiesha, Dave Anthony, Barb, and Kaz were for sure the highlights of the staff experience, and really that is because everyone else behind the scenes were so professional that we had nothing to worry about.

Thank you so much for such a wonderful experience and the most perfect wedding we could have asked for!


Amy

Married on 07/01/2022

Everything we could have asked for

The Apple Orchard Lodge at Dibbles Inn was the perfect venue for us. The beautiful mix of outdoor and indoor space was amazing. You truly felt like you were in the most private serene setting. All of our guests raved about the space, the food, the service, and the overall fun they had. I could not recommend this venue enough.

Mary's 4 Ever flowers did the most amazing job on decor and "flowers" - I chose plants and gave them a Pinterest board to run with and boy did they deliver!

The Bakehouse made our cake and cupcakes and everyone said they were not only beautiful, but delicious. They went above and beyond to make some DF/GF/vegan for us as well.

Pete was our DJ from Jammin Beats and did the best job ever keeping our guests on the dance floor!

Tyiesha was our venue coordinator and everything leading up to the day was wonderful- she was so happy to help us and was perfect at communicating and getting us answers. She even went above and beyond to ensure our guests with food allergies needs were met. On the day of our wedding she was by our side and did not miss a beat!

We are so grateful and appreciative to her and everyone else at Dibbles for making this day as amazing as we dreamed. Thank you!

Chelsea M.

Married on 08/01/2020

Dibbles Inn Orchard and Estates- Apple Orchard Lodge

As many of you know Dustin and I got married this past weekend (August 1) at Dibbles Inn Orchard and Estate. Our specific venue was the Apple Orchard Inn. I decided to give myself a few days before writing this review to enjoy being married, but here we go.
At the beginning of the process Dustin and I were so excited to look at this venue from the beautiful photos we saw online. Dave, the owner, was more than happy to let us in to see the Lodge. We were hooked and signed the contract right then for our wedding and paid the $1200.00 deposit. We were contacted by Barb (the Event Coordinator) in February to pay $6,000.00 which would be half of the wedding payment, which we paid with no problems.
Here comes March, more specifically the shutdown due to COVID-19. I called Dave concerned about the potential that our wedding would be affected and was told that he would contact us in June if the pandemic made it that far. On June first I sent an email to Barb asking what was happening and explaining that I had not been contacted by a wedding planner or the pastry chef. I was essentially told that they hope things will be back to normal by the date of the wedding and was offered to choose a backup date, which we did not want because the date was important to us (not to mention all of the wedding décor/etc. that already had the date engraved into it). I thanked her and told her Dustin and I would discuss the options she provided. On June 18 I called Dave to get an update as I had not received any information or updates and was told that the wedding should happen as planned.
On June 30th I was making updates to our wedding profile/preferences online with Jammin Beats and noticed that the date on the website was July 18, 2021. I attempted to call Jammin Beats with negative results and left a voicemail. I then decided to call Dave to see what was happening and why the date was changed without discussing it with Dustin and I first. Dave told me it would not change unless I changed it. I explained that I did not change it and had not been on the website in 2 weeks. (It was determined to be a mistake on the DJ's end that was immediately remedied) As the conversation progressed, Dave told me that we might not be able to have all of the guests we were supposed to have (95). I asked him when he would know for sure and he stated he did not. I explained that it was important to give us as much notice as possible, because if we ended up cutting the list by 45 people it should be done as soon as possible. Dave stated he would keep us updated and stated he believed that the limit of 50 people per gathering would be lifted after the fourth of July. I also asked him when I should expect to hear from the wedding planner as I still had not (with the wedding a month out). He stated she should be contacting me within the week. I also sent an email to Barb when I should expect to hear from someone and was also told that I should be contacted by the end of the week. I was not contacted until July 7thalmost a week and a half later.
July 7th I was finally contacted by Barb who started the conversation asking me how I felt about the August 1st date. I asked her how many people could attend. Barb asked me how many people were confirmed to be coming and I told her 95 people are confirmed to be coming and I had not received any other information stating that they would not be able to attend. Barb stated that there is no way that we would be able to do that many people. She also stated that they had been in trouble recently with having 10 people over the limit. I asked her if we would be receiving our money back if we could not have the wedding we were contracted to have (a minimum of 80 people guaranteed). Barb stated she needed to talk to Dave and would call me back. On July 8th at 4:30 pm I still had not received the call back from Barb and attempted to call her phone. Her voicemail stated she was in the office from 9 to 5 so I left a message and decided to call back the following day to attempt to talk to her. On July 9th I called Barb again at 9:30am to try to talk to her and was again met with a voicemail. I left her another voicemail to contact me. Finally, I received a call back at 11:30 that day essentially telling me that I needed to talk to Dave because there is no way they can do close to 100 people. I called Dave at 11:40am that day and placed him on speaker phone so Dustin and my father could hear what he was saying in case they had any questions. Dave answered the phone and the conversation spiraled. I inquired what would happen if we could not do the wedding with the 95 people we had invited, and he stated that he believes the wedding is going to happen. I asked him what would happen if it could not happen and was told that he wants the wedding to happen almost more than I do. Dave also proceeded to tell me about his large loss of money due to COVID-19 and that he needed to mortgage his home stating that he is more stressed than I could be because of this. I asked him if we would receive our money back if the wedding could not happen. He said that of anyone got any money back it would not be until next year because he does not just put the money, we give him in a pile and do nothing with it. When I began to ask him about his contingency plan for our wedding if it cannot happen, he began to yell at me on the phone and become aggressive. My tone for the entirety of the call was respectful and suddenly I am being yelled at on the phone because I was asking very serious questions about my wedding that was less than a month away. He told us that he cannot give me any information because he does not know and if the governor states that we can gather more than 50 people on July 31st then I would not get any of our money back. I brought up how hard it was to contact the wedding planner and was essentially called a liar and told that someone is there all day to answer the phone. When I tried to explain that I had left messages with no response and that the wedding planner told me that they would not be able to do the 95 people he started talking over me. I could not get a word in edgewise. Beyond upset by this treatment and frustrated for his lack of help, I told him that we need to be updated because we are less than a month out and I cannot tell people the day before the wedding if it is happening or not. I also told him to expect a call from me every week until I get a solid answer.
My dad was appalled by the treatment I had received and decided to call Anthony Brindisi's office to determine what rights we had in this situation. Unfortunately, after an almost half hour conversation with Brindisi himself, we were told that it was such an unprecedented time with COVID, and we would have to take the issue to small claims court. Dustin and I decided that we could not mentally or emotionally handle a court case over something that is supposed to be one of the best days of our lives. We decided to cut the guest list down to the 50 people (basically just family as we both have very large families) and to make the best out of the situation that we could. I attempted to call Barb on July 13th at 2:45 pm with negative results and left a voicemail. I attempted to call Barb on July 14th at 1:00 pm and was able to talk to her about the price and if there was a way to cut it down. Our original bill was 14,600 (approx..) that had been cut to 10,100 (approx..) after having cut nearly half of our guest list. After discussing with Dustin how minimal the price would drop with dropping the small things that we had added I called Barb back at 5:00pm. While trying to discuss with her that Dustin and I decided to cut our guest list down Barb put the phone call on speaker stating Dave was present. I should note here that his tone was once again nice. I explained that we decided to cut the list down and pay the $10,100 (approx..) price that she had supplied us with previously. Dave cut in and stated that so long as we did not have someone that would call us in, we could invite 75-80 people and hide the cars at the Cannery (as he stated he had already have people call him in for having too many people). Dave stated that having only 50 people made it feel like it was a "birthday party." I told them I would send Barb an email with our final count and ended the phone call. I spoke to Dustin and we both agreed that it would be stupid to risk getting into trouble because it would feel like a "birthday party," and decided to only have the 50 people that we were initially told we were limited to. I sent Barb an email stating that we would be doing the 50 people as we could not afford to get into trouble. Barb and I set a day to meet for the "final meeting" (we had not met once prior) for Monday July 20th.
My parents, Dustin and I attended the meeting. We met Barb for the first (and only) time and she was pleasant enough. I got the feeling she cared about us having a nice day. We went over all the details with seating charts etc. Barb informed us that we would not be able to have the digital photobooth as too many people would have access to it, which was disappointing as I was looking forward to it (but understandable.) Barb also told us that outside of the first dance, the father-daughter dance and the mother-son dance we would not be able to dance due to the close proximity of the dance floor, which was an entire shock to us. We swallowed our continued disappointment and set up a time for us to drop off our décor for the wedding for the Thursday before (7/30).
Day of the wedding the bridesmaids, moms and myself arrive to the venue. A few of the bridesmaids use the bathroom and state that one of the stalls was not clean and one of the soap dispensers was either empty or simply was not working. I am not sure that issue was ever fixed as it was very difficult to get ahold of the day-of coordinator (who I saw maybe a handful of times and cannot remember her name). For the most part everything else was fine and we get through the ceremony with minor issues (the funnel for my sand ceremony was missing and made it VERY difficult to pour sand into a 1 cm hole, causing a mess). As the bridal party was outside taking photos and my guests were enjoying happy hour, we barely saw any staff. We were reassured during the "final meeting" that the hors d'oeuvres would be brought out to us as well and I saw the waitstaff maybe 3 times with only 1 or 2 hors d'oeuvres left on the tray, which were cold. One of the waitstaff stated they would bring more out but never did. After introductions, and all the dances we were served dinner by the day-of coordinator which was very nice, and the food was delicious. As we were eating the tables were called one by one, however most of the guests were not able to get a second helping of anything as it was immediately picked up without any offer of getting the seconds. As a "buffet" that cost $74.95 a plate I was surprised that this happened, many of my guest voiced that they wanted more food than what was initially served but were unable to. After dinner was the cake cutting and I will give The Bakehouse the best praise as our cake (pink champagne) was delicious. After the cake cutting was when the "brides signature drink" was supposed to be served. However, there was not enough to go around and not all the guest were given one. My sister, the matron of honor, went up to the bar to ask for hers as she was not given one and was told that they only do one round, enough for each of the guests. She told the bartender that she was not given one and the bartender responded that she might be able to get her one, to which my sister told her to forget it. The night went well and the "late night food service" came out (pizza). However, we had discussed during the final meeting that we wanted one of the pizzas to be only cheese, but that was not the case. They brought out a peperoni pizza and a pepper topped pizza (neither of which I can eat because I do not have a gallbladder and they do not settle well, TMI I know). As a whole I had a beautiful wedding, but I am so beyond disappointed with Dibbles Inn Orchard and Estates. This day was supposed to be so special and it brought me and my husband nothing but stress. While I can understand that COVID-19 is stressful for everyone it does not excuse the treatment we received from Dave and the simple poor service and lack of communication. If you are considering having your wedding at Dibbles Inn Orchard and Estate, I beg you reconsider. I am not the only person who has received similar treatment and I urge you to really research for yourself. I thought I had done enough research but apparently, I was wrong. Please feel free to share this and prevent another horror story like mine.