123 Reviews
Recommended by 100% of couples
Quality of service

5 out of 5 rating

Average response time

5 out of 5 rating

Professionalism

5 out of 5 rating

Value

5 out of 5 rating

Flexibility

5 out of 5 rating
49 User photos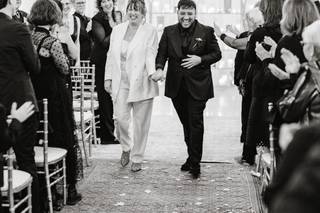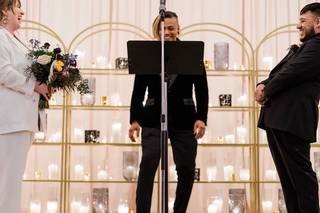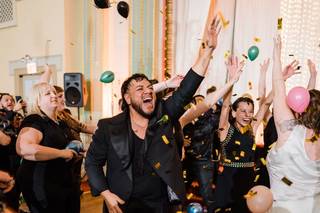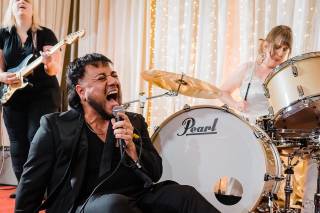 + 45

photos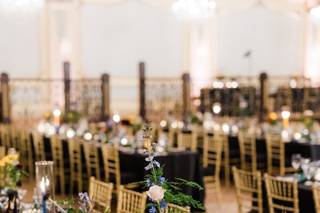 Katrina L.

Married on 04/29/2023

a dream wedding with Emma!

Our wedding day was absolutely amazing thanks to the team at Anticipation Events and specifically our coordinator Emma. From the moment we met her, we knew we were in the hands of an incredibly organized and detail-oriented professional. Emma's meticulous planning and attention to detail ensured that every aspect of our big day ran smoothly and flawlessly. She effortlessly managed all the logistics, making sure every vendor, guest, and detail was in place, alleviating any stress or worries we had.
On the day of our wedding, Emma's unwavering support and optimism kept us calm and confident, even in the face of any challenges that arose. Emma's dedication and expertise were truly remarkable, and her ability to make us feel at ease made the entire experience so enjoyable.
We can't thank Emma and Anticipation Events enough for their exceptional coordination skills, which made our wedding day a seamless affair. If you're searching for a month-of coordinator who will go above and beyond to make your day unforgettable, look no further than Emma and the Anticipation Events team!


Emily H.

Married on 02/18/2023

Best Wedding Decision You'll Make

Anticipation Events was the best wedding decision that we made. Elizabeth made everything so much simpler for us. Instead of having to research thousands of Chicago vendors, Elizabeth was able to recommend a few for each category for us to choose from. So much easier to pick a florist out of just three options. We were comfortable with all of our choices because we knew Elizabeth had worked with them before and liked their work and professionalism. Elizabeth helped two indecisive and "whatever you want, honey" people figure out what our style was and what we actually wanted for our wedding day. Elizabeth was so organized -- and we had access to all of the information through shared Google documents. On the day-of I forgot about my huge list of stresses because it was all taken care of by Elizabeth and her team -- even things I hadn't thought of. Throughout the reception, Elizabeth was there with my favorite cocktail (and a glass of water for me to drink first). Because of Anticipation Events, I was able to actually enjoy the whole wedding weekend.

Anticipation Events's reply:

Obsessed with both of you, so easy and fun to work with and it all turned out SO beautifully! Thanks for choosing us, we only wish we could do it all again..... :)

Crispin T.

Married on 12/10/2022

Miracle workers for the queer wedding of our dreams!

We had our wedding earlier this month and we would not have survived it without Elizabeth and her amazing team! AE helped us throw the elegant, rock n roll wedding of our dreams. As a queer and trans couple we felt very seen and supported from converting the venue restrooms to all gender (and working with the venue for us to do so) and every non-conventional detail we requested along the way in between. They never skipped a beat or asked for any explanation—their goal was to make things perfect for us and have us and our guests be comfortable. Their attention to every creative aspect helped coalesce the vision and their unrivaled organization kept it all together. Planning a wedding comes with a bigger learning curve than I could have ever realized and AE helped thoughtfully educate and guide us every step of the way.
My spouse and I still keep getting feedback that our wedding was nothing short of mind blowing—from the tables capes and flowers to the surprise rock band and dance floor balloon drop. If you're looking for a run of the mill wedding, this is not the planner for you. AE team are a super innovative and hardworking team of cutting edge industry experts that you won't regret hiring to make one of the biggest days of your life become reality.

+ 2

photos

Are you interested?

Send a message

Carrie W.

Married on 11/12/2022

Anticipation Events is Phenomenal!

Elizabeth was amazing to work with. She was super responsive, offered amazing ideas, and was instrumental in helping us maximize our budget. Her month-of coordination was spectacular - she made sure all the vendors had the information they needed and the timeline for the day of was super detailed. She was totally aligned on our vision and executed it perfectly! I could not be happier with how our wedding went and I would recommend Anticipation Events in a heartbeat.

Carolina H.

Married on 11/05/2022

Planning made beautiful and easy!

We were so lucky to have Elizabeth and the Anticipation Events team as a partner for our wedding. When we had ideas or a vision in mind, they made it happen (but better). When we weren't quite sure what we wanted, they came up with options for us to discuss together. And the day of - it was better than we could have imagined. They made the wedding planning process easy, beautiful, and fun! I couldn't recommend them more!

Jake S.

Married on 09/04/2022

Best Decision We Made

Without any question, working with Anticipation Events was the best decision we made during our wedding planning process. They were totally professional throughout, responding immediately to our emails and giving us a great perspective on what to expect from other vendors. They navigated working with our parents with a sensitive touch, understanding our wants and our parents' wants and making them both happen. They also have wonderful taste -- during our first call with Elizabeth she immediately picked up on our vision for the wedding then somehow made it better than we could have imagined. We would not change a single part of the process, and we hope everyone reading this review gets a chance to work with them!

Saujanya G.

Married on 06/11/2022

The great Hindu-American-Australian, 5-day, 7-venue extravanganza!

Elizabeth was such a dream to work with, and I cannot stress how helpful she was to someone trying to plan a semi-destination wedding for more than half of all of the guests. Almost all of the domestic guests had to fly in, added to the 50+ Australians descending upon Chicago. 

I used to live in Chicago, but I did most of my planning from my new home in Australia and on the road for the three months before our wedding. I immediately felt at ease with Elizabeth and knew I could go to her with any questions — which is precisely what you want and need from a wedding planner. Elizabeth really did offer help from the get-go, even though we took the month-of-planning package. There were so many issues to navigate with catering and last-minute cancellations by venues, and Elizabeth was always ready and willing to help me figure things out. 

Just to paint a picture of how wild the planning was: we had a bridal party mehndi night, Haldi ceremony, large mehndi night, "Sangeet" on a boat, 2 wedding ceremonies in one day, after party and recovery brunch. I really needed someone who could roll with the punches!

She navigated the 5-day Hindu-American-Australian extravaganza with such competence and ease. We had 32+ vendors across 7 venues, and honestly, there were no hiccups to speak of! It was my and my partner's favorite week ever. I can't recommend Elizabeth and her team enough! 

+ 7

photos

Erin D.

Married on 04/30/2022

Amazing event planners

We loved working with Elizabeth, Emma, and the whole team at AE! We did the "month of package", and I can't recommend it enough. AE took care of the little details that we never would have even thought of without them, and made sure the day of ran smoothly. I was initially on the fence about whether to have a day of coordinator or planner, and looking back this was a no brainer. I have recommended them to all of my friends who have gotten engaged since our wedding. They are wonderful!

Brad V.

Married on 11/06/2021

The perfect fit to pull off the wedding we dreamed of

Anticipation Events came as a late recommendation to us. After only a few minutes on our intro call it was very clear Elizabeth and her team were going to be the perfect fit to help pull off exactly what we envisioned for our wedding. The budget and schedule were spot on from the start so we all knew what to expect and could be accountable and focus on creating a memorable experience for us and our guests. Sharing the lead and at times fully trusting Elizabeth's experience, creativity, and talent to direct the execution made for a flawless celebration. Thank you Anticipation Events!

Amber J.

Married on 10/08/2021

Pandemic Wedding: Backyard Bliss

I am a control freak. I repeat, I love control & I love planning events. To release control of an event, geared for me, seemed UNIMAGINABLE. But now, I was planning my wedding, and not just any wedding, a covid wedding in my own backyard.

I knew I needed a coordinator, I knew it would be worth it, but it did not fully hit until the day after my wedding just how different my wedding would have been if it wasn't for Elizabeth & Anticipation Events.

Imagine your wedding day, imagine wanting to relax, but as the bride everyone asks you questions - nope not with Elizabeth. Imagine having to make random strange decisions - but instead just letting someone else do it & know it will be a-okay. Imagine coming home after your wedding to every little thing picked up, organized, locked up. Imagine being on the dance floor wanting a drink but not wanting to leave - wait suddenly theres a beverage in your hand! Imagine trying to delegate those tasks to your friends/family and GUESTS of the wedding who should be there to fully enjoy and celebrate WITH you.

The best choice I have made was to give up control and give it to Elizabeth. You can trust her and her team. You can rest assured that she is aware of what will stress you out and she protects you from all of the small things that will happen (and they do) but you would never know - because BAM she just DOES it.

Thank you so much to the little elf behind the scenes who made our wedding day one we will forever remember as a day of celebration. xx

Carmelle R.

Married on 09/25/2021

AE is the Best

Anticipation Events (Elizabeth, Laura and Esther) were a fabulous team to work with from start to finish. Our wedding, like many others, had to be postponed from Sept 2020 to Sept 2021. It was great to have a group of people working with us who always had our best interests at heart and tried to ease the stress and anxiety of planning such a big event during a pandemic. They were thoughtful, detail oriented, rolled with all the punches and created a beautiful and timeless event. Charlie and I loved every minute of our wedding weekend/day. We can't say thank you enough times. Make no hesitation in choosing to work with them!

Erika L.

Married on 09/18/2021

Elizabeth provided us with expert guidance, attention to every detail and professionalism so that we could enjoy every minute!

As out of state parents of the bride there were so many pieces in the air for our daughter's wedding. Our daughter and son-in-law to be were working non-stop and when we hired Elizabeth we immediately knew we were in the best hands possible.

Elizabeth provided details on calls with all of us, provided the most incredible time-lines and never missed one item. She transitioned us to the week of the wedding, her professionalism at the rehearsal was outstanding and on the day of the wedding Elizabeth's demeanor was one of calmness and joy.

We were able to enjoy every minute since Elizabeth took care of everything. Our guests remarked that she gracefully handled and checked in with all.

We think of Elizabeth more as a great friend who we trusted with the best day ever! We cannot recommend her highly enough.

Melia L.

Married on 09/18/2021

The best in the business!

Elizabeth and her team at Anticipation Events are the absolute best in the business. Elizabeth brought such organization and calm to the day so that we could enjoy every minute. From the moment that we first talked about our vision for the day (two years prior!), she immediately understood, and everything that was executed on the special day had that underlying thread.

Elizabeth made me feel special and cared for as a Bride, making sure my opinions were heard and our vendors understood what we wanted out of the day. From detailed timelines, to ensuring that I had wine and water throughout the evening, to putting together a dessert platter for our hotel room, Elizabeth and her team truly thought of everything. There wasn't a moment that I was worried about a single detail because I knew Elizabeth would execute it flawlessly.

My husband and I are so thrilled - if we could do it again, our first move would be to hire Anticipation Events! Elizabeth and her team are professional, organized, and so, so caring.

Sarah

Married on 09/03/2021

Top Notch Wedding Planners in Chicago!

My husband and I used Anticipation Events as our month of coordinator, and we are so grateful for Elizabeth and her team. Like many other COVID couples, we had to deal with delays and many uncertainties throughout the wedding planning process, and Elizabeth guided us patiently along the way. AE was incredibly organized, reliable, and easy to work with, and any couple would be lucky to work with them.

In the few weeks leading up to the wedding, Elizabeth was very proactive in reaching out to all vendors and partners, getting all contracts and final payments squared away, and providing general tips and guidance on how to stay calm during the wedding weekend. From managing email communications, coordinating the entire day-of schedule down to the 15 minute interval, and making sure we were well fed (and never without a drink in hand) the entire night of our wedding, we truly could not have gotten hitched without their help. We are so thankful for her and her team, and would recommend their services to anyone!

Ellen N.

Married on 08/13/2021

Book them now!

I know I'm biased here but that was the best wedding I've ever been too (haha)! I never expected to feel so cool calm and collected on the day of our wedding, but I knew everything was going to go smoothly with Laura's oversight. I didn't have anything to worry about because everything was well organized and every detail was covered. Anticipation helped us through not only one but TWO postponements due to covid restrictions. Because of this we got to be friends for a lot longer than expected, which I am NOT mad about. Aside from all the regular wedding tasks and then postponement undertaking, 6 weeks before our wedding our caterer threw us a curveball. Laura and Anticipation immediately jumped to the rescue with available back up caterers (luckily we didn't need them) and got on a 3 way call with us and the caterer to work it all out to a reasonable compromise. I would not have felt so confident during this hiccup without this awesome team to back us up! I will forever sing anticipation praises to anyone who will listen!

Anticipation Events's reply:

You're the best! Thank you for your kind words and for being so lovely throughout a very trying year. Was oh-so worth the wait!

Gabrielle

Married on 08/06/2021

Best decision I made (besides my husband lol)

Anticipation Events was the best decision I ever made. Newly engaged brides— the month leading up to your wedding, no matter how organized of a planner you are, you will be SO overwhelmed that having a team to keep everything together will allow you to be 100% present at your wedding. Lets not forget that we were working together throughout Covid-19. I rescheduled twice and AE was so helpful and accommodating. I know it was difficult for them as a small company but they really made the best out of a horrible situation and I don't know I would have done this without them.

Aimee was phenomenal. Every single detail that was important to me was accomplished. She also is a beast at following up with vendors! Many of our friends were part of our vendor team and they commented on how committed Aimee was to making sure everyone had what they needed. They joked about the long email threads but these are creative minded individuals that needed to be kept on their toes and Aimee did just that. Nothing fell through the cracks. It. Was. Flawless.

And the best part- she brought all of our decor including boxed meals from the wedding and all the desserts to our condo for us the following day! When you work so hard on the menu, you want to experience it yourself and it Was so amazing to have our wedding dinner with all the desserts the next day.


Anticipation Events's reply:

Yay! Was the perfect day after a really long and trying year! Disco balls FOR LIFE! :) Many happy returns (and GF dessert spreads) for years and years to come!

Cheryl W.

Married on 05/22/2021

The Coordinator and Stylist of Your Dreams

No amount of money or thanks can truly say how grateful and appreciative we are to have her running the show and styling our beautiful day. I could not have dreamed of a more perfect day. We had so many compliments, and some guests even said it was the most beautiful wedding they've ever been to. Other guests noted her work, on how smooth all of the transitions were and it didn't seem rushed or too long of grace periods. We can attribute that to her impeccable planning and coordinating of the day!

We initially had hired her for the month of coordination, but a few months before, we had to see if she was available for her styling, because when it came to those beautiful details that everyone loves so much at weddings, we were really clueless! I am beyond happy that we decided to hand her the reins.
It was AMAZING working with her. We told her our budget, and she ran with it. Presented us with great options, and was quick to respond. It was also AWESOME to have other local vendors involved, and who I can now recommend to future couples. She absolutely DELIVERED those gorgeous details, and truly gave us the wedding of our dreams. We will forever be grateful to Elizabeth and Anticipation Events for all of their hard work to make our day so special and one of a kind :)

Katie S.

Married on 08/08/2020

The absolute BEST people!!!

I can't say enough about how much I loved working with Anticipation Events! Elizabeth and her crew are the most friendly, hardworking, and responsive wedding planners, and made me feel so cared for every time we talked wedding stuff. I would recommend them to any engaged friends of mine. They seem to know everybody in the wedding biz in Chicago, and helped my husband and I create the most perfect wedding weekend. I would recommend them 100 times over!

Heidi K.

Married on 07/31/2020

The absolute best!

Elizabeth and her team are beyond fantastic. They got us through 3 date changes from covid, yes 3. Elizabeth's attention to detail is unparalleled and the way she anticipated anything that could have taken away from our joy that day is remarkable. After working with her and the team I can truly say they live up to their name. Don't wait and book her now, best money we spent.

Bridget H.

Married on 05/08/2020

Invaluable Service! The Perfect Wedding thanks to this team!

Anticipation Events was some of the best money we spent! From vendor management before and after, to creating a timeline (and ensuring everyone kept to it!) on the big day, to ensuring that myself and my husband and our families had everything we needed, the list goes on! Everything went absolutely perfect thanks to them. I truly don't know what we would have done without Anticipation Events. There were points in the night where my drink was almost empty, and another one would magically appear from Elizabeth or her staff so I never had to leave the dance floor. There was another moment where my husband was about to take off his jacket, and one of them appeared out of nowhere to take it! You cannot put a value on service like that on your wedding night. It's hard to articulate how many little details there are to keep track of on your wedding day, and it's so important to have someone else (outside of your friends or family) worry about them for you. Don't pass up the opportunity to work with this team!

Ellie G.

Married on 12/22/2019

Incredible wedding planner + day of event coordinator!!

I had the pleasure of working with Elizabeth for my intimate backyard wedding and I couldn't be happier with the outcome! With only 5 weeks notice, she was able to pull off an event that was nothing short of flawless. Not only did she help us find top-notch vendors that exceeded our expectations, but she also handled any issues that arose with ease and poise. My husband still talks about how she politely and efficiently convinced the loud next-door neighbors to take their backyard party inside and be quiet just one hour before the ceremony. As a bride, I didn't see a single problem while I was getting ready and had the most peaceful time preparing for our ceremony.
As a self-described "Type A's Type A", I was blown away by her organization and ability to stay one step ahead throughout the planning process. We had started talking to her a year before the event but our plans were disrupted by Covid. Despite this, Elizabeth was able to pull off an unforgettable wedding that exceeded our expectations. In fact, we picked the day of our wedding because it was the earliest Elizabeth was available, and we weren't going to do it without her! Her creative thinking and out-of-the-box ideas truly elevated our special day. I highly recommend Anticipation Events to anyone looking for a stress-free and unforgettable wedding experience!!

Sarah M.

Married on 09/28/2019

Great work!

Elizabeth was quickly responsive, helpful, organized, and patient. I would recommend her and her team!

Samantha H.

Married on 09/01/2019

Hire them!

This is the first review I've ever written on wedding wire and likely my only one but I need to share how amazing this company is. We worked with Elizabeth and Aimee for our wedding at Thalia Hall in Chicago this past Labor Day. They were incredible. I am very Type A and planned most of the wedding myself and thought I'd have a hard time handing over control to someone else. This was not the case at all once I saw how organized and proactive Aimee was. She responded to every email, took initiative, and immersed herself in every detail, no matter how small. The team was so competent and delightful and the day of the event could not have gone smoother. If you're debating hiring them and they have availability on your wedding date, just do it. They were amazing.

Izabel Z.

Married on 08/24/2019

Would Have Died....

I would have died without Elizabeth. I have to admit that planning a wedding was one of the worst experiences I've ever had in my life BUT because of Elizabeth I made it through and honestly had THEE most perfect day. Elizabeth was insanely quick to respond to anything I needed, and also there to just be supportive during stressful moments. She was there during breakdowns, fights, etc. On the day of, it felt as though I didn't have to worry about a single thing- she made sure everything was taken care of and told me where to go and what to do. It was perfection - my day was absolutely flawless because of Elizabeth and the team at AE. They are incredible and worth every single penny- trust me!!

Kathi C.

Married on 06/18/2019

Exceeded all expectations!

We worked with Aimee for Day of Planning and could not have been happier! I have planned a lot of events, including our other daughter's wedding, so did not think I needed a planner. Our venue really thought we should hire someone. I do not regret the decision at all. Aimee was a joy and the day was flawless. I wish we could give her 10 stars!
Are you interested?
Send a message