Reviews
5.0 out of 5 rating
Quality of service

4.9 out of 5 rating

Average response time

4.9 out of 5 rating

Professionalism

5 out of 5 rating

Value

4.9 out of 5 rating

Flexibility

5 out of 5 rating
99%
Recommended by couples
10 User photos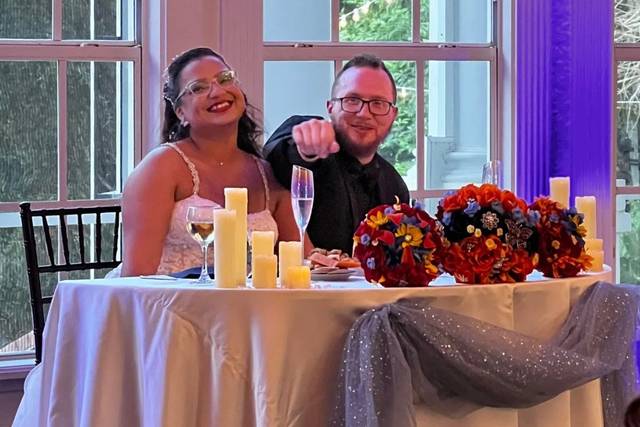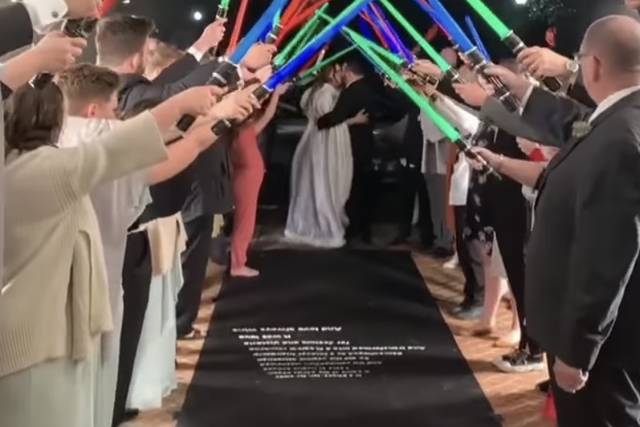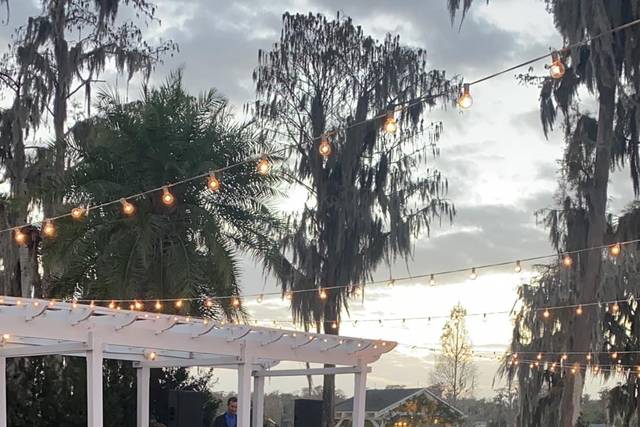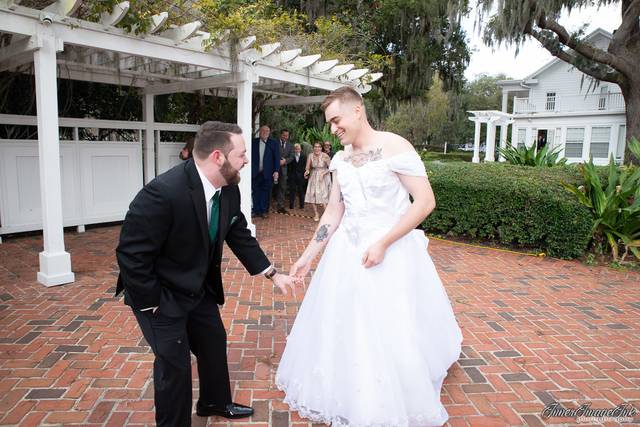 + 6

photos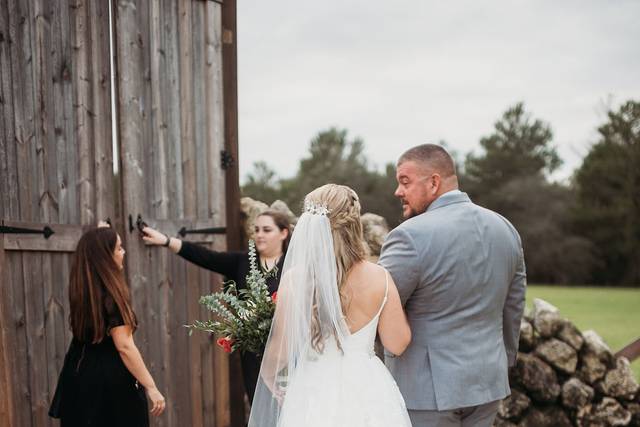 Jasmine B.

Married on 10/27/2023

You should hire them!

Christy and the team are a dream to make all your stress go away while planning your vision for your wedding. She helps you vision cast and find ways to not sacrifice the vision when challenges come up between making other important vendor and design decisions. She is energetic, sweet, and always pleasant to touch base with even when you are tired from all the crazy details of planning and verifying different developments in the planning process. What was important to my husband and I was that we find a way to make our wedding sweet and classy, but also become an eventual EDM festival at the reception. We felt crazy to try do this when we first started, but Christy helped with affirmation and suggestions to make it all work. Special thanks to Laura, Sergi, and Jenae from Anna Christine Events as well.

Stephanie L.

Married on 03/25/2023

Omg these ladies are amazing!

I can not say ENOUGH about this sister team! Christine (she has longer, straight hair) and Laura( has shorter curley hair) made my day absolutely PERFECT!
To Start : I chose the month of package. My NOW husband and I, had a good deal done and figured out. I just needed someone to make sure we weren't missing anything and just organize the day of. My mother is very hands on and crafty and I wanted her to relax the day of my wedding. They allowed my mom to relax! I comunicated with Christine throughout most of the planning. Her sister Laura (btw l, they look very much so alike) came in for the last run through with the venue and the rehearsal. They were both there the day of and were extremely organized, quick to respond to anything I had to ask and the girls they brought to help were perfect! My day was as seemless as could possibly be.
Now for where and how, they went ABOVE AND BEYOND! For my big day I decided to change my shoes, not my dress. I went from these beautiful pair of heels to a custom pair of Converse. I, and my people with me, forgot to bring a pair of socks. I brought this to the attention of my amazing wedding coordinators. I didn't known what to do. I wasn't going to walk barefoot and I wasn't going to party the night away with sneakers and no socks...EW. Thank God I didn't have to. I believe it was Christine (again the look very similar) came to me and told me I had a fresh pair of socks on my chair....they went to the store and purchased socks for me!!! It doesn't stop! We have a 3 year old son. He is a typical, picky eater. Chicken nuggets and French fries....that's all he eats! I planned on having that for him with my venue. Instead they gave my son chicken strips and Mac and cheese. I'm panicked, what's he gonna eat...I don't want him to have a melt down. Again my Angles come to the rescue. Laura arrives with a happy meal FROM MCDONALDS!!! She went to McDonalds and got my son a 4 piece chicken nuggets happy meal with French fries and apple slices with apple juice. My kid ate everything!!
They are amazing! There is so much more that impressed myself and my husband, but those things stand out greatly! THANK YOU THANK YOU THANK YOU FOR EVERYTHING! May God Bless you and your business for always!
Hire them! Now!

Jessica F.

Married on 02/10/2023

The best decision we made for our wedding day !

Christy was the best decision we made for our 2/10/2023 wedding! She recommended the best vendors, helped with decoration ideas, took care of us thoroughly for the months preceding and especially on wedding day, helped me with my dress tape, my veil, held our drinks for photos, and especially made sure everyone and everything was in order on our special day. She is an experienced pro and who you want assisting you on your wedding day. So thankful we found her and her company 🙏❤️

Are you interested?

Send a message

Allison J.

Married on 10/01/2022

Thorough, Organized, Amazing!

Anna Christine Events was the life-saver of our entire wedding!! Our wedding was affected by hurricane Ian, and when I woke up on the morning of my wedding day, the venue that I had planned on for the previous 14 months was without power and no longer an option. Christy worked so quickly and diligently to find us a new venue, on the day-of!!! She also coordinated so efficiently with all of the other vendors to make sure everyone was on the same page. I am SO thankful for their hard work, organization, positive attitude, and responsiveness throughout the whole event. They helped us have the most beautiful wedding day, despite all of the craziness. I 100% recommend their services to any future bride!

Linda J.

Married on 10/01/2022

Christy is a miracle worker!

Do not hesitate to hire her as your wedding coordinator, she saved our daughters wedding! Hurricane IAN struck 2 days before our wedding. The venue we booked had no power and the morning of the wedding, Christy managed to find a different venue (that was beautiful) and she helped move all the vendors day of to the new venue. We notified the guests and the wedding went off without a hitch. Everyone said it seemed as if it had been planned there all along! She ran a great schedule, helped us with her emergency kit 2 times for wardrobe malfunctions and her assistant was fabulous, even running out to the store to buy some suspenders needed.

Christy is professional, well organized, detail oriented and just plain nice to work with. We immediately liked her in the interview stage and hired her - never regretted it for a minute! She gave us great advice in many areas of the planning.

Hire her company and you will get a great wedding coordinator!

Miranda G.

Married on 04/29/2022

Worth every penny

Christy was amazing! Her knowledge and expertise made the wedding planning process a breeze. She was able to recommend the best vendors to us and make sure we got the best price. She was so quick to respond anytime I had any questions, and she reached out to vendors on our behalf. She does all the detail work that would have slipped my mind. She was also able to recommend certain experiences such as a cigar roller. Our guests loved that! The day went so smoothly, and if there was anything that went wrong I am none the wiser. It was the best day of my life and Christy really was a huge reason for that. If you're on the fence about a planner, do it! Worth every penny.

Victoria M.

Married on 01/16/2022

A True Blessing

LOOK NO FURTHER!!
I cannot begin to tell you how incredible these two ladies are. You do not need to look anymore you have for your perfect wedding planners! These two ladies made our special day the absolute best days of our lives.
With everything that's going on, they took the extra steps to make sure that everything was done months before the actual wedding day. Every vendor was booked, paid and ready to go. Day of the wedding was so smooth and calm that we actually got to relax and enjoy our special day.
While we had some extra flare to our wedding including: a Flash Mob, a fake first look and a lightsaber exit; these two ladies made everything so easy and so memorable. I would and will recommend any and everyone to meet with these ladies. They are by far the sweetest people and gave us overall the best experience we could have ever asked for.

Mark T.

Married on 11/13/2021

Perfect Wedding

My feedback if you are looking for a planner in Orlando -
Christy did an amazing job and my daughter has told us repeatedly she had a perfect wedding. Rather than repeat the superlatives of other reviews let me just tell you the why behind my rating.
Nothing, and I mean NOTHING goes off without a hitch (no pun) so it is amazing to me how this wedding day was perfectly timed and flowed seamlessly. I noticed that Christy and the vendors have a ton of experience working together and everyone knew their role perfectly and that was a HUGE advantage. Obviously her relationships with them is built on trust and respect. There is no other way this happens. It was as if they were all on the same team, liked each other and respectfully worked together for the common goal.
Of course this requires communication, attention to detail, knowledge of the operation, etc etc, but suffice it to say that the result was an amazing day and I would hire her again without hesitation.

Lauren O.

Married on 05/21/2021

Wedding Planning was a Breeze

Christy was amazing to work with. Christy was prepared for every one of our needs even the late night panic questions. From the beginning of the wedding planning process to the sparkler exit at out reception, Christy was there for us. Christy made the wedding day way less stressful. Her and her team were amazing to work with. We would HIGHLY recommend them to anyone.

Tiffany Y.

Married on 03/27/2021

Couldn't have done it without them!

Christy is an absolute gem and so knowledgeable. She made the planning process the last few months a breeze and stress free and her and Laura made the day of go so smoothly. They took care of everything and every single detail, even the small rip in my dress right before I walked down the aisle! I couldn't have gotten through the day without them!





Dany

Married on 12/30/2020

Christy is the best!

Christy did such a good job and helping me plan my wedding during the pandemic. I had so many moments where I wanted to pull back and Wood call her and many times all she would do is listen and give me one or two words of advice that would help me to change my mind and decide to go for it which I'm so glad that I did. She's super responsive very down to earth and was just the best choice for me. She did a great job and she will do a great job for your wedding too.

Janira H.

Married on 12/27/2020

Highly recommend!

Working with Christy as our planner for our wedding day was the best decision we made! She was so amazing & so organized & made us feel at complete ease with the entire process. On the day of the wedding, she took care of EVERYTHING so graciously, even our guests were complimenting how incredible her team was! I can't recommend her & Laura enough! She made our day so special! :)

Karly

Married on 12/05/2020

She is amazing!!!!

I don't know what we would have done without her! She handled everything for us and it all turned out beautifully!!!

Ashley H.

Married on 11/14/2020

We adore christy!

I do not even know where to begin! Christy was everything we needed and more to make our day go off without a hitch especially during COVID. First of all, I LOVE Christy's personality and PUNS! OMG the best! She makes you feel important, keeps things light and is very responsive which was so critical in keeping me calm. She was always there to lend ideas and help solve problems. This made the process less stressful and I felt super confident going into the day of the wedding that everything would get done the way we wanted it to. Our wedding day was absolutely incredible!

+ 2

photos

Suzanne

Married on 02/14/2020

Best. Wedding. Planning. Ever.

I cannot imagine planning our daughter's wedding without Christy's help. Ever. From our initial meeting to the nine-month Covid delay, Christy helped us stay excited and remain calm. She handled all the changes without us ever giving it another thought...caterer, photographer, florist, rentals, DJ, venue, budget. And she did it effortlessly with extreme professionalism, compassion and a sincere desire to ensure that Caroline's dream wedding became a reality. The savings we enjoyed by hiring Christy more than paid for her fee. Such a delightful surprise. She and her team of angels drove 160 miles on New Year's Day to orchestrate the rehearsal. They appeared early the next morning to ensure that the bridal party was on time and ready to enjoy each minute of the day. Every. Detail. Covered. So wish that I had a picture of Christy with ten purses slung over her shoulder and a bag full of comfy shoes for the bridal party headed to a secure room that only she knew where it was. Christy had it covered. All of it. There are no words to adequately thank Christy @annachristineevents for taking our idea of a dream wedding over the top at a price well within our budget.

Amanda S.

Married on 12/21/2019

Extremely Professional and Special!

We hired Anna Christine Events as our "Day Of Coordinator". She came highly recommended by several other vendors within the industry. One even told me "she should charge more, she is worth it." When I relayed the compliment to her, she told me "she didn't want too. she keeps her overhead low so she doesnt have to over charge." Her main goal is to make the bride and groom feel special without any worries or stress. From the very beginning Christy was very responsive and quick with all communication. From my first conversation on the phone, to our 2 planning meetings through the rehearsal and wedding day - Christy's only objective was to make our day seamless. She was extremely professional and knowledgeable - she is capable of handling ANYTHING from our big to little requests! As an event planner (corporate) myself, I greatly appreciated her and her work. She carried out our wedding day just as I had planned. If there were any "situations", I never knew! She handled it all! Thank you Christy!

Lindsay B.

Married on 09/29/2019

Excellent!! Highly recommend.

I have nothing but great things to say about Christy! She did so much for me on my wedding day without me even noticing. Thank you Christy!!

Stacy

Married on 08/12/2019

Thank you for helping make our wedding day perfect!

Christy is a true gem & handles herself with such grace. She kept me calm during our late night texts & answered every question with ease. Wedding planning is not an easy task. You need a true expert taking charge, keeping you in line and most of all making sure your special day runs smoothly. Without a doubt I would hire Christy and her team again. I was at total peace knowing she was in control! Thank you for helping making our wedding day a dream come true.

Shaneca H.

Married on 07/20/2019

Bride & Groom

Annachristineevents is by far the BEST Wedding Planner, you will ever want to book for your Special Day ! Laura & Christy were always enthusiastic about making your Vision come True! Laura & Christy will always greet you with a hug! They are knowledgeable, gives opinions and ideas at times even without asking. They coordinated our Wedding Timeline superb, had all vendors timely and all other vendors were happy when they hear they are working with Laura & Christy! Laura was always responsive to my texts and emails timely. On the morning of my wedding day, I was out looking for matches for my Unity Candles and Christy and Laura assured me to go home , they will find it and they sure did ! They made sure you have nothing on your plate to think about for your Special Day ! I will never forget Laura and Christy for being part of The Most Unforgettable Day of our lives !

Bethany K.

Married on 06/03/2019

Life Saver!

I can't imagine how our wedding day would have gone without Christy from Anna Christine Events. She was truly a life saver! We had Christy as our day of coordinator. She was incredibly knowledgeable about all things involved with a wedding. She ran the entire wedding and even did my bustle and put in my veil for me. She was super nice and professional and was even able to smoothly deal with a bit of family drama. I didn't have to worry about a thing on my wedding day thanks to Christy. I highly recommend her services!

Kellie

Married on 02/16/2019

She is amazing!

Christy was the perfect choice for my wedding coordinator. My wedding day went SO smooth because of her! She made several awesome recommendations throughout the vendor and timeline planning process. She is so nice and always has a smile on her face ... which made me comfortable with her from the moment I met her! She coordinated all of my vendors and made sure everyone knew where they needed to be and when. She was such a calming presence on my wedding day, always checking in on me and making sure she addressed any issues that arose. I would highly recommend hiring her!!!

Tiffany

Married on 02/09/2019

Beyond Amazing

There are not enough words to express our gratitude towards Christy! She is beyond amazing and was made to be a wedding coordinator! Her ability to adapt and come up with solutions that make everyone happy is a true gift. She was my therapist and knew exactly how to decrease my stress and anxiety. Christy and her sister Laura truly made our day magical and allowed us to enjoy it! I am truly inspired by their wonderful work ethic and positive attitude. We wish then nothing but the best and can't thank them enough for making our big day so special!

Michelle

Married on 02/02/2019

Amazing from Start to finish

Words cannot even express how elated I am that Michael and I chose Christy at Anna Christine Events to be our wedding planner. Christy was simply amazing to work with from start to finish.

Christy was always available, enthusiastic, professional and a complete delight throughout the whole process. I cannot emphasize just how easy she made everything. I am someone who can be a bit (ok a lot) indecisive and Christy's experience and suggestions really helped me. She is an invaluable resource, and I would recommend everyone take her professional advice when selecting vendors. She helped me figure out what I needed to know when I met with vendors, what questions I needed to be asking and she had so many fantastic ideas for every part of my wedding.

She helped me bring my bookish wedding to life. And then on the day of, she took everything off of my plate. I didn't have to worry about a thing. (and I am worrier, but having Christy there to take care of anything that might have come up really helped me have a relaxed, carefree and FUN wedding day!) I really owe that in huge part to Christy. (and all of my amazing vendors)

Christy is an incredible wedding planner! I loved her wedding day timeline. She orgazined all of my vendors, and made sure everything about the wedding day ran smoothly, on time and stress/worry free. I couldn't have even imagined my day would have turned out as perfect as it did. Thank you so much Christy! If you are even remotely considering hiring a planner to help you with part of or all of your wedding...DO IT! And pick Anna Christine Events, her and her sister Laura are THE BEST!


Ariliz

Married on 01/19/2019

She is Amazing

Where do I begin, Christy made my wedding dream come to life. She made sure that everything ran smoothly. She truly made my day magical. She knows how to manage vendors and be professional. She made sure that nothing was missing and managed to keep me calm throughout the wedding process .She was quick to answer my questions and was very thorough.

Heather

Married on 12/29/2018

Great to work with!

Christy and her team from Anna Christine Events were a pleasure to work with! She recommended many great vendors to us, and was very knowledgeable about the whole wedding business. She was very prompt at responding to emails, and was able to answer any and all questions we had as well as give suggestions on anything we were unsure of. The day of the wedding, she made sure everything was taken care of, resulting in a stress-free day for everyone in the bridal party including the parents of the bride and groom. She ensured everything ran smoothly and according to the timeline and did an amazing job of getting everyone set up for our grand sparkler exit. We know our wedding would not have been as perfect as it was without Christy's help, and we are so glad we hired her! She is amazing!
Are you interested?
Send a message