66 Reviews
Recommended by 100% of couples
Quality of service

5 out of 5 rating

Average response time

5 out of 5 rating

Professionalism

5 out of 5 rating

Value

5 out of 5 rating

Flexibility

5 out of 5 rating
40 User photos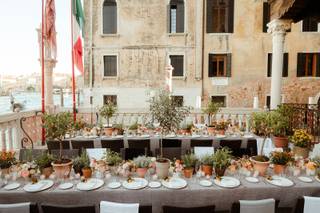 + 36

photos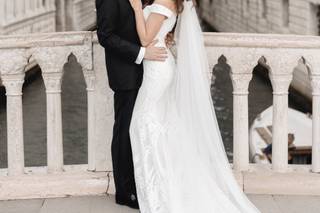 Logan H.

Married on 09/18/2022

Miracle Worker!

Amber is a total miracle worker! She helped us plan our Venetian wedding from the US with as little stress and worry as possible. Amber handled all the communication of our wedding day vendors and helped us coordinate our perfect rehearsal dinner. Additionally, she handled all the documents and communication with the priest for our ceremony in a Catholic church. Our wedding day was more perfect than we could have ever imagined. We had no stress or decisions to make the day of as Amber and her team (Rachel) stepped in and handled every last minute detail. Amber and Rachel seamlessly coordinated all of our vendors on the day of and kept everyone on schedule. All of my guests commented how on the ball Amber was and how it was the most organized and detail oriented wedding they had ever been to. She even noticed one of my guests had itchy eyes and offered him eye drops! I could not imagine working with anyone else to make our wedding day dreams come true! Amber is a magician and I only wish we had another party to plan in Venice to work with her agin. We cannot recommend Amber enough to help plan your wedding and cannot thank her and her team enough!

Joel

Married on 09/10/2022

Simply the best!

Amber is simply the best. After two cancellations because of the pandemic, we finally celebrated our wedding in Venice, Italy. We couldn't be more happy at the outcome of our event. Thanks to Amber who made it all possible for us to have this beautiful wedding celebration.

It all started few years ago when we were researching to see who could help us plan our wedding in Venice. After a thorough research, we finally found Angel Lion Weddings and Events. And all we can say is, Amber delivered! Everything that we wanted our wedding to be turned out even more wonderful than what we expected. Amber and her team managed to bring our dream wedding to life. Every detail that we wanted was transformed into reality.

My wife and I are from the hospitality industry (hotel and restaurant), and we understand the challenges that come along in doing an event. Coming from the US and doing our event in Venice was a little nerve-racking, but Amber right away put us to ease as soon as we spoke to her over the phone. She explained to us the process of having an event done in Italy. She handled all the necessary things we needed for the wedding (vendors, music, gondola rides, and so much more). She's a professional from day one.

We were truly pleased when we saw the reactions of our guests when they arrived at the ceremony and the reception. It simply spoke volumes on how Amber understood our vision and managed to bring our dream wedding into something so magical.

We will forever be grateful for all the help and support that she gave us. And we will always cherish all of the wonderful things she did for us. Amber and her team simply delivered an unforgettable wedding event that we will treasure for the rest of our lives. If we could do it one more time, we would gladly do so, just to relive all the special moments we had experienced on our special day. Thank you, Angel Lion Weddings and Events. You're simply THE BEST!

Felicity J.

Married on 09/23/2021

The Perfect Elopement in Venice 2021

Amber was a wonderful wedding planner and made sure every aspect of our wedding day was incredibly special.

We had to cancel our original wedding date due to Covid and we were on hold for over a year. Amber kept us up to date on the local situation, rumours and rules. All in all, we were planning our wedding with Amber for almost 3 years and she was so patient with us!

During one of our conversations in early Summer 2021, we asked whether she thought we could get married in September 2021. She said that according to the rules at the time we could, but that it would be safer to postpone until Spring 2022, as many of her other clients had done.

This really showed us that she was putting us first. Although we highly appreciated her selfless advice, we decided to throw caution to the wind, and Amber very quickly arranged everything for September 2021.

As well as all the usual wedding planning, she handled all the civil paperwork and all the communication with the local church and priest, which would have been a huge challenge from abroad.

She is a true professional, has all the best contacts, is very well informed and has great taste and attention to detail. We would highly recommend Amber for your wedding in Venice.

Javier & Felicity x

Are you interested?

Send a message

Sercan

Married on 12/08/2020

it's like when a dream comes true

Planning a marriage proposal in Venice from another country is far from being easy - unless you let Amber plan everything. From day one she supported me, gave me advice and listened to my wishes. Until the marriage proposal, I was not a minute worried that something might go wrong with the organisation. Even in Venice we were in contact, so that we were led inconspicuously to the venue of the marriage proposal. The venue itself was beautifully decorated, exactly according to my imagination. Both the support and the photographer were very friendly and took good care of us. Without Amber's help I probably wouldn't have managed it so well. Therefore I am very grateful to her. Contacting her was the best decision I made for my proposal. Amber, thank you so much for helping me and making my dream come true.

Matthew G.

Married on 08/20/2020

You can't go wrong with Angel Lion!

Amber is an amazing wedding planner and I cannot recommend her more highly. This company is fantastic!

Taylor

Married on 09/24/2019

Perfection.

To suggest that Amber (Angel Lion Weddings) is a miracle worker who can move mountains would be an understatement. She singlehandedly executed the most magical day of our lives, exceeding every one of our exceedingly high expectations. Our guests described the entire affair with a single word: perfection.

Everything from the photoshoot, the ceremony, the reception, and the catering (to name a few) were flawless in form. All were made possible by Amber's dauntless dedication, a planner who truly excels in her craft. Without her, none of it would be possible. (And I can speak from experience given that I initially tried to proceed with planning our wedding in Venice without Amber's assistance - A course of action that I can now say is certainly inadvisable! For any do-it-yourself-ers out there, save yourself the hassle and contact Amber instead!).

For foreigners, the process of getting married in Venice is a labyrinth, one which Amber is an expert at navigating. Despite several unexpected twists and turns, Amber made sure our wedding day was nothing short of magical. No feat nor challenge was too great for her to overcome. Despite their complexity, Amber also accommodated several highly unique/specific requests that we wished to incorporate in our wedding day. Without her, they would not have been possible. She was incredibly communicative throughout the entire process and has a sharp eye for detail, ensuring that every one of the countless logistics required for our wedding were coordinated. And (on top of all of that professional excellence!) Amber is one of the kindest and most caring individuals we have ever had the great pleasure of working with.

A mere "five stars" could never convey the depth and breadth of Amber's quality as a wedding planner. Both personally and professionally, we cannot recommend Amber more highly. Thank you for being the cornerstone that supported our perfect wedding day.


Amélie V.

Married on 06/04/2019

Our Venitian Wedding

My now husband and I are both French Canadian and catholic. We wanted to get married in Venice and get a religious ceremony as well as the civil legal papers. Amber was not the first wedding planner we had talk to in Venice... After 2 wedding planners telling us that they weren't able to book us the church we wanted (or any catholic ceremony at all...) we found her. She was able to get us a ceremony in the church we wanted and with a French speaking priest! Her whole organization from the legal and religious paperwork to the beautiful reception on an outdoor terrace by the water was meticulous and very well done. She made it very easy for us been abroad to pick everything from the music to the flowers. Everything met our expectations and beyond! She was very available thorough the organization process to hear all our requests and make them happen! We are very glad we had her for that very special day of our lives!
Thank you Amber!

Kim P.

Married on 06/01/2019

Exceptional design for your day

18 months in the making, taking 40 close friends and family to another country and expecting perfection seems a tall order.... Amber Rist Mollison made this dream come true. She managed planning with a sometimes indecisive and other times very specific couple. The Groom being just as directive as the Bride. She focussed on our hearts desires and made it happen. We had simply the best day. One which we would never have achieved without her detailed local knowledge, her passion and her eye for design.

Daniela A.

Married on 05/23/2019

Angel Lion

Amber Mollison (Angel Lion) came recommended to us by another couple and she and her team lived up to our expectations. We knew we wanted to get married in the most romantic city in the world but had no idea what it would involve. Amber demystified the legal process and kept us on track at every step. She was proactive and very responsive, despite the time difference between Venice and Australia. Every recommendation Amber made from venue, to photographer, to reception etc was even more than she promised. We couldn't have been in better hands. And it never hurts when someone is so easy to work with! If you're planning to wed in Venice, Amber is your wedding planner!!

Sylvia A.

Married on 05/15/2019

Hire amber if you want a magical wedding!

We had the most elegant, magical wedding thanks to Amber. She went ABOVE & BEYOND our expectations! She is very professional, organized, detail oriented and creative. From the first day of planning to coordinating the day of the wedding, Amber new exactly what I wanted, and made sure everything was perfectly set and done, on a timely manner. She's cordial and persistent. We really enjoyed everything about our wedding experience because of her. Wish we could get married every year!

Sarah A.

Married on 03/09/2019

Venice Wedding - September 2018

I came across the Angel Lion Weddings website after spending hours on google. From the start, I was really impressed with the website – it was a lot better than most of the others I saw and I really liked the style of the weddings Amber had done in the past. We set up a meeting with Amber when she was in London and knew from the moment we met her we were going to get along well. Amber is so friendly, organised and creative and she has all the best contacts in Venice! After our initial meeting in London, we met a couple of times in Venice to view venues, do food tastings and meet the florist, but the rest of the planning was done over the phone and by email. I was really specific with what I wanted and nothing was too much to ask of Amber. She introduced us to the best florists and caterers in Venice, who all worked together to create our dream wedding. On the day we left everything to Amber and her team and didn't see anything until we turned up at the venue after our ceremony. We were blown away – everything looked a million times better than we ever could have imagined and I am very fussy, to say the least! Amber's attention to detail was second to none, the entire set up was perfect. The day ran so smoothly and that's all thanks to Amber. We will forever be grateful that we met Amber and used her to plan our magical wedding, we couldn't recommend her more!

+ 10

photos

Yasmin B.

Married on 01/09/2019

With love from NYC!

Angel Lion Wedding Planners planned our wedding events in 5 months!! Aside from the wedding we hosted our guests to a welcome garden cocktail party, and a farewell brunch. With me being in NYC, I literally could not have done it without them! Amber Mollison (owner) was extremely responsive, detail oriented, and most importantly calm with a lovely disposition. I felt very comfortable with Amber from our first telephone conversation on....which is imperative with a destination wedding planner. My vision of the weekend was specific and Angel Lion worked tirelessly to find exactly what I wanted from floral arrangements to jazz bands. We wanted elegant/chic events with a fun, relaxed atmosphere...Angel Lion certainly delivered! Our guests continue to compliment our wedding weekend, all thanks to Amber and her staff. I highly recommend Angel Lion for best in class wedding planning in Venice, Italy!!

Kristin C.

Married on 09/26/2018

Impeccable Taste, Proactive & Anticipates Needs

We had such a wonderful experience planning our wedding with Amber. We told her about ourselves and what we love and right off the bat she created a beautiful vision board for us- and then brought it to life! She anticipated needs we didn't even know we'd have and created a wedding filled with tiny special details that wowed our guests. We were able to focus on our celebration and not the many logistics that go along with planning a wedding!

Pat R.

Married on 09/21/2018

Best Wedding Planner in Venice!!!

If you are considering a destination wedding but have reservations about the attention to detail and logistics…..think no longer. Here's your answer! Amber Mollison and Angel Lion will make your every wish and dream come true. When my daughter suggested a wedding in Europe I have to admit I was rather skeptical as I had already navigated one wedding in our hometown for her sister. I am one for detail and perfection so therefore I was nervous about handing all of this over to someone else. Venice is a beautiful city that offers the romance and old world ambience that makes any wedding memorable. We knew that finding the perfect wedding planner was a must! We fell in love with Amber the first time that we met her. Amber is incredibly professional, her vendors are fabulous and very easy to work with and her attention to detail matched my own. I love Amber's positive approach to helping her clients. Whenever we seemed to hit a brick wall, Amber always found a way around it and the solution was always perfect. Amber always listened attentively to our requests, came up with great suggestions of her own and made all of our wishes come to life. Suffice it to say…..if you want a fairytale wedding in a romantic destination…..contact Amber and let her work her magic. You will not be disappointed in the least! Happy Wedding Planning!

Lynh N.

Married on 09/15/2018

I couldn't have imagined a more perfect day!

Amber was super responsive and had amazing ideas and concepts for our wedding. Her vast knowledge of and connections with reputable vendors in Venice were immeasurable. I couldn't have imagined a more perfect day!

Debby

Married on 09/13/2018

Amber not only guided us through the multitude of documents required for an Australian and a New Zealander to be legally married in Venice. She booked the Town Hall and all associated marriage requirements, arranged the photographer, the violinist, the hair and makeup artist, the flowers, the translator, the speedboat, the lunch booking at Hotel Danieli and walked with us from the hotel to the Town Hall. She provided tissues to mop our brows from the humidity (and a few tears), she even gave us a bottle of wine and a lovely note to enjoy on the boat ride. I can't speak highly enough of the great job Amber did and the lengths she went to making our day stress free and special. I would recommend Amber to anyone looking for a trustworthy and dependable wedding planner. Amber looked after the legalisation of our wedding documents after we left Venice and couriered them back to us in Australia. She even paid the EUR15 shortfall we accidentally had from the Town Hall payment. She is an absolute star and we can't thank her enough!

Alyssa

Married on 09/10/2018

From the day we met with Amber Mollison of Angel Lion Weddings and Events she understood our wedding day vision and maintained that focus for the 8 months of planning our special day. There was in instant connection with Amber in our initial meeting and our personalities meshed very well. We walked away from that meeting feeling confident that we would be well taken care of. Our instincts proved right and we couldn't have asked for a better Wedding Planner!
Whether you need a full-service planner or only services on the day of your wedding Angel Lion Weddings and Events will not disappoint you. Ambers full service was amazing due to the fact we were getting married out of the country. Friends and family were amazed at how calm we seemed in the planning of our destination wedding. Angel Lion Weddings and Events made it easy. If you've envisioned your wedding day down to the smallest detail, Angle Lion will help you make that happen.
Amber can work with any budget. If issues arose with the vendors before, during or after our wedding, from the biggest to the smallest concern. Amber was readily available to answer any questions or concerns we had and we never waited more than a day to respond (especially important for the nervous bride!). Amber coordinated, and was present at all of the vendor meetings, and assisted us in reviewing all the vendor contracts and making sure everything was in order.
Amber was also on hand from the welcome dinner and all day of the wedding, with a timeline that ensured that everything ran smoothly. The wedding day, Amber was extremely attentive, made sure our wedding party was well taken care of and kept them and guests on time and happy. This allowed the bride and groom to relax and enjoy without worry.
We knew that we had chosen the right Wedding Planner when we first met Amber, but our guests confirmed it by saying how good Angel Lion Weddings and Events was and how Amber managed our wedding day so seamlessly!
Alyssa & Daniel

Jason

Married on 08/08/2018

Amber was amazing! We found her through a referral from Westin Europa & Regina Hotel. We contacted her and got an immediate email back looking to set up a time to talk. From the initial meeting she was very warm, inviting and eager to help with the planning of our wedding. James and I were a bit hesitant as we're from the US and we're never in Venice. Amber put us at ease and helped us plan every detail of our wedding. Luckily, we had a year to plan and Amber was very patient about us as we flip flopped between venues. Once we finally chose a venue and paid the deposit - we found out that there was going to be construction and not available on our day of 8/8/18. Amber quickly sprung into action and found us another fantastic location. Overall, Amber made this whole process easy and simplistic. We would highly recommend her services to anyone!

Hotel V.

Married on 08/04/2018

The perfect wedding planner!

We can't thank Amber at Angel Lion Wedding enough for all her hard work and for helping us planning the most magical weekend of our lives. Amber understood all our needs and she was so lovely and such a pleasure to work with and to be around. We had met with few other wedding planners but as soon as we met Amber we knew that she was the one for us. This was not an easy wedding to plan as we were having a three day celebration for 140 guests and almost all of them coming from abroad. We therefore traveled few times from Iceland to Venice to look at Venues with Amber and to go through all the wedding details. She showed us tons of places and helped us out with everything to the finest details. After few months of searching for the perfect wedding venue we found a hotel villa that was just a 20 minute drive from Venice but it was the perfect place as we wanted all our guests to stay at the same spot, we needed a swimming pool as it was 4 August (super warm in Venice) and we wanted a place that we could have all to ourselves as our dream was to have the wedding evening with a party until dawn. Amber was so kind and understanding even though it meant that she and all the staff would drive back and forth from Venice but she was so lovely and helpful and things just turned out perfectly. We still wanted to do something in Venice so she organized an Venezian Galeon for us and our guest for and absolutely incredible cocktail cruise on Friday evening in Venice

Amber booked everything for us, photographer, videographer, florist, hair and makeup, string quartet etc. and we were so happy with each and every one. She definitely understood us perfectly and that was so obvious when it came to decorations on our big day. We just showed her pictures of how our dream outcome would be and then trusted Amber and her staff to for all the details and everything was simply breathtaking. This is even something that was so incredible that we can't put into words. We have therefore attached few pictures both from the ceremony, aperitive and dinner area.

So from A-Z we give Amber and all the staff at Angel Leon Weddings our absolute best recommendation. Thank you so much for everything Amber, we simply can't wait to have a Spritz with you the next time we are in Venice 😊

Best,
Elísabet & Benedetto


Ritvars E.

Married on 07/10/2018

Amazing experience

Magic and elegance - a dream and ideas that flew through our hearts from Liepaja, Latvia to unforgettable and magnificent wedding in Venice, Italy. It was a day when heavy work turned into the light energy that has arisen in an royal atmosphere. Thank you, Amber, for your confidence, heart work, beautiful ideas and fantastic communication for helping this dream become reality. You made this gorgeous day with magical sparkle and true enjoyment.

Anjanette B.

Married on 06/29/2018

The Perfect Wedding Day

When we decided to wed in Venice we loved the romantic setting, however we worried about how we were going to plan a wedding without being on location and lacking fluency in Italian. From the onset, we knew that engaging a wedding planner would be essential to pull everything together.

Amber was an amazing and indispensable asset and our experience with her was beyond our expectations (which were high!). She created a perfect wedding day and had even thought of details that I hadn't considered. Her lovely personality, fabulous sense of style and attention to detail allowed us to relax and enjoy our time in Venice without having to fret about pre- and day-of wedding logistics apart from showing up.

Charina P.

Married on 06/21/2018

Angel Lion Weddings

Getting Angel Lion Weddings (Amber) as your wedding planner will be the best step you make before you begin your wedding planning. I did my wedding planning from overseas (Indonesia), and I didn't even go to Venice at all during the whole planning period. But my wedding turned out to be what I dreamed of and more. Because Amber was so attentive, responsive and was like a friend throughout the whole thing, I couldn't have done it without her. She really tries to understand what you want and will move heaven and earth to make it happen for you. She will also help you with last minute crisis (there will be, of course, it's a wedding). But rest assured you're in very good and capable hands :) Thank you Amber for everything!

Rebecca H.

Married on 06/17/2018

The best decision we made! It was a dream!

Angel Lion went beyond our highest expectations and Amber is the hardest person I know. We were nervous about getting married abroad and leaving the organization to a stranger. But all 100 of our friends and family said it was the best wedding they had ever attended!

We can thank you enough!

Giulio L.

Married on 05/06/2018

An Angel and a Lioness

We have been working together for an event in Venice that is a complicated place for logistics and organization. She did a great job!
Very kind with us, despite the pressure of the event and of the venue! Thumbs up!

Rachel J.

Married on 04/11/2018

Elopment in Venice - April 2018

Amber was a wonderful help in planning our intimate wedding from start to finish. She assisted us every step of the way, from giving us all the information we needed to plan our ceremony in Venice while living in the UK, to organising our paperwork in Italy, arranging our wedding day transport, photographer, flowers and booking our wedding breakfast.

We wanted an intimate, low key but beautiful day for just the two of us, and Amber helped us to achieve that. Initially we thought Angel Lion may not be able to assist us due to short notice or because our requirements were fairly basic compared to a larger wedding, however we were thrilled when Amber swiftly replied to us to say she'd be delighted to help us. After a morning ceremony at the Palazzo Cavalli we celebrated with a bottle of Prosecco before sailing around Venice and finishing the day with a wonderful dinner at Aman.

If you're thinking of getting married in Venice (which you absolutely should, it's stunning) you should contact Amber at Angel Lion.
Are you interested?
Send a message