111 Reviews
Recommended by 96% of couples
Quality of service

4.8 out of 5 rating

Average response time

4.8 out of 5 rating

Professionalism

4.8 out of 5 rating

Value

4.7 out of 5 rating

Flexibility

4.8 out of 5 rating
13 User photos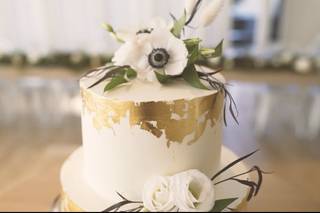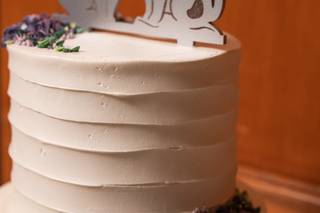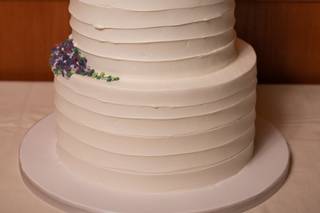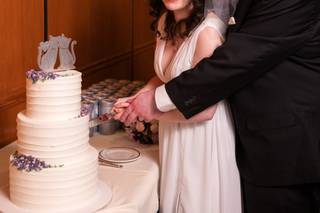 + 9

photos
Kelsey G.

Married on 06/18/2022

Delicious Dessert, Exceptional Service

Stacy and Alliance Bakery were such an incredible part of our wedding day - if you're looking for dessert for any occasion, they should be your first stop. 

Not only was our wedding cake beautiful and delicious, Stacy helped me through an eleventh hour panic, reducing the size of my cake and supplementing with a variety of additional desserts, helping me to avoid surprise catering fees as well as accommodate a variety of guest allergies (gluten free, dairy free, etc.). 

She and the bakery were exceptional to work with, and provided truly wonderful desserts for our wedding - we cannot recommend them enough. For your elaborately designed cakes to your everyday desserts, Alliance has your covered with customer service that cannot be beat. 

Victoria G.

Married on 04/22/2022

No regrets whatsoever!

My husband and I did a few cake tastings at different bakeries. Alliance was the first bakery we tried and we both loved it. Our favorite combination was hazelnut cake with mocha buttercream. It tasted like coffee, wasn't too sweet and the texture was light fluffy. We did the other other tastings, and they were not as good. Either lacking in flavor or felt as if it was old and stale. Nothing else we tried compared to Alliance, they set the bar really high. Communication was fast and they were easy to work with. I originally ordered a three tier cake with the top tier 4" wide. Looking at my custom cake topper after the fact, which was 5" wide, I realized I made a mistake and needed a bigger cake. I had my heart set on using my topper and asked if I could change the size of my cake. It wasn't a problem, they were able to accommodate me without any issues. On the day of, everything went perfect. It arrived on time, looked fantastic and tasted great. All of my guests thought it was delicious. I had a small wedding and ended up a bigger cake than I needed to accommodate my guests (because of my topper). But honestly, I'm glad I had leftover cake to take home with me. My husband and I were eating cake for a few days after the wedding and it still tasted good I was a bit sad when we finally ran out! 100% recommend. I will be ordering a small cake from them for our anniversary!

Nadia A.

Married on 07/31/2021

Fabulously delicious!

We used Alliance Bakery for our wedding and can't recommend them enough! We worked with Celina at our tasting to not only to sample the flavors but also create the design and size of our cake for 150 people, which turned out beautifully and so delicious (we went with 3 layers of chocolate, vanilla and chocolate iced with buttercream in each of our 3 tiers). She tied the look of the cake to our wedding decor so well!

Then, Peter helped us coordinate the day-of delivery and also worked with our florist to top the cake. 10/10 would eat here again and recommend them for big events! :)

- Nadia & Jordan

Are you interested?

Send a message

Anna P.

Married on 07/17/2021

Delicious wedding cake

I am so happy we went with Alliance for our wedding cake. The cake was very important to me! Our wedding venue had a contract with a different wedding cake vendor, but I was not happy with the company. Fortunately, our venue had worked with Alliance in the past and said we could switch to them. Communication with Alliance was timely and clear. I especially loved the tasting appointment. I brought my dad along and we sampled the cake flavors and frostings- they were absolutely delicious! There was enough for me to bring some home for my husband to try what I had selected. On the day of the wedding, the cake was just as delicious and the design was simple and timeless, just as I had requested. I would highly recommend Alliance Bakery for your wedding cake.

Marissa L.

Married on 08/11/2019

Beautiful, delicious cake, and lovely client experience!

Alliance Bakery did an amazing job! From the initial emails to the cake tasting and then to the actual wedding day, every step of the process was pleasant and exceeded our expectations! The cake was beautiful and delicious and the decorators did a perfect job realizing our vision. And they were extremely punctual with delivery!! Nothing negative at all to say about them. Get your cake there!

Angela

Married on 12/30/2018

Fabulous, fabulous, fabulous

Alliance bakery made my wedding dreams come true!! Most definitely will be using them in the future!!

Alliance Bakery's reply:

We are so happy to hear this!!! You were the so wonderful to work with and we loved decorating your beautiful wedding cake! Congratulations, we wish you the best, always! :)

Dana

Married on 12/15/2018

Holy cow delicious

My husband and I got married last month and hired Alliance Bakery to cater our wedding cake and desserts and we were sooo happy we did!! My husband heard of them from a coworker and actually purchased a red velvet cake with cream cheese frosting, my favorite, for my birthday last year. It was so stinking good we had to use them for our wedding desserts! We did an assortment of cupcakes and cookies and everything turned absolutely beautifully and so delicious! They were super easy to work with and very responsive while communicating through email. We will definitely be using them again in the future. I would HIGHLY recommend them for any baked-goods need!

Jamila

Married on 10/12/2018

Beautiful Cake

Our cake was 4 tiers of colorful deliciousness. We had several colorful cake ideas, and we were able to work together to come up with a cake that combined many of the elements that we liked. Alliance Bakery was one of our venues preferred vendors, but we were sold after the tasting.

Cari H.

Married on 10/06/2018

The Best Cake I've Ever Had

Walking into our wedding, I didn't think the cake was going to be that big of a deal, but in the spirit of having fun while wedding planning, my wife and I brought my mom and aunt on a cake tasting at Alliance. And all I can say is HOLY CRAP! First of all, every single cake/icing combination we tried was incredibly delicious; not too sweet and absolutely unique. Second of all, it became so difficult to choose that instead of having one wedding cake, we did a tasting cake and mini cupcakes. Those cupcakes were a HIT. And I don't think I've ever eaten a cake as good as this tasting cake. It was simple, beautiful, and delicious. And coordinating drop off at our reception location was a breeze. Alliance's wedding coordinators were a dream to work with.

Thirdly, as an LGBTQ couple, finding wedding vendors can be incredibly stressful and the Supreme Court decision about the baker and religious freedom came down while my wife and I were planning our wedding. I reached out to Alliance making sure we were welcome. I received a message of complete support. It made me feel truly welcome on a tough day.

If you are looking for a unique, beautiful, and scrumptious cake, Alliance is your bakery.

Heather

Married on 09/14/2018

We chose Alliance Bakery for our wedding cake and it was absolutely wonderful! We didn't actually have time to eat much cake the night of the wedding, but we had some for breakfast the morning before we left for our honeymoon, and it was the best breakfast I've ever had. We chose lemon cake with layers of cream cheese and raspberry preserves. 10/10 would order the same cake again.

Blaine

Married on 08/25/2018

Alliance made a beautiful wedding cake for our special day! It was absolutely gorgeous. A dream! The tasting in the planning process was super yummy. Our absolute favorite flavor both in the tasting and in the actual cake was the chocolate with the chocolate fudge filling! Alliance was great to work with and I would definitely recommend them for your wedding cake! Separately, they make AMAZING cupcakes as well!

Courtney

Married on 06/23/2018

My husband and I used Alliance for our wedding cake. We frequent Alliance very often since we live in the neighborhood, and we have known for a long time that we wanted Alliance to make our wedding cake. I came into the wedding cake with a rough idea of what I wanted. Sarah helped me to create a custom cake that turned out beautiful. Each tier of the cake was different and extraordinary. On the bottom tier of the cake, they created a gold Chicago skyline. It turned out incredible, and better yet, the cake tasted amazing! We are so happy we went with Alliance to create our custom wedding cake!

Jamie

Married on 01/06/2018

Alliance supplied the cake for our wedding. It was such a fun and easy process to design the cake. We had so much fun at the tasting with Nora. She helped us to design a cake that met our needs perfectly and wasn't too expensive. Alliance also delivered the cake to the venue, which was perfect! I am also happy to report our guests ate the entire cake! I would recommend them to anyone needing a cake for a special occasion.

Jon

Married on 11/11/2017

This company is awesome. We had a great experience tasting with them and then they even accommodated making a plane cake. My wife and I are both pilots and they went above and beyond making this happen. The cake was incredible too and everyone of our guests commented on how great it was. Loved this company. Easy to work with and super accommodating.

Alliance Bakery's reply:

Jon,

Thank you so much for your kind words and sharing some photos! It was such a pleasure working with you both and we're so thrilled to have been a part of your big day.

Cheers,
Alliance Team

Mike

Married on 10/14/2017

We had a great experience working with Alliance Bakery on our wedding cake and macaroons. The tasting was laid-back and fun, and not stuffy like the other place we went to. The person we worked with was very approachable and funny but also professional, and together we put together a menu that perfectly fit what we we looking for. Most importantly, the quality of the cake and macaroons was second to none. We highly recommend Alliance Bakery for delicious food with a creative and sophisticated approach.

Rachel

Married on 09/23/2017

Alliance Bakery was awesome. Their location is great and the tasting was so fun and special; but mostly delicious! We got to custom choose our flavors and the final product was perfection and exactly what we asked for!

Alliance Bakery's reply:

Rachel,

It was awesome working with you too! I'm so glad you loved the flavors. Thanks for sharing the beautiful photo of your cake and allowing us to be a part of your special day!

Cheers,
Alliance Team

Kathryn

Married on 08/26/2017

Our wedding cake was unforgettable! I didn't have a great idea of the design I wanted, but I sent Alliance a couple pictures and thoughts... The end result was better than I could have dreamed. If you are slightly uncertain about your cake design and want expert guidance, this is the bakery for you.

A couple other things I loved about working with them:
1) They have a huge variety of cake flavors. You can be as creative as you want. We ended up choosing half red velvet cake with cream cheese filling and half lemon cake with coconut filling.
2) The cake tasting with Katy is held in an adorable front room next to the bakery. It was relaxing and fun, like having an afternoon tea with friends.
3) There were no hiccups or problems working with them. They are true professionals.
4) The cake was delicious. I got an unexpected number of compliments on it.

I will definitely find an event in which I can work with them again. They made my cake truly special. (Venue: Adler Planetarium)

Teresa

Married on 07/15/2017

Our wedding cake was SO, SO pretty and delicious. Our guests were raving about it - a few people even told us that it was the best cake they'd ever had!!! We're beyond glad we went with Alliance.

Alexandra

Married on 11/05/2016

We ended up with alliance bakery because our reception site (the W city center) contracted out the baking to this bakery. The cake that was created was delicious! We had 4 layers all with different cake and icing flavors. I'm happy the W was connected with alliance and I would gladly choose them again on my own.

Sandra

Married on 10/22/2016

Our cake was beautiful and absolutely delicious! We ordered a half bride/half grooms cake with no fondant (as I really dislike the stuff). The scroll work on the "bride's half" matched my dress and looked so pretty. The chocolate ganache on the "grooms half" was dark and yummy. Many of our guests complimented on the flavor; and the serving size was pretty big!

Tiffany

Married on 10/01/2016

Alliance made us a beautiful cake. We didn't want anything too crazy, and just wanted a naked cake with a smattering of gold foil (see Pinterest), and even though we had a combination of vanilla and chocolate cake, it looked lovely peeking through the buttercream. I basically just let them know when and where the reception was, and they handled everything else.

Christine

Married on 09/18/2016

Most of our guests ate at least 2 if not 3 pieces of cake which should indicate how wonderful it was. Simple and easy process, delivery right on time. We could not be happier.

Hillary

Married on 09/15/2016

Alliance totally nailed the cake and desserts we had at our wedding! We worked with Jenn through the planning process and she was great at bringing our vision (and flavors) to life. We did a small 3 tier cake with almond cake, strawberry filling, and vanilla buttercream icing and it was one of the best bites of cake I ever had. Our dessert table also had mini desserts like fruit tarts, mousse bars, and cupcakes that looked gorgeous. The only downside, as most brides would say, is I wish I had more time to eat everything! But I'm glad the guests all loved the treats. : )

George

Married on 07/30/2016

My parents own a restaurant and have been using Alliance for a long time. I am so happy we went with them for the cake. It was super tasty and looked great!

Ryann

Married on 12/31/2015

Working with Alliance Bakery was easy and fun! The cake tasting was one of my favorite parts of wedding planning, as everything was completely delicious! The cake was beautiful and was exactly what I was envisioning, and I got a lot of compliments from guests on how delicious it was. It was very simple to work with Alliance and they were very responsive every time I contacted them.
Are you interested?
Send a message