34 Reviews
Recommended by 100% of couples
Quality of service

5 out of 5 rating

Average response time

5 out of 5 rating

Professionalism

5 out of 5 rating

Value

5 out of 5 rating

Flexibility

5 out of 5 rating
Awards
8 User photos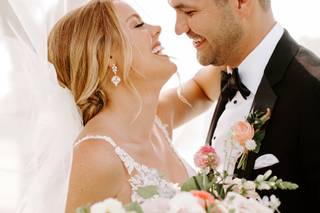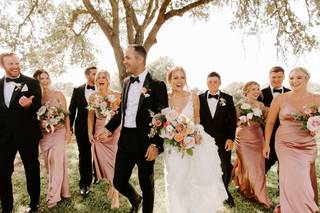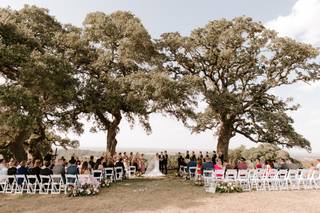 + 4

photos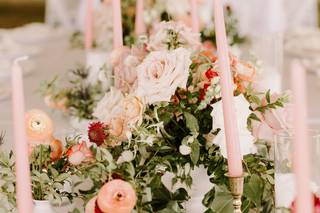 Lauren R.

Married on 09/04/2021

ATP is an absolute must!

My now husband (always exciting to say!!!) and I had a long awaited wedding experience (due to country/state/venue changes and cancellations from the pandemic). With our third go round of completely having to re plan our wedding, we settled on a countryside Texas wedding and thankfully found Amy! Planning a wedding while being out of state sounds extremely daunting but I never once had a worry in mind when working with Amy. I cannot stress enough the detail that she puts into making sure everything is beautiful and intentional, while running smoothly and efficiently. Amy is truly brilliant at her craft! I still to this day, and for so many days and years moving forward, will think about what a dream our wedding day was. Our experience was beyond anything I could have imagined - she truly helped bring so many stunning and special moments to life. Your wedding day is a flood of emotions but I have never felt more at peace than I did then. Amy became more than just our wedding planner and immediately felt like a friend or family member. Absolutely adore her and her team, and would a thousand times over again hire and recommend All Things Planned!

+ 4

photos

Ben W.

Married on 06/10/2020

Wedding Experience

Amy was a consummate professional and met with us multiple times. Her level of customer service is without peer. She made the wedding day absolutely perfect and was truly part of our family.

Hayley G.

Married on 09/21/2019

Destination Wedding - NO PROBLEM!

I absolutely appreciated all of the attention to even the tiniest details that All Things Planned helped me work through. Without Amy's help, it's likely that I would have been lost throughout my wedding planning. The impeccable service, flexibility, and "can do" attitude that ATP exudes is why I will tell all of my friends to seek out this planning service for their upcoming nuptials!

Are you interested?

Send a message

Samantha A.

Married on 03/23/2019

All Things Planned

ATP did a fantastic job with our wedding, and had every detail nailed down leading up to our big day! Jackie was our coordinator, and she was such a great person to have in my corner on the big day - she was always there to calm me down, reassure me, and keep everything moving according to plan (and let me know it's all fine if it didn't!). We were so fortunate to have a coordinator that was so focused on planning the perfect day for us. We are so thankful for ATP and their expertise!

Suzette P.

Married on 01/12/2019

All Things Planned...amazing and wonderful to work with!

Amy and her team at All Things Planned were amazing and wonderful to work with! She helped my daughter and I plan the perfect wedding- down to each detail for over a year! She kept us on track with monthly meetings, and contacted all the vendors on our behalf to make all the essential updates, changes and contracts easy for us to look at and approve. As the mother of the bride, I can tell you that the wedding day was stress free... only because I knew Amy was taking care of everything for me. I knew we were in good hands because we met so often, that she became like family and really had a sense of what we had envisioned for that day.... down to every last detail. She was really fantastic the day of the wedding and I cannot imagine what it would have been like without her! I highly recommend Amy and All Things Planned's expertise in planning your wedding! They are worth every penny!

Christina

Married on 09/22/2018

I would highly recommend hiring All Things Planned! A year ago today I got engaged and now we've been married for almost 2 months. We couldn't have done it with out the help of Amy and her team Nyssa & Jacquie and for a little while Heather! We fell in love with Peach Creek Ranch which led us to All Things Planned. We upgraded our package with them and that was the best decision! I always went into our timeline meetings overwhelmed and always left relieved. Two weeks before I was freaking out a little at all that I had to do but Amy and her team took care of the vendors and vendor timelines which was a huge weight off my shoulders. She even picked up and dropped off our table linens.
The day of was absolutely perfect and ran so smooth thanks to them! I couldn't have asked for a more perfect wedding day. From start to finish it was flawless- The decorations were set up exactly how I envisioned, they made sure I was calm, fed & made sure we had beverages! I didn't stress about a thing! We had a few guests comment and compliment on how smooth it all ran.
Amy & her team are incredible and I have the best memories of my big day thanks to them!

Hannah

Married on 08/11/2018

All Things Planned was very helpful in the wedding planning process. They joined us six weeks out from our wedding as apart of a partnership with Peach Creek Ranch. They helped us with our table arrangements, contacting our vendors six weeks, out and day-of-timeline. Vannesa did an excellent job as our day of coordinator. It was her very first wedding she was in charge of herself and it went fabulously. The whole day ran smoothly and went off to my knowledge without a hitch! Our wedding was very large and I would have completely overwhelmed, but Vannesa was calm, confident, and very helpful the whole entire day. Amy and Jacquie were also a huge help when trying to make table arrangements among many other tasks. We were so blessed to work with All Things Planned. I would definitely recommend them to any bride!

Sydney

Married on 07/28/2018

Amy and her team were amazing to work with! We did the full time package, and I am so glad we did. It saved so much stress! We had monthly meetings to make sure we were on track, and those were really helpful. I appreciated Amy's honesty when I would have an idea. She would always listen but if it was a crazy idea she would tell me why she would do it differently but ultimately let me decide what we wanted to do. The day of the wedding went off without a hitch. It was everything we had imagined plus more. I believe everything ran smoothly because Amy made sure every detail was taken care of before the wedding day. I 100% would recommend these ladies!


Shania

Married on 11/11/2017

Where do I even begin? Amy and her team are absolutely amazing!! Amy always treated me like family and from the moment we met I knew that I was in good hands. She helped bring my visions for my wedding a reality. She didn't miss one detail! Having her as my coordinator took so much stress away, and made wedding planning fun and enjoyable for me. She even managed to fully plan my wedding in less than 5 months! She is absolutely incredible! My wedding met every expectation and so much more!! If you're looking for a coordinator look no further. Amy and her team are so so good at what they do, and they are all so sweet. I love All Things Planned!!

All Things Planned's reply:

We love you too!

Rosanna

Married on 11/11/2017

Amy was absolutely amazing. She is professional, energetic, and flexible. She understood my busy schedule and made the wedding planning process easy. She incorporated the ideas I had and took care of the details. I highly recommend Amy and her team at ATP.

All Things Planned's reply:

Thank you so much, Rosie! It was SO GREAT creating such a wonderful celebration with y'all!
Much love!
//A

Janis

Married on 09/23/2017

Amy at All Things Planned was absolutely wonderful as our wedding coordinator! She is extremely organized and efficient...she is a perfect blend of very professional and extremely nice...and she works very hard to make sure you have the wedding you have always dreamed of. I am not making this up...this is how happy we were with her as our wedding coordinator and this is how she made us feel. We felt like we were her only client and also her good friend. If you are looking for a wedding coordinator, look no further...call Amy!!

Todd

Married on 06/10/2017

Amy and her team are amazing. Seriously. Stop looking if you want a day of coordinator. She handled absolutely everything day of and it was a dream. About two weeks before the wedding I had a super stressful week. Usually my Mom and mother-in-law could help with getting everything done and both had to be out of town and couldn't help. I shared my two week to-do list with Amy and her team handled basically everything. It was so great! Day of everything ran so smoothly - in fact we joke that the only two things that went wrong or we forgot to do were because we didn't tell Amy about it!! (We meant to take all the cards with us on our honeymoon and I had some ice cream just for me hidden away at the venue. Instead they went home with a family member which is fine.) So my advice is hire her now before she is booked for your day and tell her everything - don't try to remember it all on your own!

All Things Planned's reply:

Thanks so much! We LOVED being with y'all on wedding day. What a fabulous day it was!!!

Yanessa

Married on 03/18/2017

My husband and I ran into Amy at the ODS open house and I immediately knew we just had to set up an appointment with her! We meet at her office and she was just so easy to talk to and seemed genuinely excited for us. I remember during our meeting she stepped out for a bit and the hubby and I decided then and there that we had to book her - we did just that and it was one of the best decisions we ever made! Our wedding would not have been the same if it wasn't for Amy and the ATP team day of coordination. Both of our families are from out of town and we didn't want any them running around trying to figure out vendors or our schedule and Ivan & I wanted to be able to enjoy our wedding and not stress. We truly enjoyed our wedding and our family did as well. Amy and her team made sure everything ran smoothly, set up everything for us and kept us on schedule. The months leading up to our big day Amy always checked in on us, answered our questions very promptly (this is very much appreciated) and the week of she followed up with all our vendors. At our wedding, Amy made sure my husband and I had dinner, stay hydrated and would check in on us. We can never say thank you enough for everything that Amy & the ATP team did for us, but please know that our wedding would have not been the same without you all. Amy you are so sweet, kind, calm and very well organized and it's not hard to tell that these qualities are a part of your whole team. Thank you so much again ladies it was a pleasure working with you all!

Heather

Married on 02/19/2017

We hired All Things Planned to do the full planning wedding package. One of the first things I noticed was how well organized Amy Rodriguez, the owner of All Things Planned, was. Amy is stellar at working with brides and is generally just a cool cat. Your monthly meetings with her will not only be productive, but fun.There were times when I know fully I was being bridezilla level difficult or obstinately undecided on wedding elements and she took my hand (metaphorically) and helped me navigate all and any wedding decisions. She never once showed impatience with me. She has a very useful wealth of knowledge about vendors, which proved to be immensely helpful. Oftentimes she would be the go between with vendors and me, which alleviated much of the burden of keeping track of all the little details and payments.She exudes kindness and a love for her career. She was quick to respond to emails and she or her team would thoroughly research anything I mentioned I was interested in. She made charts to compare prices and services. I always felt like I was making smart and informed decisions.

The wedding day itself went seamlessly and nothing, I repeat NOTHING went wrong. I had a stress free wedding day where I could take in the moment and create those fond memories because of All Things Planned hard work.

For any overwhelmed bride, choosing All Things Planned is a no brainer. They are very capable professionals who you can trust with your wedding vision and to keep everything that day running smoothly! Without a doubt, All Things Planned was the best investment we made towards the wedding!

Lanie

Married on 10/01/2016

Amy and her staff were a joy to work with. She beautifully handled every tiny detail throughout the planning process. We were able to completely enjoy a perfect, WORRY FREE, wedding day because of All Things Planned!

Claire

Married on 08/20/2016

I hired Amy for the day of my wedding and honestly, looking back, I should have hired her to plan the whole thing! Amy and her staff are phenomenal! She went way above and beyond to make my wedding day perfect and helped everything run so smoothly. In the planning process, she answered so many questions we had (how many plates we needed, how many pieces of cake to buy, etc), and she helped us think of things that needed to be done that we would have never thought of. If you are hesitant about the cost of hiring a wedding planner, don't think twice....hire All Things Planned! It will be worth every penny! -Lane and Claire

Amy

Married on 04/02/2016

Working with Amy and her team was such a blessing! When I first got engaged, I was skeptical about hiring on a wedding day coordinator but decided to go ahead at the suggestion of my recently married friends. I am SO glad I did. Amy is passionate about making your day exactly how you envision it while taking all the work off of you! Having her and the crew at my wedding made it a much more joyful and special day, instead of a stressful one. She knows her stuff and truly thinks of everything. THANK YOU AMY! I could not have done it without All Things Planned:)

Amy is a great wedding planner! So sweet and so good at what she does! I would be a wreck without her.

Lauren

Married on 05/29/2015

It is next to impossible to adequately describe how much of a blessing it was to have All Things Planned coordinate our wedding day. I am a very organized person and love to coordinate things, but when I started the planning process, I felt SO overwhelmed; I knew I needed help. I searched for weeks for a planner, but nobody made me feel as important as Amy did. The second we started talking, I knew I was in the right place with the right person. I will never forget this: she said to me and my mom at our very first consulatation, "Every wedding I'm a part of feels like MY wedding. I promise to make this the best day you've dreamed of, because that's what I would want for myself." Boy, oh boy, did she do that and more. Every detail, big or small, was handled with tremendous care and professionalism. Every aspect was just as imporant as the next. Our wedding wouldn't have been what it was (amazingly perfect) without Amy. I am so blessed to have met Amy and gained such a wonderful friend. Like I said before, none of this even comes close to describe how amazing the whole process was with All Things Planned. Do yourself a favor, and don't waste one more minute researching anybody else. You've found THE BEST in All Things Planned.

Kristy

Married on 03/14/2015

When we started looking for a wedding coordinator, I (the bride) met with a few local planners. I met Amy with my MOH and had a really good feeling about her. My groom was a bit skeptical of All Things Planned, as their reviews were just too unanimously perfect, but we went with my gut feeling. After working with Amy for more than a year, we can tell you that the reviews are accurate--All Things Planned is amazing. Amy worked closely with us in planning every detail of the wedding. She was constantly talking with us as we thought through things and was always able to recommend vendors for our every need and whim. I was her first bride that needed a wheelchair, and she adapted to the new situation as if she had done it 50 times before. On the day of the wedding, Amy and her team ensured that everything went off without a hitch, negotiating schedules with vendors, delivery of cake, flowers, setup, family, music…the only thing we had to worry about was getting pretty and remembering to say 'I Do.' The wedding was beautiful, and it only came together because of Amy. Over the course of wedding planning, she was much more than just a coordinator; she was a counselor, an advisor, a confidant, and a friend. If we had it all to do over again, the first thing we would do is hire All Things Planned.

Stars 6/5

Kelley

Married on 10/25/2014

Amy made every moment of the wedding planning process a breeze and our wedding day was absolutely perfect because of her expertise. Every pumpkin, floral arrangement, table, and decor item was perfectly placed. Wedding Planning is stressful, even for the most laid-back bride, but because of Amy, we were truly able to enjoy our perfect wedding day without a single worry. Thank you so so so much Amy.

Erin

Married on 08/15/2014

Though Amy was simply brought in to coordinate our wedding, I feel like she should be given the title of Wedding Planner/Coordinator/Decorator/Singer Extraordinaire! She and her team worked to make sure I had absolutely zero stress during not only the wedding day, but the entire planning process. I felt very prepared over the 10 month planning journey because Amy was always there to answer questions and give advice. Though we did have a few hiccups the day of the wedding with some of the vendors (not due of anything that could have been accounted for), Amy was quick to react and control the situation so that no one even noticed! She is a true professional, and is someone who really cares about making you feel special! I would COMPLETELY recommend Amy and the ATP Team to help plan your event. You won't regret it!!

Miranda

Married on 05/17/2014

I can't say enough good things about Amy and her staff at All Things Planned. She answered my millions of questions in a very timely manor and truly helped to make our wedding day amazing. Her and her team truly want you to enjoy your special day. I can say with all certainty, my husband and I would not have had the most perfect day if we had not hired All Things Planned. I highly highly recommended!
-Miranda White

Kylee

Married on 04/05/2014

I don't know what we would have done without Amy and her staff! Amy was there to answer any questions I had at any moment. The team was very detailed and helpful as well! Everyone we worked with was very professional and always had a smile on their face. If I needed Amy to meet with me for anything while planning, she was always ready to help. The value you get for what you spend makes it totally worth it! They helped make our day even more special! I would recommend them to everyone!
Thanks again guys!!!
-Kylee and Rey

Jordan

Married on 01/04/2014

Amy was an absolute steal! She was always quick to respond, and I mean message-her-from-the-store-about-a-vase-and-get-a-response-before-I-leave quick. She was able to meet at times that were convenient for us, and professional might as well be her middle name. She is everything (and more) that we could have asked for in a planner. I felt totally at ease with my wedding in her hands! Asking All Things Planned to help us with our special day was undoubtedly the smartest wedding decision we made.
Are you interested?
Send a message