116 Reviews
Recommended by 99% of couples
Quality of service

5 out of 5 rating

Average response time

5 out of 5 rating

Professionalism

5 out of 5 rating

Value

4.9 out of 5 rating

Flexibility

5 out of 5 rating
32 User photos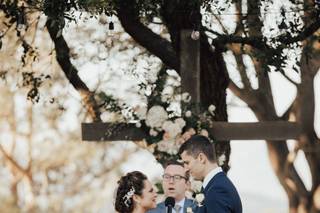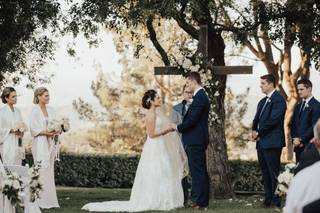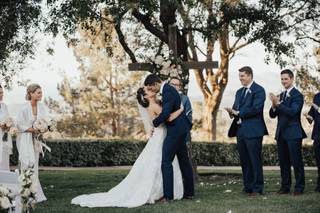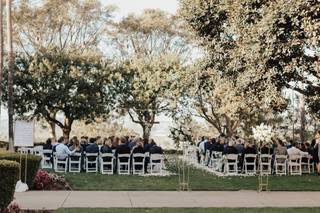 + 28

photos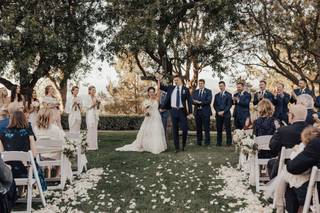 Toni N.

Married on 12/03/2022

Ran the show like clockwork

Cari was phenomenal. We utilized her services mainly for the last month of planning and day of event. She was short-staffed and had to run the event by herself but she just buzzed around getting stuff handled. Truly appreciatd her support - especially when it came to cutting the train of my dress! She didn't bat an eye :)

Alisa S.

Married on 09/02/2022

Cari is the best!

Cari is an awesome coordinator! She's been doing this forever, and absolutely lived up to the hype (she deserves those 5 stars on over 100 reviews..!) She was so helpful from the very beginning and is extremely easy to reach out to, even when its months before the wedding. I was able to show up to the wedding stress free and have total confidence that Cari would run everything smoothly. Literally everything was perfect from start to finish. She got all of the decor items and other belongings back to their respective owners. My husband and I, as well as both sets of our parents were so thankful to have her running the show on our big day.

Ashley V.

Married on 10/02/2021

Best coordinator!

If you're looking for a wedding coordinator you found her! Cari was absolutely incredible and made our wedding day so flawless for my husband and I. During the time of wedding planning she was there any time I needed her and helped me with literally anything I needed. She pays great attention to detail and truly is a sweetheart to work with. I could not have picked anyone better.

Are you interested?

Send a message

Marissa

Married on 09/10/2021

Cari and her assistant Kira were absolute lifesavers! I have nothing but positive things to say about what an amazing help they were to us on our wedding day. Cari is a true professional and handled everything like a boss. She was so fun and easy to work with along the entire process. Her attention to detail is unrivaled and her years of industry experience speaks for itself. I would recommend Cari to any bride/groom and stress the importance of having a trusted wedding planner and the priceless value it brings to creating a stress free day. Thank you, Cari!!!

Deborah G.

Married on 06/24/2021

Wedding Coordinator

If you are looking for a wedding coordinator, look no further. Cari was fantastic to work with and her attention to detail is wonderful. I have worked with many professionals in my career and Cari is top notch. She planned all the details for our daughter's wedding. On the day of the wedding, she handled issues that came up with our venue. As the mother of the bride, I was able to enjoy the ceremony and know that everything was taken care of. I would highly recommend Cari and her team as a wedding coordinator. You will be very happy that you hired her. Our daughter had her dream wedding and Cari helped make that happen. Thank you so much Cari. Deborah Gabriel

Kristina

Married on 08/04/2019

Cari did a wonderful job with my wedding. I only booked her for the day of but she wad extremely helpful with things that came up throught the whole planning process!

Erin P.

Married on 05/26/2019

Best experience!

Cari was the absolute DREAM wedding coordinator. At the time we hired her, my mom and I had already booked our big vendors, so we weren't certain that we even needed to hire a coordinator. But one phone call with Cari and we were convinced – we loved her and we needed her! I am so glad that we had the opportunity to work with her. She brought absolute joy to our wedding planning, which had started out as quite stressful. She has the best energy and best attitude. She was always able to listen to our ideas or concerns, keep us calm in times of crisis, and reminded us of the joy and excitement for the Big Day. She was so responsive – whether by phone, email, or in person – she made herself available to us so that we always felt supported throughout our planning process.

We got married at the end of May in Camarillo at a venue that was entirely outdoors. Typically it rains 2-4 days in the month of May in Camarillo, so we didn't think we would need to worry about the weather. But the week before, there was a forecast of rain on and off all weekend. Cari called us, reached out to us, to make sure that WE were not stressing about the weather. She said, "We are checking it – multiple times a day – and WE will be worrying about it and our plan B – so YOU don't have to." What an amazing gift. We ended up last minute booking a tent, but were still hopeful that we could have our ceremony outside in the garden. Just as our guests arrived, the sky opened up, and it started raining. Cari came into the bridal suite, explained calmly to me what the situation was and what our plans were, and left us with champagne to relax while she took care of everything. It only rained for 20 minutes and then the sun came out. She checked back in and explained that we would still probably have to do the ceremony under the tent, and not in the garden, because the chairs were wet, and the cello player wouldn't play without a covering. I was disappointed, but it seemed there was no choice. Then, 10 minutes later she came back into the Bridal Suite and said "We're doing it in the garden!" She said she could tell I was disappointed and that she didn't want to see that face on a bride on her wedding day. So they had moved an umbrella for the cello player and got a team together to wipe off all the chairs. My bridesmaids and I were so happy we started chanting "Garden! Garden! Garden!" with Cari. I will never forget when she came back to get us, asked "Who's ready to get married?" a big smile on her face. She made me feel so calm and excited.

Everything she did – in the entire nine months that we worked together -- allowed us to relax and ENJOY our wedding. All of our wedding guests, bridesmaids, and groomsmen said, "Wow, we love your wedding coordinators – they're amazing!" which is exactly how we feel.

Monica

Married on 02/16/2019

Best decision

Hiring Cari Izaguirre was hands-down the best decision we made. If we could give more than five stars we would. From our very first meeting, and all the way through wedding day, her experience and professionalism was evident. But beyond her talent was her warmth... It felt as though we had been friends for some time. We had a lot of the planning done, but Cari was available always for any and all questions we had and to offer her expert advice when needed. She is beyond organized and that gave us such confidence. On rehearsal day (which she ran with ease) we literally handed everything over to her.... decorations...vendor responsibility...set up...everything! And from that moment on we were free to really just be present and enjoy family, friends and the entire Wedding Celebration. The day was absolutely beautiful and perfect , as Cari pulled it all together. We did not have to do a single thing. And at 1:00 AM when we went to our car..it was packed with all of our items to take home! We truly appreciate all she did! We highly recommend Cari and All Occasion Events as the Premier Wedding Coordinators in Ventura County and beyond!

+ 14

photos

Kelsey R.

Married on 12/14/2018

The absolute best!

Cari and her team, without a doubt, was one of the best choices we made for our planning and wedding day! Every meeting was a breath of fresh air knowing we were on track. Every e-mail to a vendor was overlooked to help us feel comfort that we were asking the right information and confirming all details. Every request and task (tiny or huge) was met with ease.

Here are some simple (compared to the large overview of all they really did):
1) On the wedding day, I hadn't heard much from the limo company. I text Cari about how I was feeling (while getting ready) and her immediate response, "I talked to him this morning and he on time to be at the hotel at 12!" As a bride & groom, the comfort of knowing every vendor and dollar you put into the event is being confirmed is such a relief.
2) We made aisle signs (without really thinking about reusing them). We showed up to the reception and the signs were re-purposed and absolutely adorable. When you spend time making things, it is so awesome to see them used all night!
3) The underneath tulle of my dress had torn, but Cari was there with a safety pin ready to go and fixed it immediately!
4) When the wedding ended our parents' cars (who were taking the decorations home for us) were packed and ready to go within 20-30mins - this included the exact number of centerpieces we had requested to keep. My parents couldn't have been more grateful after a long day!
5) I cannot think of one time that Cari came up to us or asked us a questions besides to do planned events. She and her team handled EVERYTHING - it was truly unreal!

These are the tiniest things of all the effort and time they put into our wedding day! We would recommend them a million times over! Not only did they do such an amazing job, but we also feel like we gained a friend in Cari and her team! From the absolute bottom of our hearts, THANK YOU!!!

Caity

Married on 08/05/2018

Cari is AMAZING. She took care of all the tiny details (ones that I wouldn't even think of!) On the wedding day, she never once approached us with any questions because she had everything handled. All we had to do was float around and enjoy the day! Her recommendations for vendors were spot on and she was overall a pleasure to work with.

Emily

Married on 04/28/2018

I have nothing but good things to say about AO Event Planning! Kendalyn did an amazing job! Everything was set up beautifully and we keep getting comments from our guests about how our wedding was elegant, so well put together, and "very us." Kendalyn and Renee made everything very easy for us so we didn't have to worry about much on our wedding day other than enjoying it. I am very pleased with how everything went. Thank you so much! We had such a great day.

Roberta

Married on 03/31/2018

Our wedding day would not have been as perfect if it weren't for Cari and her team. She was recommended to us by our venue and we were so happy we hired her. She knew the ins and outs of our venue and was able to guide us in our choices since we had to work around a few venue related rules. She also gave us amazing vendor recommendations, including our incredible caterer and DJ. She was always so easy to get in touch with and responded to every email quickly. We had been a little stressed prior to the wedding and one of my biggest fears was not being able to enjoy the wedding to the fullest due to stress, but everything melted away when the day arrived because we knew Cari would take care of everything. Her care and attention to detail made our day beyond perfect. We couldn't have done it without her. Thank you so much Cari and Kira! We are so grateful for the incredible job you did!

Kathleen

Married on 11/11/2017

Cari, hands down was one of our best investments for our wedding. During the entire wedding process and all the way up to the end of our wedding night at the venue, Cari was there through it all! During the planning processs and especially the last four weeks of wedding planning, Cari was there constantly responding to my emails regardless the time of day/night I sent them. She also has an amazing list of vendors to chose from, and my husband and I actually used a few for our wedding day! During the wedding day, she was constantly texting and making sure that my husband and I were okay and reassured us that our reception venue would turn out amazing; and that it did! Thank you again, Cari and Kira for everything you've done for us!

Stephanie

Married on 08/26/2017

We were extremely lucky to find such an amazing wedding coordinator/planner like Cari from All Occasions. I think what helped the most is Cari has been in the industry for a while, knowing all the right contacts to make your wedding look effortless. I was surprised how many people came up to us saying that it was the best wedding they have ever been to. I honestly thought the same, but figured we were biased :D. All the credit goes to Cari, as she made sure the rentals, vendors, and services worked like clockwork.

Cari has several packages to suite your budget and needs. We specially found the list of vendors she has worked closely with useful since we were not from the Camarillo area. We plan to write reviews for our florist and DJ vendors that were recommended by Cari; they were hands down the best value and made a world of difference.

Apart from taking care of the venue requirements (paperwork, insurance), attending meetings with vendors, etc. she was extremely helpful by answering emails and texts promptly. I swear, we must have bugged her like every other day when it got close to the wedding date, but she was so nice, professional, and responsive.

My husband and I bought a lot (and I mean a lot) of miscellaneous items we thought would look nice at the wedding. We honestly had no clue of how to make everything look cohesive but we left it in Cari and her assistants' hands that morning and they worked their magic. My husband, who is very particular (and hard to please), thought the set up for the wedding looked better than he imagined. Cari just has that eye for detail. I can go on and on about how happy we were, but decided to attach photos to show some of the extra details she provided. We highly recommend Cari for any of your wedding planning needs!

-Steph and Garrett


+ 7

photos

Josephine

Married on 07/23/2017

What an incredible day...best day of our lives, hands down!! Our wedding could not have gone any better and we have Cari & her staff to thank for everything feeling so seamless and perfect. All through the process, they have always been a constant support and so professional and attentive. Cari is extremely detail oriented and kept everyone in constant communication and aware of exactly how the day should go. Most importantly for us, Cari is a genuine, loving and such a sweet soul who you want to be there on the most important day of your life. She has become a friend to us in many ways. She understands who we are and what we love and how we wanted to celebrate our day with all our most important friends and family. I would highly recommend Cari to anyone who wants to experience the happiest and most perfect day. I couldn't stop smiling and dancing and I still do whenever I think about our wedding! Thanks Cari & thanks to everyone at All Occasions Event Planning!

Allie

Married on 07/21/2017

If you are looking for a wedding planner, look no further! My husband and I worked with Cari and she made the entire wedding planning experience so enjoyable and easy. The day of the wedding I was able to relax because I knew Cari had all of the details under control. She was the most reasonably priced event planner we came across when searching and went above and beyond!

Monica

Married on 06/17/2017

Cari and her team are the best wedding planners in the game. When i first decided to hire a wedding planner, i didnt even know what to expect. Cari exceeded my expectations. Her attention to detail and her love for her clients truly shows. She made our big day seamless and truly is a wonderful person. I would recommend her to anyone out there looking for a wedding planner. Cari is the best investment in your big day. If i could give her more than 5 stars i would.

Sasha

Married on 05/28/2017

All Occassions took everything I wanted and turned my dream into a reality! I can't thank Cari enough for all her help in reducing all anxiety, and that says a lot since I have extreme anxiety! Working with Cari was fun, easy, and so organized. It was the BEST experience and I am so thankful to her and her team!

Anissa

Married on 04/21/2017

Working with Cari was an absolute dream!!! We hired her after learning that our wedding venue (Camarillo Ranch House) required a day-of wedding coordinator. Although we didn't realize it at the time, hiring Cari / All Occasions Event Planning was hands down the SINGLE MOST IMPORTANT thing we did! Cari is SO on top of it--responsive, professional, friendly, offers VERY reasonable packages, and is just super knowledgeable about event planning and coordination. Although we got married in California, we live in Seattle and Cari helped us to plan everything remotely. She answered emails quickly and always offered to talk on the phone or videochat with us as needed. Living out of state, it really helped us to feel connected. She is also a human rolodex and knows a lot of vendors personally. Her day-of schedule, processional outline, and map of the venue were incredibly helpful. And most importantly, on the day of our wedding and after one year of planning, my husband and I felt simply at ease knowing she and her equally amazing assistant had everything taken care of. They were always one step ahead! At the end of the evening, although our families were ready to stay late to help clean up, Cari and her team had everything packed and ready to go! She is a miracle worker and we received so many compliments on how smoothly the day ran. She is the best of the best and we had a great experience working with her. Thank you Cari & All Occasions Event Planning!

Sumi

Married on 03/05/2017

When we booked our venue we were told that booking a wedding coordinator was mandatory. We were against it at first, but from day one of us emailing Cari with an inquiry she changed our minds. The other coordinators treated us as just another client and seemed really cold compared to Cari. That was one big reason why we choose her. We are so incredibly thankful and glad that we did! Cari is hands down AMAZING! For one, we weren't the best planners in the world and definitely had no clue what to do as far as weddings go. Cari not only kept us on track, but was incredibly helpful along the way. She really helped us shape our wedding into the dream we wanted it to be. She made planning a lot less stressful. So much so that the day of, our wedding day was perfect! We didn't have to stress, we could have fun, and overall it was absolutely a dream come true! Cari is not only worth every penny, but she's also so personable, friendly, and a pleasure to work with. Thank you Cari, you were absolutely amazing and will (and have) recommend you to other couples!!!

Alyssa

Married on 10/29/2016

Cari and her assistant were day of planners at our wedding this passed weekend. She is absolutely amazing!!!!! She makes everything run so smoothly, and knows everyone in the business from the dj's to lighting and food caterers which is so helpful when making decisions. She is incredibly organized, thorough, and everything we talked about pre-wedding was perfectly planned out. During the ceremony and reception she popped up at the pefect moments to check in, give a few reminders, and make sure we were doing ok. She allowed my family and myself to really be present in the day, instead of running around doing the little things. She also has great tips and ideas that make the day and night more enjoyable for the guests. Cari and her team are the best!!

Erin

Married on 10/08/2016

My husband and I hired Cari as our month-of wedding coordinator for our October wedding. We could not be happier with the results of this decision as it was completely invaluable! We got married at my father-in-law's property rather than a typical wedding venue, so we pretty much had to do everything from scratch and the thought of that was overwhelming! Cari was so confident and capable and instantly helped assure us that our dream wedding was possible. She went above and beyond several times throughout our planning process and encouraged open and frequent communication. Cari ensured that everything on our wedding day went smoothly and we did not have to worry about anything! Several people remarked to us how much they appreciated the organization, flow, and details of the day...all of which we could attribute to Cari's skill and expertise. She was an absolute joy to work with and connected us to several other amazing vendors. I would (without any reservation) recommend Cari to anyone seeking event coordination services!!!!

Kristin

Married on 09/10/2016

Cari was great and made our wedding day run seamlessly! She was easily accessible and super helpful throughout the whole planning process! I highly recommend her and her team!

Ili

Married on 08/20/2016

When I first began thinking about planning my wedding I figured I'd do it all myself - I'm super organized and I plan events for work all the time. I'm so beyond happy that I was talked into hiring Cari and her team, and two months after the wedding I miss them so much.

From day 1 Cari had an organized timeline for us to stick to and also gave us fabulous vendor recommendations. We gave her an idea of what we were looking to do for our wedding and she brought it to life and then some. She kept us on track leading up to the big day, answered emails super quickly and was the perfect middle-man between myself and our catering director who we were not happy with at all. The night before our wedding we had a big issue with our hotel and Cari stayed behind to fix it while my new husband and I went on to enjoy our rehearsal dinner. Oh she also ran our rehearsal like a rock star so everyone knew exactly what to expect and where they needed to be the next day.

Our wedding day went by so fast, and if anything went wrong I don't know about it. Cari kept everyone on track, kept us on schedule and made sure everything was PERFECT. She took care of my husband and I making sure we ate during our dinner, kept us hydrated and packed up extra dinner and extra extra cake that was waiting for us in our room! I mean it really doesn't get any better. 2 months later and we're still getting compliments from our guests on how amazing our wedding was, how perfectly timed everything was and how they had an amazing time. My only complaint is that now I don't have a reason to talk to Cari every week!

Thank you Cari and to your amazing team for making our dream wedding a reality!

Jillian

Married on 06/25/2016

Cari was so wonderful to work with! She was our month of coordinator at Spanish Hills Country Club in June. In the months leading up to the wedding, Cari helped give us recommendations of vendors and was very communicative in answering all of our questions. She was very helpful and always answered quickly and with a positive spirit! The day of our wedding was smooth and perfect thanks to Cari, who made everything go off wihout any problems. She even packed up our car at the end of the night so it was ready to go with everything! I would highly recommend Cari as she is a wonderful person to work with!!
Are you interested?
Send a message