Reviews
5.0 out of 5 rating
Quality of service

5 out of 5 rating

Average response time

5 out of 5 rating

Professionalism

5 out of 5 rating

Value

5 out of 5 rating

Flexibility

5 out of 5 rating
100%
Recommended by couples
Awards
3 User photos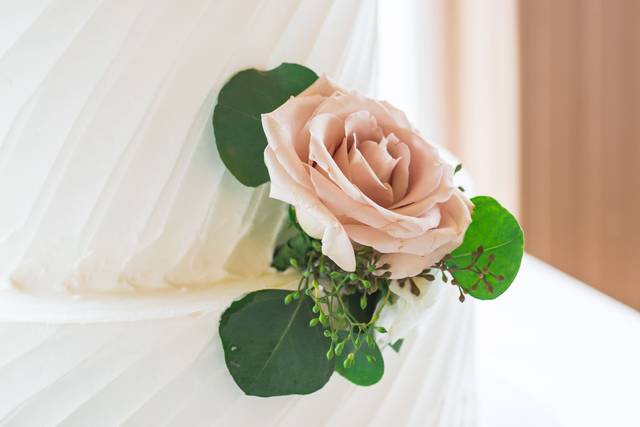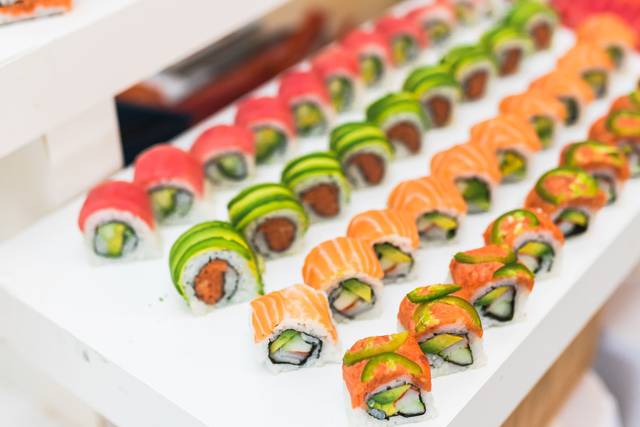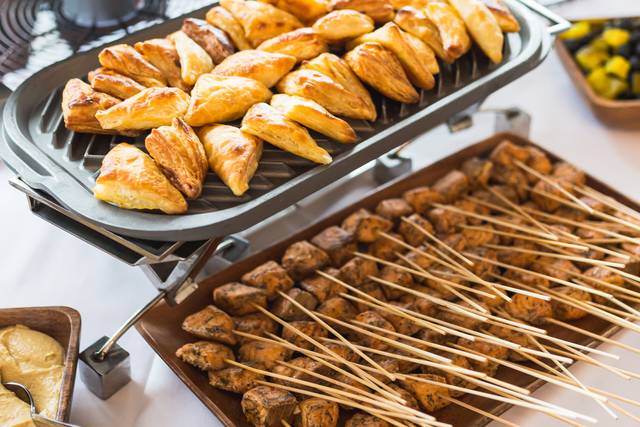 Vera E.

Married on 08/20/2023

Amazing Partnership, above & beyond expectations

It's been a month since my daughter's wedding weekend and we are still gushing about the fabulous time we and our guests had. Two truly memorable weekend events were the culmination of partnering with Jill Lamstein, owner of Above and Beyond Catering: a Shabbat dinner for nearly 60 people at our home, and the wedding event for 160 at the Hudson House two days later. Jill proved to be much more than just a caterer of food, assisting us with party rentals, floor plans and more.

Here is an excerpt from a note I sent to Jill expressing our deep appreciation for her work:

"[My husband] and I are ever grateful for having you as a partner throughout the planning and implementation phases of [our daughter's and her fiance's] wedding. Your invaluable assistance and availability, your cheerful disposition, the love with which you approach your work, your knowledge and skill, your approachability, your cooperative working relationship with other vendors made it a truly easy partnership, compatible in every way with our needs. All of these attributes were reflected in your staff, both on Erev Shabbat at our home and on Sunday, 8/20/2023, at the Hudson House. Everything was as expected, plus some. On both occasions, the food choices we were offered were both wonderful and surprising; the food at the events was absolutely delicious; the presentations lovely; the staff and service excellent, friendly and efficient. Your abilities went beyond just catering the food. We are very thankful to have found you."

Shari M.

Married on 07/04/2023

Above & beyond is truly above & beyond!

Above & Beyond Catering is beyong amazing. It was beyond fabulous working with Jill. The food was beyond delicious. I can't stop raving about the food and service we received. Our guests at the wedding are still talking about how fabulous the food was. I highly recommend!

Avital M.

Married on 10/27/2022

truly above and beyond!

Jill and the entire team at Above and Beyond were AMAZING. We were so, so, so pleased with the entire planning process through our wedding day. Jill understood our vision and helped us execute it and BEYOND, up until the very last minute of our wedding. We would recommend Jill for any occasion!

Are you interested?

Send a message

Anna G.

Married on 06/26/2022

The best!

Jill and her team were UNBELIEVABLE!!! She was an absolute pleasure to work with, and helped us with so many aspects of the planning process in addition to being the best caterer ever. We had soooo many guests approach us to tell us how good the food was. Jill catered our Shabbat before the wedding, and everything was delicious. All the food was so well balanced, healthy, and the paerve desserts were outstanding!! Would recommend Above & Beyond to anyone. 10/10!!!

Adam

Married on 04/10/2022

The Best Ever!

Jill and the team were AMAZING to work with. Such nice people and made the process so easy and fun! Not to mention - the food at the wedding was so so good and exactly as promised. People months later are still raving about it. Best wedding food ever - let alone best kosher!!

Esther L.

Married on 03/27/2022

Above and Beyond was amazing!!

First of all, if I could give the review 10 stars I would! Jill catered my daughter's wedding last Sunday. All I can say is that it was perfect. Everyone said the food was incredible, delicious and presented beautifully. Her staff was awesome. From the first day I reached out to Jill, she has been a pleasure to work with. Her professionalism, her quick response to phone calls, emails, texts, her amazing suggestions and her problem solving all helped make planning for the day a breeze. She treated me like I was family and made sure everything, not just the food, was perfect, and I will always be grateful for that. I can't recommend her enough and I look forward to using her again. Everything was truly "Above and Beyond".

Allyza L.

Married on 10/17/2021

Delicious, professional, amazing

Above and Beyond was absolutely fabulous on our wedding day. Guests are still talking about how wonderful the food was - the shmorg, dinner and dessert were amazing!! Jill also acted as a day-of coordinator and everything was seamless. She worked calmly and professionally behind the scenes with all vendors to keep the day flowing. I didn't worry about anything that day and it all worked out perfectly.

We had a lounge-like vision for the party: no assigned seats, a mix of table sizes, and a buffet of tapas style plates that would get people moving around the space. Jill made this happen and it felt seamless - she was endlessly positive and full of ideas and solutions to make the event feel festive, COVID-safe, and flowing. No one ever had to wait in line for drinks - bars were plentiful and well run. My husband and I sat at a small table together which she thoughtfully prepared ahead of time with a full array of food so we actually got to eat a little that evening!

I HIGHLY recommend Jill and her team and hope to attend more of her events in the future!

Erica R.

Married on 10/10/2021

Best decision ever

True to their name, Jill and her team went Above and Beyond. Planning a wedding during a global pandemic where comfort levels vary dramatically was certainly challenging. Jill was incredibly flexible and made sure our vision came true while also making sure everyone was comfortable. She was easy and wonderful to work with.

My husband and I chose a venue that was less familiar with the beats of a Jewish wedding but Jill made sure everything ran smoothly. Of course — these were all cherries on top and the FOOD was the main event. We're still fielding compliments about the shmorg and dinner and only wish we got to enjoy more during our special day! Everything was beautifully presented, delicious, and so creative! Jill also went off menu to create my husband's favorite dish as an entree. We were all thrilled and cannot recommend Above & Beyond highly enough!!

Lisa G.

Married on 10/03/2021

Incredible!

Jill and her team are incredible. As many brides are, I was stressed but Jill's professionalism helped put me at ease. She was easy to work with, flexible, and clearly a pro with years of experience. She made excellent recommendations and did so much more than she had to for us. Her efforts did not go unnoticed. We are very impressed with Above & Beyond. The menu selections were creative and unique. The appetizers and entrees were plated beautifully and the food was incredible! Our guests were raving about the food. We opted for the passed desserts. They were wonderful and so cute! The service and staff were also a pleasure! I have only great things to say about A+B. We anticipate more events in our future where we will have them cater again. Thank you again, Jill!

Anonymous

Married on 10/25/2020

Incredible

We used above and beyond for our wedding and it was so clear why their company is called above and beyond! Not only was the food incredible but Jill and her team were able to assist with everything else. Everyone was raving about how on top of everything they were and how helpful the team was in all aspects of the wedding day.
We are so thankful for all their efforts and look forward to working together in the future.

Rebecca S.

Married on 10/18/2020

Happiest that we chose Jill as our caterer!

Our wedding was at our home and July snd her team were able to cook the most amazing pescatarian menu out of our garage as their kitchen station. Every guest has called to tell me that the food was the best wedding food they ever had. I cannot recommend Jill and her team more

Yarden E.

Married on 11/18/2018

Best caterer ever

This is my first time writing a review but I couldn't resist because Above and Beyond was simply THE BEST caterer for our wedding a couple of weeks ago. We're praying we get invited to another event that has Above and Beyond as the caterer!

Jill is amazing with communication (answers emails at all times of day, easy to reach on the phone) and puts her all into everything she does to make your event special and one of a kind - she really goes above and beyond.

The food: People won't stop talking about how amazing the food was, and we were so happy when we got to take home leftovers. The food and presentation were gorgeous too - more so than I had seen at a wedding before. People were sad to hear that they missed out on certain dishes because of how delicious every item was. Jill even went out of her way to make things we requested, even though she and her team had never made them before, and the wedding cake was not only stunning, but tasted amazing (something you rarely see!).

The event itself ran smoothly, and Jill even provided menus with our wedding logo on them, which was a beautiful and personal touch and very much appreciated.

Every detail we asked for, could have asked for, and needed was executed perfectly, and we couldn't be happier with choosing Above and Beyond to cater our special day!

Avraham

Married on 08/12/2018

Jill and her team were amazing. From start to finish they wanted to get us what we wanted and they did the opposite of nickel and time. So professional, so kind, so normal. Recommend without hesitation.

Bat S.

Married on 08/05/2018

never write reviews. But I am going to write one now because I have never had a better experience with a caterer and I am never going to use anyone else ever again. We hired Jill for an weekend event with about 100 guests. There was something about Jill that let me know every last detail would be handled without my having to worry about it. (Maybe it was the fact that she returned my first two phone calls within 10 minutes.)
The food was amazing. Some of my relatives are the pickiest eaters I know. They were raving. And everything, I mean everything, was beautiful. The candle arrangement was lovely, the table cloth and flower arrangements were perfect, the seating cards matched the decor. I mean... really... I couldn't have asked for more.
And finally, she and her staff were the loveliest, most helpful, and responsive team I have ever seen. They couldn't have been more proactive and supportive.
So, in case it's not clear yet, if you care about ambiance, excellent food and knowing that you don't have to worry about details, hire this caterer!

Marion

Married on 11/11/2017

Jill and her team catered a Shabbat dinner for 100 people in a difficult venue in New York City with style and with class. Our guests raved about both the food and the service. Jill was always available to us, could not have made the planning easier, coordinated with the venue without needing to involve us and could not have pleased us more. Her prices were considerably lower than those of the main NYC kosher competitor and the quality of the food much better. We recommend her and her company highly.

Babette

Married on 06/11/2017

Fabulous caterer. Jill and Kirsten are a pleasure to work with. Incredibly organized and experienced. Their menu is extensive from beginning to end. They easily tweaked things for us and helped us stay within budget. We wanted a rustic feeling and they had all the plates , serving pieces and platters to fulfill our wishes. On the day of the wedding, Kirsten, Jills assistant was right by our side EVERY step of the way. Bringing us the cocktail hour food while we were getting ready in the bridal suite, even making sure the groom got a plate of everything he liked during the cocktail hour. Can't say enough good things about Kirsten on that day. The caterer created and coordinated a time table for the whole event with the Hotel venue (The Clinton Inn) the DJ and all other vendors. Last but not least, the food was delicious, beautifully presented including a scrumptious parve wedding cake. Highly recommend Above and Beyond Caterer. You cannot go wrong with them !

Jenna

Married on 10/30/2016

Jill and her team are the absolute best. From my first conversation with her I knew that I was in completely capable and incredible hands. She truly went above and beyond to please satisfy not only myself and immediate family but everyone who attended our wedding. She was overly accommodating with all of our small and large requests and event adjusted some of her recipes to satisfy my very detailed food sensitivities. I would recommend her to everyone who is looking to cater an event, large or small. Thank you so so much for everything!

Raquel

Married on 09/05/2016

If you care about the food at your wedding, we really recommend Above and Beyond! Fresh, abundant, unique kosher food! Every guest (from young to old) couldn't stop talking about how delicious the food was. No joke, not just a passing comment, but they would want to discuss every station, every passed item, and every main dish. And Jill and the team are delightful, professional, and organized and incredibly receptive to our ideas. Would definitely recommend!

Allison

Married on 07/17/2016

Above and Beyond catered my wedding in July. People are still raving about the cocktail hour, reception food and dessert options. They were beautifully presented, healthy, delicious and kosher! I don't eat sweets and requested a special wedding cake made out of fresh fruit, they had never made one before, but aced it!!!!!

Michael

Married on 07/17/2016

We hired Above and Beyond Catering for our wedding and they were great.

We heard across the board raves about the food; at least two friends said it was the best wedding cake they've ever had, and at least one who said, "I can't stop talking about the food. Hands down best food I've had at an affair." One of our friends liked them so much they might use Above and Beyond for their own wedding.

Throughout this process, everyone told us that we wouldn't have time to eat at our own wedding, but we made a special effort, and succeeded, and it was so worth it.

Just a note: if you're bringing your own alcohol, make sure it's OU hechshered.

Samantha

Married on 01/17/2016

There are simply not enough words to describe the incredible team at Above & Beyond. Jill is fantastic. She is a talented, creative caterer with the mind of an event planner. She even matched the colors at the food tasting to our wedding colors! Each detail was planned meticulously. She worked closely with our venue to ensure that each detail was carefully addressed. The food was incredible. When I asked some friends about their favorite bite, each had a different answer, highlighting the range of flavors Jill could capture throughout one event (my personal favorite was the tuna tartare cone). Jill has become family. Also--I have no idea how she gets pareve desserts to taste so good!!!

I strongly recommend her without a single hesitation.

Paula

Event on: 01/16/2016

THANK YOU!!!! For an easy and delightful planning process, for the amazing food, for a terrific crew (everyone was so professional and genuinely nice), and for Jessica, who oversaw the catering piece with such grace and effortless style, and worked so well with others involved in the event. All we ever wanted was a celebration of love, family and friendship for our son, and we got so much more. The delicious and beautiful food contributed to that celebration in a significant way. Our guests could not stop raving about the quality, quantity and beauty of the food being served, and some just couldn't believe it was kosher. Can't wait to find an excuse to use you again, and several future bar/bat mitzvah families in the room that night will be giving you a call!

Lisa

Event on: 12/05/2015

"The best cocktail hour, ever!" is what I heard time and again from my guests. They were pleasantly surprised when I explained it was even kosher. The food was delicious and plenty of it! We've all seen sushi bars, but nothing like this - I wish I had taken pictures of the rolls as they were works of art. The presentation of all the food was special and fun. The desserts were amazing - the best chocolate truffles! And, the best part was working with Jill. She helped keep me calm and made sure every detail was perfect. I can't say enough good things about the entire experience!

Ruthe

Married on 06/14/2015


For delicious, creative, exciting GLATT KOSHER cuisine presented and served with elegant style and sophistication, we chose Above and Beyond Catering for our daughter's wedding. Jill Lamstein and her staff are amazing, warm, enthusiastic and very helpful throughout the the entire planning process and our very special day.
When we planned our daughter's wedding at the Lighthouse, we were told, "Go to Jill. She's amazing!" Jill and her staff are amazing not only for the wonderful food and service but also for their warmth, enthusiasm and guidance ghroughtout the entire planning process. Above and Beyond Catering added a very special touch to our very special day.
Ruthe and Ronald Golden Great Neck, New York


Roselyn

Married on 09/01/2013

Hosting an off-site wedding poses many issues that hosting a wedding at a "venue" does not. However, Above and Beyond Caterers created and designed an elegant presentation of food at both the cocktail hour and the reception at our daughter's wedding. The quality of the food, the professionalism of the staff, the attention to detail, the style in which everything was done exceeded all of our expectations. The food was served hot and prepared to excellence - a very difficult task under ideal conditions. To accomplish this offsite is even more amazing. People are still raving about the food, the staff and how magical an evening it was. Jill's attention to every detail, her ability to listen to our requests and then execute them, as well as her wonderful, positive attitude made this entire experience a most pleasant and enjoyable one. Her ability to coordinate with the other vendors was spectacular and each vendor (tent, flowers, music and photography) had wonderful things to say and hoped to work with her again in the near future. Jill was always accessible by telephone and/or e-mail and ready and willing to discuss any item of concern. Above and Beyond made this a night which will be remembered by everyone for its amazing food and excellent service.
Are you interested?
Send a message