6 Reviews
Recommended by 86% of couples
Quality of service

4.3 out of 5 rating

Average response time

4.3 out of 5 rating

Professionalism

4.3 out of 5 rating

Value

4.3 out of 5 rating

Flexibility

4.3 out of 5 rating
1 User photo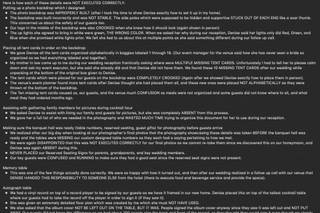 Rhoda

Married on 10/24/2014

I was planning the rehearsal dinner for my son's destination wedding in Santa Fe NM. I wanted custom candy bars....with the Chicago Tribune logo on the front, and a personal message and picture on the back. I met with Denise and Alex...brought Alex a copy of the newspaper and asked if this was doable.
Alex duplicated the logo right down to the small American Flag in the corner.....Denise also suggested these amazing favors that look like matches, but were really Lifesavers....individually wrapped...also with a personal message from the bride and groom...
My guests were BLOWN AWAY...at the creativity and the detail ! Alex and Denise listened to my requests...and just made my ideas better !! First class work at a reasonable price !! Just perfect!

Diane

Married on 10/18/2014

I hired Denise Murphy of Touch of Elegance as a "Day of Wedding" Planner for my daughter's Wedding. My daughter & I met with Denise months before the Wedding to discuss our needs for the Wedding Day. I found Denise to be friendly, creative, and very professional. She listened to our needs, had many creative suggestions, and assured us that we both would be able to relax and enjoy the day. We were able to relax as Denise stepped in and made the day stress free. She worked well with all of our vendors to insure each detail was covered to our expectations. She went above and beyond in the set up of food at the ceremony location, to making sure no details were missed at the Reception. I'm very happy with Denise at Touch of Elegance and the services she provided us, and will definitely recommend her services to friends and relatives. Thank you SO much Denise!

Denise met with me a few times and worked with me and my outdoor wedding. We had to move the reception inside due to cold and she warned me we might have to move the bartender inside due to wind (but we didn't). They had everything setup, they cleaned up, they had everything covered, ready to go, worked with my other vendors. I mean there wasn't a thing that went wrong because Denise and her staff knew what they were doing. EVERYONE commented on them. Here is some of what was said: "The wait staff is great! I hardly noticed they were there but nothing was ever out of place! ""Whoever is doing all this work to set up and arrange is amazing!"" Your service people really know how to work this place! I never would have figured this all out!" (layout of tables and such)"WE loved the bartender!" I would definitely use this company again!. :)THANKS GUYS! You made my wedding day hassle free. AND THAT was the best thing you did for me.

Are you interested?

Send a message

Melliney

Married on 06/15/2013

Denise was a great help to me with several ideas, and on the day of the wedding was the trouble shooter for me and stepped in to do things that I hadn't thought of doing.

She was adaptable, cooperative, willing to go the extra mile, reasonable and an all around dependable person. Always had good questions and was able to help and run around without any complaints. I trusted her with anything that needed to be done.

Liz

Married on 07/12/2014

We had rented a venue and needed to put all the other elements of the wedding reception together by ourselves. I met with Denise Murphy (owner) and hired A Touch of Elegance, I couldn't have been more pleased. She told me up front that her goal was for us to relax and enjoy the event because they would take care of EVERYTHING. This turned out to be so true - i didn't need to worry about anything. I met with her once and we emailed a few times (she responded quickly). She was very pleasant to work with, knew her stuff, and gave me suggestions and ideas, During the reception (we had 175 guests) she and her staff were very professional and had everything under control. She followed the few directions I had given her up front. At the end of the evening all of our supplies were boxed up and ready to carry out the door.

Laura W.

Married on 07/09/2019

A Touch of Elegance was nothing but a disappointment by Denise (Owner) our event executer.

When reading this review, please realize this was written to help other brides and people who deserve an amazing event planner/executor for their special day.

We hired a Touch of Elegance to ONLY execute our designs for our wedding in September 2019. I (The Bride) worked with the owner herself, Denise, who agreed to take on this project. I gave her specific details and instructions on how I wanted key aspects of my wedding to come together which included: putting up a photo backdrop which I designed, placing all tent cards in order on the backdrop, assisting with gathering family members for pictures during cocktail hour, making sure the banquet hall was ready (table numbers, reserved seating, guest gifts) for photography before guests arrive, setting up the memory table, the autograph table, and placing signage. We also had a surprise swing dance number for our guests and I had a dress change, so that is the only thing that she helped us with correctly.

Please see the images attached regarding how each part was executed INCORRECTLY as there was not enough room to write it all here sadly.

We gave Denise a Call regarding feedback
Being the "Hospitality Power Couple" (name given by our family and friends) and myself for receiving a degree in graphic design and hospitality, we were EXTREMELY DISAPPOINTED. Learning of some of the issues during our wedding, after our wedding, learning much more from family friends, and the staff of our hotel venue about Denise was hard to take in. Unfortunately, we had to call Denise to ask how she felt our wedding day went as we wanted to hear her side of the story. The best way to sum up the call would be that it showed us who Denise really is. She kept telling us "She DID NOT HAVE ENOUGH TIME". Our first thought was, if you did not leave yourself enough time, why not bring in more of your staff to help you. We placed our trust and faith in her as she reassured us many times everything will be wonderful on our wedding day since we were over organized and too detailed, but it shows that no matter how OCD you may be, it can still be executed WRONG. With Denise knowing all this taking place during our wedding, we feel we wasted our money as we never planned to have an event planner execute our designs but my now husband convinced me that she was worth it. Sadly, we were wrong, and we paid for it as we DID NOT RECEIVE A REFUND from Denise.

From one business owner to another (founder of my graphic design company and a nonprofit), I was also DISAPPOINTED that she DID NOT CARE TO CALL us for our feedback. I had to reach out to her to set up a call. As an owner, I would want my clients to be honest with me about my work, my work ethic, and how I am as person when working with clients. I am always trying to be better for my clients, and I hope she does the same going forward because I will never recommend her to family or friends after this experience. I hope Denise learns from our wedding on how not to treat people and their guests when hosting an event. My biggest hope is that she does not cause any of these problems for anyone else's event going forward as no one needs more stress on a big day like their wedding or any special event for that matter.