Tahiti Honeymoons
Fifty shades of blue, hibiscus flowers surrounding azure lagoons, towering green peaks, talcum-white beaches and the most indulgent resorts all put Tahiti honeymoons at the top of our list.
Enjoy a Tahiti honeymoon, which includes five archipelagos of 118 paradise islands in the South Pacific made up on Tahiti, Moorea and Bora Bora amongst others. Chilled Moorea offers hiking, shopping, white sand beaches and lagoon tours whilst Bora Bora offers indulgent spas on luxurious resorts on tiny, secluded islands around a lagoon. A Tahiti honeymoon is a good stop for those interested in history with sites dedicated to Captain Cook and the post-impressionist artist, Paul Gaugin and also offers chance to explore waterfalls and valleys. Foodies can delight their taste buds throughout the islands with Maa Tahiti (suckling pig) cooked in a traditional, earth oven, breadfruit or poisson cru, fish with lime and coconut milk and shouldn't miss out on a visit to the Papeete market. Shoppers will love the chance to snap up brilliant deals on black pearls and will enjoy exploring arts and crafts villages full of woven goods such as tifaifai, carvings, sculptures and clothes. There's decent nightlife too on the island of Tahiti itself with everything from traditional Polynesian dinner shows to drag shows and nightclubs.
Tahiti is pure paradise and the perfect spot to do as much or as you little as you like on your incredible Tahiti honeymoon.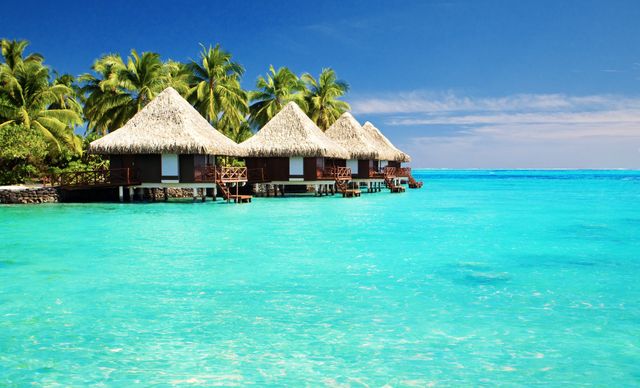 When to Go
March and April can be hot and rainy which means less visitors and lower prices. May sees the Billabong Tahiti Pro competition where surfers come from around the globe to the surf mecca of Teahupoo and it's also a good time to get a deal but make sure you book your Tahiti honeymoon well in advance. June to August are the coolest and driest months and July can be very busy with the Heiva Nui festival in full swing so make sure you book well in advance . From July to November, you might catch a glimpse of the humpback whales who come to Tahiti to breed and give birth. September and October offer dry, warm weather and reasonable deals on hotels. Tahiti is on the edge of the cyclone belt and storms can occur from November to March when it is very hot with short, heavy, afternoon showers but good deals can be had.
Top Sights and Activities
Do absolutely nothing on Bora Bora: Spend your Tahiti honeymoon relaxing on luxurious daybeds around infinity pools, occasionally slipping into the lagoon to snorkel with the fish before indulging in an exquisite dinner at your hotel
Walk on fire: Take part in this traditional Polynesian ceremony and call upon the spirits to help you cross the hot coals unscathed
Take a drive to the Belvedere Lookout: Located on Moorea, drive past fruit stalls and pineapple plantations for a spectacular view from the top
Go Scuba Diving: With some of the clearest waters, abundant sea life and a variety of sites for all levels, diving is a treat not to be missed
Hike Magic Mountain: One of Moorea's most popular hikes with spectacular views. To avoid the steep walking, many choose to take an ATV to the top instead
Go Sailing: Take to the warm waters and learn to sail during your Tahiti honeymoon
Visit the Tiki Village of Moorea: By day learn the ukulele and have Tahitian cooking lessons and by night, watch the dramatic dance show unfold
Swim with sharks and rays: Head to the lagoon in Moorea and snorkel and feed the reef sharks and rays
Explore the Papenoo Valley: Take a trip on a 4 x 4 across the rugged valley with stops at waterfalls and spectacular views
Go Horseback Riding: With options to ride across the crashing surf, along the shores of a lake and even to bathe in a lagoon.
Try Barefoot Skiing: Try water skiing with a difference!
Hike Aorai Mountain: Escape the heat and climb 2066m through rainforest to the peak for the most stunning views
Discover Marae Temples: Explore these traditional, Polynesian temples that were built to worship their pagan gods
Count the stars: An island in the middle of a huge ocean affords itself some of the best star-viewing in the world. Take a blanket and try and spot a shooting star or head to the observatory every Friday and Saturday for a guided talk
Flight 3
- Remove Flight
+ Add Flight
Flight 4
- Remove Flight
+ Add Flight
Get access to travel deals when you book your honeymoon through WeddingWire