Dublin Honeymoons
Dublin is Ireland's dynamic capital, and presents its honeymooners a rich cultural experience that is deep rooted in history and tradition.
Wander through Dublin's wealth of national museums and prestigious galleries that display and preserve the nation's strong cultural heritage. Marvel at the historic churches and grand cathedrals of Medieval times, and lose yourselves in the vast and splendid libraries of a city that prominently influenced the literary world. Once one of the most powerful cities in the British empire, Dublin offers a wealth of experiences that quenches the thirst of culture seekers and history buffs. For newlyweds, the dramatic Cliffs of Moher, picturesque natural landscapes and enchanting castles deliver a unique Medieval fairytale-like honeymoon experience.
Get ready to plan an incredible honeymoon in Ireland!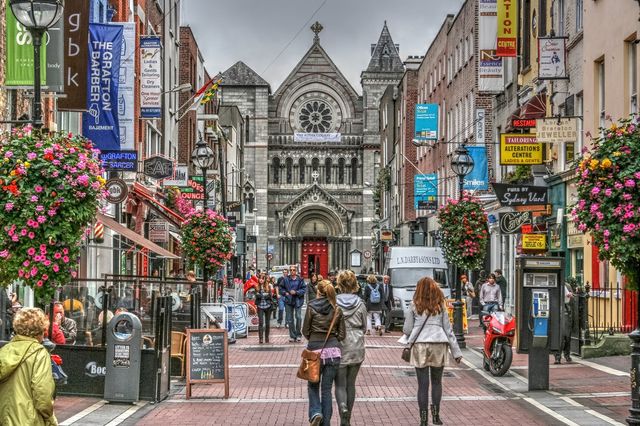 When to Go
Dublin's warmest months are June to August, and the city is most crowded during this period due to a host of festivals. Hotel prices and airfares are at their peak. Winters are cold, and December through February yields the highest rainfall of the year. In contrast, spring and fall bring about mild temperatures.
Top Sights and Activities
Trinity College Library: Trinity College Library features Ireland's largest book collection and the nation's most prized literary possession, the Book of Kells. The library's stunning interior of soaring arches and cavernous chambers ignite the reader in all of its visitors.
Guinness Storehouse: Beer tastings and interactive exhibits at the Guinness Storehouse reveal the history behind Ireland's favorite brew, offering its visitors an informative and tactile learning experience.
National Gallery of Ireland: A permanent residence to an extensive collection of 14th to 20th century European art as well as seasonally rotating exhibitions, the National Gallery of Ireland is most noted for its Italian Baroque and Dutch masters pieces.
Dublin Castle: A guided tour through the grounds of Dublin's castle complex unearths the transformation of this former Medieval fortress to the seat of the nation's government throughout history.
St. Patrick's Cathedral: Jonathan Swift, author of the classic novel, Gulliver's Travels, was aptly appointed Dean of St. Patrick's Cathedral in the 1700s, which embraces a striking Gothic style architecture, its interior encrusted with intricate stained glass windows and colorfully tiled floors.
National Museum of Ireland: A comprehensive collection of Celtic artifacts and relics transports the museum's visitors from prehistoric eras to present day Ireland through the realms of art, culture and natural history.
Kilmainham Gaol: This former county prison once detained venerable leaders of rebellions and Civil war. A present day museum, Kilmainham Gaol illustrates the agonizing events of Easter Uprising and allows its guests to relive the poignant stories of imprisonment and execution.
Temple Bar: Dublin's cultural quarter, this trendy neighborhood is a network of cobblestone laneways, inviting culture and party seekers to explore its charming restaurants, sophisticated galleries and vibrant nightlife.
St. Stephen's Greens: This is the Dubliners's favorite green space and peaceful sanctuary from the city's hectic core, embellished with cheerful flowerbeds and immaculate landscaping.
Dublin Mountains: At the city's doorstep are a number of scenic routes and trails, ideal for hiking, cycling, and mountain biking, luring Dublin's visitors for a break from the city and a breath of fresh air.
Riverdance at Gaiety Theatre: Indulge in the energetic theatrical performance of Riverdance for a unique Irish musical and cultural experience in the charmingly Victorian Gaiety Theatre.
Cliffs of Moher: A day trip to the natural wonders of Cliffs of Moher to witness the Aran Islands amidst Galway Bay is not to be missed.
Flight 3
- Remove Flight
+ Add Flight
Flight 4
- Remove Flight
+ Add Flight
Get access to travel deals when you book your honeymoon through WeddingWire