Bath Honeymoons
Cobbled streets, Roman monuments, romantic Georgian architecture, natural thermal waters and the setting for many Jane Austen novels make Bath the perfect backdrop to your unforgettable honeymoon
If you're looking for all the charm and culture of a historical city with all the luxury and convenience of the modern-day, Bath is the perfect city for you! History buffs will love the abundance of opportunities to discover hidden gems amongst grand Georgian architecture. With countless museums showcasing everything from art to fashion to astronomy and wonderfully preserved Roman baths, there is history unfolding around every corner. Spend time relaxing at a rooftop spa before sampling some of the best food in the UK at the numerous award-winning restaurants and gastro-pubs. Shoppers will love exploring the independent boutiques of the Artisan Quarter or the or the nearby discounted Designer Outlet. Spend your evenings drinking cocktails, watching comedy shows or dancing the night away in bars and clubs. Bath is also perfectly situated to explore Stonehenge, Cheddar and the castles of Wiltshire yet still only 100 miles from London.
With all of it's charm, Bath is the perfect setting to write the first chapter of your own romance novel as a married couple.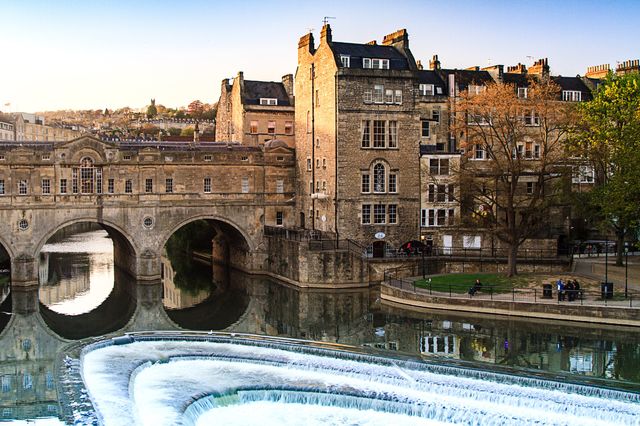 When to Go
Bath hosts many festivals throughout the year. May and June sees the International Music Festival showcasing classical, folk and jazz music which runs alongside the Bath Fringe Festival. September also sees the annual Jane Austen festival when the whole city dons bonnets and breeches. The summer is a very popular time to travel with generally good weather from May to August which pushes up prices and limits availability. October to April can be rainy but the Christmas markets offer the chance to sip mulled wine and admire the twinkling lights and accommodation prices will be lower.
Top Sights and Activities
Visit Thermae Bath Spa: Bathe in natural thermal waters, have a couples massage or relax on the rooftop pool with a breath-taking view of the city
Enjoy Delicious Cuisine: With everything from Michelin-starred dining to gastro-pubs and tea rooms, make sure you sample the selection of Bath's fare on your honeymoon
Stroll Gravel Walk: Explore these botanical gardens that were the setting for the proposal in Jane Austen's Persuasion
Explore the City Via Horse-Drawn Carriage: What could be more romantic than exploring the cobbled streets in a private carriage, snuggled up with a blanket and champagne?
Take a Trip to Stonehenge: At just over an hour's drive away, don't miss out on the chance to visit the mystical site
Visit The Great Bath: Enjoy a soak at these fantastically preserved Roman baths
Have a Picnic in Prior Park: Beautiful landscaped gardens and some of the best views make this park the perfect place to picnic with your new spouse
Take a Stroll on the Royal Crescent: It's served as the backdrop to many period dramas so amble arm in arm along the cobbles and admire the stunning architecture
Row Your Boat: Take a leisurely row along the river avon and stop off for a tasty pub lunch
Take a Hot Air Balloon Ride: For the best view of the city, take a balloon flight and drift over spires and fields
Browse the Markets: Explore the food markets at South Gate or the artisan or farmer's markets at Green Park station
Book a Private Tour of Bath Abbey Tower: Private tours at sunrise or sunset include champagne and spectacular views over Bath
Flight 3
- Remove Flight
+ Add Flight
Flight 4
- Remove Flight
+ Add Flight
Get access to travel deals when you book your honeymoon through WeddingWire