Phuket Honeymoons
Let Thai hospitality and the warm beaches caress you on relaxing, exotic honeymoon in Phuket.
With its many beaches, Phuket is a leading global destination for honeymooners from around the world. Well served by a variety of international airlines, getting to Phuket is easy. Flight, accommodation, and other costs are accessible to honeymooners of all means, from budget to luxury. Those seeking a relaxing beach get-away will be most at home here, and the tourism infrastructure reflects that. Foodies, divers, and surfers will also be at home. If you haven't hung up your spurs, Patong is arguably the party capital of Asia.
Activities and amenities tend to be concentrated in the western beach towns around the resorts, as the picture-perfect and famous (in the case of Ko Phi Phi of James Bond fame) beaches are the main draw. It is no trouble to enjoy a massage on the beach after going on the water on a jet ski, just to posit an example. Going inland into the hill-country will offer a much more rustic, off-the-beaten-path experience in the more traditional villages.
A Phuket honeymoon is absolutely dreamy location for the vacation of a lifetime.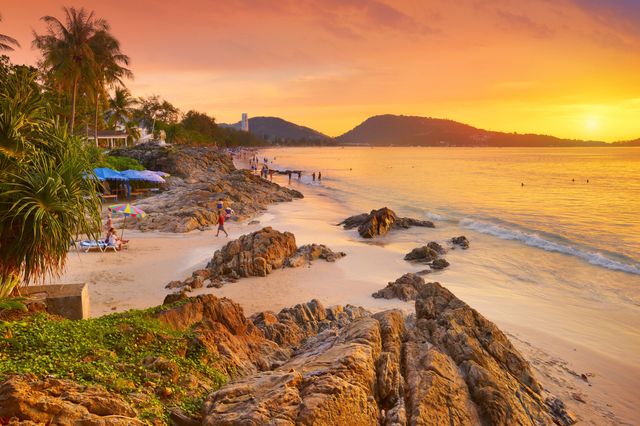 When to Go
Phuket's tropical climate sees little temperature variation, with the lowest average high in winter at 89 degrees and the highest average summer high of 92 degrees. It does however experience distinct rainy and dry seasons. The dry season lasts from December to March, while the rainy season occupies the remaining eight months. The dry season also corresponds with peak season, when many tourists flock there to escape the northern hemisphere winter.
Top Sights and Activities
Beaches: You have an amazing selection all around the province, though the best white sand beaches for that picture-perfect honeymoon are on the western coast as well as small islands like Ko Phi Phi (the James Bond island).
Spa: Phuket is arguably the spa capital of the world due to the historical ubiquity of massages in the practice of Thai traditional medicine. Costs range from a few dollars to extremely exclusive, depending on the treatment and venue.
Diving: Phuket is a major global diving destination, so expect a variety of dive sites, boat operators, PADI certification schools, and gear vendors.
Yachting: Phuket has emerged as South East Asia's leading yachting center, so chartering a boat for exploration or simple relaxation at sea will be no problem.
Surfing: The rainy (monsoon) season brings great surfing waves to the western coast beaches, such as Kata beach
Traditional Culture: A mining boom and its consequential wealth endowed Phuket Town with a number of interesting historic mansions and temples
Cooking Classes: An increasingly popular activity where you can learn to make a variety of local dishes. Some resorts offer these classes as a complimentary amenity of the property.
Markets: Thai markets, such as the Sunday walking market in Phuket Town offer a variety of souvenirs, clothing items, handicrafts, and food options.
Street Food: Vendors peddling satay, pad thai, noodles, spring rolls, and more exotic fare can be found virtually everywhere to offer authentic and affordable snacks to the hungry.
Visit Vaitape: If you need a break from your resort, the town of Vaitape is worth a visit for a change of pace and perhaps a café visit.
Nightlife: Whether you're looking for a quiet nightcap on your honeymoon or an all-night party, Phuket has it all. Kamala will offer a relaxed vibe, while Patong is the decidedly more wild option.
Wildlife: A number of options are on offer to interact with wildlife, including elephant rides and a center dedicated to the rehabilitation of gibbons.
Flight 3
- Remove Flight
+ Add Flight
Flight 4
- Remove Flight
+ Add Flight
Get access to travel deals when you book your honeymoon through WeddingWire