Dubai Honeymoons
It's a nontraditional honeymoon destination, but with so much to do and see, a Dubai honeymoon should be a top pick for many couples.
Dubai isn't a traditional pick for a honeymoon, but it makes for an eye-opening, culturally-rich trip for couples who venture to the United Arab Emirates. Especially for traveling duos who have deeper pockets, you can enjoy the finest of things in life, with unparalleled luxurious experience throughout the city. In addition to endless shopping, man-made ski resorts, many beaches and five-star resorts, Dubai also has a remarkable historical background that's not as well-known or advertised. As you toast with (expensive!) cocktails on a rooftop, overlooking the sand below, you and your partner will be fascinated by the dichotomy of languages, religions and cultures in this international, cosmopolitan town.
Here, a guide to your honeymoon in Dubai.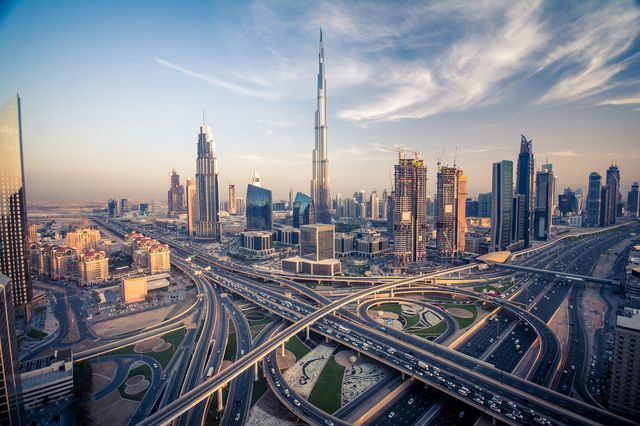 When to Go
For women, it is appropriate and respectful to cover cleavage and knees, you'll definitely be sweating under your layers. No matter when you visit, Dubai is a desert climate, with little breeze and plenty of humidity. The most enjoyable and comfortable times to visit are from November to March. This is their winter, and also the peak tourist season, so consider yourself warned!
Top Sights and Activities
From scaling skyscrapers and the historic downtown to shopping at high-end boutiques and more, here's how to toast to your marriage while in Dubai:
Burj Khalifa: Considering this landmark is the tallest building in the world at 829.8 meters, a trip to the 124th-floor observation deck is a must. As you can imagine, the view is unmatched, with 360 sights for days.
Dubai Mall: Sure, you already shopped for anything-and-everything wedding-related, but now it's time to indulge in some treats for yourself during your Dubai honeymoon. In addition to endless shops, this iconic mall also offers an ice skating rink, a movie theater, an arcade, live music performances, fashion shows and more.
Al-Fahidi Fort: In the late 18th century, this fort was constructed to protect the city, made of coral-blocks, wooden poles and other materials. Today, it's a museum that details this time in history—from defending Dubai to housing a ruling family and later, inmates, as a prison.
The Bastakia Quarter: Many years ago, this neighborhood was pieced together to house affluent Persian peal and textile merchants. Once a trading hub, now it's a testament to the history of the city, with wind-towers (ancient air conditioners) on top of homes and colorful buildings. For couples who want to see how Dubai once was, don't miss this area.
Dubai Creek: For an immersion into the local economy and culture, stop by this area, where you watch trade happening in real time. Some of the workers are said to invite travelers to step aboard the vessels, to see how everything works together. Though not glamorous, it's definitely an eye-opening experience to witness.
Jumeirah Mosque: Regardless of what you believe, exploring the religious element of the UAE is an enriching experience for anyone on a Dubai honeymoon. This mosque is a copy of the Al-Azhar Mosque in Cairo, though much smaller. Even if you aren't of the Muslim faith, you can tour every day of the week, except for Fridays. Just make sure to dress conservatively and follow the guidelines to maintain respect.
Deria: Much like the medina in Morocco, this area features countless 'souks' or markets, where you can shop for spices, fragrances, and of course, gold. It's known as the largest gold bazaar in the world, so study up your haggling skills before takeoff.
Dubai Aquarium: Sure, you've been to an aquarium before—but probably not one as grand as this one! On top of the Dubai Mall, you can see 140 species of sea life and walk through the Underwater Zoo made of tunnels. You can also take glass bottom boat tours, snorkel in a cage and shark dive.
The Burj Al-Arab: Even if you can only afford a single night, it's worth it to splurge and stay at the world's tallest hotel. It looks like a dhow sail and is about as luxury as it gets. Experiences include dinner at Al-Mahara, a fully underwater restaurant and cocktails at the Skyview Bar on the 27th floor.
Article by Lindsay Tigar
Flight 3
- Remove Flight
+ Add Flight
Flight 4
- Remove Flight
+ Add Flight
Get access to travel deals when you book your honeymoon through WeddingWire