Bali Honeymoons
Enjoy an exotic honeymoon of beaches, culture, and delicious local cuisine in the tropical paradise island of Bali.
Bali offers something for nearly every honeymooner. Its tropical beaches, ancient temples, and delicious cuisine are easily accessible from any destination by dozens of global airlines. The island's activities and accommodations can suit any budget from economy to luxury. Bali's many beaches are perfect for those who wish to relax while sipping cocktails from a coconut. Party-goers will love the non-stop action in Kuta. Outdoor enthusiasts will revel in the surfing, diving, whitewater rafting, and canyoning available. Foodies can luxuriate in the numerous local, Indonesian, and international dining options available at every price range. Lovers of arts and culture will find themselves in a hotspot of local and expatriate artists. And everyone will love the magical sunset at day's end. The warmth of the Balinese people matches the sunny climate, and the island's mystique is sure to be unforgettably enchanting.
Start planning your Bali honeymoon with this guide to the oh-so-romantic island destination.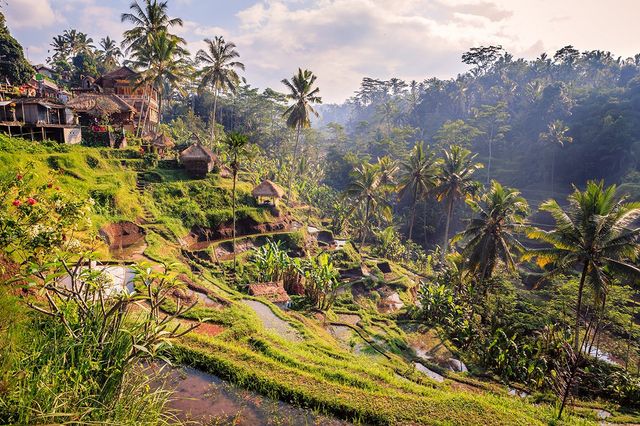 When to Go
Given its proximity to the equator, Bali enjoys a consistently tropical climate year round with average temperatures of about 86 degrees. It experiences a wet season between October and April and a dry season from May to September. Peak times (and peak prices) occur in July-August as well as Christmas, New Year's, Easter, and Chinese New Year.
Top Sights and Activities
Beaches: Unsurprisingly, the island offers many beach options. Southern areas such as Kuta and Nusa Dua have white sand beaches, while the rest of the island will have volcanic black sand beaches.
Dolphins at Sanur: Interacting with the dolphins is a popular activity, so booking as early as possible (several weeks to months) is recommended.
Surfing: Bali's beaches attract surfers from around the world. A variety of spots are available for all skill levels, primarily along the southwestern beaches of the island.
Scuba: Bali hosts a number of excellent diving spots as well as numerous high quality diving schools, all within easy reach of tourist areas.
Canyoning: Spots such as Gitgit Waterfall in the north of the island offer more adventurous visitors a thrilling day exploring falls a "natural" waterslides.
Markets: Spices, coffee, silver, garments, and trinkets are all on offer at Bali's markets – head to Bukit Mungsu for a traditional market.
Traditional Culture: Hire a taxi or rent a scooter and to Ubud to experience Bali as it was before the boom, a center of traditional artisans and craftsmanship.
Spas: While Balinese massages were traditionally offered to the couple before the wedding, honeymooners looking for a spa day will enjoy the wide availability of options from simple massages to full day treatments.
Nightlife: Bali is arguably one of the world's party capital. The energetic and budget minded will enjoy Kuta, while a more relaxed beachside vibe is available in Seminyak.
Temples: Bali is home to innumerable Hindu temples, with popular options such as the easily accessible Uluwatu Temple and the more remote "mother temple" – Besakih Temple at the foot of Mount Agung.
Street Food: Bali's vendors sell a variety of options from their carts for a very low price. Ask a Balinese person for their recommendations.
Hot Springs: The island is also home to hot springs; relax amid verdant gardens in Lovina or high in the mountains by lake Batur.
Whitewater Rafting: The Ubud area is home to a number of whitewater rafters. Go in the rainy season when the rivers are swollen with the tropical downpours.
Beachside Dinner: Many hotels and restaurants can arrange a romantic beachside dinner by candle and starlight.
Flight 3
- Remove Flight
+ Add Flight
Flight 4
- Remove Flight
+ Add Flight
Get access to travel deals when you book your honeymoon through WeddingWire