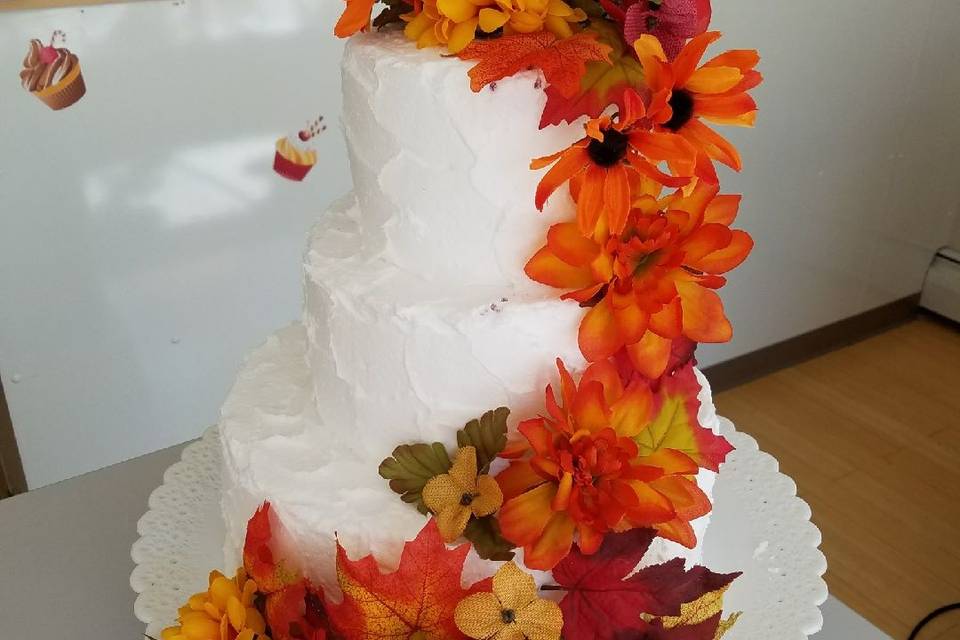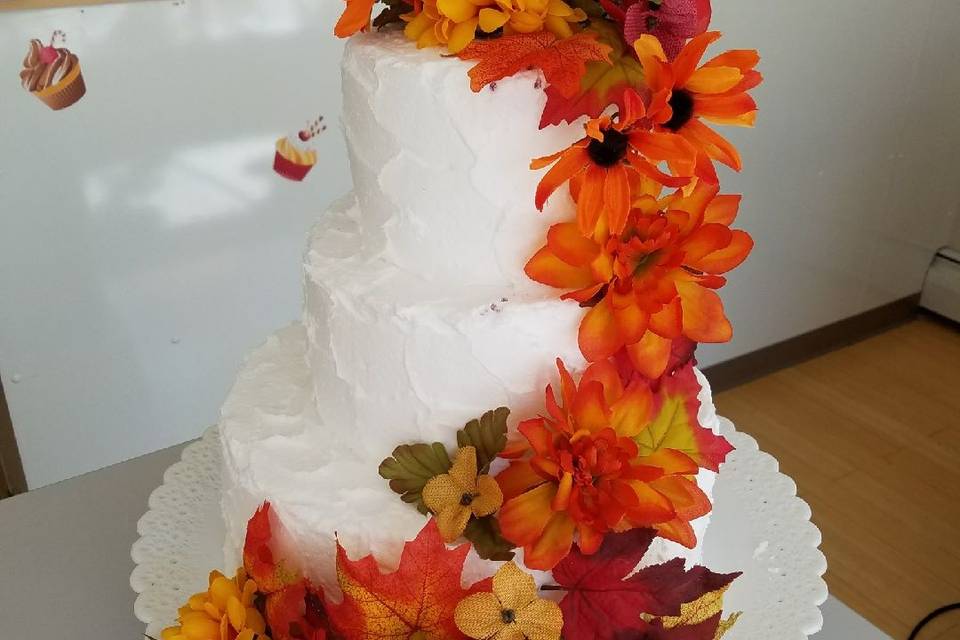 About

Thank-you for your interest in The Kakery's wedding cakes. The Kakery believes that your wedding cake should not 'break the bank'. We therefore offer many options for you to choose from. With any option, you can have the cake and design you desire.
Our 'Just for Looks' cake is our specialty and is our most popular option. This option is the perfect choice for those looking for less expensive alternatives,or for those offering a Venetian dessert table (take what you save on the cake and put it towards something more important - like your honey-moon! ) .
Our 'Just for Looks' cake is a fake cake decorated with any design you desire. It looks just like a real cake, but, it is actually a Styrofoam cake form iced with butter cream icing and made proportionate to the size of your reception, i.e. if you are serving 200, the cake will look like it will serve 200, serving 100, it will look like a cake to serve 100, etc.. The 2nd tier is real cake for when you (the bride and groom) cut the cake. Then, just as with a real cake, the caterer will bring the cake to the kitchen to cut and serve, of course they don't actually cut the fake cake. As part of this option, sheet cakes are provided to serve the party. As each cake is unique, pricing is done on an individual basis. Our 'Just for Looks' cake pricing starts at $ 3.00+/- pp.

Our 'Traditional Cake' is also made to any design. It is a real cake with butter cream icing. The Traditional Cake is available in up to 3 tiers. They can be either stacked or separated with pillars, and each tier can be a different flavor and/or filling. As with our 'Just for Looks' cake, pricing is done on an individual basis.
Our 'Traditional ' Cake pricing starts at $6.00+/- pp.

There are also 2 other options available. One is to get a smaller 2 or 3 tiered cake to have for display and have sheet cakes to serve the party. The other option is to 'rent' the wedding cake for display purposes only . This option is perfect for those who are having a Venetian Dessert table and are not planning on offering cake. We will decorate the cake to your specifications.

We at The Kakery, look forward to meeting with you to plan for your special day. We encourage you to bring photos of cakes that 'catch your eye'. Design elements can be combined to create your perfect cake. A great place to look at cakes is on line at Google.com, simply click on images and type in wedding cakes in the search box. Print out cakes you like and bring them in. Together, we can create a one of a kind cake.
.
Recommended by 100% of couples
Quality of service

Rating 5 out of 5

Average response time

Rating 5 out of 5

Professionalism

Rating 5 out of 5

Value

Rating 5 out of 5

Flexibility

Rating 5 out of 5
Daniel F.

Married on 10/14/2018

Fantastic service, super friendly and very helpful

The Kakery really saved my butt. After a snafoo at another Bakery our wedding cake was in jeopardy for our wedding day. Not only did The Kakery take over the creation of our beautiful wedding cake, they delivered on a day they typically don't and blew our expectations away. The cake was delicious, the fruit was fresh and we couldn't have been happier. Not to mention the prices are VERY reasonable!! MUCH Thanks from Daniel & Francis

The Kakery's reply:

Thank you so much Daniel and Congratulations!! We were so happy to be a part of your special day. We're so glad you were happy with the cake too!! Thanks again!

I was on wedding cake duty - as mother of the groom, I was given the job to find the "Perfect Wedding Cake." I never expected the job to be so easy as it was: I had known about The Kakery for years. You knew that if you ordered from them for an office birthday party, that it would be absolutely GREAT, and everybody would be asking where you got it, so eventually everyone in the entire building was ordering from them, it was THAT GOOD. A lot of choices and they always delivered on time and it was always the BEST frosting and fruit and cream filling, so delicious and not too sweet and the filling was "to die for.". It was only natural that I would start my search for the "Perfect Wedding Cake" at The Kakery. I mean, if you've had consistently wonderful experience with a business and need something more, you don't start looking somewhere else, right? I stopped in, looked through a book of absolutley gorgeous wedding cakes that they had made before, but they would also be happy to work with us in whatever it was we wanted. I sent a few photos from my cell to my future daughter-in-law, and she called me right back right away. I immediately ordered her "Perfect Wedding Cake" right there and then, for delivery to Wickham Park in Manchester. I never had to go shopping around anywhere else. I wish I knew how to post pictures here so I could show you how beautiful it was. Almost too beautiful to cut. (And I was so grateful that my son and daughter-in-law did the traditional feeding of the cake to each other just as it should be, so gently and tenderly, I had tears in my eyes. Anyway, MY part of the wedding preparation was the easiest and turned out the best! (Everyyhing else was a lot of work, and the music a major disappointment, but that's another story. I have continued to use The Kakery for other office parties, etc., but it wasn't until today, when ordering a delivery for my mother's 90tth birthday that I thought to post this today. I'm glad I finally did. :-)

Jill

Married on 07/03/2010

We are so pleased with our choice of The Kakery for our wedding cake. Their options are nice--a real cake that you cut or one that is mostly fake, with sheet cakes in the back. Its a real money saver and no one has a clue! We received generous samples to try before we went with The Kakery, which made it easy. We took them home and were able to take our time with our decision. Our cake was beautiful and just what we requested. Many guests commented, even a week later, how delicious the cake tasted. Thank you, Kakery!
Map
4 E. Cedar St. Newington, 06111
Wednesday- Friday 9a.m. -5 p.m. Saturday- 9 a.m. - 4 p.m. Sunday - 10 a.m. - 2 p.m. Monday & Tuesday - Open, however calling ahead or making an appointment are recommended as we do not keep set business hours on these 2 days . Thanks!