Reviews
5.0 out of 5 rating
Quality of service

5 out of 5 rating

Average response time

5 out of 5 rating

Professionalism

5 out of 5 rating

Value

5 out of 5 rating

Flexibility

5 out of 5 rating
100%
Recommended by couples
33 User photos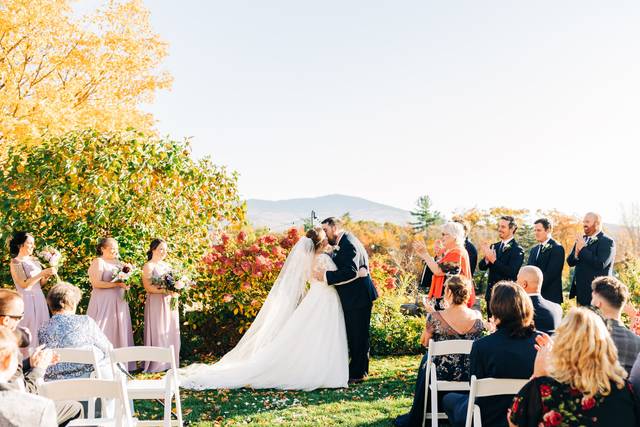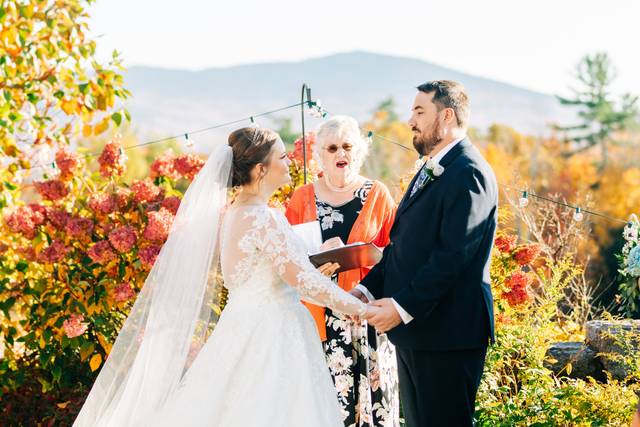 + 29

photos
Erica B.

Married on 09/16/2023

Surprise Wedding

My husband thought we should have a surprise wedding at my birthday party a little over a month before. We were both scrambling to pull it together. Patricia thought it was a wonderful idea. We had a conference call with her a couple of weeks before the big day. She was very thorough with her questions and had some great ideas that we never even thought of. She was very flexible with our plans as we didn't really know what we were doing. In the end, we all pulled it off and nobody had a clue what was happening until she started speaking. She did a fabulous job and her husband, Bob, captured some great photos too. Patricia made this day so special and fun for everyone. We thank her from the bottom of our hearts.

Tim M.

Married on 08/05/2023

Pat was wonderful!

Pat was amazing to work with; she is super kind and her communication exceeded our expectations. Pat was incredibly helpful in arranging our ceremony and writing our vows. She made sure that our big day was as perfect as we imagined. Thank you, Pat!!

Katie G.

Married on 06/24/2023

wonderful!!

Pat was wonderful! She helped make sure our day went as smoothly as possible. She attended rehearsal and provided tips during that process. Her husband was also wonderful and helped cue us when to walk down the aisle. We highly recommend Pat!

Are you interested?

Send a message

Chelsey S.

Married on 04/20/2023

JP for micro wedding

Pat was wonderful. She created a beautiful ceremony for us with only three weeks notice. She went above and beyond, providing us with sand to do a sand ceremony. I could not have asked for a better JP. Highly recommend her.

Amanda M.

Married on 10/15/2022

Excellent!

Pat was recommended to us by our wedding planner. Pat was so friendly, easy going, and helpful throughout the process. She provided us with different ceremony options for us to look through and decide on which readings and passages we would want, which allowed us to create a custom ceremony. After deciding to write our own vows, Pat read them over and provided feedback on ways to make them cohesive with one another. We especially loved the sweet touch she made of printing, rolling, and tying our vows to be read during the ceremony. During our rehearsal, she did a phenomenal job prompting our group and making sure everyone knew their cues and where they needed to be on the big day. The day of our wedding, Pat was absolutely wonderful. When I started crying during the ceremony, she discreetly handed me tissues to dry my eyes. We also really appreciated the thoughtful photos she emailed the next day that her husband had captured during the ceremony. If you're looking for an adorable and kind JOP, Pat is the JOP for you. Thank you again, Pat!

+ 2

photos

Steph M.

Married on 10/10/2022

Pleasant Experience

Pat was very flexible and made the experience easy and worry free. She arrived early and was prepared. Very sweet lady. I would recommend her to anyone getting married.

Erika M.

Married on 10/08/2022

Wonderful experience!

We got married on 10/8/22 and Pat exceeded our expectations! She was so helpful and personable which made our experience wonderful! Her husband was also very helpful on rehearsal night giving us suggestions on what would work best. We highly recommend ❤️

Rebecca P.

Married on 10/01/2022

Amazing Experience

Pat was amazing to work with ! She was so helpful with not just the ceremony but the preparation for the whole event. She was able to help us write a version of our own ceremony and make it flow well. She was also extremely helpful with writing our own vows and making sure they matched up and flowed well without us having to reveal them to each other before the ceremony. All around amazing experience!

Paul C.

Married on 09/24/2022

Great Experience

Pat was awesome and very easy to work with. We had a great conversation with Pat about how we wanted our ceremony to go, and she was very receptive to our ideas and our vision. Pat did a great job walking the wedding party through our ceremony at our rehearsal, which was very helpful. She also took care of processing our marriage license which we appreciated. Pat was always kind, professional, punctual, and we would recommend Pat to anyone.

Cynthia P.

Married on 09/18/2022

So glad we went with Pat! Perfect ceremony..

Pat was great! Going into the process, my husband and I had a general tone of ceremony that we were looking for, but had no idea how many parts actually went into it. Pat got to know us and our personalities and had many sample scripts for us to view. We were allowed to mix and match and she guided us with suggestions along the way. She made sure our vows had a similar tone and length as well which was appreciated. She was patient with my slight frazzledness during the rehearsal and made my fried bride-brain anxiety feel much better. The day went perfect, the ceremony was exactly what we imagined. There were extra details like having our vows on scrolls and making sure to step out of our 'kiss shot' that showed she was a pro. Thank you 100X!

Megan H.

Married on 07/23/2022

Wedding day

Pat was great to work with! Very nice and personable! Would highly recommend! Our family and friends loved her. Her husband worked with her and he was also great and took a few pictures of the ceremony that were sent to us the next day. Just very great people!

Kim J.

Married on 06/24/2022

Pat was amazing!!

My husband and I got married on 6/24/22. Pat was absolutely amazing to work with. She was so helpful and made the whole ceremony truly special. Pat made sure our ceremony was specifically tailored to us as a couple. I would highly recommend Pat to everyone!

Jennifer R.

Married on 04/02/2022

Excellent!

We loved our wedding. Patricia did an amazing job with the whole wedding. I would highly recommend!! Thank you!

Jewel B.

Married on 10/21/2021

The Best Experience

Patricia was amazing to work with from the initial inquiry to the big day. We had a few changes along the way, deciding to move from an elopement to a small ceremony with family and she was very flexible. We also loved all of the options she gave for customizing the ceremony. She helped make our big day fantastic and we will definitely be recommending her to any family or friends in the market for a JP.

Kyla P.

Married on 10/16/2021

Excellent JP

Patricia was very pleasant and easy to work with! She was super professional and make our ceremony perfect!!

Oreste C.

Married on 10/09/2021

Absolutely Wonderful

In the chaos of planning, a JP slipped through the cracks. With about a month and a half before our day, we came across Pat. She was responsive within the hour of our inquiry, and was willing to take on our wedding even though she had another wedding that same day just a few hours before, and was even flexible with us to get our rehearsal dinner in the same day as her other wedding's! From first meeting, Pat was very friendly and incredibly easy to talk to and made the entire process so very easy. From telling us how to get our marriage license, allowing us to customize our ceremony, the rehearsal, and through the ceremony, the process was seamless and we couldn't have asked for a better person to officiate our wedding.

Nicole H.

Married on 10/03/2021

So wonderful

My husband and I are so happy that we found Pat. She was absolutely wonderful to work with. She was very quick to respond and extremely accommodating while working with us on our ceremony to make it perfect. She is such a delight. Thank you Pat!

James S.

Married on 10/02/2021

Pat Was Amazing!

Pat is an incredible justice of the peace! She is very organized, accommodating, and helped make the whole experience of standing in front of over a hundred people very stress-free! She gave us plenty of options so we could customize the exact ceremony we wanted and took the time to thoughtfully listen to what we wanted. Would highly recommend!!!

Kelly S.

Married on 09/25/2021

Wonderful experience

Pat was so helpful in guiding us through each step, with recommendations and ideas. She was so pleasant to work with, professional, and warm. We are very happy she was a part of our wedding day!

Chrissy S.

Married on 09/11/2021

Mountain wedding bliss

I can't say enough about Pat! When we spoke initially on the phone, I knew instantly she was a great fit for My fiancé and I. There was something calming and soothing about her demeanor, something we really wanted and needed in a JP. Pat made beautiful suggestions for our ceremony and was so responsive and professional every step of the way. The ceremony was perfect and Pat's husband was on site and took amazing pictures of us. Would highly recommend Pat to anyone who asks. Thank you Pat for being such an important part of our big day!

Frank R.

Married on 09/04/2021

Excellent JP!

Pat officiated a wedding at my venue is Westmoreland, NH this past weekend. She was such a pleasure to have and was truly a great addition to the team that helped make the day happen! I high recommend!!

Daniel L.

Married on 09/04/2021

Would not recommend anyone else!

My wife and were not a typical engaged couple. We weren't exactly sure how to plan our special day and we're overwhelmed with the prospect of planning our ceremony. Patricia was very responsive to our inquiries and had some wonderful formats to start with. Patricia then incorporated our faith tradition and our own vows into her template beautifully. We were blessed with a gorgeous day and venue. I have seen some officiants become the center of attention. Patricia put all the focus on us. To top it off, her husband, Bob, took some beautiful pictures for us to enjoy and share while we wait for our professional photographer to prepare his photos. I could not recommend Patricia enough to any couple.

Paige G.

Married on 08/28/2021

Couldn't be happier

We were originally going to have a family member serve as our officiant, but a couple of months before our wedding there was a change in circumstances and he was no longer available to do so. We were totally panicked - neither my husband or I are at all religious and we were worried we wouldn't find the right fit to make our ceremony feel like a true reflection of who we are. I reached out to our venue and photographer for suggestions and they both recommended we talk to Pat, and we are so glad we did! From our very first meeting she felt like family. She was committed to learning about our families and us as a couple and helped us create a personalized ceremony that we couldn't have been happier with. We included some unique elements and she helped us do so in a way that felt smooth and cohesive. She was so helpful in facilitating our rehearsal and asked questions that we wouldn't have thought of on our own. We received so many compliments on our ceremony and are so thankful to have found Pat. Since the moment we met her we have talked about how happy we are that things worked out the way we did. She was meant to be our officiant! We cannot recommend her highly enough and have absolutely no doubt that that if you choose to use Pat for your ceremony that you will be as happy as we are.

Kim S.

Married on 08/03/2021

Warm & Tender experience

Pat & her husband were the kindest & most helpful people you could meet. Her voice was soothing & the ceremony was said exactly as I hoped for. Her husband took fantastic pictures that were complementary to us. I think hiring her was the wisest move of the event.

Cassie W.

Married on 08/01/2021

Very Happy with Pat as Our JP!

Pat was able to coordinate with me on very short notice. She made my wedding day very special and memorable, and it was so sweet of her husband to take pictures for us because otherwise we wouldn't have had any photos. I highly recommend Pat for your wedding because she will work with you to create the ceremony you want.
Are you interested?
Send a message