71 Reviews
Recommended by 98% of couples
Quality of service

4.9 out of 5 rating

Average response time

4.8 out of 5 rating

Professionalism

4.9 out of 5 rating

Value

4.8 out of 5 rating

Flexibility

4.9 out of 5 rating
7 User photos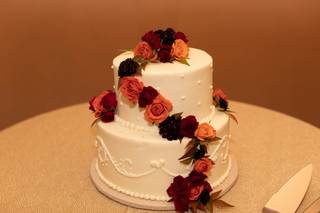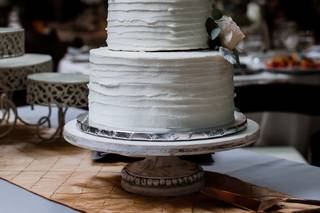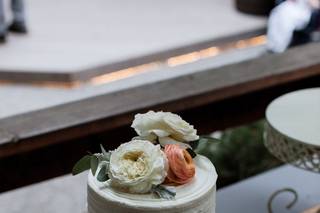 + 3

photos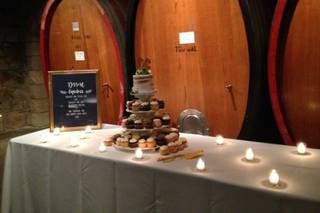 Kate M.

Married on 07/16/2022

Excellent Experience and Delicious Cake!

We worked with Your Sweet Expectations for our wedding cake. Overall, it was a great experience! We loved the take-away tasting plate that was put together and the worksheet that allowed us to build our perfect cake. The cake was SO GOOD and it looked beautiful.

Your Sweet Expectations's reply:

Thank you, Kate! I was delighted to make your cake. I'll be around for your anniversary ;)
Wishing you the very best!
God Bless.

Lexi A.

Married on 09/29/2019

Delicious and Beautiful!

Carolyn and her team baked the perfect cake for my wedding! It was absolutely delicious and all the guests couldn't stop talking about how much they loved it! I would highly recommend Carolyn and her crew.

Your Sweet Expectations's reply:

Thank you Lexi for your review! I'm delighted that you and your guests loved the cake. We look forward to being of service to you again. Thank you, Carolyn Besse

Chelsea

Married on 06/14/2019

Thank You!

Carolyn created a beautiful two-tier cake for our small 50-person wedding and it was absolutely perfect. We opted for white cake with buttercream icing and layers of raspberry cream and fresh raspberry. YUM. Many of our guests commented that it was the best cake they'd had at a wedding and I wholeheartedly agree! Carolyn was easy to work with, responsive, and so kind. Highly recommend!

Your Sweet Expectations's reply:

Thank you Chelsea! We are delighted that you and your guests enjoyed the cake so much. It was a pleasure working with you.
Wishing you the very best!
Carolyn Besse
Owner

Are you interested?

Send a message

Diana

Married on 09/29/2018

Can I just say yum! The cake turned out beautiful and more importantly delicious!

Marie

Married on 07/21/2018

We LOVED working with Carolyn and her team at Your Sweet Expectations. The shop is adorable, and the staff was a delight to work with. We had already arranged for a variety of desserts at the wedding, but wanted a small two-tier celebratory cake. Carolyn perfectly captured our vision with a simple but elegant design, which packed a lot of flavor. They have several options to choose from, fillings and icing, but we went with the pink champagne cake with raspberry/cream and cream cheese fillings and the whipped cream cheese icing. SOOO YUMMY. The cake tasted so good that we regretted not ordering a larger one.

We definitely recommend this bakery. They are very easy to work with, responsive, and deliver too! A huge THANK you to Your Sweet Expectations team. We'll be back for more tasty treats soon.

Sara

Married on 07/06/2018

The perfect cake!

We had a destination wedding this July in Rohnert Park and Carolyn was awesome to work with for our wedding cake. We unfortunately didn't have the pleasure to meet her in person and do tastings as my husband and I don't live in California but we are so glad we went with Your Sweet Expectations.

After a couple phone conversations with Carolyn we decided to play it safe and stick with a 3 tier Vanilla cake (2 tiers of chocolate icing and 1 strawberry!) and it turned out AMAZING. I wish I wasn't the bride so I could have indulged in a few slices. It was so beautifully decorated and our friends and family said it was the BEST cake they've ever had - I have to agree.

Corinn

Married on 12/15/2017

Caroline and her team did our wedding cake and cupcakes this year, and everything was phenomenal! After helping to coordinate a special tasting event to my specifications, we officially selected them, and Caroline worked with me personally to ensure that we had the right selection, flavors, and pricing. She took care of everything, making it a no-stress situation, and was flexible in coordinating the return of their cake stand. Oh, and the cake was DELICIOUS!!

Your Sweet Expectations's reply:

Thank you Corinn. It was a pleasure creating your cakes and working with you.
Very Best to you.

Heide

Married on 11/12/2017

Loved our wedding cake! All the guests commented on how amazing it looked and tasted. I highly recommend her!

Carol

Married on 11/11/2017

We has Carolyn do the wedding cake and dessert bar for my daughters wedding at Silverado Resort. Carolyn and her staff are amazing, we could not have asked for a better vendor. The cake was beyond our expectation and tasted amazing. They also provided a dessert bar that was over the top. If anyone is getting married definitely use them you will not be disappointed and extremely affordable what else could anyone want.

Your Sweet Expectations's reply:

Thank you so much for your review Carol! So glad all were happy!
Merry Christmas

Denise

Married on 10/07/2017

Carolyn was a joy to work with from day one! I can't say enough about what a wonderful woman she is and how easy she made all the dessert planning for our wedding. The cake, cupcakes, mini cheesecakes and cookies were all delicious and beautifully presented. Our guests raved about all of them. I highly recommend Carolyn and Your Sweet Expectations bakery - you will not be disappointed! Thank you, Carolyn, for making our wedding day extra special!


Nicole

Married on 09/15/2017

I can't rave enough about our cake! All of my guests asked us where our cake was from because it was so delicious.

Anne

Married on 09/14/2017

Carolyn and her team have the absolute cutest shop in the Sonoma County area, and they provided our wedding cake as part of our package from the Fairview at Foxtail Golf Course. Honestly, I am so pleased with our choices!

We set up an appointment with Carolyn a few months before the wedding, and she was running a little behind. To make up for this, they gave us some complimentary coffee and a treat. (Ooey gooey cake is freaking amazing, in case you missed it.) When we did get to the tasting, it was SO MUCH FUN. She brings out a little tray of different cakes, different fillings, and then the two different icings that she offers. Pro-tip, both icings are great but they're known for their Whipped Cream Cream Cheese Icing (WCCCI) so just save yourself the trouble and just go with that.

As for the different cakes and fillings, there are so many options and so many varieties and so many combinations in turn! For a full listing of what they have available, see their website. Carolyn is also great at giving you suggestions of what is popular and what goes well together. We ended up picking a cupcake tower with a top tier for just the two of us. The top tier is a yellow cake with lemon cream and strawberry cream filling. The cupcakes were red velvet with cream cheese filling, pink champagne with raspberry filling, and a yellow cake with chocolate cream filling, All of course with WCCCI. They came on the day of the wedding and arranged everything together, including putting our custom cake topper on top of it!

The cupcakes were GORGEOUS. They ended up looking like roses swirled prettily and there were plenty to go around. Our guests LOVED them and we encouraged them to take extra home. Every flavor combination we picked went over well and we loooooved our top tier. We froze the remaining cake so that we can enjoy it again! BONUS, Your Sweet Expectations gives you a free cake on your one year anniversary!

So overall, this bakery is DELICIOUS and AMAZING.

Melissa

Married on 06/10/2017

Carolyn made our wedding cake and it was AMAZING. We received endless compliments on how great the cake was. Carolyn is also wonderful to work with, our tasting was such a fun experience and she was always responsive to emails, etc. I would highly recommend using Your Sweet Expectations for your wedding!

Gillian

Married on 09/03/2016

The short version: You simply cannot choose a better cake vendor than Carolyn at Sweet Expectations.
The longer version: I met Carolyn at a wedding expo and was honestly surprised that I liked the samples - this is no reflection on her presentation, as the samples were beautiful and she was very pleasant, I just happen to be a vanilla/lemon only kind of gal. With neither of my go-to flavors on the sample tray, I tried a champagne cake with her signature whipped-cream-cream-cheese icing. In addition to being a vanilla gal, I hate cream cheese frosting, but the sample was hands down amazing, and blew all other samples that day out of the water. The moment my now-husband heard that I actually enjoyed a cream cheese frosting, he said to book a tasting. Carolyn came to the sampling meeting bearing a large platter with more cake, frosting, and filling options that we knew what to do with, and every single one was great. Well, that tasting sealed the deal and we ordered our wedding cake on the spot (as well as a surprise anniversary cake for family celebrating their 50th on the same day). Prior to the wedding, Carolyn called to confirm all the delivery details, and on the day of, both cakes were on time, gorgeous, and tasted amazing (and in the case of the surprise cake, were hidden exactly as requested). If you want a cake that will wow your guests, both on looks and flavor, call Carolyn - you won't be disappointed.

Your Sweet Expectations's reply:

Gillian!! Thank you! It was an honor and so happy we could be a part of your beautiful day! Very Best to you!

Kristen

Married on 04/22/2016

Our wedding cake was the most beautiful cake I've ever seen! Everything was perfect! From the tasting to the day of! We definitely recommend!!

Jonathan

Married on 11/14/2015

The cake tasted amazing and it was easy and fun to make our choice during the meeting at the kitchen!

Heather

Married on 11/07/2015

Carolyn is an absolute dream. Not only does she do stunning desserts, but she is such a sweet person to work with. I got married in November of 2015, our cake was beautiful, elegant and delicious. I highly recommend Carolyn, you are in good hands with her!

Your Sweet Expectations's reply:

Thank you for your review Heather. You were delightful to work with as well.


Our wedding was on 10/25/15 and we had the perfect cake for our vineyard themed venue. We love the real grapes on the cake and simplicity of it. It was really magical and sweet. Thank you Carolyn for everything. Love, Alex & Daniel

Your Sweet Expectations's reply:

Thank you! It was an honor and so happy you enjoyed!

Zena

Married on 08/23/2015

Carolyn is a delight to work with.. we knew as soon as we tasted her samples we were going to go with her for our wedding cake. We are so happy we did, she has great customer service and the process was easy from start to finish. Our guests loved the cake and wanted more, but I made the mistake not to adjust our size of cake to the increase of guests we had. However, everyone got a slice and continues to talk to about how great it was. We even ordered a small cake of one of our wedding flavors after the wedding to share with family at a get together. Even with her being 45 minutes away, it was worth the roundtrip just to get the cake and we will continue to order from her for future occasions. Our wedding cake was beautiful, delicious and I highly recommend her! :)

Your Sweet Expectations's reply:

Thank you Zena! So happy to hear you are delighted with our service :)
Very Best to you!

Courtney

Married on 07/11/2015

Carolyn is awesome! From the moment we met her and tested her cakes, we knew we had found the perfect bakery for our wedding day! Carolyn worked with us and our budget and helped us figure out the best way to serve our guests delicious cake and cupcakes. The cake was not only delicious, but beautifully crafted with detail. We asked Carolyn if she could make our cake look like s tree to compliment our outdoor venue. She truly made our cake dream a reality! Our guests commented on how delicious our cake was, visually and literally!! :) you will love your cake and baker of you choose Your Sweet Expectations for your wedding! :)

Your Sweet Expectations's reply:

Thank you Courtney! Your venue and theme was so beautiful. You are a pleasure to work with and I'm delighted you are so happy with the results :)

Eliana

Married on 06/28/2015

I haven't been to many weddings, but I have eaten a lot of cake in my day and I can say that Carolyn makes some DELICIOUS wedding cake!! We ordered a 2 tier wedding cake from Carolyn for our wedding and the outcome was just gorgeous AND delicious! We ordered pink champagne cake with strawberry cream filling (OMG to die for) and we had an additional sheet cake of red velvet (also wonderful!!) for the other half of our guests. So many of our guests told us that the cake was too good! When we met with Carolyn for a free consultation and tasting, I brought her a picture of a cake on Pinterest that I had fallen in love with. She immediately starting sketching out a drawing of our cake, asking questions to make sure she understood what we wanted, and was more than happy to work with our budget. The cake turned out PERFECT and seriously just like the picture. THANK YOU Carolyn for baking us a fantastic cake, both in design and in flavor! I only wish we hadn't eaten it all, but we definitely couldn't resist =).

Our cake & cupcakes were beautiful & tasty! Our guests loved them. Customer service was great and they delivered on everything that was promised. If we have another special event, we will definitely use them again.

Madison

Married on 05/22/2015

Our wedding cake from Your Sweet Expectations was amazing and got rave reviews from all our guests! The pink champagne cake with the cream cheese frosting was delicious! She was very professional, kind and realized the style we wanted. Couldn't ask for better service!

Naomi

Married on 03/28/2015

We booked our cake baker last since we had NO IDEA what we were looking for in a cake. Aside from cake tasting, I was dreading the process because I was clueless as to what I wanted. Lucky for us we found Carolyn! She made the process so fun and easy! We decided on the look, flavor and style of our cake and had the deposit paid in under an hour. The hardest part was choosing the flavor because all of her cakes are so good. We decided on pink champagne for the top two tiers and marble for the bottom tier. The cake was beautiful and most importantly DELICIOUS.

My mother in law and I decided to get a surprise Groom's cake for the rehearsal dinner, as well. We got chocolate and everyone loved it. We are huge A's fans so we had Carolyn dec it out in green and gold and add the A's logo.

Weeks later we still have people asking where we got our cake from. You won't regret choosing Carolyn.

Amazing, beautiful, delicious cakes and cupcakes. We had both at our wedding and everyone LOVED them! Lots of flavors and combinations of fillings and cake to choose from at a fantastic price.
Are you interested?
Send a message