79 Reviews
Recommended by 100% of couples
Quality of service

5 out of 5 rating

Average response time

5 out of 5 rating

Professionalism

5 out of 5 rating

Value

5 out of 5 rating

Flexibility

5 out of 5 rating
1 User photo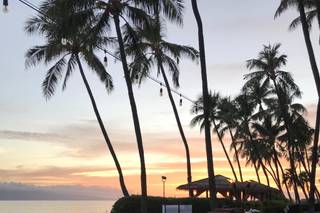 Holly V.

Married on 07/13/2022

Best DJ on Maui

Teddy was absolutely amazing to work with. He was organized, professional, polite, detailed, and wanted to make sure our wedding was flawless. For our first dance we wanted the song we chose condensed to a minute and a half but wanted the beginning and end of the song. We reached out to him and he mixed it together for us that same day. We didn't want to pick all of the music and asked him to fill in the gaps and he was able to match our music style. If you are looking for a wedding DJ, Teddy is the absolute best! He made our day so memorable. We hope to see one of his sets next time we visit Maui! Thanks for everything Teddy!!! Hope to see you soon!

Your Mix Maui's reply:

Mahalo Holly,

I will never forget your wedding! Playing stanton warriors and your fly kicks. Cannot wait to see you and Chris again!

Mahalo!
-Teddy, Aurora & Roland

Vicki

Married on 06/29/2022

5/5 star DJ and emcee host!

We are so thankful to have had Teddy be our DJ for our reception. He is so detail oriented and sticks well to the schedule that was discussed upon. The music quality was great and he has a great emcee voice. Couldn't recommend anybody better!

Scott M.

Married on 06/29/2022

Wedding DJ made easy!

The service was amazing, Teddy helped us put our itinerary and music list together step by step.

Are you interested?

Send a message

Nabila D.

Married on 02/24/2022

Book Teddy!

Teddy DJ'd our wedding at the Olowalu Plantation House on 2/24/2022 and we cannot recommend him highly enough. He was a pleasure to work with from the beginning. His attention to detail was incredibly thorough and he was clear in all of his communications with us, walking us through all aspects of our day of timeline and he made sure we were happy. He was super flexible in that he played what we wanted, but also filled the gaps with music that fit perfectly with our vibe. He also steered clear of any artists or songs we did not want played.

Overall, Teddy is not only a great DJ but also a great person. It's a shame he was working, because we would have had him join the party with us. He was so kind, considerate and thoughtful and went above and beyond to make our day perfect. All of our guests loved the music, and he made it super easy for everyone to stay on the dance floor all night long.

If you're considering booking Teddy for your next event, do it!

Your Mix Maui's reply:

Nibz, This is so incredible, I am beyond words. Thank you my friend! Best wishes to the two of you! Mahalo.
-Teddy

Melissa J.

Married on 01/22/2022

Turned our party at sea up a notch!

We had a very unique wedding, which means we needed to find vendors that were up for a challenge and ready for an adventure. Teddy went above and beyond to meet our needs. He met with us several times via Zoom and phone calls and answered the countless emails we sent while planning a wedding from afar. He even reached out to our wedding coordinator to walk through the venue and ensure he had everything needed to make our wedding day a success. We had a wedding on land and a reception on a catamaran at sea. Teddy put together a small set-up that could quickly transition between venues, and created an enclosure to protect his equipment from sea spray during our sunset sail/dance party on the water. He listened to our wants/style, made custom cuts of special songs, and communicated clearly to all of our guests so they would know what to do and where to be throughout the day. We are so grateful for everything he did and would recommend him 100 times over for future events.

Your Mix Maui's reply:

Melissa,
Your wedding was nothing short of legendary. It was my honor to be part of such a TRULY UNIQUE and empowering event. The pictures/video I have so far from the boat are priceless!
I cannot begin to tell you how much your words of appreciation and understanding for my efforts mean to me. Especially in a time where people have become so quick to be mean and forget how good everyone feels when we all show our appreciation for eachothers humanity and efforts.
You and Jacob deserve the best in life for so many reasons, this here is another. You made my day. Mahalo my friend.
-Teddy, Aurora & Roland
PS Ian should do weddings professionally. Total natural. That is all. ;-)

Eric C.

Married on 12/02/2021

Maui Reception

Teddy took the time to find out the mood and genre that we wanted to achieve.
He was ready to completely customize the Emcee and Music experience based on our preferences! Teddy helped us to create a mashup first dance that provided us with a slow dance and transition into bringing everyone out on the dance floor.
Teddy is warm, professional, detailed, loves what he does, and knows how to keep the party going strong!

Michael T.

Married on 11/06/2021

The Best. Hire him!!

Teddy was a true pleasure to work with. He went above and beyond the most of all the people we worked with. We got his all inclusive package and it was more than worth it. He walked us through the whole music process and helped us get organized for the entire wedding time line. He gave us peace of mind that the big day would flow smoothly.

Your Mix Maui's reply:

DONT FORGET! You two made it easy by having GREAT taste in music, WONDERFUL people, and an attitude of gratitude.

What a great couple. what an awesome party!

I am blessed to know you my friend! Mahalo for supporting my family!

Jake F.

Married on 07/24/2021

Teddy - All the Way

Wow, Teddy made this experience extra special. He was helpful and insightful every step of the way. There was no concern or irritation about his participation and mixing on the day of. I can't express how smooth everything went on his end and that we could just sit back and enjoy the moment.

Kelby H.

Married on 06/26/2021

The Dynamic Duo!!

No words can describe how appreciative my husband and I are for Teddy and Aurora. We had contacted Teddy back in 2019 to plan our 2020 wedding. At the time, he was very informative, patient, and overall an awesome guy to talk to. We knew the moment we did our initial phone call that we wanted to have him as our DJ. Throughout the process, Teddy answered all of our questions and gave us very helpful suggestions for music and timeline. Not only is he an awesome DJ, but a great planner as well! Fast forward to 2020 and our wedding was postponed. Teddy was very flexible and worked with us to plan a new date. At this point, it didn't feel like we were taking to just our DJ, but also a friend. He was so kind and patient with us during our scrambling to figure out what we would do next. Up until our wedding in 2021, Teddy was nothing but a lifesaver and would always check in with us to keep us on track.
During the whole process, my husband and I decided to ask for Aurora's day of coordinator services as well. And let me tell you that she is so much more than that. Like Teddy, she spent hours helping us plan and organize our wedding. She helped us find quotes, ask questions, and make our dream wedding come to life. Even on our wedding day, her quick thinking and flexibility helped us navigate the day (especially when the sprinklers made the ground too wet to walk through). Aurora was a dependable presence throughout the night.
Overall, Teddy and Aurora became much more than a DJ and Day of Coordinator. They became our friends and made our wedding even more special than we could have imagined.

Your Mix Maui's reply:

Mahalo Kelby,

The two of you were a pleasure to work for, and your event was a blast. I dont think I will ever hear "From the ground up" again and not think of you two in your first dance. Very cute moment, and powerful to see love bringing things back to normal after so many months of celebrations being stopped.

Best wishes to the two of you!
-Teddy, Aurora & Roland

Hayley

Married on 06/10/2021

Best choice we made for our wedding!

Hands down, best decision we could've made for our wedding! We found Teddy on Facebook and coincidentally found Aurora, our day of coordinator, through Teddy! They truly are a dynamic duo. Teddy and Aurora work together to make such a cohesive event. The two were so accommodating and kind, we genuinely felt all meetings and conversations were with friends. On several occasions throughout our wedding day I remember thinking how grateful I was that we found Teddy and Aurora because of how well they treated us and our guests. Definitely a "no stone left unturned" approach. They covered everything with complete thoroughness that gave us so much peace of mind. Teddys organization and attention to detail is bar none. Aurora's calm demeanor and accommodating nature was everything I could ask for on a day that could otherwise be hectic. I honestly wish I could write an article on these two and our experience with them! Lol but I'll leave it at this; Teddy and Aurora are in a class of their own. Hiring them was without a doubt the best money we could've spent toward our wedding and would spend it 5 times over to have them there.

Erica

Married on 08/08/2019

AWESOME DJ/emcee/planner!

Teddy is so organized and kept me on track the months before the wedding so that I didn't feel rushed or stressed. When we started the planning process with him, our wedding planner had left the venue and we were without a planner for over a month. To my surprise, Teddy stepped up and was a pseudo wedding planner for a while which made me feel immensely better. Thanks to him we had a detailed timeline which the photographer had been asking for; he educated us about how the day would play out and where we'd be walking to/from/around (he was very familiar with the venue). He even gave us tips on how to save money here and there, and when we asked him for his opinion about anything (music choice? dance floor or not? type of lighting? mics or not?) he didn't give the boring "It's your wedding, whatever you want" but actually gave insightful answers that came from a logistical background but still took into account my tastes and style. I was worried that with a small 10-person wedding that his light-up DJ booth and floodlight setup would feel "too much" for such a small wedding. He understood my concern, suggested a few things like using a warm white light instead of colors, and gently assured me that the overall setup would not feel too overwhelming, and he was 100% right.

He was a lifesaver, working with our new planner to get her up to speed and with other vendors to ensure everyone was on the same page. He was very transparent in communication and extremely detailed.

Aside from his planning skills, he also perfectly DJ'd the wedding, from ceremony to cocktail hour to dinner to dancing. He had a very good system of "must play" and "should play" songs and even pulled in some good throwback songs that we had forgotten about but that we were so glad he played! He had a good feel for the energy in the room and was able to keep the dancing going or get people to come to the dance floor. His voice was also very smooth through the speakers, fantastic! Teddy is directly responsible for keeping my stress level low and for making the day-of so fun. I will forever owe him for that :)

Your Mix Maui's reply:

OMG. I may get paid to speak for a living to some extent. But right now I am totally speechless.

If I am as good of a DJ as you are a Hula Dancer AND review writer. I will stay as happy as this review has made me for a long time. :-)

Mahalo Ed and Erica!
-Teddy

Leslie

Married on 03/10/2019

Teddy is awesome!

Stop your DJ search here - Teddy is your guy! My husband and I were blown away by the amount of work Teddy put in to make our day wonderful. Like others said he is basically a planner, DJ, and friend in one package. Don't expect him to just show up with your list of songs to play on your wedding day - Teddy thinks of everything you didn't and leaves you feeling accomplished before your wedding. He was instrumental in us having stress free and smooth day.

Onto his music - just... yes. This is a wedding DJ that ACTUALLY mixes & keeps your guests on your feet! We heard nothing but compliments about the music all night. Thank you Teddy!!

Your Mix Maui's reply:

Leslie & Clinton,

It was an honor and a blast to "work" for you guys! As all of your other vendors conveyed to me. The two of you and your group were nothing but fun to work for. A truly authentic couple, with a great deal of gratitude and love in their hearts, and an absolutely authentic and charming evening. Couldnt ask for more from my side! Glad to hear you enjoyed it as much as I did. :-)

Hope Kauai was a blast!

Mahalo nui loa for supporting my Ohana and my dream!
-Teddy

Tewalau D.

Married on 11/15/2018

More than a DJ!

Teddy was like a planner and the DJ all together he is super organized and knows a ton of bow weddings he's also extremely good I getting everyone dancing thanks so much yout mix Maui!

Matt D.

Married on 10/04/2018

The Best You'll Find!

This is a long overdue review of the awesome Teddy. This guy was WAY more than a DJ, he kept us on track in the months leading up to our big day. His approach was not only one of extreme professionalism, but also one akin to friendship in that he genuinely cared about our big day. He made all of our ideas come to life and was the best vendor we worked with for our wedding. Every single guest genuinely said that ours was one of the best weddings they've ever attended, and Teddy was a huge ingredient in this. I'm not sure how much Teddy is charging for his services almost a year later, but every dollar you spend with this guy will feel like a bargain.

Amy

Married on 08/16/2018

Worth every penny

Couldn't have asked for more. We were so pleased with Teddy. Audio for the ceremony was clear, dancefloor stayed full. He answered all of our questions quickly which really put us at ease.

William

Married on 07/13/2018

Best DJ in Hawaii!

Teddy was amazing. So involved in our details, always very responsive to emails and calls and he kept the dancefloor full all night. Super cool looking DJ booth, speakers and lights too! MUST hire!

Saundra

Married on 06/12/2018

Pleased couple!

Teddy of your mix Maui is the only DJ you should consider for your Maui wedding. He's really kind and enthusiastic about the couple's plans. And is seriously the best mix DJ I've ever heard. Guy makes these incredible mashups. Worth every penny. My guests danced all night!

Laura

Married on 11/04/2017

Wow! Your mix was absolutely amazing! They kept the day moving along and kept us on track while still making sure everyone was having a FANTASTIC time. Our guests kept telling us he was one of the best Wedding DJ's they have experienced. The dance floor was always full and the photo booth was an absolute blast. Guests even got to take home a personalize pic from their photo booth! Very professional throughout the entire process and extremely responsive and detail oriented. They even help with wedding planning/coordination and have an amazing song selection and make sure your music is customized for you. We couldn't be happier and would recommend Your Mix to anyone! They are the reason our wedding was "The Best Wedding they have been too" among many of our friends and family!

Your Mix Maui's reply:

Laura and Odari, (LaurDari? That a thing? ;-O)

We had been excited about your big day for so long, and for more than one reason were counting down to the big day! Hard to believe its already come and passed! We loved working for you guys, and your guests! We got some GREAT video footage of the night as well.

Thank you so much for supporting our family business, and helping to shape the timing of our next big step in our own lives!

OH AND PS! Wisconsin shaped cutting board will never be forgotten! Mahalo!

Best wishes to you guys!
-Teddy & Roland
YourMixMaui.com

Jaime

Married on 10/28/2017

Teddy was amazing to work with! He is incredibly organized, professional and took the extra time to get to know us and understand what we wanted. Music was very important to us, and he helped us perfectly capture the feel we wanted for our wedding day. Not to mention, he coordinated with all our other vendors to ensure everything ran smoothly and truly went above and beyond to do whatever he could to make our wedding day amazing and stress-free! Would highly recommend!

Your Mix Maui's reply:

Jaime!

Thanks for the kind review and supporting our family business! It was purely a pleasure to serve you!

Mahalo!

-Teddy & Roland
The YourMixMaui.com Ohana!

Morgan

Married on 09/30/2017

Teddy (Your Mix Maui) was our DJ for our September wedding in Wisconsin. We met him at a wedding show and, after talking to a few other DJs, he was an easy choice. He was extremely personable and knowledgeable. Most importantly, he wasn't pushy, which to us was a sign that he would help us create the wedding we wanted. We're so glad we hired Your Mix because it was almost like hiring an excellent DJ AND a wedding planner! Teddy helped us create a very detailed itinerary, was available to answer ANY questions we had, whether it related to music or not, and had many valuable suggestions while keeping our wants and needs in mind. He was wonderful at the wedding...We didn't have any ounce of worry about the itinerary because we knew Teddy was on top of it (We had a lot of detail in our itinerary, including a Wii and projector, specific songs, dedications, choreographed dances, etc. and it all happened flawlessly). He had great energy and presence and most importantly, the dance was so much fun! I've had several people planning weddings ask who our DJ was. Hawaii is lucky to have him!

Your Mix Maui's reply:

Morgan!

Thanks so much for supporting our family business and the kind review.

It was wonderful going out for "dinner" with you guys in Kihei! Hope to see you again someday!

-Teddy & Roland
The YourMixMaui.com Ohana!

Brittany

Married on 09/15/2017

Teddy was absolutely amazing to work with. W hen we decided to hire a DJ we had no idea that we would get a wedding planner at the same time! He helped us plan everything down to the minute and brought up questions, concerns, or ideas to make our day perfect. He is ridiculously knowledgeable with wedding traditions and so easy going when you want to do something unique or outside the box. He provides song ideas when you can't decide on what you want. He helped us with last minute set-up details for our wedding the day of. We had 1 year and 8 months to plan our wedding, so naturally we had our moments where things weren't as exciting to plan, and then we'd have a meeting with Teddy and we'd end it feeling giddy and wishing the day would come sooner. The sound and quality of the music he played was excellent. He found a way to incorporate both mine and my husband's music tastes into our reception (we have very different tastes in music) and it sounded so natural. The quality of the photos from the photo booth were fantastic and we received copies of our pictures the same day, digital copies the Monday after (3 days!!). Teddy is professional, timely, respectful, kind, knowledgeable, generous....the list could go on forever. He interacted with our crowd perfectly, even the kids! He worked well with my other vendors, even when they were being pushy to change the timeline to better suit their needs. I cannot say enough good things about this man and his business. You need to hire him. He will not let you down! Hawaii is gaining an amazing family, DJ, and business. Dan and I wish you all the luck in the world and we hope we cross paths again some day!

Your Mix Maui's reply:

Brittany,

Thanks for the review and supporting our family business! The phrase "ridiculously knowledgeable" made me blush with pride, but then question if maybe I get a lil too into weddings. haha!

I will always remember you guys and your big day! If you are ever in Hawaii, look us up!

Mahalo!


-Teddy & Roland
The YourMixMaui.com Ohana!

Rebecca

Married on 08/28/2017

Your Mix exceeded our expectations! Most DJ's are loud and obnoxious and can be downright annoying. We wanted a DJ that was laid back, professional, fun but provided a service that we wanted. Ted knows what he's doing and we would hire him again if needed!

Your Mix Maui's reply:

Rebecca,

Thanks so much for the review. I loved working with such a talented team of vendors at your wedding. Really made me feel humble to be included in a literal arsenal of some of the best wedding vendor/venue/food selections I have seen all year!

Thanks again for trusting me, and supporting my family business!
-Teddy & Roland
Your Mix Maui

Erika

Married on 08/19/2017

I am not a person to write reviews, but after using Your Mix Maui (previously Your Mix Entertainment) for our wedding DJ I had to write something to let others know just how great they were to us.
On top of DJing our wedding reception, he also came out to our ceremony location (which was about 25minutes away from our reception) to perform music for us. He came prepared with wireless microphones and all. His assistant Mitch also was along to play piano for our ceremony and it was PERFECT! Teddy made our wedding planning a breeze. He came up with an itinerary for the entire day and proceeded to send this to all of my vendors and made contact with all of them to make sure they were all on the same page. From the uplighting to our slideshow, Teddy did it all. I felt like I could just sit back and relax while he ran the show, making sure everything was going according to plan. Honestly I don't know how I would have survived planning this wedding without all of his help.
After our wedding we had numerous friends and family ask who he was and how we found him so they could use him for their weddings coming up. I don't think there was a time when there wasn't people on the dance floor, he really knows how to keep the crowd engaged.
I was very picky about who my vendors were for our wedding, and without a doubt Your Mix Maui was the best decision I made. I promise you will not be disappointed. If you have any questions please feel free to contact me at erikazz52@yahoo.com . Happy planning :)

Your Mix Maui's reply:

Erika,

Thank you so much for the review. I will never forget your wedding so long as I live. We had SUCH a great time that night, and I will always remember getting REALLY into the zone with your guests later in the night on the dancefloor as our tastes in Dance music were so similar!

Thanks again for trusting me, and supporting my family business!
-Teddy & Roland
Your Mix Maui

Kaitlin

Married on 07/22/2017

There are no words to truly describe how amazing the owner Teddy is! If you are looking for a dj this is your man! You WILL NOT be disappointed!! He was by far the best vendor we had at the wedding! He is much much more than a dj. He went above and beyond our expectations and were blown away by how much of the planning he helped us with! He coordinated himself with all the other vendors from start to finish! He truly made the night go perfectly!

Your Mix Maui's reply:

Kaitlin,

Thank you. I dont even know what to say.

Seriously. Just amazingly to the point. :-) This ones going on the new website!

Knowing that your customers understand what it is you set out to do with your profession, and show such appreciation like this. I am a really lucky person!

Thank you for trusing me and supporting my family business!

Ashley

Married on 07/05/2017

Mahalo Teddy!

Teddy is the best DJ I have ever seen. at a wedding or otherwise. I am so glad we found him, he represents true aloha. so kind to his customers and very appreciative, really likes to customize the experience for each couple too!
Are you interested?
Send a message