Reviews
4.6 out of 5 rating
Quality of service

4.6 out of 5 rating

Average response time

4.7 out of 5 rating

Professionalism

4.6 out of 5 rating

Value

4.5 out of 5 rating

Flexibility

4.4 out of 5 rating
91%
Recommended by couples
26 User photos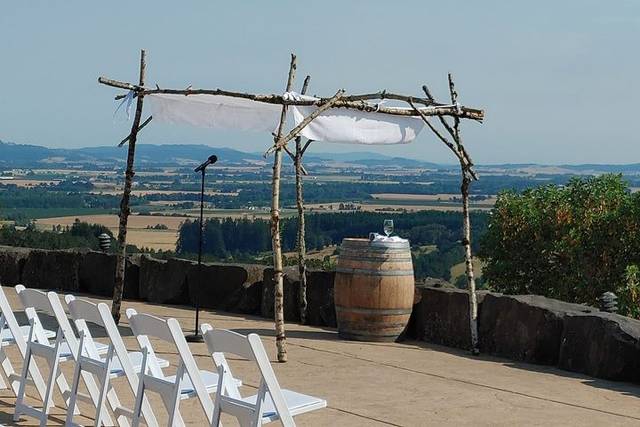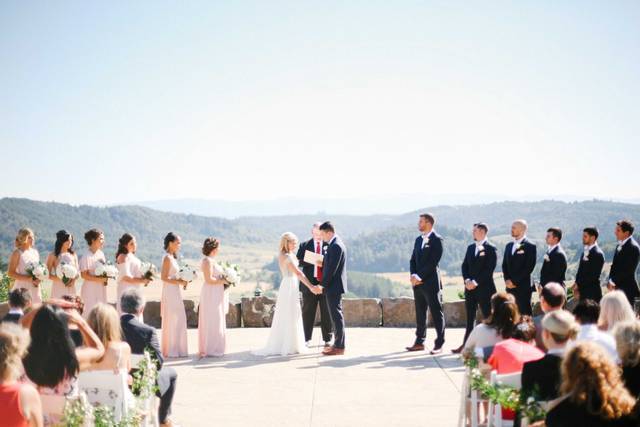 + 22

photos
Featured

Devin G.

Married on 10/05/2019

Amazing experience! Highly recommend!

We cannot speak highly enough about our experience at Youngberg. We fell in love with the views the moment we drove up the driveway that very first time. But it was ultimately the professionalism and hospitality of the Youngberg staff that made us we choose their venue.
Leading up to the wedding, we worked primarily with Nicolette and she was simply amazing. She made everything so easy and stress free. She was extremely responsive and always happy to jump on the phone to answer our endless number of questions. She also helped us with room reservations and general wedding logistics. As the wedding approached, we visited Youngberg a couple of times with our parents. Nicolette was always there to give us a hug, tell us how excited she was for our wedding day, and reassure us that she would be there every step of the way.
Our families stayed with us at Youngberg and it could not have been a better experience. Having everyone together was very special, particularly breakfast the next morning. It was quite memorable to reminisce the evening prior with our families over an amazing breakfast. The Youngberg staff absolutely spoiled us and was always available to help with anything we needed during our stay. They did everything they could to make us feel comfortable and welcome.
The views at Youngberg are breathtaking. Our guests have used their photos from Youngberg for their holiday cards, profile pictures, and phone backgrounds, which speaks volumes.
After getting married at Youngberg, we cannot imagine our wedding having been anywhere else. We also now have a special connection to Youngberg and cannot wait to celebrate many anniversaries there in the future.

Jeremy G.

Married on 06/06/2021

An incredible place to get married

Youngberg Hill was the PERFECT place for our wedding. Stunning views, wonderful facilities, supportive and helpful staff, and reasonable prices. Thank you for making our special day that much more special.

Youngberg Hill's reply:

Hi Jeremy,
It was truly a pleasure to celebrate with you and your family & friends. On behalf of the whole team, thank you for taking the time to write this review and for all your support.
We look forward to celebrating more great moments in the future!


Tavnwatt

Married on 08/07/2020

A wonderful place

Perfect venue for a wonderful wedding. I was planning from out of the state and this venue was so responsive. From my first contact to request information to the next day when the owner calling me back and spending so much time on the phone making sure I had everything I needed. I never felt that she didn't have my back. All emails were replied to quickly and everything was simple with their package. I hired Willabys catering but this was one of the few venues that allowed me to bring in any caterer I wanted. Their wines were so wonderful and my family & friends were wowed the whole time. The Innkeeper made sure everything is perfect and the mimosas were ready when we arrived. The Inn onsite made everything super simple and the rooms were beautiful, clean, and updated. The venue is breath taking and the views are even better in person. They made our day so very special. Thank you so much!

Are you interested?

Send a message

Angiet

Married on 06/22/2019

EXCEEDED everything we had wanted!!

My daughter and I had toured several venues by the time we got to Youngberg Hill. We were initially impressed with the grounds, views, flexibility, and the ease in which the day would be by selecting a venue where we didn't have to deal with rentals and unknown vendors. We read all of their reviews and based our decision on our own experience. Coming from an event planning background myself, I have seen it all and my expectations were high. We met several times and even proposed a few new things. Nicolette was not only open minded about those, but coordinated it with the other vendors to make it happen. Willabys food was excellent, their staff was "on it" and all very nice. Many of our guests were from out of town and they are still raving about the wedding. While the views and their wonderful quality of wines are talked about regularly and were amazing, the ease of working through all the details and the timely replies to all my questions were fantastic. We all imagine what our special day is going to be like, and rarely does it end up that way. My daughter's wedding actually EXCEEDED what we had envisioned and a HUGE thank you to Nicolette and Willabys for executing such a successful wedding.

Teresa

Married on 05/31/2019

The day I dreamed of

We could not have been happier with this venue selection. The venue, people who work there, services/package, wine, and the VIEW were everything we could have asked for. Thank you for making our wedding so wonderful. They went above and beyond each step of the way. The customer service from the very beginning was fantastic. Always replying quickly to all our needs or questions. We loved having our wedding party stay overnight at the Inn. So many details taken care of so when I showed up on the wedding day, all I had to do was think about my family, friends and seeing my man! I would highly recommend this place.

Mckenna

Married on 04/28/2019

I recommend this place!

I absolutely loved may wedding in April. It was such find that I asked to write a review to let everyone know how special the whole experience was. From the first tour to follow up thru the year with dozens of questions thru the whole thing, I always got a helpful answer that was easy to understand. When I needed a lot of questions I would ask them to call me and I would hear from them withing the day. Yes, there are rules, but doesn't every place have them. You cant bring in our own liqueur, had to end by 11pm, and a few others that really were simple and helpful including having all 9 Inn rooms rented to our friends and family so there were no one else at the estate. My room was so beautiful and had everything we needed to get ready in before the wedding.
The package they have is 99% of what I wanted at my wedding and when I added things on they always confirmed that it could happen and the cost up front and how it would be managed. When the day arrived we were meet by the Innkeeper with a smile and a huge welcome. I knew she was going to meet us upon arrival because a few days before I got an email from Nicolette about some reminders that were great and it included general things to review upon arrival. I mean, we had the timeline all set months in advance but how great it was with the millions of family things going on the month before the wedding that we were reminded warmly of the final little details. The day was beautiful and the location spectacular. I loved that no one that I knew had been married here before even though they did weddings for about 10 years and had a plan for everything I asked for. Their wines are amazing and everyone was impressed with them. My family and friends were treated like their family and friends and I could not have asked for a better experience. Thank you for making our wedding one of the happiest days for all of us.

Youngberg Hill's reply:

Hi McKenna,
It was a pleasure working with you to set up your wedding. Thank you for writing this review. It is a team effort to host weddings and working together to make sure the pieces all work well together is what we all work towards. We look forward to seeing you again to celebrate thru the years!
Nicolette

Ashley

Married on 04/12/2019

Most breathtaking place around

Youngberg hill is the most stunning and breathtaking place I have ever visited. If the incredible views are not enough, the whole staff is helpful and make you feel like nothing can go wrong, even when it does, Becky was right there to the rescue and saved the day. (We forgot our vows we had written and she printed them off and we also forgot our marriage license and she made sure we knew just what to do and made me feel calm again.) All of my guests are raving about how amazing it was. We came from 3 hrs away and it did not disappoint. I could not be happier!!! Nicolette was very easy to work with and took special requests on the type of beer my husband wanted when it was not within the usual options. Overall if I could give them 10 stars I would.

+ 5

photos

Youngberg Hill's reply:

Thank you Ashley. It was an honor to have hosted your wedding and to be part of your memories. We look forward to having you back again to celebrate for years to come.

Emily

Married on 10/06/2018

Amazing Setting and Sitter Super Helpful

What a gorgeous setting! Youngberg Hill gave us the outdoors feeling we wanted for our reception while also providing the amenities of their beautiful event space. Nicolette was responsive and easy to communicate with and responded to our questions quickly. The view reminded me of Tuscany. Our guests were able to spend time outside at the beginning of the event while staying warm inside for dinner. We had about 7 children around the age of 4 and were so glad that Nicolette recommended Jordan as a "sitter" to attend to the kids. The parents were able to enjoy themselves while Jordan entertained the kids with crafts we provided. This worked so well. The parents raved about her and the kids had such a good time.

+ 10

photos

Youngberg Hill's reply:

Hi Emily,
We were so honored to have hosted your special day. Thank you for taking the time to write this review and share your experience with others. We know how busy you are and it means so much. We look forward to having you and Jeff back to celebrate your anniversary with us for years to come!
Cheers,
Nicolette

Krista

Married on 08/24/2018

From the moment we first stepped foot on this property, we were in love with everything it had to offer. Our family and friends stayed at the Inn Thursday and Friday night for a Friday evening wedding of 200 guests. The staff and the interactions with the everyone on site were responsive and helpful in every way. The Inn is gorgeous! The views! Everyone offered over and over to help and step in with anything we wanted and needed. The meals they provided were delicious. The morning walks and the early mornings and late nights on the front porch made everything a little more perfect. The recommended venders that Nicolette referred exceeded our expectations. Willaby's Catering was a perfect partner. The memories created for us, our friends and family in such a beautiful setting, will forever keep our hearts overflowing. Congratulations to our daughter Kelsey and her new husband Cory. We are so blessed to have been able to start your many years together with such an incredible weekend! Thank you Youngberg Hill!

Youngberg Hill's reply:

Hi Krista,
It was such a joy having you celebrate with us. Thank you for taking the time to write about your wedding and all your support. Come back soon to see us again. We will have a glass of wine waiting for you!

Chelse

Married on 08/04/2018

We had our wedding here in April and it was amazing. I have so many wonderful memories with my family and friends that will last a lifetime. This venue was soooo beautiful and totally meet our expectation. Thank you to the whole staff for making the entire experience easy and we felt so welcomed. The estimates and emails from Nicolette updating us throughout the process were answered quickly and we had everything we could ask for. The wedding week email information & reminder was great too as we booked this venue a year in advance so it was was a great help. The Innkeepers, housekeepers, bartenders, and they guy helping my dad move a big bag of wedding things were so happy to be around. They require a damage deposit that they state is returned within 15 days but we got ours back in 7 days. I would totally recommend this place!

Youngberg Hill's reply:

Hi Chelse,
Everyone at your wedding was so wonderful and happy for you. You could actually feel the love in the air. We are so glad to have meet all your needs and it was the wedding that you wanted. Come back soon for a romantic getaway!
Cheers,
Nicolette

Kelly P.

Married on 07/19/2018

You dont want to miss this place!

I loved everything about this place. We first came here for wine tastings several years back and we loved it. On our next visit, we stayed overnight and were fans for a lifetime. We loved it so much that our daughter just got married here this past summer and I can honestly say that it was better then I could have ever imagined. Nicolette, the owner, was attentive, responsive to all our requests, and created a team that made each of our 150 wedding guests welcomed and cared for. We celebrated, danced and laughed our way into the night. The follow up after the wedding was easy and we got our full damage deposit back and a bit more as our group drank less then expected at the bar. The way the bar is set up, you pay for what your group actually consumes and there is no min. orders or advance cases to buy. We loved that option. Having all 9 Inn rooms rented by our wedding guests made it easy to get ready and we didn't have to travel after the wedding. Breakfast the next morning came with a fantastic endless pot of coffee. Thank you to everyone. We look forward to coming back with the kids to make more memories!

Youngberg Hill's reply:

Kelly, from your first visit to enjoy our estate wines to your daughters wedding, we have loved getting to know you and now feel like we are family. We cant wait to celebrate more wonderful moments with you.
Cheers,
Nicolette

Laura

Married on 07/13/2018

I loved my wedding

I loved my wedding at Youngberg Hill. I cant say enough about the whole experience. It was so easy to set up and work thru the details. They have a preferred caterer, Willabys, who can coordinate everything or you can chose your own caterer which was so nice to have it open. I liked the ongoing emails from them updating things as we went. Nothing was a surprise except how I looked in my gown. The staff was wonderful to everyone in the group. The wine was wonderful and the Inn rooms were beautiful. They had some rules that made the day go well and without them it would have been challenging. I will cherish my memories of this day and will go back for getaways to celebrate my anniversary for years to come.


Youngberg Hill's reply:

Hi Laura,
We cant wait to have you back. A glass of wine will be waiting for you!
We know how busy you are and we truly appreciate you taking the time to write this review.
Cheers,
Nicolette

Jenny

Married on 07/12/2018

I loved every minute of my wedding. This place was fantastic and the people are so welcoming. I couldn't have dreamed up a better day and I wanted to thank them so much. Every time I needed something they were there. They offered more then we were contracted for at no additional charge. I love that I didn't have to pre-buy at the bar for my guests and I wasn't charged a per guest fee like so many other places do. We had all the rooms at the hotel and they are warmly decorated and felt new. I am looking forward to going back and celebrating our anniversary and enjoying the views with a glass of wine!
I don't write reviews and signed on just to let everyone know that they went above and beyond.

Youngberg Hill's reply:

Hi Jenny,
We are so glad that the wedding package we offer met your needs. We pride ourselves that the package includes everything you need and you are not charged for every item separately. Thank you for all your support and for taking the time to write this review.
Come back soon!
Nicolette

Pamala

Married on 07/09/2018

An Amazing Venue! Our son got married here and we fell in love with this place from the first time we toured. Easy to work with, had a process that explained each are we would need, the owner was always there to answer our questions quickly, and they did everything we asked. They made it simple and flexible. We could use their preferred caterer or pick on of our own. I loved that as so many other places we toured had a list of a couple of caterers that we had to use. We also didn't need to pre-buy anything from the bar which is one of many reasons we selected this site. We were sent reminders and updates and even did the spacial seated wine tasting for us to enjoy months before the wedding. When we arrived we were greeted at the door by the Innkeeper and our rooms were set and beautiful. The wedding site was so breathtaking that photos don't do it justice. The next morning we had a great cup of coffee and got to enjoy it with our family and friends. I would recommend this place to anyone for a wedding. We will be coming back for a getaway and more wonderful wine!

Fabiana

Married on 06/23/2018

I got married at Youngberg Hill last weekend and I am still trying to find the words to describe it. For starters – the views are just breathtaking. The property itself is up on a hill, away from anything else, which makes it peaceful and serene. It's like a little piece of heaven. Youngberg Hill was the first venue we looked at and nothing else we found compared to what Youngberg had to offer in terms of the views, the wine, the Inn onsite, and of course the staff. We fell in love with Molly on our first visit; after touring the venue we stopped in for a wine tasting. She was so sweet, and knowledgeable about the wines that if we hadn't already been sold on the venue, she would have sold us on it! Every time we have gone back to visit, or just pop in for a wine tasting, she greets us with a smile like we are old friends. During the wedding I had the pleasure of meeting some of the other amazing individuals who make Youngberg such a special place. Michelle and Becky, the amazing ladies who take care of the Inn, took such good care of our guests. Always helpful and extremely accommodating - I cannot say enough good things about them. Our family who stayed at the Inn commented many times about the spectacular customer service – everyone really made us feel welcome and comfortable, I could go on and on… Anyone considering Youngberg Hill for their wedding should absolutely do it – it is the right choice, you'll love your pictures and your guests will thank you for it!

Erin

Married on 06/09/2018

Say 'YES' to this place!

We feel extremely fortunate to have had Youngberg Hill as our ceremony & reception venue! When first looking for venues, we lived in Napa, but given we grew up in Oregon. We toured dozens of venues and when we were at Youngberg Hill there was an immediate without a doubt moment knowing this was the place. From the first moment we asked for information, to the tour and contract, everything was easy to follow and clearly outlined. Yes, there were a lot of details but all weddings have them. We loved that they had the expertise of guiding us to the day we wanted and dreamed of.
After contracting communication was fast and easy! The owner, Nicolette, was available at all times for questions. So flexible and we loved it. I visited Youngberg Hill multiple times for logistics and Nicolette was always extremely welcoming. We were offered a seated tasting wine experience to enjoy and get to know their wines. Oh, did I mention that their wines were amazing! I am what most would consider a wine snob because I grew up in the wine industry and my husband works in the CA wine industry. Youngberg Hill's vineyard and biodynamic wine practices are clearly evident in the quality of their wines. My husband and I discuss many details including technical aspects to the winery regiment that were all top of the line.
On the wedding day things could not have gone better! We were allowed access to the event site for set up at 11AM and our Inn room was ready at 12:30. They have a beautiful Inn at this location and the rooms were wonderful. The rooms were all well appointed with luxury. I loved that we didn't need to stay and clean up that night after the wedding like so many places require. They cleaned up everything and staged all our personal items for us to easily pick up the next morning after checking out of the inn. We received so many compliments from our guests on the beauty of the space and professionalism of all involved. Since many of our guests were from out of town and in the wine industry, we loved that they were able to experience what Oregon wine country offers. All of this and I haven't even talked about the breathtaking views! We are so pleased with everything and recommend you check this place out!


Julie

Married on 06/08/2018

YES! Yes! Yes, this is the place!

The venue is amazing. The location is spectacular and the new event building itself is well constructed but understated to allow the view to be the focal point. You get a view of the vineyard, valley, mountains, rolling hills, and it is just green as far as the eye can see. The site is flat and in one area which made it easy to do everything. The ceremony and reception were so well designed and easy to connect everything we wanted. We were looking for a vineyard that had a great indoor/outdoor option in case Oregon decided to be Oregon and rain on the wedding day. This was the place. The Inn on the estate was required for the night but we loved that as we got to be there all day and see everyone the next morning. We didn't have to stay late to clean up as the staff did that which was a wonderful way to end the wedding, celebrating instead of cleaning. All our personal items were collected for us and secured for us to pick up the next morning before we left. There are rules about some things like guests coming in early and having a party at the Inn and kids but I think they just have to spell out simple things for flaky brides. Overall, it was wonderful. It absolutely made our day to be in this beautiful vineyard and our guests just loved it the whole time. It could not have been better. Thank you to everyone at Youngberg Hill from the owner, Nicolette, and the whole staff (especially the inn staff) for a fantastic time!

Rachelle

Married on 06/02/2018

Best Wedding Ever! We had our wedding in June and it was such a magical day. Everyone was helpful and it was easy to put the pieces together. From my first email to them to my last it was easy to communicate with them and always had a fast reply to all my questions. We had 170 people at the wedding and they are all still talking about the wonderful time we had. The lodge is a great plus and we booked it knowing it would be easy to get ready and stay the night. The employees were there to help and we felt like we were important and they were always available. They make great Pinot wines and they are exactly what we wanted to showcase Oregon family farms and the quality that wine country offers is evident. And the Views!!! You wont forget them but I will not forget how special and easy my wedding was! We got more then was in the contract and the costs were exactly what we contracted for a year in advance. I would highly recommend this place for all events and we cant wait to go back to visit!

Pat

Married on 01/13/2018

I don't like writing reviews but had to with this one as it was a wonderful experience. We used Youngberg Hill for the views, new event site that fit wedding and the service. All of our needs and requests were replied to easily and quickly.
We were taken care of from the moment we arrived and all our needs were attended to. The information was clear from the beginning and everything they said they would do they did. Many wineries require you to pre-buy wine but this one was based on usage and we used less then the average group that was estimated. Their wines are fantastic! The Inn was a huge help as we stayed the night and woke up to our family and friends before leaving for our honeymoon. The coffee and breakfast hit the spot in the morning. I would recommend using them and loved how the package is set up.

Tom

Married on 01/06/2018

Our wedding was wonderful and we could not thank them enough for all they did and all the extra things they helped us with. Their staff was wonderful and the location is AMAZING. Every time we needed help because we didn't have our act together they were there. I would recommend them to anyone looking for a wedding experience.

Jessica

Married on 10/28/2017

I had my wedding at Youngberg Hill in October 2017 and it was an amazing. My friends and family are still talking about it and we could not have been happier. From our first email to them to the last follow up after the wedding they were easy to work with. We rented all 9 inn rooms and found that to be a great way to start and finish the wedding. The innkeeper and the whole staff were welcoming. The owner answered all our questions in a timely and easy way to help put the pieces together. We used their preferred caterer, Willabys, and they were so easy to set things up with and had such great ideas of how to manage all the details for the day of my dreams. Thank you to Nicolette and her husband Wade for opening up their estate for us. We look forward to many years of anniversary celebrations with you.

Jordan

Married on 09/30/2017

The Inn and Vinyard views drew us to select this venue for our wedding. We had the most amazing day and Inn staff went well out of their way to make sure our day was special and our guests were cared for like family.

Suzzie

Married on 08/31/2017

We had a 120 person wedding at Youngberg Hill in October 2017 and it was beautiful. The place is on top of a vineyard surrounded hill and the breathtaking views that will stay with you for a lifetime. We looked at a few different caterers but ended up using Willabys who managed the site for us and took care of all our numerous needs. The Inn was so great to use to get ready in and for our out of town guests to stay at so they didn't need to drive. Other guests stayed in downtown McMinnville which was 10 minutes drive. I honestly have no complaints. The event building fit everyone easily as we knew the ceremony and reception needed to be inside in October but we were able to spend time outside for photos with the fall colors. Nicolette, the owner, always replied quickly to all my emails through the whole process and helped out at every step. All the costs were the same that were quoted in the contract a year in advance so even if the costs went up we never paid extra which did not happen with some other vendors. I would recommend this place and also I want to thank them for a wonderful time for everyone.

John

Married on 08/10/2017

Like being in Tuscany Italy. A beautifully manicured estate with a staff that aim to please. Everyone at our daughters wedding commented on how beautiful the venue was. The B & B rooms are beautifully appointed and many have spectacular views of the valley. We used the recommended caterers and DJ and both were excellent. Thanks to Wayne and Nicolette's, the owners, careful planning and attention to detail the wedding went off without a hitch and my wife and I were able to enjoy the day. When you stay at the B & B at the venue Becky and Bobby will see to it that you all of your needs are met with a smile. The real question is if I had another daughter to throw a wedding for would I host it at Youngberg Hill again? ABSOLUTELY!

Alison

Married on 05/06/2017

I loved every part of my wedding and can't thank them enough! They were wonderful to work with and they helped at every step. The staff was amazing thru the whole process. Offered more then we were contracted for and made everyone feel welcomed. I can't wait to celebrate our anniversaries with them in the future. A wonderful place for wine tasting too.
Are you interested?
Send a message