40 Reviews
Recommended by 100% of couples
Quality of service

5 out of 5 rating

Average response time

5 out of 5 rating

Professionalism

5 out of 5 rating

Value

5 out of 5 rating

Flexibility

5 out of 5 rating
Awards
27 User photos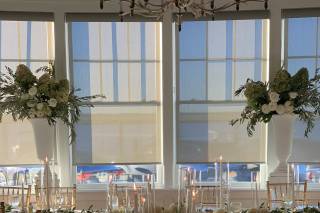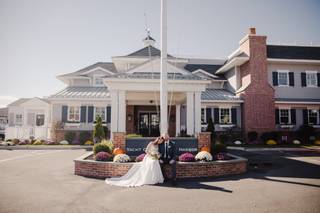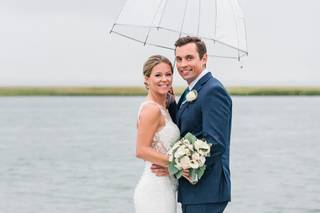 + 23

photos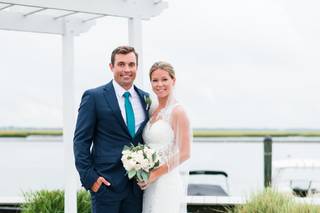 Featured

Paige M.

Married on 10/01/2022

The Yacht Club of Stone Harbor is IT for ANY Event!

I would highly recommend the Yacht Club of Stone Harbor for any and all private events. We had our wedding there, and they were a pleasure to work with. The venue itself is right on the water, and the event space has a big bar, amazing patio and large dining area/dancefloor area. It was amazing to have everything in one spot. Folks moved from the ceremony, to the bar, to the cocktail hour, to dinner & dancing with total ease. The staff were flexible and extremely responsive through the whole process. The food and dinner service specifically was fantastic, and when we had to move our ceremony inside last minute, they were prepared! I would recommend them to any and all people looking to have a wedding in the South Jersey area without a doubt!

Kate B.

Married on 10/14/2022

Great Wedding Venue

I couldn't speak highly enough about the Yacht Club of Stone Harbor! The venue is beautiful inside and out. We had our ceremony behind the club with gorgeous bay views as the backdrop. Emma and Dominique were wonderful to work with - both in planning and the day of our wedding! They were instrumental in bringing our Jersey Shore Wedding vision to life. All staff members were attentive and provided excellent service throughout our wedding preparation, ceremony, and reception. Our guests raved about the service and food as well. I highly recommend the Yacht Club of Stone Harbor for a wedding! I wish I could do mine all over again!

Maxine S.

Married on 10/03/2022

Perfection at Yacht Club of Stone Harbor

We held our daughter's wedding at the Yacht Club of Stone Harbor two weeks ago, and it was perfect ---beyond anything I even knew to hope for. We decided on the Yacht Club of Stone Harbor because we knew that they take care to make every bride and family feel like theirs is the most important wedding they've ever done, and it's true. From the beginning--the early planning, the tasting and menu planning, the advice on vendors, all the way through to the last few crucial days when they consummately calmed a nervous bride and her mom---the staff at the Yacht Club know exactly how to help you realize the most perfect wedding. Our guest are raving about the venue, the bartenders, the dinner, the sunset, the little perfec things like water stations and vanity basket in the ladies room...candles everywhere, it was a romantic, perfect event that would never have happened without the care and talent, knowledge and professionalism of the staff at the Yacht Club. Our family will be eternally grateful for how they made our daughter's wedding reception so absolutely perfect. Don't hesitate to make the decision to host your wedding here. You'll be so glad that you did!

Are you interested?

Send a message

Barbara F.

Married on 09/24/2022

Hands down the best choice!!

Hands down the best choice to have our wedding at the Yacht Club of Stone Harbor. The food was absolutely fabulous, and the service was superb. During the planning process, the staff was excellent. We had multiple conference calls, for which Dominque and Emma were well prepared. They were flexible and open to our unique design plan, helped us create the wedding of our daughter's dreams and were very excited (along with us) to bring the vision to life. Their confidence and delivery of service and hospitality, made the experience more relaxing than stressful. Sidenote: we planned this event from Michigan, and even that was not a problem for this team. Bravo! We received so many compliments on the venue and the entire staff - we highly recommend using the YCSH to anyone. And the views of the bay....amazing!

Greg S.

Married on 09/17/2022

Fantastic Time

The Yacht Club of Stone Harbor was instrumental in our evening. They provided the absolute best venue for our daughter's wedding, attending to our every need.

Molly F.

Married on 06/18/2022

perfect night

We had the BEST wedding a few weeks ago at the YCSH. Jackie, Emma, Dominique couldn't have been more helpful. They helped us stay on track the whole time when planning, and made the night-of absolutely perfect. The YC was the perfect blend of gorgeous sunset, beautiful venue, relatively affordable, great team. Thank you guys so much.

Mary K.

Married on 06/03/2022

Yacht Club Of Stone Harbor

Our wedding reception at the Stone Harbor Yacht Club was everything we had hoped for. The staff was professional, easy work with and responsive to our needs. The venue is lovely with stunning views . Our quests had a wonderful time. We know we did!

Jessica R.

Married on 05/07/2022

SH wedding

The Yacht Club of SH was a spectacular venue! Everyone was so kind, helpful, and attentive throughout the entire process! Would do it all over again if I could :)

Michelle

Married on 11/05/2021

Hospitable, Warm and Kind, and overall FANTASTIC.

Where do I begin!... YCSH hosted a wedding that was better than what we imagined. The venue made all the difference on our special day. Taylor was an absolute DREAM to work with. When you book YCSH, you are booking an experienced team, who is incredibly accommodating and anticipates your every want and need. Their amazing hospitality left me speechless.

Leading up to the day, Taylor, our coordinator, responded to every email in a timely manner, made the most perfect suggestions, and always answered our questions with a positive and upbeat attitude. Taylor kept up with every email thread and noted every detail we spoke about (even details we discussed over a year out.) Impressed does not even begin to describe how I felt! Taylor made our experience impeccable. We are beyond grateful and owe her all of our thanks for making the day so special!

Emma, the day-of co-coordinator, was also fantastic! Her and Taylor were beyond kind and made us feel like we were a part of the community each time we visited the venue. Emma, along with the staff on the day of, was extremely detail-oriented and attentive to all of our guests.

The bartenders remembered everyone's drink orders...everyone's! Our guests could not believe how quickly they were able to get a drink all night long! And the spirits were great quality - the best. This was a priority for us and YCSH did not disappoint!

The food was delicious, from our tasting to the event. We are so thankful for the wonderful staff! They work with you every step of the way.

Book YCSH! You will not regret it! It's NJ's best-kept secret when it comes to wedding planning and vendors. And the grounds are BEAUTIFUL. The recent renovation was very well done. If you're looking for a more relaxed venue that isn't a ballroom, this is your place. I cannot speak highly enough about the facilities and the staff, and of course, Taylor!! The best coordinator around!!

Thank you, Taylor, Emma, and the staff at YCSH! Our wedding was truly magical because of you!

Samantha B.

Married on 10/09/2021

October Wedding

The Yacht Club of Stone Harbor was a perfect venue for our wedding, and we could not be happier with Taylor and the whole team. After we decided to postpone our 2020 wedding, Taylor was incredibly accommodating and kind. We quickly found a new date in October 2021. Throughout the process, Taylor continued to be accommodating, including allowing outdoor dining for our guests who were not comfortable sitting inside. She was very responsive to all of my questions and requests, and the day of the wedding went perfectly. The bartenders were quick, and their drinks were delicious. The food was incredible and tasted just as it had at our tasting (we got the branzino and short rib).

The venue comfortably seats about 150 people inside. We had approximately 180 people but luckily sat about 30 people outside. If everyone had sat inside, it would have been a little tight and we would have had to have removed some tables after dinner service to make more room for the dance floor.

We highly recommend the Yacht Club of Stone Harbor for less conventional couples who do not want the typical ballroom and instead want a little character in their venue!

Teresa

Married on 10/03/2021

Beautiful!

The staff and our wedding coordinator, Taylor, were outstanding! Food was delicious snd presented beautifully! Bridal suite was spacious and beautiful. I could not have asked for a more perfect wedding! My sincerest compliments to the Yacht Club at Stone Harbor

Elizabeth H.

Married on 09/25/2021

Absolutely Amazing Experience

I don't even know where to begin with the Yacht Club of Stone Harbor...our wedding reception on September 25th was fabulous. From the food, the linens, our cake, the flow of the night, the professionalism...our wedding day was a dream come true. Guests have been raving about the night, and I think they also loved being out on the deck area for the cocktail hour seeing the bay etc. I cannot express just how amazing of a venue this is...if you want to be a bride on Seven Mile Island, this is the spot for you. Thank you so much to Taylor and her wonderful team! They worked with us as we booked our date at the beginning of Covid virtually. They were a constant source of optimism. They made it the best day of my and my husband's life.

Heather M.

Married on 09/09/2021

Truly the most amazing team, venue & experience!!

All we can say about the Yacht Club of Stone Harbor is THANK YOU for everything!!! The entire team involved were the absolute best, we truly can't thank YCSH enough for the best day ever. We had the most seamless experience every step of the way-from coordination to day-of. We had to rearrange our wedding 3x due to Covid (and move our ceremony indoors due to rain on the day-of), and the team handled each pivot with grace and professionalism - they kept us sane!

Not only that, the team is so professional and kind. They are truly experts in what they do, and have found the perfect balance of making your day exactly what you want it to be while also providing recommendations or suggestions based on their experience. The respect they have for their couples, their families, and their guests did not go unnoticed!

We had so many compliments from our guests on how smooth the entire day went, how the Yacht Club looked, and how awesome the location is - you can't beat the amazing bay views + sunsets!!

Thank you, thank you again to the entire team at YCSH for making the best day of our lives so seamless and perfect!!

+ 4

photos

Leanne H.

Married on 06/19/2021

Amazing experience

We had our wedding reception at the Yacht Club of Stone Harbor and it was nothing short of amazing. We had to reschedule our wedding due to Covid and they were so accommodating. Taylor was AMAZING. She was so helpful and positive throughout the whole experience. As most brides I was extremely stressed the week leading up to my wedding. When I dropped off all of my decorations and such a few days before she made me feel so much better about everything. She put my mind at ease knowing that should would take care of setting everything up. When we got to the yacht club for our reception I was in awe of how amazing everything looked. I could not say enough good things about Taylor and my experience having my reception here. She took care of everything !! I would highly recommend having your wedding/ wedding reception here. Gorgeous view and venue. It really doesn't get better.

Kristin V.

Married on 06/06/2021

Beautiful Venue, Great Food & Drink & Caring Staff

Taylor and the team at the Yacht Club are incredible to work with!

We previously had to cancel a wedding in another state due to COVID-19. Working with Taylor was a night and day experience compared to planning our first wedding. She was on top of all restrictions and precautions we needed to take to ensure guest safety. Every time there was a change in restrictions she reached out to us to let us know exactly how it would effect our day. Even when there was some unknowns, we knew the team at the Yacht Club had it under control.

She was able to accommodate all of our requests and offer some great suggestions that made the day go smoothly! We even made a last minute change of how we wanted to enter the ceremony the morning of (groom and groomsmen arriving by boat) and she was able to coordinate it perfectly!

If you are looking for a venue that can accommodate ceremony, cocktail hour and reception; we can't suggest The Yacht Club enough.

Nicole K.

Married on 06/05/2021

The Yacht Club was the perfect venue for us! Amazing bar, bay views, beautiful interior!

The Yacht Club was the perfect location and venue for us! The main bar is spectacular and sits right next to the dance floor. The views of the bay are amazing, plus the outside deck for cocktail hour really gave us the best of both worlds- felt like a beach wedding but still at a nice indoor venue.

Sarah R.

Married on 05/15/2021

May 15th, Yacht Club of Stone Harbor Wedding

The Yacht Club of Stone Harbor was the perfect venue for our May wedding. The whole crew made sure everything was perfect. Taylor is so organized, helpful and friendly, she helped us curate the placements of even the smallest details and was there for us every step of the way. From appetizers (chicken and waffles app highly recommend!!) to entrees, everything was delicious. So many guests were amazed with the venue location and attention to detail. Great location for prime sunset pictures and the outdoor deck cannot be topped. 10/10 all around!!!

Elizabeth L.

Married on 05/07/2021

Perfect Wedding at the Perfect Place

I don't even know where to start besides saying one word - PERFECT. The Yacht Club of Stone Harbor was absolutely amazing from start to finish. Taylor is one of the sweetest people to work with and makes you feel like she's your friend during the entire process. I had a 100 person wedding and every guest has been absolutely raving about everything. The staff was so attentive and wonderful. Highly recommend a few touches that stood out to our guests 1. Utilizing their beer boat which is about 7 feet long that was filled with a variety of beers 2. Seafood station - absolutely hit 3. Ice carving done by Chef Ed 4. Cocktail hour snacks - grilled cheese over tomato soup shooters, mini burgers over beer shooters and coconut shrimp over margarita shooters. My husband and I couldn't have picked a better place to get married - highly recommend.

Meredith F.

Married on 09/27/2019

We enthusiastically recommend the Yacht Club of Stone Harbor!

We had our ceremony and reception at the Yacht Club last month - and despite the cliché, it truly was the best day ever. After we were engaged, this was our first (and only) venue visit in June of 2018. We were so excited to work with Patty after meeting her and visiting the Yacht Club that we did not look any further and booked right away. A charmingly beautiful venue AND the Events Director is incredibly approachable and fun to work with?! A no brainer!

Our only "non-negotiable" was to serve fried chicken on our menu. Patty and Chef Blaze worked with us to create the perfect menu for a family style meal that our guests are still talking about. Their attention to detail and execution far exceeded our expectations (as a self-proclaimed cook and foodie, I have a high bar!). They even went as far as finding white ceramic serving buckets for the fried chicken!

Throughout the year, Patty kept us incredibly organized and was readily available to provide thoughtful recommendations for vendors, guest accommodations, transportation etc. She made the planning process easy and more importantly, FUN. The nerves in the final weeks leading up to the wedding were calmed knowing that "Patty has got it covered" - and she most certainly did!

We enthusiastically recommend the Yacht Club of Stone Harbor - the rehearsal, ceremony and reception were absolutely perfect. Patty and Jackie kept us on track, and welcomed us and all of our guests in as if they were hosting a party at their own homes. This allowed us to really relax and enjoy the day - that kind of service was absolutely priceless! We are so grateful for our decision to get married at the Yacht Club and will forever cherish the memories that Patty & Jackie helped us to create!


Catherine

Married on 09/23/2017

The Yacht Club of Stone Harbor was the perfect venue for our wedding day. Throughout planning, Patty, Jackie and the entire staff of the Yacht Club were accommodating, helpful, responsive and so warm/friendly. My husband and I looked at a few venues in Cape May County and knew that the Yacht Club was perfect for our beautiful and elegant but laid back wedding day.

From the stunning view of the bay, to the delicious food (everyone raved about the raw bar, sliders with beer shots and late night fries!), to day-of decorations and service, no detail was left unturned by Patty and Jackie.

The Club truly is a family and we were so happy to be a part of it for our wedding! We can't thank Patty and Jackie and the Yacht Club staff enough!

Stephen

Married on 09/16/2017

We can not say enough great things about the Yacht Club of Stone Harbor and all the great people that worked there. As soon as we first stepped foot into the venue we knew it was the perfect place for our wedding. It felt like home and everyone there treated us like family. We visited a ton of venues but nothing compared to this venue. The place is absolutely beautiful, timeless, but still felt warm and comfortable. The layout is amazing. You walk right onto the dance floor and have beautiful views all around. We met Pete at our first visit and he made us feel so at ease from our first impression and throughout. Also, we were planning from across the country which can definitely introduce some challenges. However, Patty and Jackie worked with our schedules and were always making themselves available to us without making us feel like we were a burden to them at all. They were extremely responsive, helpful, and kind. Chef Blaze and Pete the bar manager were also great with working around our schedule and making us feel welcome every time we stopped by. When it came to the wedding day, the food and service was amazing. We received so many compliments from all of our friends and family on every single aspect of the venue and service. Everyone was extremely impressed walking away from our wedding without even getting into how amazing Patty, Pete(s), Chef Blaze, Jackie, and staff were in helping us the entire way. We really can not thank everyone there enough for how at home they made us felt throughout the process and the wonderful time we had throughout our wedding process. Thanks you once again and we can't wait to stop by and say hi next time we are in the area!

Thanks!

Amanda and Stephen Stachura


Doreen

Married on 09/09/2017

Our daughter's wedding was nothing less than perfect. Patty and Jackie were unbelievable and so professional. They had everything covered and even calmed my big concerns for me. It was absolutely awesome and I would recommend them to everyone for a wedding. The venue, the food, the service, everything was wonderful!! I can't say enough about it all!!!


Rose

Married on 10/01/2016

This venue is perfect! From the planning stages with Jackie and Patti, to the menu provided by Chef Blaze and his team, the day could not have been better! Pete, Kiersten, and Mike managed to keep the bar flowing and the waiters and waitresses helped transform the club into a venue worthy of NYC! The venue was magical for the indoor ceremony, making it for an intimate event... Peter Miner and his team are the best and despite a mildly rainy day, the event was better than it could have ever been outdoors. Thank you for everything you did to make this wedding so magical!

Bridget

Married on 09/30/2016

If you're looking for an amazing wedding venue down the shore, look no further! The Yacht Club of Stone Harbor is by far the best of the shore. This was the best and easiest decision we made throughout our wedding planning process!! From the food and service, to the large bar and dance floor, it truly makes for an ideal setting for a beach wedding. The views of the bay are outstanding as well as the upper deck for the bridal party before the reception. At our first appointment to see the club, we met with Patty & Jackie and they are the BEST planners. They made the planning process so easy. They were such great listeners, gave excellent recommendations for vendors, answered all of our questions and were always quick to respond. Jackie has such attention to detail and truly made our vision exactly what we pictured on our wedding day. We received multiple compliments from guests about the delicious food and how beautiful the venue was. This is a special place that I can guarantee you will be so grateful that you chose as your wedding venue! Thank you so much (especially Jackie, Pete, Patty) for making our day so perfect!!

Elsa

Married on 09/16/2016

We had our wedding at the Yacht Club of Stone Harbor and it was the best decision we made. We really can not say enough good things about the venue, the staff, and the food. Jackie really went out of her way to make sure my reception went smoothly. She was on top of everything from the second I dropped my wedding decorations off to the next day when we picked them up. The food during my wedding was exceptional. Everything was fresh, hot, an delicious. We got nothing but compliments from our guests. The majority of our guests were from out of town and they were blown away by the Yacht Club of Stone Harbor. We heard all night that most had never been to a wedding at a place like this and how pretty everything was. Overall a great experience and I highly recommend checking it out if you are looking for a venue in Stone Harbor or Avalon, NJ.
Are you interested?
Send a message