28 Reviews
Recommended by 100% of couples
Quality of service

5 out of 5 rating

Average response time

5 out of 5 rating

Professionalism

5 out of 5 rating

Value

5 out of 5 rating

Flexibility

5 out of 5 rating
Awards
17 User photos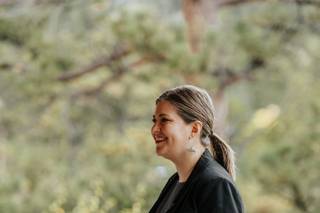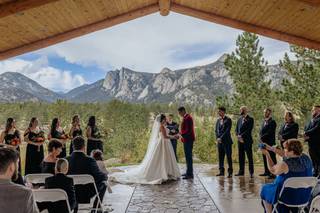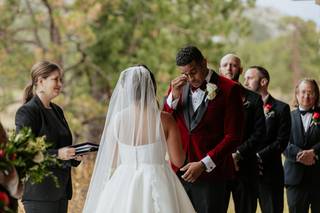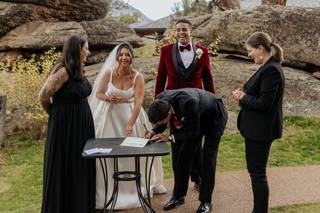 + 13

photos
Featured

Scott C.

Married on 07/23/2022

Candace is the Best!

As an out-of-town couple looking for a Colorado officiant, we had no clue where to start. We started with a Google search and started going through reviews hoping to find someone that felt right for us. Finding an officiant - the person responsible for the most important part of your wedding day (the actual marriage!) - based on reviews is daunting. But, we were optimistic about Candance from both reviews and her website, so we took a leap of faith and reached out. And we are eternally grateful that we did. Candance was the highlight of our ceremony and made our wedding feel personal and special to us as a couple!

Ahead of the wedding, Candace was responsive and incredible to work with. She dedicated multiple Zoom sessions to getting to know us as a couple and listened to what we wanted for our wedding ceremony. She allowed us to collaborate with her in the writing process and ensured that our wedding ceremony felt personal to us.  As I come from a UCC background and my husband comes from a Catholic background, we were in search of guidance on how best to honor both faith backgrounds, while staying true to ourselves. Candance listened to both of our desires with respect to incorporating faith and was able to thread the needle perfectly. Candace has a wealth of knowledge, but also enjoys and is eager to research new rituals/ceremonies to fit any couple.

We had a few unique ceremony requests, including one which incorporated a special moment between us and our step-daughter/daughter, as well as a unity ceremony (which was an updated twist on the wine box). Candance not only welcomed our ideas, but she helped put them on paper and make them come to life beyond what we could've imagined on our own. Her creativity and ability to capture the couple in her writing makes her one of a kind.

Candace prepared and delivered a ceremony that perfectly captured our love and relationship as if she had known us for years. She always writes a few special words for her couples that she leaves a surprise, and we were touched on our wedding day to hear those for the first time. She provided us with the ceremony script afterwards so we could keep it forever.

Additionally, Candance remains calm under wedding day pressure. We not only had to switch ceremony locations last minute (due to rain in the forecast), but we also inadvertently left our wedding license in our hotel room. She handled the location change with aplomb, and met us at our resort to finish the wedding license without us even having to ask.

And, Candace is just a super cool person! She's someone that puts others at ease and would be fun to grab a beer with. She is relatable, professional, and one of a kind.

All in all, we couldn't imagine using anyone else other than Candace as our wedding officiant, and we are so glad we did. You should to! No matter your background, Candace puts her couples first and creates a ceremony that reflects their love. No cookie cutter "I do's" with Candace as your officiant.

Thanks, Candace, for all you do! We are so lucky to have found you and hope this review connects other couples like us to you. 

Woods + the Wild's reply:

Tess and Scott! Truly, I'm blown away by the thoroughness and kindness of this review! Y'all were such a joy to work with and I'm sending a lot of joy and love your way!

Angelina M.

Married on 10/28/2022

Candace is incredible!

We planned our destination wedding in Estes Park on 10/1/22 and luckily found Woods + Wild (Candace) to officiate our wedding. This was one of the most important vendors we booked for our day and I am so pleased and happy that we found Candace. She made the ceremony so beautiful and special - exactly what we wanted and had envisioned. Intimate, meaningful and to the point! :) I would recommend her to anyone looking for a wedding officiant who takes their time and provides service with love and patience!

Woods + the Wild's reply:

So happy to be with you Storms on your stormy yet gorgeous wedding day! Thank you for trusting me with your ceremony!

Katelynn D.

Married on 09/24/2022

Incredible Experience

Candace was absolutely amazing to work with from start to finish. She was so thoughtful and personable throughout the entire process and it showed!!!! Our ceremony was perfect and a direct reflection of my now husband! and I's love for one another. I could not speak more highly of Woods + the Wild!

Woods + the Wild's reply:

Y'all were so great to work with, Katelynn! Big joy to you and Patrick and Darla (especially Darla!) in your newly married life together!

Are you interested?

Send a message

Annika D.

Married on 09/24/2022

Absolutely wonderful!

My partner and I eloped, but wanted to have a wedding with a simple ceremony and party so that friends could celebrate with us. I had no idea what the ceremony should be like, given that we were already technically married, but Candace was absolutely amazing and helpful, and found the perfect words for our situation. She is so kind, sweet, accommodating, and so thoughtful about creating a ceremony that is inclusive and with language that is affirming. So many guests came up to me after the ceremony to tell me that it was one of the best they'd ever seen. I recommend her wholeheartedly! She was a big part of how wonderful our wedding day was.

Woods + the Wild's reply:

So honored to be with you two to celebrate with your community! Thank you for your kindness! Be well in Europe!

Samantha A.

Married on 09/03/2022

Highly Recommend!

I wasn't really sure what to expect from an officiant, but working with Candace amazing and so much fun. We were able to plan our ceremony over two short zoom calls, and put together a ceremony that was uniquely us. She provided a bunch of ideas for unity ceremonies, and we ended up picking one we loved!

Sadly, we had a death in the family just days before my wedding, Candace was able to hold space for that person during our ceremony in a way my family needed, while still making the ceremony uplifting and focused on our love.

Candace provided an incredibly kind and thoughtful ceremony, and I would recommend her to anyone!

Thanks again for your kindness and care!!

Britlynn W.

Married on 08/14/2022

Amazing Experience!

We are so happy we found Candace to officiate our wedding… upon meeting with her for the first time we were so comfortable around her. She is warm and friendly and truly cares about your story. Every time we spoke with her she made us feel supported and like everything we wanted was totally doable. She customized our vows to us after a session of exploratory questions, and everyone who attended our wedding felt incredibly moved by our ceremony. She truly does care and it makes me emotional now just thinking about all the ways she showed up for us by just asking how we felt, if we needed anything, and providing much needed tissues during our vows. We couldn't have picked a better person. We wish we could get married multiple times just to have her there again! The experience will be cherished forever!

Woods + the Wild's reply:

😭😭😭 you two and your love is just so real and pure! So grateful to have been able to be with you on your day and hope to into y'all and the pups at a park soon!

Fabiola A.

Married on 07/30/2022

Fabiola + Jesus Olvera

Candace was the best!! Not only on the actual wedding day but the detail and attention she gave us was incredible. She answered all our questions and was always available when we needed her. She made sure our day was all about us. (Thank you for the calm words and looks you gave us before, during and after our wedding) And thank u Candace for the extra little help before the ceremony ;)

Woods + the Wild's reply:

You two! Even in the short time we had together, I can tell your love runs deep! Thank you for allowing me to be a part of your day! ¡Felicidades!

Chas F.

Married on 07/16/2022

Outstanding!

Candace is a really excellent officiant, we really couldn't have been more happy with our wedding ceremony. After we found her and reached out, she was always very responsive and had many wonderful insights into how to build a great ceremony. We were very at-ease talking with her and when the day finally arrived we received many compliments from our guests about how nice the ceremony was! It was important to me to have the gravitas of a religious ceremony (to appease my half of the family) without feeling overly dogmatic or religious (to make my wife's non-religious family not feel out of place), and Candace really nailed it. She was very sensitive to our preferences for more modern equal-partner verbiage as well, which I appreciated. I hope I never have to look for another wedding officiant again, but if I do I know who to contact!

Woods + the Wild's reply:

It was such a joy to being with you all on your day! Thanks for trusting me with your ceremony and for allowing me to write a brand new cairn building ritual for you!

Lauren T.

Married on 07/02/2022

flexible, creative, and makes a unique experience

Candace was wonderful to work with, and she made our wedding ceremony great joy. She was incredibly thoughtful and considerate when creating our ceremony, listened to what we wanted and did extra research on the side. I really appreciate the steps she took to prepare for the ceremony, and how flexible she was when the weather threatened to force a last-minute change in location. Thank you for a fantastic and emotional ceremony, Candace!!

Woods + the Wild's reply:

Y'all are so great! Thank you Lauren and Adam for trusting me with your ceremony and day - it was an honor to work with you!

Morgan A.

Married on 06/25/2022

Thank you!

Candace was the best wedding officiant we could have possibly gotten!! She went above and beyond in every aspect possible and helped us remain comfortable and at peace throughout our special day. Couldn't recommend her enough!! Thank you, Candace!!!

Woods + the Wild's reply:

*Le sigh* truly sad over here that I don't get to see your faces on Zoom regularly now! Y'all are the best! And tell Nick that next time I see y'all I'm gonna beat him in chinchilla again! :)

Isabelle T.

Married on 06/20/2022

Bride and groom

Candace was a phenomenal officiant!! She was such a big help and we are so thankful she was there

Woods + the Wild's reply:

Such a fun wedding and I loved working with you and Amar and definitely Tank! What a great ring-bearer!

Alexandra L.

Married on 06/11/2022

Beautiful ceremony!

We had the best ceremony! I cannot imagine having any other officiant, and highly recommend Candace. It was so reflective of us as a couple, and she cares deeply about her craft. Thank you, Candace!

Woods + the Wild's reply:

Alex! Thank you for honoring me with these words! It was so delightful to officiate your wedding! Hope you and Riley are well!

Celia

Married on 06/10/2022

Wonderful Officiant!

Candace was a great officiant and we are so happy she was a part of our day. We had a non-religious ceremony and it still felt special and inclusive. She was kind, answered all of our questions and was flexible and patient with us as we finalized our ceremony details! I would highly recommend Candace for an elopement (or any sized ceremony)!

Woods + the Wild's reply:

I'm grateful for you introducing me to such a beautiful new spot! Thanks for letting me be a part of your lovely day - it was a true joy to work with you!

Natalie

Married on 05/26/2022

Amazing experience!

Candace did an amazing job officiating my parent's surprise vow renewal ceremony! She was extremely easy to work with, and went above and beyond to make our vision come together better than we could have imagined!! It was a very special day we will remember forever. I highly recommend Candace to anyone looking for a wedding officiant!

Woods + the Wild's reply:

So. Much. Fun! Thanks for letting me be a part of the surprise! I loved your mom's face when she realized what was happening!

Alejandro S.

Married on 05/21/2022

Truly the best!

Candace is truly the best officiant. She officiated our wedding in May of 2022. We appreciate you taking the time to make sure that Amanda and I were truly represented in the ceremony. We could not ask for a better ceremony. We also thank you for creating a safe space for those of us in the LGBTQIA+ community and appreciate the love and support you gave us through this momentous event.

Woods + the Wild's reply:

Oh, I so love this photo! Thank you for sharing it here! I'm grateful to have been able to accompany you two in your ceremony planning - it was such an honor! Sending all the goodness your way!

Carlee C.

Married on 05/04/2022

Perfect officiant

Candace was our officiant for our wedding this month at Sapphire Point. When we met with her to inquire, we knew she was perfect for our union. Neither of had ever been to a non-religious ceremony but we knew that was what we wanted and Candace had a ceremony written that felt perfect for us. She writes beautiful work and speaks so eloquently. Highly recommend her. Thank you, Candace.

Woods + the Wild's reply:

Look at Kevin's deeply in love face in that pic! Thanks so much for sharing, Carlee. It was a delight to be with you all on such a beautiful day! Also, my drive to Sapphire Point and back let me see mountain goats, a moose, elk, pronghorns, bison, and deer! MAGICAL! Lots of magic to you all!

Aspen B.

Married on 04/08/2022

You must hire her!

Candace was amazing! She was very patient with us and wanted to help make our day as special as it felt. She was honored to help us for our elopement in the mountains of Colorado and was very personable and kind. Travel fees were extremely reasonable as well. We were so happy to have her there and thank her dearly for everything.

Woods + the Wild's reply:

Thank you so much for this lovely recommendation, Aspen! Wishing you two so much love and goodness (and hopefully less wind in life than we had that day!)!

Shelby M.

Married on 03/27/2022

Absolutely Wonderful Experience

My husband and I got married just outside of Woodland Park in March, and we are SO glad that we found Candace! We wanted a secular, intimate ceremony, and Candace was able to customize everything to make it special and unique to us. She put care into understanding my and my husband's values, and our love for each other, and the final ceremony was truly beautiful.

Not only was Candace skilled in crafting memorable ceremonies, but she has the logistics down, too. She was prompt in answering our questions, was flexible in her scheduling, and was proactive in her communication with us.

If you want a hassle-free, memorable wedding ceremony, we can't recommend Candace enough. We are so appreciative of the role she played in making our wedding unforgettable.

Woods + the Wild's reply:

Shelby! It was such a joy to hold space for you and Denny on your beautiful day! Thank you for this kindness!

Jennifer R.

Married on 11/21/2021

Magical experience 🤍

Candace was amazing! When our original location for our elopement wasn't reachable, Candace was quick to help calm my nerves and was very flexible with a last minute change of location. When she pronounced us married, the birds and chipmunks chattered in celebration. It was truly an overall magical experience!

Rodrigo C.

Married on 11/06/2021

She crafted an amazing ceremony

Candace was great! She crafted a ceremony that truly reflected both of our values. It was great seeing her interact with our guests during the ceremony.
We loved our ceremony, and our guests repeatedly mentioned how touching it was.
We can't thank her enough for making that moment so special!

Woods + the Wild's reply:

Thank you so much Rodrigo! It was such a joy to be with you to celebrate your love! Thank you for the honor!

Skyler

Married on 10/16/2021

Awesome officiant!

Candace is just awesome! She replied quickly and answered any questions I had. While we went the short and sweet route, I love how she offers to really customize your ceremony whether you go the religious route or do what feels right for you and yours! So many things you can do when it comes to planning your ceremony with her. She's a joy to work with!

Leslee F.

Married on 07/11/2021

Thank you so much Candace

When we first had planned on having an intimate wedding, my best friend was going to officiate. Unfortunately, she wasn't able to because of work, but we got so lucky when we found Candace! I seriously wouldn't have had anyone else officiate. She's a huge part of what made our day so special. She has such a carefree sunny disposition, a real blessing to have for our wedding! I felt like she got a good sense of who me and my husband are, and created a ceremony that reflected that! She will always hold a special place in our hearts. She's professional, kind, and just an all around amazing person! You cannot go wrong with having her officiate your wedding!

Andrea D.

Married on 07/09/2021

Amazing job!

Candace did a awesome job at our wedding. She was very professional, had great communication, and was fun to have at our wedding. Would definitely recommend her to anyone.

Jack

Married on 06/26/2021

Candace is outstanding

Candace officiated our wedding in June. She was, and is, incredible. We are a queer couple, and I am trans. She wove together a ceremony incorporating poetry, a short non-religious bible verse, and a reading from the Supreme Court decision legalizing marriage equality. Everybody from our sweet queer community to our catholic aunts and uncles continues to reach out to say how outstanding the ceremony was. We felt super seen as queer people and are so grateful to Candace!

Jocelyn C.

Married on 06/19/2021

Made us feel so comfortable!

Candace was amazing at our ceremony!
We planned everything within 2-3 weeks and she
made the entire process smooth and easy for us.
I felt comfortable from the initial interview to the blessing at our ceremony! I absolutely loved how she carried herself and her personality fit ours so well!

Definitely recommend!!!

As I get more photos I will upload- our ceremony was at the garden of the gods!
Are you interested?
Send a message