134 Reviews
Recommended by 100% of couples
Quality of service

5 out of 5 rating

Average response time

5 out of 5 rating

Professionalism

5 out of 5 rating

Value

5 out of 5 rating

Flexibility

5 out of 5 rating
6 User photos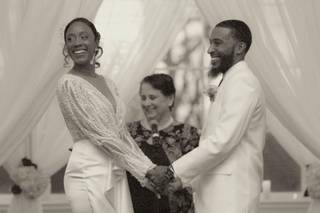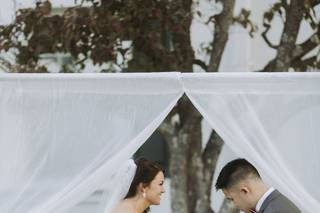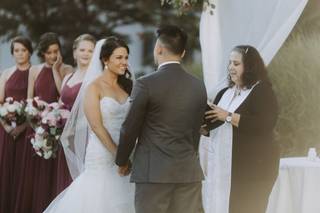 + 2

photos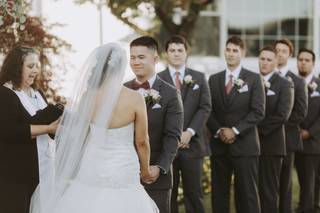 Summer

Married on 09/19/2020

Marilyn is simply amazing! She is one of the sweetest women I've ever met! As a bride I had my moments were I felt overwhelmed with planning or much too focused on the programs, table seating... Marilyn has a calming way of bringing you back to center and reminding you of the true meaning of a wedding. She offers genuine interest, support, and helpful advice. Like the time she encouraged me while writing my vows, "If you keep them simple and speak from the heart they will be perfect,"she reassured me. She returns your emails and answers all questions in an unbelievably timely fashion! As for the ceremony itself, we couldn't have asked for better! With her help we planned a ceremony that was personalized to meet our special needs or wants. It was everything we had hoped for and more! I highly recommend 'With this Kiss I Thee Wed' for your own wedding day!

Amazing Officant!

Marilyn did such a unique and inspiring wedding sermon for our special day. The sermon was 100% about my husband and myself and she let us use vows we liked and let us add in quotes and other wording which was perfect for our special day. She was extremely easy to work with and was always available to go over anything we had questions about. It was truly a pleasure to work with her and I would recommend her to anyone looking for a very personal sermon.

Traci

Married on 03/23/2019

Traci & Charles Faulk

Where do I begin? Marilyn was absolutely amazing! She was able to tell our love story in the most beautiful way. Everyone was talking about it! We would highly recommend Marilyn to anyone looking for a true personalized experience.

Are you interested?

Send a message

Ellen L.

Married on 10/27/2018

Marilyn is absolutely amazing!

My husband and I were thrilled to of had Marilyn officiant our wedding and be so so helpful from beginning to end. She was extremely professional, friendly ,organized, and caring we couldn't have asked for anyone better. She does her job with great pleasure and we were so happy to have had her she was exactly what we were hoping for.

With This Kiss I Thee Wed's reply:

Thank you for the lovely review Mrs Flood! What a fun day we had, Nor'easter and all!! I hope your wedding day was everything you hoped it would be.

Travis O.

Married on 09/22/2018

Summary can't suffice - Marilyn was great!

Marilyn was absolutely wonderful to work with from start to finish. She started our experience off with a wonderful message along with instructions for us, as well as an incredibly detailed (read: extremely welcome) process to go through for collecting our thoughts and feelings about how our ceremony might flow. Working with her to finalize the ceremony was a great experience as well. Easy - but important - and she made us feel taken care of, for sure. After our ceremony, she provided even more detail about how to go about finalizing the paperwork with the State. For all of the love and joy that went into our ceremony, it's easy to forget about the details, and she made sure we didn't. We cannot give enough praise to Marilyn for the work she does, and the ceremony she helped orchestrate!

Marilyn also did a great job of dealing with an issue with our sound during the ceremony. She did everything possible to make sure her equipment worked perfectly, but our DJ had a slight miscommunication. Marilyn handled it with ease, and we had an absolutely perfect ceremony, thanks to her.

With This Kiss I Thee Wed's reply:

Thank you Travis and Chelsea, for choosing me to share your wedding day with you. What a wonderful day it was and I'm so very happy that you had a great day. Thank you for your very thoughtful review. I appreciate it very much. xoxo ~ Marilyn

Amanda

Married on 06/30/2018

Marilyn was wonderful throughout the entire process. Once hired, she gave us "homework" to do in order to find out who we were. We had a lot of fun with the assignment and the ceremony she developed from it was perfect for us. She made the ceremony so personal and we felt like she really knew who we were. After the ceremony was written, we were able to choose from different options and readings which made it even more personal. We chose to do the sand unity ceremony option and she gave us the vase as a gift. Even after the ceremony was over, she emailed us very thorough instructions on how to get your marriage license, change your name, etc. She has every detailed covered from start to finish. She was truly wonderful to work with. We have received so many compliments from friends and family who attended the wedding about how personal the ceremony was.
Amanda and Michael Clarke

With This Kiss I Thee Wed's reply:

Thank you Amanda and Michael. :) I am delighted to know how well you loved your ceremony. It was a perfect day. Thank you for letting me be a part of it. xoxo ~ Marilyn

Sara

Married on 06/14/2018

Great officiant. Was nervous since we picked a destination elopement. However, my first conversation with Marilyn put me at ease. She made our wedding day the better than we could have hoped!

With This Kiss I Thee Wed's reply:

Thank you Sara :) I appreciate that you took the time to write a review. Thank you. Enjoy your honeymoon year! xoxo ❤️

Leo

Married on 06/02/2018

We couldn't have asked for a better wedding officiant! Marilyn was always available via email for any questions we needed answers to. She was very accommodating during our last minute change of ceremony site due to a high possibility of rainfall at our original outdoors location. She truly delivered the ceremony of our dreams. Our guests loved her. Many stated it was the most personal ceremony that they had ever witnessed. Thank you again Marilyn! You were our first choice and we are so happy that you were able to perform our ceremony!

Jennifer

Married on 12/09/2017

In the search for an Officiant, we read and compared reviews, but what helped us choose the best Officiant for us was Marilyn's quick, professional and very sincere response. She made us feel special and customized our ceremony to our fit our relationship, story and wedding perfectly! She was very informative and went over every detail with you from your type of ceremony to how to change your last name after receiving your marriage certificate. She did all the work for us, taking away any added stress. She even ironed out specific details and made sure everything was perfectly how we envisioned on our wedding day! We even had many compliments from our guests about how beautiful our ceremony was and how wonderful Marilyn was. She truly went above and beyond to make our special day perfect for us!

Angela

Event on: 10/01/2017

This is the second time we have worked with Marilyn from With This Kiss I Thee Wed, and our experience was once again amazing! We recently had a Baby Blessing for our newborn daughter and wanted a unique day that was designed just for us and that's exactly what Marilyn did! Her response time is incredible and every request was fulfilled! Having her officiate our wedding day and then our daughters Baby Blessing a year later was very special to us. She is warm, welcoming and feels apart of the family. Highly recommend!

Kasey

Married on 09/09/2017

Marilyn was great from the very beginning! We actually found her through all of the wonderful reviews other people submitted thorough wedding wire and theKnot. After I contacted her, she responded immediately even though she was away on vacation. Marilyn was always easy to get in touch with when we had a question and she has beautiful customizable ceremonies. We chose to do the sand unity ceremony option and she gifted us the vase and shells. Marilyn makes you do a small homework assignment so she can learn more about you and your future spouse in order to make the ceremony personal. We really enjoyed the homework because it makes you think about your relationship and how far you have come. After she writes your ceremony you have a chance to go through it and pick and choose between different options, readings, etc. We received many compliments on how personal our ceremony was. She also gives you pointers and recommendations for how to go about getting your marriage license, as well as how to change your name after you are married. Marilyn guides you through the entire process. I would highly recommend Marilyn to any future brides out there who want a beautiful and personalized ceremony!

Jeanne

Married on 07/07/2017

Our officiant, Marily, absolutely made our experience flawless from start to finish. She was knowledgeable, passionate, highly qualified and so sweet. I HIGHLY RECOMMEND her services. Thank you for making our day so special.

Jessica

Married on 05/06/2017

Marilyn is absolutely amazing! She took the time to get to know us, what we wanted with our wedding, and tailored our service to be "us".
When I contacted her through her website, she responded within a half hour. She was extremely professional, and kept us in the loop with every detail. She responds pretty quickly to every e-mail you send her!
The day of the wedding, she informed us when she was leaving and expected to arrive, and was even a few minutes early! She completed all of the paperwork with the witnesses, then socialized with my guests! When it was finally time for the service (it was at our house and we did not have a professional photographer), she helped us figure out what spot would be best for us to stand so other people could take pictures. The ceremony itself was beautiful, her speech captured every part of me, my husband, and our relationship. Our guests couldn't stop talking about how great she was!
After the ceremony, she sent us an informative e-mail out about what to do next. It's extremely helpful, especially if you're changing your last name.
I really have no negative things to say about Marilyn! She really is the best out there, and I would NOT choose anyone else to perform your ceremony.

John

Married on 10/23/2016

We are an out of town couple who decided to get married in NJ where our families are. Without ever meeting Marilyn, we knew from our first phone conversation that she was a good match for us. Without knowing we would pick her, Marilyn was happy to share information with us so we knew what we needed to do as an -out-of-state couple even if we decided to choose another officiant.

She answered all our emails within a few hours and was accommodating or instructive with every request and question we had.

She kept us on track with those things which were our responsibility and she took nothing for granted. She made sure we knew what we had to do every step of the way. She was professional always, and very personable.

On the day of the wedding, she delivered our ceremony flawlessly. It was written just for us, very much represented who we are as a couple, and people are still complimenting us on our ceremony.

You will not be disappointed if you choose Marilyn to officiate.

Marilyn is absolutely amazing! She walks you through every step and writes the most beautiful ceremonies! I will recommend her to everyone I know!!!

Evan

Married on 10/14/2016

Marilyn was amazing! She was the officiant for me and my wife and we cannot thank her enough. She was on time on the day of, and she was extremely helpful during the entire process! She speaks loudly and clearly and even has her amplification device so we didn't need to rent another microphone for the service. Her ceremony was beautiful, and managed to really capture the essence of our relationship that was both funny and touching. I hope I never have to get married again, but if for some reason I have to, I'd gladly hire Marilyn again! Thanks so much for everything!

Nicole

Married on 09/24/2016

Marilyn was so helpful and responsive during the entire process. I would send her an email with any questions and she would get back to me right away. She created a custom ceremony for us that made our wedding that much more special. We couldn't have asked for anything better.

Gina

Married on 08/27/2016

You can tell that this is more than just a job for Marilyn. She genuinely enjoyed celebrating our union and sharing in our special day. From the first contact to the moment of "I do", Marilyn was very pleasant to work with and extremely responsive. The process of getting married and planning a ceremony can seem daunting, but Marilyn guided us through all the paperwork and explained everything we needed to do. She's really on the ball and will reach out to you with your "homework assignments" throughout the year as the wedding date approaches. She really made the process a breeze and the end result was beautiful. After our beach wedding in Ocean City, we received so many compliments on how unique and personalized the ceremony was. I would highly recommend Marilyn to anyone looking for an officiant. She is the perfect combination of warmth and professionalism and she's affordable, too! Do yourself a favor and book her today!

Joy

Married on 08/20/2016

I don't now where to begin in order to express how glad we are that we chose Marilyn to officiate our wedding ceremony.
From our first contact she was warm, informative and competent. When we wrote her with any question her response was usually within an hour. Certainly our most responsive vendor.

Our ceremony was perfect, funny in all the right places, and very meaningful to us. Marilyn listened to what we said and wrote a ceremony based on everything we requested. And she delivered it flawlessly! Everyone raved about our ceremony and even now, a few months later, people tell us that our ceremony was about the best wedding they ever attended.

Marilyn contacted us immediately, the next morning, with a follow-up email on a step-by-step process for the name change process, even the link to update my passport!

She also sent us the forms and specific information for us to obtain our certified record of marriage from the municipality where we were married. So many friends we know still haven't gotten their names changed yet because they aren't sure how to go about it, and because of Marilyn, my name was officially changed within the week!

Marilyn is truly wonderful, we loved her.

Angela

Married on 06/24/2016

I can not say enough great things about Marilyn! Our ceremony was absolutely amazing because of her! Our vows, every mention about love and how we met was incredible. We had many people talk about her and how wonderful she did. I would highly recommend her!! :)

Angela

Married on 06/11/2016

Marilyn was absolutely amazing to work with! She went above and beyond to make sure our Ceremony was personalized and tailored just the way we had dreamed! She was more than knowledgable with everything we needed to know about our big day. Her response time was within minutes most times!!! Highly recommend!

Michelle

Married on 06/09/2016

The best choice of my wedding besides my husband! haha Marilyn was like a smart, friendly, warm, professional, experienced family member who 100 percent has their act together and is helping you through the process. If you're in the area and looking for an officiant, honestly you HAVE to book her. I live in Chicago and we went to Ocean City, NJ to get married on the beach. I planned everything remotely and it was a little daunting. Marilyn guided me through a lot of the process and not just the ceremony (which in itself was exquisite). She basically handed me all the information I needed for the legal and paperwork part of getting married out there and that was just a huge help. She was also patient and on top of her game the whole time as she worked with us to create this ceremony that was meaningful and specific to us. We wanted to do a handfasting ceremony and it was just beautiful. The woman literally crosses all her t's, dot's all her i's, holds your hand and does it with this huge, warm smile. Genuinely great lady!!





Hillary

Married on 04/30/2016

From start to finish, working with Marilyn on our wedding ceremony was a very easy, organized, and enjoyable process. Marilyn was always very professional and responsive to my emails and many questions. We had a 30-45 minute phone call when I initially reached out to her and we instantly connected and I knew I wanted her to be our officiant. She is easy going and will tailor the ceremony to exactly what you want. Leading up to our wedding day, I enjoyed my interactions with Marilyn, but was a bit apprehensive about having her officiate our wedding without never having met her in advance. Marilyn did not disappoint on our wedding day - she arrived at the right time, introduced herself and instantly put us at ease. She delivered a great ceremony while also helping us (and other participants) through by giving us all cues along the way. We received many compliments from our guests about how great and unique of a ceremony it was - it was serious, but fun, and very "us". It was exactly what I wanted it to be and I am very thankful for having found Marilyn to be our officiant.

Marilyn was our wedding officiant. She listened to what we wanted for our ceremony and personalized it just for us. She has a strong attention to detail. She gives you tips and reminders to keep you on track in the wedding planning process to make sure everything goes smoothly. We had an oathing stone ceremony and our family and friends commented about how special and unique it was. We highly recommend Marilyn.

Amanda

Married on 11/07/2015

I feel so lucky that we had Marilyn as our wedding officiant. She offers so many different ceremony options and is very quick to respond to any questions/emails you may have. Since we are local we decided to meet with her before our wedding. We are so glad we met her! Meeting Marilyn before our wedding made us feel so at ease. She is really a pro at what she does. Since we were having trouble writing "our story" she gave us a questionnaire to help us tell our story. It worked! She wrote a heartfelt and beautiful ceremony for us incorporating many aspects of our relationship. We received so many compliments from our guests about how beautiful and meaningful our ceremony was. That was exactly what we wanted! Thank you Marilyn for everything you do. I am beyond thrilled with our ceremony-memories that will last a lifetime for sure.
Are you interested?
Send a message