80 Reviews
Recommended by 100% of couples
Quality of service

5 out of 5 rating

Average response time

5 out of 5 rating

Professionalism

5 out of 5 rating

Value

5 out of 5 rating

Flexibility

5 out of 5 rating
26 User photos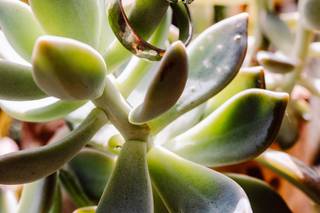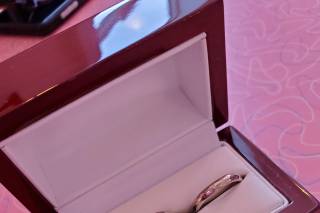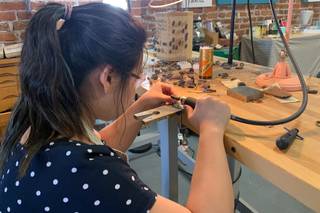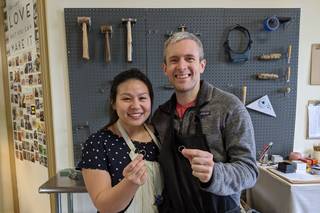 + 22

photos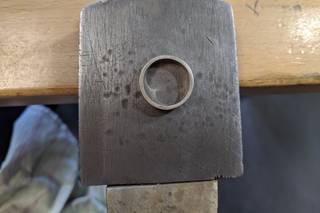 Melissa R.

Married on 09/17/2022

Just do it.

This was one of the best experiences that my husband did while planning our wedding. Getting married is already so amazing, but the symbolism to make each other's ring is unforgettable. Stephanie has created a space where you can make a forever memory with your special someone. It is a way that we could support a small business, not a large corporate company. Highly recommended, don't think about it, just do it!

Ryan T.

Married on 07/07/2022

Superb Stephanie!

Stephanie simply offers a masterclass experience for anyone & everyone. My fiancee and I were astounded with Stephanie's professionalism, knowledge, and most of all, her ability to convey that precious knowledge in a succinct way to pedestrian jewelers like ourselves.

Her encouragement & clarity was perfection from start to finish. We had to reschedule several times due to the unexpected interruption of this little thing called Covid-19. She malleably navigated the swift shifts of the pandemic with grace & clear communication.

I could not recommend Stephanie & her craft any higher. My partner & I will sacredly remember our time with Stephanie for the rest of our lives. Go be a jeweler for a day, you'll thank yourselves for the rest of your life.

Sydney B.

Married on 11/12/2021

All Around Spectacular!

Alex and I had an absolutely magical time making our rings with Stephanie. She walked us through each process and was so delightful to talk to! We are so excited about the final rings. I could not recommend this experience enough. It just adds a little something more to these rings to know we crafted them for each other. Stephanie was quick to respond and answer questions beforehand, patient with us through the process, the the final result is something we can forever share together! Thank you for adding something special to our next chapter together. And thank you for all you do in the shop and in the community. 💕 Sydney and Alex.

Are you interested?

Send a message

Chloe

Married on 10/16/2021

Amazing experience!

We'd been so excited for so long to make our rings and it did not disappoint. Amazing experience!!!

Mykhanh P.

Married on 07/31/2021

An experience we will always treasure!

We've always known that we wanted to make our own wedding rings, so this is something that we prioritized as we've budgeted and planned our wedding. While we were mainly very excited, Stephanie made the process incredibly smooth - we trusted her completely to guide us along to create beautiful, customized pieces. We loved working with her!

In particular:
- Stephanie is very upfront and transparent about cost. She was also very communicative regarding what customizations were possible, as well as which of those customization decisions needed to be made upfront vs what we could decide during the workshop. My fiancé and I had gone to a local jeweler to see what we liked, and Stephanie helped us create ideal versions of each others' rings based on that (my fiancé asked for a "European comfort fit" and I wanted milgrain edges added to mine).
- Stephanie empowered us to feel confident doing as much on our own as we felt comfortable with, but checked in regularly and was always there to step in and help. It was very difficult to mess up or do something wrong.
- We loved being able to try on our rings during the session and make adjustments throughout. For instance, I was able to put on my wedding band on along with my engagement ring and see what it would feel like to have a tighter vs looser ring, as well as change my mind about the finish.
- We were able to use Stephanie's bluetooth speaker to play music throughout the workshop, which helped create a fun environment for us.
- Getting away to Port Townsend and making something tangible with our hands was a fantastic break amidst what has been a very stressful time. It was nice having something we were looking forward to doing for our wedding.
- Stephanie is so friendly and easy to talk to, and had great recommendations for our stay in Port Townsend, from where to stay, to what to eat and do. On top of that, she uses her social platform to support local business and advocate for just causes, which was just icing on top of the cake for us!

If you are considering doing this, I highly encourage you to check Stephanie out - we know that we will treasure this experience, and our rings, forever.

Julian

Married on 05/26/2021

Awesome Experience With Best Guidance!

My partner and I made our wedding rings with Stephanie. She was an amazing instructor, ensuring that we understood the different steps of the ring-making process and helping us at all times. Although we had never worked with metal before, her guidance was easily understandable, so that we always felt confident in what we were doing. The workshop was one of the most amazing experiences of our wedding and all the preparation leading up to the wedding. Making our own rings was a very intimate experience: just a few hours of only the two of us expressing our love for each other through our rings. The resulting rings were not only beautiful and exactly what we wanted, but they will also remind us of that very special moment of calm and love we shared during one of the probably most hectic times in our lives. We also had a photographer capture some special moments of our ring-making session, which we can absolutely recommend.

Linh T.

Married on 10/31/2020

What a unique and special experience for us both!

We were looking for wedding bands when the idea came to me that we should make each other ring's and a quick internet look up and With These Rings came right on top, beside being very close to Seattle and in lovely town of Port Townsend! I reached our to Stephanie who was very quick in responding, knowledgable and she answered my million questions and guided me through what we eventually landed on. We setup a day to come out and what an amazing time we had. We had to postpone our wedding for the safety of our guests BUT this was one thing that didn't have to wait and we were so glad it happened. Stephanie's studio was in cozy and you could tell how much thoughts she put into it. She guided us thoroughly on cutting metal, how to wield, what each step meant etc and occasionally giving recommendation on how to bend the metal to achieve the look we wanted. By the end of it, we made each other's rings and felt like a true artist. I can't recommend enough With These Rings!!!

PS: Port Townsend is awesome and do yourself a favor and go check our local shops and businesses and support them, or ask Stephanie for recommendation of awesome LUNCH SANDWICH spots. You will see a strong sense of community while you're here, and don't take my word for it :)

+ 2

photos

Ruby W.

Married on 10/10/2020

I can't believe we made our own rings!

The experience of planning a wedding can make you feel like an artist, a teacher, and an accountant all in one: trying to explain your personalities, your relationship, and what you want out of the celebration while also managing the budget, the schedule, the guest list... (sigh)
With These Rings gave us a much-appreciated break from that stress by creating an opportunity for a weekend away together, and a day of physically creating the symbol of our marriage. We decided to make each other's rings, and it was a wonderful reminder of the craftsmanship and work that goes into the life we're creating together, as well as how to check in with each other along the way so that we both come away with what we want and need.
Stephanie was fantastic throughout the whole process, from scheduling to fine-tuning the size of our finished rings. We really appreciate how she carefully instructed and demonstrated each step, but then stepped back and let us get immersed in the process. When there was something that we were unsure about or struggled with, she was kind and helpful, and always asked if we wanted verbal direction, or for her to lend her experienced hand.
We are so happy with our rings, and feel proud that our hands created them, and with Stephanie's help, in a sustainable way that we can feel good about!

Megcam

Married on 09/26/2020

Awesome Experience!

My fiance had a blast making our rings and would recommend it to anyone! Not only was the experience itself fun, but making each other's rings gives them extra special meaning. Stephanie is great at breaking down the steps so that, especially if you're not crafty, you'll be shocked at how beautiful the result is. The studio is awesome, and Port Townsend is a super cute town to spend some time walking around and exploring.

Kelsey R.

Married on 05/24/2020

Unforgettable experience!

Making our rings with Stephanie at With These Rings was one of the most memorable experiences ever, and definitely a highlight of wedding planning! Stephanie is a natural teacher, and she knows exactly how to guide you to make a professional quality ring with your own two hands. She never takes over the process, and provides the perfect amount of guidance at each step.

We did the fabrication workshop, but there is also an option for a wax carving workshop, which allows you to make a mold for a curved ring (a perfect match for whatever engagement ring) or other organically shaped ring. Even when making classic style bands, there are so many options for subtly different finishes that you would never see in the store. We love having our unique yet still classic rings that will always remind us of the time we spent making them - definitely worth every penny.

Finally, if you are from out of town wondering whether you should travel to Port Townsend to work with Stephanie or try to find a more local workshop, definitely go to PT and With These Rings! After a lot of research online, we decided that Stephanie was the absolute best at this, and we had the added bonus of making this into a romantic vacation to charming Port Townsend and nearby Olympic National Park.

Halee

Married on 11/02/2019

Book your ring making session - you're going to love it so much!

We had so much fun making our wedding bands at With These Rings! It was a really special experience and I would absolutely recommend it. We wanted pretty simple bands, but they'll always be special to us - since we made them for each other! And, I'm so happy with how they turned out! Stephanie is really a great teacher. We learned a lot and she made sure we always had a clear understanding of the next step. Plus, she was super fun to chat with and offered helpful suggestions about the area. Plan to stay in Port Townsend for a couple days and explore if you can!

Leanna

Married on 10/05/2019

Best ring experience ever!

We are so incredibly happy with our rings we made one summer afternoon with Stephanie. The experience meant so much to us on so many levels that it's probably impossible to fully express our gratitude and satisfaction. We had both been so nervous about the workshop (we're each sort of crafty in our own ways, but had never done anything like this) because it was new and we felt the pressure of doing something we'd never done before - and knowing that we'd be wearing the result for the rest of our lives! Stephanie was so great from the moment we contacted her to the moment we left studio. She assured us that most people felt the same way, and that she'd walk us through every single step. Within the first half hour our nerves had disappeared and we were fully engaged in the process! The rest of the day flew by, but by the end we had made our bands and were already talking about when we could come back to make some more rings! After Stephanie set the stone LeAnna had selected, our rings were shipped to us a month or so later and we were SO excited to have them both finished. We absolutely love them, both because of the way they turned out and because of the experience of making them together. It's also so fun to share the story of making them with anyone who asks. We can't say enough about how perfect this experience was and how incredibly thoughtful, patient, professional, and kind Stephanie was. Additionally, Stephanie was immensely helpful in helping LeAnna pick a unique stone from a reputable source - without Stephanie's invaluable knowledge LeAnna would have ended up with a soft stone that would not have lasted. Stephanie answered every question we had about stones and settings and we ended up with the perfect rings for us. We'll be back - gotta add some band for an anniversary or find some excuse to do this again!

Marci

Married on 07/19/2019

Once in a lifetime experience

My husband and I went to Stephanie's studio just a couple of days before our elopement. We loved the process of making our own rings, she made it so much easier than I thought it was going to be! She also took tons of fantastic pictures with our phones of us working which was lovely since we wanted to capture the moment but were quite busy.

Stephanie was also gracious enough to give us a lot of close travel recommendations for the days leading up to our wedding which we enjoyed. I wish I was getting married to my husband again so I could make another ring :-)

Steph

Married on 05/17/2019

Incredible, unforgettable experience

In a time filled with lots of very special memories, working with Stephanie on our rings still stands out as being one of the most memorable parts of our year. We absolutely LOVED having the chance to create something for one another, together, as well as design something that would be both beautiful and truly meaningful for us. But even that experience would not have been the same without Stephanie's patience and cheer. She was so easy and fun to work with, and the hours in her workshop flew by in the best way possible (as did the week-long vacation in Olympic National Park!). The design process afterwards around the pattern gave us such a cool chance to reflect on our relationship. Now, about a year since we first got our rings and 8 months since we've been married, we still admire these bands we made just about every day. This whole experience was simply wonderful and we cannot recommend it enough.

+ 2

photos

Maria

Married on 04/06/2019

Wonderful!

When I learned about With These Rings, I knew that my fiance and I would be signing up! Our time with Stephanie was wonderful. She quelled any worry that we would mess up, guided us expertly through the process (with some really cool conversations about the science of metal), and was so much fun to spend a day with! The end product is beautiful, and I can't wait until we get to wear our rings every day! The opportunity to create your own wedding rings is such a gift and I am so thankful that Stephanie is sharing her skill with us through this amazing experience!

Marie

Married on 10/27/2018

World Class Photography! Stellar Service!

I agree with all the positive reviews below - this was such a wonderful experience! Stephanie is an incredible teacher, making it a foolproof process while allowing you to actually do everything yourself. I was really looking forward to this and, even so, the day was above & beyond my expectations. Can't recommend this enough to other couples!

Tiffany

Married on 09/22/2018

I cannot say enough good things about Stephanie and about With These Rings. Two things immediately stood out to us about her: the quality of her work, and her forthrightness. Right on her website, she'll show you the process of ring-making, the prices of the different metals, and what to know about how certain metals like palladium sterling silver will wear over time. She was very prompt and responsive to all of our questions.

That forthrightness continued right into the ring-making process itself. Stephanie is a great teacher: she's incredibly patient and kind, and makes good on her promise not to let you mess up, but that doesn't mean she'll take it over for you. She shows you the steps and will help you out if you have trouble, but you really are putting the work into the ring yourself, and more likely than not you'll have fun at the same time. Stephanie also explained the chemical processes behind each step, so it felt like taking the coolest science lab class ever. The time just flew by. We received the finished rings in the mail last week after having them engraved, and they're absolutely perfect. She even offered to have her photograph friend take photos of them free of charge to post on social media, and you can see the results below.

Even if you're on a budget, I can assure you that With These Rings is completely, utterly worth the experience of creating a beautiful and lasting symbol of your union, especially with such a kind and capable teacher. Thank you, Stephanie!

+ 2

photos

My Phuong

Married on 09/10/2018

My fiance and I had the wonderful opportunity to make our wedding bands with Stephanie. She is extremely patient and so thorough in her instructions. We were very nervous about starting since neither one of us had any jewelry making experience but she made it so easy and such a fun day! I loved all the laughs and stories that were shared throughout the course as well! This was such a special and sweet memory that Chris and I both will cherish. Thank you so much for helping us make our dream rings that will be adored for life!!!

Mauura

Married on 09/01/2018

Working with Stephanie was the highlight of our engagement experience! I can't say enough how much fun this was, how easy she made it, and how special spending the time together to make these symbols was. Visiting Port Townsend was also wonderful! We both highly recommend working with Stephanie.

Michelle

Married on 07/28/2018

My husband and I really can't recommend these workshops enough! Stephanie was amazing to work with from the first email through when we left the workshop, and even afterwards! She provides tons of helpful info on her website, and also is willing to talk you through any questions you have at any point in the process. My husband was very nervous before we booked that he wouldn't be able to successfully make a ring, and Stephanie was very encouraging and reassuring. The workshop itself was awesome. Stephanie breaks down each step, and clearly demonstrates how to do it before handing it off to you. We did each step ourselves, and Stephanie helped when we asked. Beyond that, we honestly felt like we were hanging out with a friend all day with Stephanie - she asked questions about us, our wedding, our dog, and by halfway through the workshop we were sharing engagement photo blog post and tons of dog photos!
Making our rings for each other was truly a special experience, and we are so glad we did it. They are so much more meaningful to us than purchasing rings. We included a bit about making our rings in our wedding ceremony, as well as mentioned it in the statement when we exchanged rings. Everyone at our wedding loved it, and were so interested in it afterward, and we got many comments and compliments during our reception!

Ryan

Married on 06/16/2018

It's hard to capture in words how wonderful the experience was. From start to finish, Stephanie was absolutely amazing. Quick and easy communication, easy travel advice, and amazing experience once we actually arrived. Port Townsend is a really cute town and we added a trip to Vancouver Island after. My parter and I wanted very different ring styles and Stephanie did an excellent job helping us both craft exactly what the other was looking for. It was a really exciting, interactive, and loving experience. Don't waste your time trying to decide whether it's worth the trip - I promise you it will exceed all of your expectations. We've already told all of our friends who are getting married to book their trips up to see Stephanie!

Angela

Married on 06/16/2018

We knew we didn't want to just go to a jewelry store and buy our wedding rings, but weren't sure of the alternatives. We were thrilled when we discovered With These Rings and excited to spend such meaningful time together to make each other's rings. Stephanie put any fears of us messing up at ease, as she provided careful instructions and encouragement. Her warm, welcoming personality also added to the wonderful experience. We're so pleased with our beautiful rings and I'll think warmly about this amazing experience every time I look at the ring my fiancé made for me. We highly recommend With These Rings!

Tory

Married on 06/02/2018

We absolutely loved making our engagement rings/wedding rings with Stephanie! I surprised my girlfriend with a weekend getaway proposal in Seattle/Victoria/Port Townsend, and the ring making workshop topped it all off. It was so special to handmake the rings we are going to wear forever, and Stephanoe made the day super magical. Can not recommend highly enough, especially for couples daunted by the whole engagement ring situation. She was so fun, so professional, and she put us at ease.

Excellent experience!! Highly recommend. My fiance and I found Stephanie through another couple who also got their rings made here. It makes the wedding ring much more meaningful knowing that you and your significant other made each others rings by hand. It also looks professionally done, so no one would ever know that you made them! Also very reasonably priced (comparable to rings in a store), especially considering you get a private session with just you and your partner. Stephanie was very responsive from the beginning and answered all my (multiple) emails very promptly before we even booked the session. After we left, my fiance realized that his ring was a bit too big and he was able to go back (free of charge) to re-size it. We also got an engraving on the inside of our rings through an engraver that she works with and the engraving came out beautifully! We couldn't have asked for more beautiful rings or engravings!!!

Kaitlin

Married on 09/30/2017

I cannot express how much both my fiance and I enjoyed making our rings and working with Stephanie. From the beginning communication to the final product, the process were seamless. Stephanie is a fantastic teacher and makes you feel at ease immediately. It is clear from the minute you meet her how much she enjoys what she does. Stephanie allows you to be as hands-on as you'd like, which we both wanted and enjoyed thoroughly. My fiance and I cannot wait for our wedding so we can finally wear the beautiful rings we created. For anyone looking for an authentic experience with a professional jeweler, I highly recommend Stephanie and With These Rings.
Are you interested?
Send a message