71 Reviews
Recommended by 100% of couples
Quality of service

5 out of 5 rating

Average response time

5 out of 5 rating

Professionalism

5 out of 5 rating

Value

5 out of 5 rating

Flexibility

5 out of 5 rating
99 User photos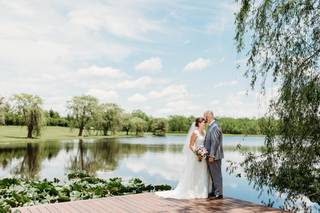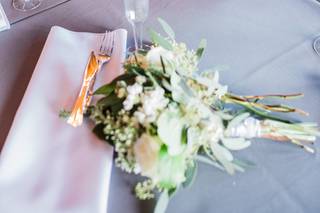 + 95

photos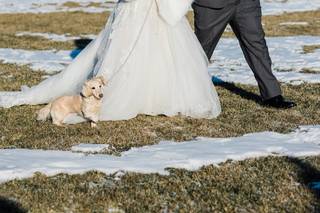 Anne S.

Married on 10/14/2022

Perfection!

The absolute BEST wedding venue in the Central PA area! We just had our fall wedding here and it was perfect. The reception hall has a beautiful rustic barn feel, the lighting is stunning, and the space is large perfect for 100-130 people. The cocktail area downstairs is also beautiful - you can have an indoor and/or outdoor cocktail hour so the weather is not a problem. We had our ceremony in their private chapel, which was a perfect touch to our day! There are many options for the ceremony location, which allows for reassurance in the case of bad weather. The venue's price is very reasonable, including a large decor shed that you can pull from to decorate on your big day. This decor shed keeps growing with each wedding, so there is always more to choose from.

The owners, Aaron and Andrea, are a true blessing. Their communication, promptness, and professionalism are top-notch. They proved to be easily accessible and accommodating to our every need throughout the process. They are as hands-on as you would like, but always willing to provide more assistance as you need it. Overall, we had the PERFECT day here and would recommend this venue to anyone.

Sarah M.

Married on 09/25/2022

Our Beautiful Wedding Day at Wind in the Willows

Would recommend this venue to everyone planning to get married soon! It's beautiful inside and out and the owners were wonderful to work with and were super accommodating and understanding!

Janelle

Married on 09/23/2022

Janelle L.

Wind in the Willows was a dream venue for our wedding. It is one of the most beautiful settings for a wedding and barn for the reception is so nice with the lights and they you really almost need no decorations. Aaron and Andrea were so helpful right from that start. They never hesitated to answer and questions we had or give ideas or recommendations. The decor she'd made it so easy for us to have almost everything there that we needed for center pieces and more. Their staff was also so helpful in helping us set some things up the day of and clean some stuff up as well. Our family and guests had so many good things to say about the beauty of the venue as well. I would recommend this venue to everyone, you will not be disappointed.

Are you interested?

Send a message

Nayeli G.

Married on 09/03/2022

A hidden gem!

I googled venues around the area and this came up. Early in the wedding process, we were so lucky to personally email, meet, and talk to Aaron about the venue. He was straightforward and so easy to work with. Before, during, and after the wedding process, Aaron and Andrea were the best! The best part is that it was very affordable with sooooo many features and its location is a one of a kind place!

Alicia E.

Married on 08/20/2022

Best venue!

Aaron and Andrea and the best people to work with! They were so incredibly flexible and truly aim to please! We got so many compliments on our beautiful venue and the gorgeous outside setting! I would absolutely pick this venue every time if I had to!

Christine T.

Married on 08/06/2022

Absolutely Fantastic

The staff is so helpful and easy to work with. They make your wedding day run so smooth!

Sara H.

Married on 06/25/2022

Best choice

DREAM VENUE! Gorgeous, breath taking scenery - amazing, supportive, helpful owners - tons of available wedding decorations to use included in the price! My guests are still talking about how beautiful the venue was and how incredibly fun the wedding was - largely in part to the venue staff for setting up and providing an accommodating location.

Allison H.

Married on 05/30/2022

Best part of the day!

Wind in the Willows was an outstanding venue to work with: caring, responsive, accommodating. We would have given a 4/5 in professionalism only because the owners were so chill (compared to other rigid venues/rules), but this is exactly what we wanted so it was an overall wonderful venue!! They deserve 5 stars all around. The beautiful grounds and facilities were the most commented on part of our wedding!

Tom M.

Married on 05/15/2022

Excellent Venue Experience


A beautiful venue for a reasonable price. Saved time and money by using onsite decorations. Aaron and Andrea were very helpful leading up to the wedding and the day of. They were very responsive to questions and scheduling visits. Willing to accommodate all of our requests.


Michelle B.

Married on 01/29/2022

The Most Amazing and Perfect Venue

Our wedding at Wind in the Willows was everything we could have ever wanted and more! It was such an amazing day at a perfect venue. It truly was a first-class experience. The space itself is unique, rustic, beautiful and provided more than enough room to fit our rowdy crowd of 125 people. The groomsmen were able to get ready in the barn area and the ladies were able to relax and get ready in the carriage house. The carriage house had all the necessities as well as a ton of space to get ready. We enjoyed having cocktail hour on the bottom section of the barn, which included a huge bar, seating, standing tables and bathrooms that were extremely convenient! Upstairs, we enjoyed the sting lights and the loft housed our DJ! The space upstairs was perfect! We could comfortably fit all our guests, our caterer, photobooth, and all our tables. We had more than enough room to enjoy an amazing night full of food, fun, booze, and dancing! In addition, the owners, Andrew and Aaron, really went above and beyond. They are so kind and caring and made sure that all our needs were exceeded! They answered ALL of our questions and were super quick in getting back to us. They ensured we felt like family and we had everything we needed to make our day perfect. We honestly could not have picked a more amazing and perfect venue to host our amazing day! We were so lucky to be able to have our wedding at this amazing place with these amazing owners! I would highly recommend this venue to all!!!

+ 6

photos

Sarah M.

Married on 12/04/2021

Amazing Doesn't Cover It

I don't know where to begin – our experience with Wind in the Willows every single step of the way exceeded our expectations. When we began wedding planning, I researched about a million venues from Philadelphia to Lancaster, Hershey to New Hope – the mountains to the beach (I am Philly based by the way). Nothing caught my attention like Wind in the Willows (I wound up with a spreadsheet of around 150 venues – insane I know- but that tells you how particular I am).

I sent them an email and super quickly, Aaron and Andrea, my husband and I were exchanging friendly emails and planning our visit. My husband and I drove out to Hershey and knew this was the place before we even finished pulling into the driveway (I canceled our next appointment on the drive home). We had a contract signed that week and wedding planning officially commenced! Throughout the entire wedding planning process, I had large handful of questions, mostly where I was asking Aaron and Andrea to help me accommodate disabled family and they couldn't have been more understanding, compassionate and accommodating. They were also incredibly helpful while we were decorating – when we had a question, they were there ready to help.

The day of was as perfect as I had imagined (maybe a little more 😊) The staff was so great, friendly, and very helpful. The bridal suite, grooms cottage, barn and chapel were all so beautiful (clean, great ambiance, great temp, etc.) and we are still receiving compliments from our family and friends (wedding was 12/4/21).

Wind in the Willows is definitely doing something a little extra special. We were so excited to go back for the Wind in the Willows wedding alumni party. We both can't wait to go back for anniversary and family pictures. You never know - maybe one day we will even book for an anniversary party! I would highly recommend them to anyone for any type of event.


Lauren

Married on 11/13/2021

Great venue & owners!

We just had out wedding here this past weekend and it was amazing! Aaron & Andrea are super helpful and so nice! This is a mostly DIY venue but we had it for 2 days so were able to do the decorating the day before. The grounds are gorgeous and have amazing views! Highly recommend!

Christy S.

Married on 10/17/2021

Amazing Venue

Venue was everything we wanted- rustic yet elegant with a beautiful view for the outdoor ceremony

Kimberly G.

Married on 10/12/2021

Dream venue!!

This place is a DREAM!! I was a terrible bride as I never dreamt if that day, but Aaron and Andrea were beyond amazing. Communication is quick and informative. Pricing is reasonable. You can do ceremony outside,, inside,, or at the chapel.. They also have a shed of decorations left by others to use,, which was great and even better because I could leave mine.. Every time I said this was my venue to vendors, they raved! THIS PLACE DOES NOT DISAPPOINT!!

Kathleen M.

Married on 10/10/2021

Our dream wedding venue!

There isn't enough room in this box for how my husband and I feel about this gorgeous venue. We had the absolute best experience with Wind in the Willows and Andrea and Aaron. They are the most helpful, accommodating and quick to respond to any email. We booked our wedding date in March of 2020 right before covid happened. Thankfully we never had to reschedule. During the time that the world was shut down, I did have some questions regarding our date on multiple occasions and like I mentioned above, they are so quick to respond and so beyond nice! The sweetest couple and family. Booking with them was also very easy! We made an appointment with them, saw the venue and immediately fell in love and booked our date that day. We had a Sunday wedding and with that, means you don't have the day prior to set up. Aaron was super helpful to my coordinator the morning of our wedding with set up. Anything my coordinator needed, he was there helping with tables and chairs and any of the big stuff. If you are thinking about booking with Aaron and Andrea, DO IT!! You will not regret it. They are truly the best and helped make our wedding day perfect!

Lauren P.

Married on 10/08/2021

You won't regret it!

Amazing!! Aaron and Andrea were so helpful every step of the way from explaining all of our options for ceremony sites and reception setup to checking in while we were getting everything set up the day prior! The property is gorgeous, and there are ceremony locations for every taste and vision. The willows are truly beautiful, the rustic vibe is perfect, and we could not be happier with our decision to have our wedding there! The reasonable price and ability to be flexible with other vendors to suit our needs only adds to the appeal of this amazing venue with amazing owners!

Cali F.

Married on 10/03/2021

Beautiful wedding day!

Wind in the willows is such a beautiful venue. I am so glad I had my wedding here! They have such a beautiful bridal suite and cottage house to get ready in. They have a lot of their own decorations, etc that you can use! The owners were there 24/7 with any help I needed! Everything went so smoothly. I couldn't have imagined my wedding day to go any better then it was at wind in the willows!

+ 2

photos

Jessica Z.

Married on 10/02/2021

Wind in the Willows

Aaron and Andrea helped to make our wedding what it turned out to be. If we had questions or needed anything before or day of wedding they were always there to answer and help out. They made the venue so comfortable and it was an honest pleasure to work with them.

Christina D.

Married on 09/26/2021

Communication was key! They always responded promptly to each and every question I had which made planning a breeze!

We couldn't have imagined a more beautiful day! Aaron and Andrea were always on top of answering every little question that we had pertaining to our wedding day. They made us feel confident that everything would go smoothly (which it did). The venue itself is beautiful. The barn is rustic yet elegant. The property is very well maintained. All of our guests continue to rave about how beautiful the venue was.

The other thing I would like to mention that it is very affordable. We were able to have a beautiful wedding on a tighter budget. You have to do a little more DIY but we were able to customize our day to the way we liked and save money! May I also mention that they have a gorgeous chapel 3 minutes away from the venue that they own that we used for our ceremony. The acoustics were amazing so there was no need of mics or amps which was GREAT. Honestly couldn't have been blessed with a more smooth flowing, beautiful wedding day and a huge part of that was because of Aaron and Andrea!

+ 2

photos

Amber A.

Married on 09/25/2021

Gorgeous venue!!

The Wind in the Willows was fantastic overall! The owners, Andrea and Aaron, were just awesome. They helped us set up the day of the wedding, and made sure our wedding day went smoothly. They are very nice and easy to get in touch with. The property was absolutely gorgeous!! Highly recommend the Wind in the Willows for a venue if you are planning a wedding!!

Alyssa M.

Married on 09/12/2021

Bride and groom

I got married there in September and I would recommend this venue to every future bride and groom. The venue is beautiful, the owners are awesome and very helpful. Perfect space to celebrate my husband and I on our special day!

Alicia H.

Married on 09/04/2021

Amazing experience

Amazing venue! Aaron was great to work to with.

Jaide C.

Married on 08/22/2021

Rustic atomsphere, but clean and stunning, helpful, kind, and knowledgeable about all things wedding.

We absolutely loved Wind in the Willows!
They are great with contacting you back and staying on top of info you need to know.Day of Aaron helped walk us through things that other couples do and was there to lend a helping hand. This venue is amazing, the owners to there pay it forward program with all the decorations is truly so convenient and a great idea. We would recommend them to anyone and everyone.

+ 4

photos

Logan F.

Married on 08/08/2021

Mountains, Willows around a Lake, and a Beautiful Barn

Wind in the Willows is a beautiful venue. We got married there in August of 2021. The barn is spectacular inside with the lighting in the main area and the decor all around it. The outside by the lake was amazing for the ceremony. The documents and communication from them were very helpful not only to us but to all of our vendors! We thoroughly enjoyed the venue for our wedding and do recommend it to anyone looking to get married in this wonderful part of PA!

-Logan and Austin

Kimberly

Married on 07/04/2021

Wind in the Willows

This venue is absolutely stunning and working with Aaron and Andrea was the best decision. They were so helpful and made planning a wedding not seem so stressful - having a good team around you for one of the biggest days of your life is so important and I'm not sure how much better you could ask for!
Are you interested?
Send a message