140 Reviews
Recommended by 100% of couples
Quality of service

5 out of 5 rating

Average response time

5 out of 5 rating

Professionalism

5 out of 5 rating

Value

5 out of 5 rating

Flexibility

5 out of 5 rating
57 User photos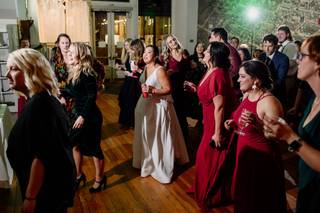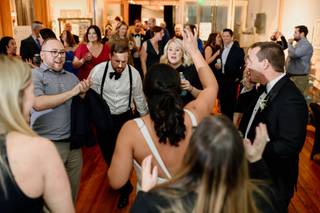 + 53

photos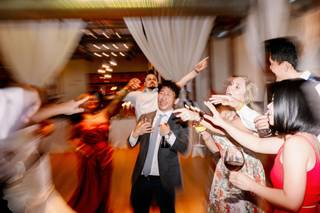 Featured

Tiffany C.

Married on 01/14/2023

DJ Willis is the best!

DJ Willis was amazing and we had so much fun with him! We decided to go with Willis Entertainment because of how personable Willis was and how easy it was to work with him. He kept our guests on the dance floor and all of our guests had a blast. We highly recommend hiring DJ Willis if you want a big dance party for your wedding!

Marissa K.

Married on 12/11/2022

Absolutely Amazing

DJ Willis is amazing! Hire him! He made our wedding day absolutely amazing, even playing some hype up music while my bridesmaids and I were taking our pictures before the ceremony. He helped calm my nerves and does his job flawlessly. You can't go wrong with him on your special day and events. If we have any future events and need a DJ, I will not hesitate to call him up! Don't wait on him, call him!

Morgan P.

Married on 11/12/2022

Amazing Songs from Start to Finish!!

Willis and Chance, our DJ for the night, absolutely nailed it!!! We had requested specific vibes for each portion of the night - Sinatra type songs for dinner, etc - and Chance was spot on!! People were on the dance floor all evening long, and when they complimented our playlist, we repeatedly told them it was all Chance. I would absolutely recommend Willis and his team to anyone who is considering them!!

Are you interested?

Send a message

Chris G.

Married on 10/16/2022

Absolutely terrific

We can't put into words how thankful we are that we had DJ Willis at our wedding! His communication leading up to our event was stellar. He came on time, prepared, and most importantly with a heart of service. His portal made entering our song requests simple and then he mixed them perfectly during the reception. I promise, hiring DJ Willis for your event will be the best decision you'll make!

Charise R.

Married on 10/01/2022

Never missed a beat!

Willis was an awesome DJ all around. He was so laidback and friendly, yet on top of everything too! His web portal made it easy to organize songs and input requests, he walked us through every detail of the wedding day so we felt confident and prepared, and he's just a joy to talk to in general. We wanted someone who could gas up our crowd and make it feel like a memorable party, and that's just what we got!

Alex S.

Married on 09/10/2022

Dr Willis is the man. Amazing DJ

We hired DJ willis and it was one of the best decisions of our wedding day! He was so easy to work with on the front end. He was very flexible in finding times to chat considering my wife and I both work during the day. He was able to find that perfect balance of playing the songs that we wanted while also playing songs that we didn't think about but LOVED. He got older family members to dance who haven't busted a move in decades. and our friends were losing their minds to the music. DJ Willis is the go to for your wedding. Couldn't recommend him any higher

Marissa N.

Married on 09/03/2022

Would recommend

DJ Willis did an amazing job with our wedding! I cannot recommend him enough. He is great and has an amazing energy. We had the best time at our wedding in no small part to him!

James W.

Married on 07/30/2022

Words cannot express our appreciation for Willis

Words cannot express, but I will try. Willis was simply the best. From the moment we met him to the wedding day. He always made us feel less stressed. He was easy going, but also professional. He did all of our song requests and did everything he needed to do to keep people entertained and dancing all night. He worked with all other vendors spectacularly and just made our reception perfect. He never felt like a stranger to us and now we love that we know him. Great DJ. Great man. All the thanks and love to Willis. Check him out on Instagram as he posts regularly.

Siera N.

Married on 06/26/2022

Words Don't Do It Justice

We just wanna echo that Willis is PHENOMENAL DJ, but beyond that he is such an incredible person. Not every DJ will take the time to get to know their couple before their big day and that put us at ease. He was super helpful with our music selection. The portal that made planning so easy and stress free! Willis can read the crowd and get everyone out of their chairs to dance. We were shocked to see some of our elders on the dance floor. He was the real MVP of our big day and because of him we were able to have the wedding the have always dream of. This was the best gift that anyone could ever given us, so thank you Willis!

+ 5

photos

Suzanne M.

Married on 06/04/2022

Made our wedding day above and beyond amazing!

Willis is an amazing person and DJ! He is so friendly, accommodating, and was always happy to answer my (many) questions! He met up with us beforehand to grab coffee--we thought we were going to talk wedding, but he just wanted to get to know us as people and learn our story. Willis really put our minds at ease that everything was going to be A-okay on our wedding day. And it was! He really helped our day flow perfectly, was great at moving the party along, and ensured that everyone had a great time! Also, bonus points: I had a particular section of a particular song picked for my walk down the aisle, and there's a fanfare section--I'd asked if he could try to time it so that the main fanfare hit right as I got to the altar. Well, he hit it right on target. The timing could not have been more perfect--so much so that my nervous self turned around and gave him a thumbs up at the beginning of the ceremony! :) But really, thank you so much Willis for helping make our day so special!

Lydia D.

Married on 05/28/2022

Willis - Fantastic Wedding DJ

Willis was great during our entire wedding process. He had great communication with us months before our event, very personable and professional and we loved his overall vibe. As we moved closer to the event he had great attention to detail for all of the specifics of both our ceremony and reception requests. On the day of he was on point with everything, the ceremony music flowed perfectly, the reception was an absolute blast with Willis leading the way with the energy he brings. On a day that consists of so much chaos, Willis gave us a ton of stability and assurance that all of the music/entertainment would be taken care of and he did a fantastic job with that. I would highly recommend.

Carly M.

Married on 05/07/2022

Awesome DJ, even better person!!

Willis was awesome, and our wedding would not have gone off so well without him. He had seamless transitions and was able to pick up on our vibe just from zoom meetings and phone calls. We would hire Willis again in a heartbeat. He was so professional and willing to make our bridal party entrance vision happen.

Sarah S.

Married on 04/24/2022

wonderful DJ!

We hired Willis J Entertainment for our wedding reception and DJ Darnell was absolutely wonderful. He was great at reading the crowd, knowing what to play to get people dancing and kept the energy up! He was easy to get in touch with throughout the planning process and made me feel at ease when we first met in person. They work with our venue regularly which made the process streamlined and effortless for us. I would highly recommend DJ Willis and his team!

Colin R.

Married on 04/24/2022

Thank you!

Our wedding planners recommended Willis as our DJ and we couldn't be happier that they did. He was professional, organized, arrived early, and most importantly, helped ensure that we had the best night of our lives. We cannot recommend Willis highly enough - there is no better DJ for your upcoming wedding or event.

Thanks for everything Willis!

Colin and Ashley Rothwell

Janie B.

Married on 04/23/2022

The best!!!!

Willis was the best!! He brought the dance floor to life at our wedding and kept the energy up all night. He's responsive, upbeat, and a breeze to work with. We had several special requests that he was able to accommodate with ease which made the day all the better. Highly recommend!!

Kaitlin D.

Married on 04/16/2022

DJ Service

Willis was beyond a pleasure to work with, and made the process smooth and fun from start to finish. He is the perfect balance of fun and professional. He made our wedding night an absolute raging blast, and we're so grateful for his partnership through this process! Definitely hire Willis for the best night ever!

Marisa M.

Married on 04/02/2022

Great DJ and MC

Willis was fantastic! He kept the dance floor busy all night and did such a wonderful job hosting the evening without needing to be the star of the show. I loved how we met with him in person in advance too so he could really get to know us and we could talk through our hopes for the day.

Lindsey B.

Married on 03/19/2022

DJ Darnell for the WIN

We hired DJ Darnell for our wedding back in March, and he crushed it! Attaching photos so you could see how silly everyone got. Darnell did a great job of keeping the energy up and it was a blast. We have had a few weddings for friends that we attended, and everyone keeps saying our DJ was the best. Darnell is also DJing for a friends wedding in November so we are excited to hang with him again!

+ 3

photos

Katelyn M.

Married on 03/05/2022

Fantastic experience! Hire Willis for your event!

DJ Willis was an absolute joy to work with. We booked Willis for our wedding (03/05/22) and within the first few minutes of our first meeting we knew he was our DJ! We could tell the vibes and energy were going to work well for our personalities and knew that he would get the job done. It almost felt like he was a trusted friend even though we just met him, and on Zoom at that. With every meeting we had with Willis, we felt very secure and had no worries about how the day was going to run. Some people don't realize a good DJ will help with keeping the day and evening running smoothly, and that's what Willis did! Willis kept to all the requested time-stamped items for the ceremony (that involved cultural music throughout) and also for the reception (first dances, music throughout dinner, and speeches). And most importantly, he kept the party going. Although we gave Willis a list of 'must plays' we fully trusted him to read the room and play music that best fit the energy. We barely saw the dance floor empty! We were so appreciative of his time, effort, and positive energy throughout the day and into the night. Even almost 6 months after our wedding, several family members still rave about Willis!



Chad W.

Married on 01/08/2022

Our Favorite DJ

I've had the pleasure of working with Willis at a few weddings and consider him to also be a friend. So when it came to choosing a DJ for my wedding, there was no choice other than Willis J Entertainment. And he did not disappoint! He brought the fun and had all of our guests out of their seats dancing the entire night. He's not just a great DJ, he's an amazing emcee and all around great person. If you're looking for entertainment at your wedding, I highly recommend Willis J Entertainment!

Ed Sulecki

Married on 12/04/2021

Willis Understood The Assignment

When the future Mrs. and I met with Willis we clicked instantly. Willis has a great personality and energy and we were happy to move forward.

Willis met with us to get an understanding of what we were looking for music wise. Three months later and our guests are still saying Willis absolutely crushed the music the entire evening. At one point I'm fairly certain 90% of our wedding party was dancing.

Willis is a must hire.

Katherine B.

Married on 10/31/2021

Thank you willis!

Willis was a wonderful DJ and our day could not have gone as smoothly without him. We were able to meet with Willis and have a lovely dinner to talk details before, and he felt more like a friend than our vendor. He has been so flexible as we rescheduled, is attentive to the bride and grooms needs, and makes sure that your schedule is going on schedule. When it came to the dancing, he made a first dance mix of 3 songs for my dad and I's dance. My dad was blown away with this. Once the dance floor was open, we had almost 4 hours of nonstop dance and there was no stopping us (besides a town noise ordinance that stopped the party at 11). He knows his music and how to read the room. Our DJ was very important for our reception and I would recommend willis to anyone looking for a DJ. Thank you again!


Alexia L.

Married on 10/23/2021

Best dj ever!

When looking for a DJ we interviewed probably 10 different vendors and both my husband and I knew that Willis was the DJ for us because he set the bar HIGH!! The other DJs didn't even compare to Willis! He's incredibly responsive, personable, and his music portal makes requests SUPER easy. The day of the wedding Willis made sure our very specific versions of songs were played, worked with our day of coordinator to make sure all activities were announced on time (cake cutting, etc.), had reliable equipment and mics that didn't cut out at all, and kept the dance floor packed! On top of him being a great DJ that is very organized and on top of every small request you might have, Willis is one of the best human beings you will ever meet. Willis genuinely cares about his couples outside of "wedding life" and we've actually become great friends with him since we found him on WeddingWire. When we were looking for a DJ we never thought we'd find a lifelong friend too, but we are so happy we did!! We're looking forward to many more years of friendship with Willis! HIRE HIM NOW!!

Lindsay U.

Married on 10/10/2021

Incredible DJ and human being

We had the best experience with Willis for our wedding. From the first call, we hit it off and I felt sure, without any need to shop around, that Willis was THE GUY. I let him know that I can be a little psychotic about music but that I really trust his craft. He has his own portal, y'all! I mean I started adding songs a year out so I could get a head start. It was so easy to go in and keep updating okay throughout the planning process. I loved the easy playlist with recommendations for weddings, that really helped me out. Willis is so cool and we got to spend time with him in person which was awesome. We all really connected and I would go to him for recommendations regarding other parts of the wedding. I really trust him so much as a vendor and he was super reassuring. The actual wedding was so amazing, he directs the whole show basically and just nailed our vision. Everyone loved him and we MAY have got him to dance with us… that's a personal win! We hope to have an ongoing friendship with Willis and we will recommend him to everyone within earshot. What a freaking great TIME he brings, my dad even tied his tie around his head and was having a blast to his music. It's all about his energy and it's contagious!! I never left the dance floor. Thank you, Willis!

Anna M.

Married on 10/07/2021

We Love Willis!

Our venue owner (shout out Windy Hill Farm!) suggested we reach out to Willis and from our first phone call, we knew that he was the right person to facilitate our party! He was incredibly accommodating with our pandemic-related reschedule and helped us feel confident in the decisions we made. When we met with him in person, we instantly felt comfortable and so glad we had booked him. He's incredibly warm, laid-back, fun, and he prioritizes bringing our vision to life. The dance party at our wedding lasted over three hours, and we had the most fun night of our lives. Our guests raved about him! He played the songs we requested (and had an easy way to request "must plays" as well as "DO NOT PLAY"), along with some fun surprises and was open to requests which our guests loved. He started the dancing with my parents' favorite song, which made them feel so special. I should also note that his set-up and professionalism allowed us to feel in such good hands. We never worried for a minute about anything sound or reception related - he made it so easy! I could write a novel about how much we love Willis. (Side note - we are scheming for my husband and him to form a trivia team based on their shared encyclopedic knowledge of movies and music.) We recommend him 100000% percent! Thank you Willis!!!!
Are you interested?
Send a message