282 Reviews
Recommended by 95% of couples
Quality of service

4.8 out of 5 rating

Average response time

4.8 out of 5 rating

Professionalism

4.8 out of 5 rating

Value

4.7 out of 5 rating

Flexibility

4.6 out of 5 rating
8 User photos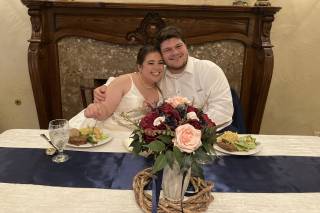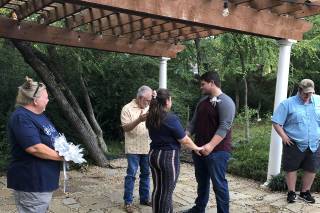 + 4

photos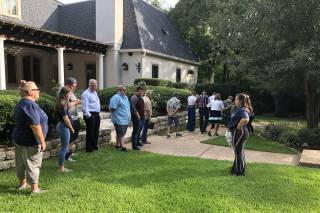 Featured

Cassidy H.

Married on 05/25/2021

Beautiful venue for a wedding

My brother recently had his wedding here and everything was perfect. Crystal was super helpful with the whole process and she was extremely accommodating and willing to help us with whatever we needed. The venue is gorgeous, clean, and unique as are the rooms that the guests stayed in. Everyone who worked there seemed really friendly and professional and made sure all the guests had a good time.

Wildwood Inn by Walters Wedding Estates's reply:

Hi Cassidy! Thank you so much for your 5-Star review! We are so happy to hear your brother had such a wonderful experience and that our team made the event day so seamless. We appreciate the support!

Lisa

Married on 05/25/2021

Beautiful place, great service

We had my son's wedding here and it was perfect. The staff was very responsive and accommodating. The location is beautiful and having the rooms on site is a nice bonus. Would definitely recommend.

Wildwood Inn by Walters Wedding Estates's reply:

Congratulations on your son's recent wedding, Lisa! Hearing everything went so well and that our team provided an exceptional experience makes us so happy. We wish you and your family all the best as you begin this new life chapter!

Andrew H.

Married on 05/25/2021

Our beautiful wedding

Just had our wedding here on the 25th, the staff was very friendly and helpful throughout the whole process. The day of our wedding, the staff would offer to help out in ways that were above and beyond our expectations, making our big day that much less stressful.
We also rented the venue out for the night and the rooms were gorgeous and elegant. I highly encourage anyone stay here.

Wildwood Inn by Walters Wedding Estates's reply:

Hi Andrew! Thank you so much for your 5-Star review and thoughtful feedback. We are so happy to hear you had such a wonderful experience and that your wedding day was everything you hoped for. Congratulations!

Are you interested?

Send a message

Gennie E.

Married on 09/12/2020

The best Value and People!

You could not ask for nicer and more caring people to help with a wedding. The venue is beautiful and perfect for a small to medium wedding. Kristy, Crystal, and James are polite and willing to do anything you ask. I can't think of a place I would have rather had a wedding!

+ 2

photos

Wildwood Inn by Walters Wedding Estates's reply:

Thank you so much for your great review, Gennie! We are so happy you loved your experience with our staff. We couldn't be happier for the newlyweds and we wish them and your family all the best!

Joanna H.

Married on 04/07/2020

Brilliant!

The rep I met with, Faith, was absolutely wonderful. She answered every question I had and was so sweet. She helped me really be able to envision every aspect of my upcoming wedding. I am so excited for the next step with is wonderful team.

Wildwood Inn by Walters Wedding Estates's reply:

Thank you so much for your lovely review! We're so glad you loved the venue and we couldn't be happier for the two of you!

Rosemarie

Married on 10/19/2019

Beautiful Venue with an Amazing Team!

Words cannot express what this place has done for us during and even after our wedding day. The venue itself is beyond beautiful and worked perfect for what we wanted. We were able to get fantastic photos and video footage from using color bombs and gold streamers, and the Wildwood Inn was so understanding in letting us do those things. We ended up renting the whole place out and all our family and friends loved the rooms. We had two wedding coordinators for our wedding day (Amanda and Rachel), and they both made the day so much easier. You truly appreciate the work they do when you don't have to worry about the small details during the big day. The food was truly remarkable and not only looked amazing but was also some of the best I have had at a wedding reception. I really can't find one negative thing to say because everything was perfect thanks to Amanda and Rachel. Amanda even helped me find my speaker that I left there and was able to coordinate a way for me to get it back. This company takes pride in their employees and anyone considering booking their wedding and reception here should look no further. Such a beautiful experience, we cannot thank you enough!

Mackenzie K.

Married on 10/13/2019

Fun and Intimate Venue!

our wedding was 10/13/19. This was the perfect venue for a intimate ceremony and reception, we had about 85 people and it was great the dance floor was never empty! Loved the coordinator they have for you day of, we had Amanda, and she was a life saver on timeline and keeping us in track! I would strongly recommend this venue if you want help with steps along the way! Also we upgraded to include the hotel rooms only a few months before and it was the best idea, have your wedding party stay there and the bridal suite is amazing for pictures and relaxing afterwards! They truly made all the personal touches come out, just ask them about an idea like we had private dining in our suite for dinner for a moment to ourselves and it's amazing how they can make things like that happen smoothly!

Cameron

Married on 10/06/2019

So far, been great!

My fiancé and I are looking forward to our wedding here in October. The staff has been great so far on letting us tour several times and having our engagement pictures done there!

Keri A.

Married on 10/03/2019

Best Decision EVER!

We could not have picked a more perfect venue for our big day! The Wildwood Inn was the greatest fit for who we are and the tight-knit, personal style that we were aiming for. Our experience with The Wildwood Inn and Walters Wedding Estates was smooth from start to finish, and they answered every question we had along the way! The staff at Wildwood gave such great suggestions leading up to our wedding, and when the day finally arrived they reminded us yet again that we couldn't have made a better decision. We were able to sit back and enjoy the day we'd been planning for so long, and we soaked in each and every moment! We wouldn't change a thing!

Sylvia

Married on 09/26/2019

Wedding day

Super nice! Always available via email,txt,and phone which was so key for me when ever I had questions I gotten answered straight way👍🏽😁

Karis W.

Married on 09/22/2019

Great Team

We had our wedding on 9/22/19 at the Wildwood Inn and it was a dream come true. The team that handled our wedding was amazing . From the person who worked the front desk and handed out our welcome bags as guests arrived, to the server who worked breakfast solo and provided our overnight guests with great breakfast service, to the bartender who kept my new husband's and my beaks wet throughout the night and especially to our amazing coordinator Rachel that kept me calm through the whole ride, this team was attentive and flexible. It was a perfect day and I could not thank them enough for all that they did.

Micah G.

Married on 08/10/2019

Dream venue with an awesome staff

Rachel with The Wildwood Inn was awesome to work with throughout the planning of the wedding and the ceremony itself!! I would highly recommend putting their facility at the top of your list!!

Victoria S.

Married on 03/17/2019

Perfect venue!

Wildwood Inn was the perfect venue for our wedding! We loved the intimate feeling, the beautiful backyard, and the staff was great! Faith was our day-of coordinator and she was a great help making sure everything ran smoothly so we could just enjoy our day! We can't wait to visit Wildwood again as guests at the Inn for our anniversary!

Lindsey

Married on 10/20/2018

Absolutely breathtaking

We have a wonderful time at our wedding! Our day of coordinator, Andie, was amazing! She made our experience so stress free and kept everything moving smoothly. Of course the venue is amazing our guest are still talking about how beautiful everything was! Highly recommend this BEAUTIFUL venue to any soon to be bride and groom, you won't regret it!

Maggie

Married on 10/14/2018

Highly Recommend!!

I recently had my wedding at the Wildwood Inn and it was beyond amazing! The property is absolutely gorgeous – the twinkling lights, the surrounding trees, and the ceremony pergola made my wedding feel like an absolute fairytale! Kaytee, the day-of coordinator, and the entire staff were extremely accommodating, which made my entire planning process feel like a breeze. Thank you Wildwood Inn for the perfect wedding venue!

Shannon

Married on 10/13/2018

Amazing venue and staff!

I recently got married at Wildwood Inn (I am the Bride) and we had the most pleasant, easy and enjoyable experience working with Wildwood Inn staff! Not only are they very organized but they answered all the million questions I had and always provided helpful suggestions and examples. The venue is quaint and intimate providing a beautiful, elegant space for both the ceremony and reception with an option to rent out the whole bed and breakfast! We chose to rent the whole venue and had immediate family and friends stay the night with us. They truly made our day so special and carefree, 100% would recommend! ALSO THE VENUE IS GORGEOUS AND THE IN HOUSE CATERING IS AMAZING!

Grace

Married on 08/02/2018

You have to at least check this place out. Once you do, you'll want to book immediately!!! They give you the ability to book all the hotel rooms for family and guests with breakfast the next morning, making this venue "all inclusive." Wildwood inn is simply gorgeous alone and you only need to add your special touches. They even included a day of coordinator to allow me to just be a bride... all included in our package. My day was amazing!!!

Alex

Married on 03/24/2018

This review is for the Mansfield location.
It was such a great experience with this vendor on our big day! The staff was amazing and so easy to work with while planning for everything. The catering provided through this vender was amazing! Would definitely recommend to anyone looking at possible venues and catering!

Anitria

Married on 03/15/2018

ABSOLUTELY LOVED THE ARISTIDE MANSFIELD VENUE. It is a breathtaking venue. My husband and I got married there 3/15/18 and everyone loved the beauty this venue obtains. I searched all across DFW area to find an affordable (BOOK ON A WEEKDAY) and beautiful venue that would enhance our dream wedding and Aristide Mansfield was the place! From the beginning, we were always well accommodated and taken care of. The day of the wedding Audra and Courtney were the MVPs! They went above and beyond to ensure that our wedding went smoothly! Audra and Courtney knew exactly what they were doing and got everyone on the same page. The venue itself fit our huge wedding party so well also. I had 13 bridesmaids and my husband had 13 groomsmen. The suites for our wedding parties were a perfect size! I would pick them again if I had to do it all over again. LOVE THIS PLACE.

Molly

Married on 01/13/2018

(This review is for the Flower Mound location.)

Aristide Flower Mound just felt *right* from the very first time we went to visit and as we toured other venues, our minds kept going back to Aristide. We attended a Open House event at Aristide and getting to see it "in action" confirmed for us that it was the ideal place for our wedding and reception. The venue is cozy, warm, classic, neutral and timeless and the staff was patient, knowledgable, responsive and they were genuinely kind and happy for us and our family. We have gotten so many compliments from guests about how much they loved our venue! Special thanks and appreciation go to Priscilla for walking us through our entire process, from our first private tour of the venue to seeing us into our getaway car at the end of our reception and EVERYTHING in between!

Ashley

Married on 10/29/2017

Wildwood Inn is an amazing venue for any wedding. They offer options for linens, cake stands, table sizes, and room options. It was a great venue for planning a wedding out of state.

Kelli

Married on 10/18/2017

My husband and I just had over wedding at The Milestone in Krum, TX two weeks ago and it was everything we ever hoped it to be! Denise was our wedding coordinator and she was so nice and extremely helpful if we had any questions or concerns.
The venue is such a beautiful place to get married, the price of what you get is so worth it and not over the top "too pricy", and the food was phenomenal! I still have our guests say, that was the best food they have ever had at a wedding!
The bridal suite was a nice area to get ready in and the grooms suite was really awesome! They have a pool table in there for all the guys to hang out before the ceremony. Overall we were extremely pleased with this venue and our coordinator, Denise. I highly recommend this venue to anyone looking to get married in a beautiful setting.

Jaclyn

Married on 09/02/2017

We got married at the Northeast Wedding Chapel in Hurst on Labor Day weekend and loved every second. Our day of coordinator, Maddie, was great at making our crazy bunch look good during our ceremony. Thank y'all so much!! Everything was perfect and absolutely beautiful :-)

Bonnie

Married on 08/20/2017

We had our wedding at Hidden Pines Chapel. My husband and I were engaged for 3.5 months. I visited this venue first, and it was beautiful. We both loved that it had a lot of natural light, especially since we wanted to have our wedding during the day. The chapel was so pretty that it didn't need any flowers. It was also very easy to book a tour of the place. Everyone I came in contact with was helpful. Charlotte and Alex were the two main people I worked with and they were very fun and joyful to work with. I would definitely recommend this place. During the wedding and reception, we received so many compliments about how beautiful the wedding was. Thank you again!

Lynette

Married on 08/14/2017

This company and all their locations are ABSOLUTELY beautiful! I had my wedding a little more than a month ago at chapel at Ana Villa in the colony, and the staff was very nice and very helpful.
Our wedding coordinator was phenomenal! She did a really great job in making sure that the day went smoothly, and that everyone did what they were supposed to. She stayed the whole time and helped me (Bride) do everything i needed to do.
Our wedding was honestly the most perfect wedding ever. And Walton Estates Definitely aided majorly in it!
Food was great, staff was great, location was beautiful!
Truly thankful that this company exists.(:



Wildwood Inn by Walters Wedding Estates's reply:

Thank you so much Lynette, Everyone at Walters Wedding Estates and The Chapel at Ana Villa appreciates your kind words. Your wedding was a dream and you were a pleasure to work with. We cant wait to see wedding photos!
Are you interested?
Send a message