35 Reviews
Recommended by 99% of couples
Quality of service

5 out of 5 rating

Average response time

4.9 out of 5 rating

Professionalism

5 out of 5 rating

Value

4.9 out of 5 rating

Flexibility

5 out of 5 rating
19 User photos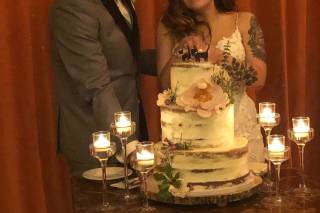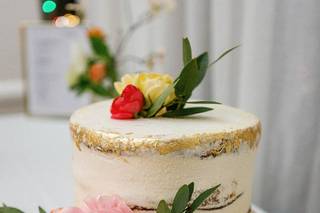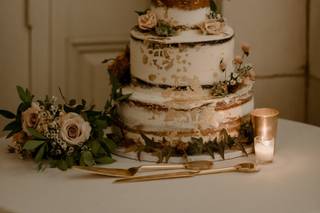 + 15

photos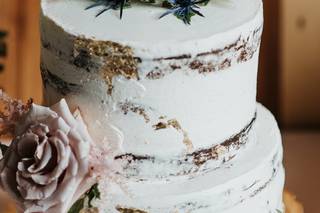 Jessica

Married on 05/13/2022

Vanilla champagne and sparkling rosé cake wedding cake perfection

The wedding cake that Gina at Wild Flour NYC made for our May 13th wedding at MyMoon was by far the best wedding cake I have ever had in my life -- and I am not just saying that because it was our wedding! From our first tasting, I knew that Gina was a true cake visionary. She made us a vanilla champagne and sparkling rosé cake with lemon buttercream, coated with a thin layer of honey lavender buttercream on the outside (naked cake style). Perfection. My husband and I were delighted to have some extra cake to take home after the wedding, and we've been treating ourselves to slices on special occasions since the wedding. Thank you so much Gina, especially for being so flexible and compassionate after we had to reschedule the wedding not once, but three times, due to COVID!

Maggie R.

Married on 10/16/2021

The most delicious choice!

From the moment we spoke with Wild Flour we knew that we were going to use them for our dessert table. The tasting only solidified that. After two postponements and waiting over a year from our tasting to when our actual wedding was, nothing disappointed. Our assortment of desserts came out perfectly and was exactly what we were looking for. We always knew that we didn't want one traditional wedding cake so the combination of mini cheesecakes, cupcakes, cake balls, etc. was absolutely fantastic for us. We also originally ordered for 90 people, ended up with around 65 due to covid and were shocked by how little we had left over. The little we did have left over did not need any convincing to be taken home by our guests. 10/10 would highly recommend if you want a delicious wedding day!

Nicole

Married on 09/05/2021

Amazing experience!

We were so pleased with the service provided to us by Gina and the beautiful cake that was put together for us! Highly recommend booking Wild Flour for your wedding. Gina was very helpful, kind, responsive, and extremely talented. Thank you for giving us a very tasty cake on our wedding day!

Are you interested?

Send a message

Mel L.

Married on 09/04/2021

Delicious and gorgeous

The cake was phenomenal, gorgeous and tasty and everyone raved about the flavor combination. Gina patiently heard all my crazy and sometimes contradicting ideas and made them into a beautiful work of art. she was so kind, so thoughtful and attentive I cannot gush enough about the process and the outcome. The mini desserts were a complete hit, we only had 5 left which is amazing since we budgeted for 4 desserts plus cake per person. Everyone raved about the flavors, the variety and that they couldn't stop coming back for more. The 5 we had left over we devoured with champagne the next morning and will be dreaming about them for years to come.

Desiree

Married on 07/31/2021

So good! Recommend recommend recommend

Gina and her team at Wild Flour NYC were wonderful! Prices were reasonable and the service and especially the product were EXCELLENT! Planning the wedding cross-country, Gina accommodated us the week of our wedding for a cake tasting. The cake tasting was short and sweet (just how we liked it) and though she guided us with what flavors usually go with what, the cake and fillings spoke for themselves! We chose a 3 tier alternating layers of dark chocolate champagne and vanilla champagne cake with salted bourbon cream in between and a naked cream cheese finish. SO DELICIOUS!!! Moist and flavorful! The cake was perfect for our wedding as they also nailed the look we wanted! Cake was beautifully made with the right amount of "naked" and accented with our florist flowers.

So excited for their brick and mortar store! Can't wait to taste their cakes again! Thank you again Wild Flour NYC!!!

Jenna C.

Married on 12/17/2020

Perfection!!

Beyond obsessed and still dreaming about how delicious our wedding cake and cookies/treats were from Wild Flour! Everything turned out so beautiful and Gina is amazing to work with. I'll never go anywhere else for a cake or desserts!!

Loren G.

Married on 11/02/2019

A unique, beautiful cake that tastes amazing!!

When we walked in for our tasting with Wild Flour, we knew pretty much right away this was going to be the perfect cake for us. Their flavors were so creative and absolutely delicious! And we loved that we were able to infuse some champagne and bourbon into our cake, keeping the party going at dessert time. Then there was the look! We absolutely loved the design of our cake. The naked cake frosting was the right style we were going for and it matched the look of our wedding perfectly. It really felt like a work of art, I almost didn't want to cut into it!

Sam S.

Married on 10/05/2019

An incredibly delicious experience!

Gina (The Owner) is an absolutely amazing baker. I have ordered several cakes from her and they were all deliciously flawless! She has so many different tasty options to choose from and the cakes are gorgeous. She had the cakes ready on time and her prices were incredibly reasonable.

Thank you so much for the cakes Gina! Will be buying more soon!

Katherine

Married on 05/25/2019

Delicious Cake!!

Our wedding cake was beautiful AND delicious — a combination that isn't always easy to find but was very important to us.

The team at Wild Flour was easy and fun to work with, and we would recommend them over and over again.

Thank you, thank you!!

+ 5

photos

Elizabeth

Married on 04/21/2019

Delicious and beautiful

This cake was worth every penny. Our guests are still raving about this cake. We went with vanilla champagne and sparkling rosé cake with honey lavender buttercream. Our guests had not tasted anything like it. We are so happy! We also had a lot of fun at our tasting! Thank you so much Wild Flour!! Liz and Kevin

Natalie

Married on 02/23/2019

I didn't want to eat anything, it all looked so good (but tasted better!)

Yum! The whole experience with wild flour, from their responsiveness when we reached out to them with less than a month before our wedding, to the delicious tasting experience, down to their promptness, calmness, and professionalism when we accidentally forgot cupcakes were ordered as well, was amazing. The presentation was beautiful and it all tasted delicious with such fantastic flavors that all went so well together. Everyone loved it all so much we only left with 5 leftover cupcakes (which, we've since eaten :) ).

Vannessa

Married on 10/06/2018

Delicious and Beautiful Wedding Cake!!!

A beautiful and delicious cake, what else can I say? We really enjoyed the entire process with them, we had a hard decision choosing what cake and icing because they where all so darn good!! Pick them if you want to have a wedding cake that isn't only just beautiful on the outside, but tastes amazing as well!

Madison

Married on 09/22/2018

We loved Wild Flour from our first tasting. We loved that it was a female owned business and that the ladies were best friends. We loved their super cool baking space in Brooklyn. We loved how absolutely delicious their cake was--not to mention stunning.

Wild Flour was easy to work with and our guests are still raving about how yummy the cake was. Their beautiful cake was the icing on our magical wedding.

Their cake is delicious! Literally to do for. And they are sweet, professional, flexible and easy to work with. Always responsive and clear. I would HIGHLY recommend.

Ashley

Married on 07/27/2018

Our wedding cake for our wedding on 07.27.2018 was both gorgeous and delicious. As soon as my now husband and I had our cake tasting with the ladies of Wild Flour, we knew we wanted to use them for our wedding cake. Not only was their cake tasting by far the best we had been to, we loved that this company is owned by 2 best friends who work out of a shared kitchen space in Brooklyn. We loved their vibes and energy. From start to finish, they were easy to work with! Our guests are still raving about how delicious our cake was. I highly recommend them!

Lisa

Married on 10/22/2017

The cake was absolutely delicious! We really enjoyed working with Kristina- she was super responsive and had a lot of great suggestions for flavors and general planning for the dessert buffet we envisioned. Highly recommend!!

Dayna

Married on 10/20/2017

We absolutely loved working with Wild Flour for our wedding cake! Gina and Kristina are as friendly as their cakes are wonderful, and we couldn't recommend them more highly. When searching for a cake vendor, we visited them for a last minute cake testing, which happened to be during an extreme snowstorm (we live out of town and our timing was tight), and despite our snow and slush covered tardy entrance, they were so welcoming and could not have been nicer. We ended up choosing a red velvet cake with salted bourbon icing, which was both beautiful and delicious and also a great value. If you're looking for a great cake vendor, definitely get in touch with Wild Flour!

Beth

Married on 06/17/2017

These are the best cakes ever. Seriously! Our guests could not stop raving about our wedding cake and neither can we! And they are so lovely to work with. We couldn't decide on just one cake flavor so we had two: champagne vanilla and dutch chocolate, both with salted vanilla buttercream in between the layers and almond buttercream on the exterior. It was insanely delicious! These really are unlike any other cakes I've ever had, much better than any standard bakery cake in my opinion!

Kristen

Married on 04/30/2017

We loved that the girls from Wild Flour are from Astoria since that's where we live. We went to our tasting at one of the girls apartments in Astoria, they were so easygoing but professional and had some good ideas to help us put together the perfect cake. We ended up doing a lemon cake with lemon curd and vanilla buttercream frosting, finished off with a grand marnier brush. I loved the cake and so did all of our guests, the taste was great and it looked great (we did a "naked" frosted look cake with some simple flowers for decoration).

Martha

Married on 02/25/2017

Wild Flour NYC baked us the most beautiful and decadent wedding cake we could've asked for. On top of the cake's deliciousness, it was a pleasure working with Kristina. She was so accommodating, professional, and kind. We highly recommend Wild Flour NYC and the Dark Chocolate Champagne with Salted Bourbon frosting combo!

Nadiuska

Married on 11/11/2016

I am not a big "sweets" person, I like desserts but not too sweet ( if that makes sense). It was important for me to have the right cake for my wedding that I can enjoy without feeling like I was eating "diabetes in a plate". Wild Flour NYC did that for me! The ladies that own the company are extremely nice, happy, and accommodating. We went for a tasting and OMG we were hooked!
We had three layers of awesomeness: Carrot, coconut pecan, and lemon cakes layered with vanilla buttercream and the outside a nice swipe over with almond buttercream. I don't like fondant and definitely didn't want to pay for fondant worth prices...It was perfect!
Since we didn't save the top piece and froze it to eat later according to tradition, every anniversary we order their smallest cake to enjoy between my husband and I. Highly recommended them.

Gosia

Married on 10/22/2016

I am not lying when I say every person who ate my Wild Flour wedding cake LOVED IT! The cake is truly delightful and even more delightful are the founders Gina and Kristina. It was joy to work with these two, they are approachable, professional and listen to what the client wants. I hope I find reason soon to need another cake from Wild Flour.
Thank you for making my cake one of the memorable ones!

Carolyn

Married on 10/14/2016

Working with the ladies at Wild Flour was one of the best parts of our entire wedding process! The cake they made for us was as beautiful as it was delicious, and our tasting with them was SO fun! After shopping around a long time for wedding cakes and desserts, we were so happy to have found them. Can't wait to find an excuse to order from them again!

Alex

Married on 10/05/2016

Amazing experience with the ladies at Wild Flour! Created the perfect cake for our wedding that was not only beautiful , but delicious!! Highly recommend

Frank

Married on 09/17/2016

My wife and I cannot say enough amazing things about our experience working with the girls of Wild Flour! First of all, their service and attention to our needs/desires went above and beyond; its was like working with new friends to create the wedding cake we wanted. They are so friendly and helpful, it took the stress of "one more wedding detail" out of the equation, and made it fun. Second and most important (to us) was that the cake was unbelievably good. The hardest decision we had to make was which flavor and which frosting, because we truly liked them all. We went with a carrot and vanilla champagne layered cake, with cream cheese frosting. It was so good, we had tons of compliments, and it was the first time I've been to a wedding where the cake was actually gone at the end of the night. Obviously, we cant say enough good things about Wild Flour. Just go for their tasting and I guarantee you wont go anywhere else! THANK YOU GINA AND KRISTINA!!
Are you interested?
Send a message