164 Reviews
Recommended by 100% of couples
Quality of service

5 out of 5 rating

Average response time

5 out of 5 rating

Professionalism

5 out of 5 rating

Value

5 out of 5 rating

Flexibility

5 out of 5 rating
131 User photos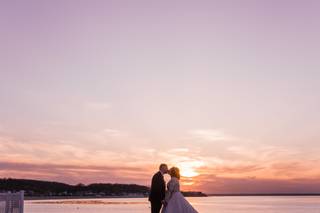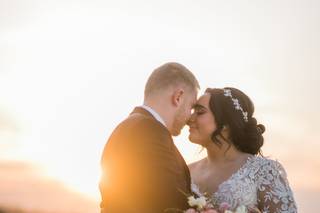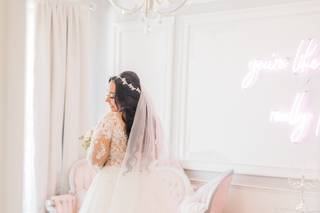 + 127

photos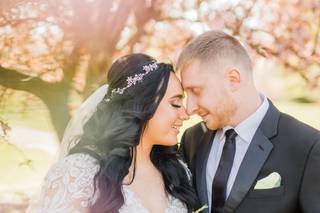 Elizabeth Q.

Married on 04/30/2022

A wedding must have!

Liz is hands down the best photographer and is such a pleasure to work with. The photos speak for themselves but she is extremely talented and incredible at managing the crazy family dynamics that come along with weddings. She and Erin played a huge role on our wedding day helping us stay on time, maintaining many drunk groomsmen all day, and ensuring all pictures were perfect! We can't wait to hopefully be a Little Pear family someday so we can work with Liz again!!!

+ 3

photos

Courtney S.

Married on 06/12/2021

Simply the best!

Choosing Liz to be our photographer was one of the best decisions we made! It goes without saying that Liz's creativity talent are unmatched and we will cherish our photos from her for many years to come. Looking through our gallery for the first time, we laughed, cried, and smiled. Liz did such a wonderful job of capturing our and our loved ones' unique personalities and emotions. In addition to her incredible photography talent, Liz was also an absolutely pleasure to work with from beginning to end. She is kind and bubbly and makes you feel immediately at ease when you're with her. Her sense of humor had us cracking up all day (and at our engagement session). My husband hates taking photos and we are kind of awkward at posing, but Liz made it fun and comfortable! Liz is also extremely organized and experienced, so you won't need to worry about a thing if you work with her. For example, on our first FaceTime call, she drafted up a rough wedding day timeline on the spot! We knew then that we could trust her completely to make our day a success. She was also extremely responsive and helpful in the months leading up to our wedding day, including by providing other vendor recommendations whenever I asked (who ended up being fantastic in their own right!) and answering all of my (many) questions with knowledge, patience, and grace. During and after our wedding day, our guests couldn't stop raving about Liz's friendliness and professionalism. We can't wait to work with Liz again for future family photos. She is a bright light that makes magic wherever she goes. We're very grateful to have found her!

Shari

Married on 05/29/2021

Amazing photographer!

We got married Memorial Day weekend and had to keep the wedding outdoors because of COVID concerns. The weather was an unexpected 50 degrees and raining, and I had really wanted light and airy photos that I was worried I wouldn't get because of the weather. Liz somehow managed to make it look like it wasn't raining at all and the photos are amazing-she even made sure I got the outdoor photos I wanted without runining my dress before the ceremony even started. Erin did an amazing job capturing the guys getting ready, and all the photos are incredible. Would highly recommend White Pear!!

Are you interested?

Send a message

Jenna M.

Married on 05/16/2021

Perfection

Liz will make your wedding photo dreams come true. Her photos speak for themselves - perfectly light, bright and airy. What you may not know is how AMAZING she is as a person, and that she will make you feel comfortable, beautiful and confident. After several postponements last year, Liz was easy to communicate with and was always helpful while being understanding and kind. She will make your wedding day run smoothly all while making jokes and just being a positive presence. Her assistant Erin was just as sweet and funny! Couldn't have asked for better photographers.

Kate B.

Married on 04/12/2021

The Best Wedding Vendor We Hired

Hiring Liz for our wedding photography was the best decision we made. If you appreciate photos that are natural, bright, and not overly posed, Liz is your girl. Not only is she a fantastic photographer, but she also has the best personality! She is easy to work with, friendly and straightforward. She is the type of person you would WANT to spend your whole wedding day with! We have large, loud families and she was able to wrangle all 200 of them into group portraits in under 45 minutes....shes a miracle worker. Even after our wedding she has spent time cropping and printing photos we have ordered through her and truly cares about every aspect of your wedding photography down to the last detail. We trusted her completely with capturing the memories of one of our most important days and she didn't let us down.

Teresa

Married on 02/10/2021

Above and beyond

Liz and her team went above and beyond to capture every special moment of our wedding day. Her professionalism and organizational skills are second to none. We can't recommend her enough!

Jessica M.

Married on 10/17/2020

Phenomenal!

From the moment we met Liz we knew we had to have her be part of our wedding day. Liz's work speaks for itself, every photo is breathtaking, we truly could not be happier with our photos from our engagement shoot and wedding day. Not only are Liz's photos beautiful, but Liz herself is incredible. She is your photographer, friend, and keeps your day moving seamlessly. We were effected by covid as many have been, Liz was beyond flexible, patient, and understanding. I received countless texts from her to simply see how I was doing. If you are looking for the perfect wedding day photographer, look no further. I will forever recommend White Pear Photography.

+ 2

photos

Jacqueline G.

Married on 08/15/2020

fam friend rec - great pics

although I went with a diff photo place. they are nice and reasonable and good pics.

Kaitlin P.

Married on 05/30/2020

Truly the best!

Liz has an unbelievable talent of storytelling through her photography. I relive my wedding day every time I look through the pictures. She perfectly captured the feeling of our special day. The collection is "picture perfect" yet still feels so authentic. I will cherish these memories forever. Thank you so much Liz for being the most kind, patient, flexible, helpful photographer we could have ever asked for! ❤️

Joy L.

Married on 12/22/2019

A good vibe photographer during a difficult time

I was the caterer on site for a wedding that White Pear Weddings shot in July 2020. She was wonderful with our clients, was a joy to work with as a vendor, and turned beautiful photos around very quickly!

Emily K.

Married on 11/24/2019

Feels like your spending the day with a friend not a photographer.

From the first meeting, to engagement photos, and finally the day of Liz was amazing with getting all the details in order before the wedding that I had no reason to stress. She fulfilled all my picture requests (even the quirky ones). Most importantly she kept me feeling calm all day. Your wedding photographer is going to be with you like a shadow the whole day and I'm so glad I chose Liz to be that person.

Katie H.

Married on 10/26/2019

Exactly who you want with you to capture the day.

White Pear Photography was the best decision my husband and I made as we planned for our wedding. From the moment Liz and I connected over the phone, I felt instantly comfortable with her. This was critical because I anticipated I would be uncomfortable in front of the camera, and feared I would look awkward in all of the photos. As I shared my concerns with her, it was clear that Liz had a wealth of experience, a great sense of humor, and a positive attitude that I knew would come in handy on the big day.
On the day of our engagement shoot the weather was predicted to turn when our shoot was scheduled to start. Earlier in the day Liz watched the weather as closely as I did; together we weighed the options and pivoted to make it happen! The engagement shoot was a phenomenal experience, and it really allowed us to get to know Liz and get comfortable in front of the camera.
On the wedding day, Liz is the person you want in your corner! She is organized, affable, solution-focused, and she keeps things moving! But most importantly, she has a talent for capturing the couple at their best. Our photos truly represent how wonderful and perfect that day felt for us, and that is invaluable.
We would (and do) recommend White Pear Photography everyone.

Juliann O.

Married on 10/04/2019

Simply Amazing!

From the very first second we got engaged, we knew we didn't want a photographer who would pose us, we wanted something different. When we came across White Pear's photos, it gave us "all the feels." We looked at those photos, and felt the love captured in that exact moment. We sent our email and hoped and prayed for our date to be available, it initially wasn't, but out of the kindness of her heart, Liz agreed to work that weekend. From the minute we met Liz, we were so relieved to have a vendor who made us feel comfortable; as if our vision was completely understood. From her bubbly personality, to her attention to detail, Liz and her staff were the most incredible part of our day. We wanted to capture the last bit of sunset on the water after our ceremony; and Liz was right there with us every step of the way. When I needed help tying my grandparents to rings to my bouquet, it was Liz who stepped in to help. Every shot we wanted, every small detail of our day, every guest photo; Liz was able to capture. Words cannot possibly describe how amazing our day was, all because White Pear was apart of it. We will forever swoon over our photos, because they are simply stunning.

Alyssa G.

Married on 09/20/2019

Amazing photos and friendly, efficient, and compassionate

People still compliment my wedding photos they are light and airy and simply stunning

Marissa B.

Married on 09/14/2019

Amazing !!!

Liz was the first vendor I had book for my wedding and I was so so happy with her work! She is amazing and is so talented at what she does ! Liz is so fun to work with and makes the day go so smooth. We can't thank her enough for the memories we have from our wedding day. If you are thinking about booking White Pear for your wedding day, it will be the best decision you make !! I can't wait to work her with again!

Diana P.

Married on 08/30/2019

Amazing !!!

Liz and her team at White Pear were beyond amazing! From our engagement pictures to our actually wedding day, I never had a doubt in my mind that Liz couldn't deliver. She made us feel so comfortable in front of the camera and the pictures truly show that. Liz even took the time to make sure we were prepared prior to the big day and never ignored my million questions. So attentive! Our big day went so smooth because of her and her time management. We can't thank her enough for the memories we have now and would highly recommend her to anyone we know!

Emily S.

Married on 07/09/2019

Highly Recommend!

I couldn't have asked for a better experience than the one I had with White Pear Photography. Not only is Liz an incredibly talented photographer who beautifully captured our wedding, but she helped to put me at ease and kept the day right on schedule. She was a photographer, wedding planner, and day of coordinator all in one! Liz and her team are all nice, passionate, talented and professional people who anyone would be lucky to have capture their wedding.

Samantha A.

Married on 07/05/2019

A no-brainer!

White Pear was the first vendor we booked as we began our planning. Of course, before we were engaged I followed wedding photographer accounts just dreaming of our wedding day, and Liz's account and photos simply spoke to me. It was very important for me to feel connected to our photographer, I wanted to feel like we were on the same wavelength, and I can't explain how I felt connected to her. I fell in love with her crisp and authentic photos and the way she uses natural light. They felt like magic. I fell in love with how her couples seemed effortless; the poses were not uptight or overly-posed, something that was REALLY important to us. Her photos just captured how truly in love her couples are!

When I saw our wedding images for the first time, I wasn't shocked that I became obsessed with them (because I knew Liz is a genius and her talent is incredible) but I was shocked at how NATURAL my husband and I were! Liz told us where to put our arms, heads, etc. and it became the most perfect, flawless, and authentic shot. We became our authentic SELVES. I absolutely love how we can look back on our photos and think about us being totally in love and passionate with one another instead of anything different. It is such a joy that we have this time in our lives captured so sincerely.

The more time I spent with Liz throughout the day, it only validated how the connection I felt before I met her in person was the real deal! She is sunshine. Her energy is so warm, kind, and upbeat. You need positive energy on your wedding day and Liz exemplifies it. She made it known she is here for us and only us, which was so wonderful. She asked about spots in our picture location to see if it captured my vision. She fixed my hair, my veil, my dress! She was our cheerleader with the pictures reassuring us they were great shots and that we looked our best, something that even helped my husband because he is more self-conscious. She knew the exact spots where to get incredible, beautiful, TIMELESS, classic portraits. I told Liz I trusted her with my life, I meant it (still do), and she did not disappoint.

From our phone conversation, to our contract, timeline planning, and my countless silly bride questions, Liz's communication was on point. She didn't make me feel like I was a bother with literally anything. Our teasers were delivered a few days after and our full gallery even delivered less than 2 weeks. I know, how is she real?! We loved the detail photos and all the guest photos she took. Liz is someone who I wish was my own friend and I already know my husband and I would love to have her take anniversary photos in the future. If you're looking into White Pear and feel a connection like I once had, do not hesitate!

Amanda M.

Married on 06/22/2019

Liz is amazing!

When I got engaged in 2017, the first vendor we booked was White Pear. I have used White Pear on multiple occasions so I knew I had to have them for my wedding. I can't begin to describe how flawless Liz is. How she handles a wedding party down to the very last detail is amazing. Even the other vendors were complementing her. I can't thank Liz enough for capturing the emotion in the photos.... I relive my wedding every time. :-)

Alison C.

Married on 06/15/2019

Wedding Photography Magician!!

I'll preface by saying I'm not a "bridally girl" or photogenic, so weddings and taking pictures in general are not my jam. But all I can say is WOW! I'm not sure how she does it- she's a photography ninja! Liz's photos are light and airy and her professionalism, knowledge and experience was very grounding for me during my wedding planning process. I always felt I had her support in any question that may of had. Thank goodness for you Liz!! If I had nothing else during this process I'm so thankful I had White Pear Photography! Thank you for giving us an experience and photos we can cherish forever

Carly

Married on 05/18/2019

Wow what amazing work!

I knew from first visiting Lizs website that she HAD to shoot my wedding. She was so so incredible to work with and her quality of work is top notch! She was so easy going and answered all my questions from early on. She made us feel so comfortable in front of the camera during both engagement pics and wedding ones. My photos are something I will cherish forever. They are light and airy and are just so amazing. The turn around time was extremely quick. I can't wait to use Liz again for family photos down the road.

Meghan D.

Married on 04/27/2019

Incredible experience

When I started planning my wedding I knew exactly who I wanted to photograph my special day. We first sat down with Liz at her office just to get to know each other (mostly so my now husband can see how amazingly talented she is) and see if our personalities meshed well. After that initial meeting we left knowing that we weren't going to shop around for anyone else. Fast forward to our engagement session in August, where both myself and my husband were a bit nervous, Liz was able to get us to forget about being self conscious and just let go to have fun. We played our music and completely enjoyed ourselves and we got the most amazing photos imaginable in the end. Then the day of our wedding she was so attentive and efficient corralling all of my wedding party and family to stay on our timeline. Throughout the whole process she answered any random questions I had and helped ease my nerves about the whole process. Liz is an incredible person who truly has an amazing gift. She's able to capture who you are as a couple with so much ease and is able to convey the love a couple has for each other effortlessly. I can't express how thankful I was on the day of my wedding and still am to her.

+ 7

photos

Victoria

Married on 12/07/2018

The Absolute BEST Ever!!

Let me start off by saying that if you are at all debating using Liz for your wedding, DO IT! You will not regret it!

When my now husband and I got engaged over 2 years ago, Liz was the absolute first vendor we booked because we knew there was no one else we wanted to work with. Luckily, I already knew of Liz's work from previous family weddings so I knew we'd be in great hands. Over the 2+ years leading up to our wedding, Liz was always extremely easy to get in contact with and was a huge help in planning our day-of timeline, which I really appreciated!

The day of our wedding, Liz and her assistant Britt were timely, professional, organized, attentive, and honestly just really fun!! Between the never-ending list of family portraits we requested and the fact that we had less than an hour of daylight to take outdoor pictures, Liz kept everything moving and got every single possible shot, with time to spare! Liz was constantly checking in with us when taking pictures to make sure we were doing okay (asking if we were too cold during outdoor pics, if my feet hurt, etc.), reassuring me when my dress and veil kept ripping under my shoes, and made sure to remember all the little details we had gone over beforehand (i.e., which family members should/should not be certain shots), which really just shows how she goes above & beyond for her clients.

The quality of Liz's work is like nothing I have ever seen before, she is seriously magical! Her shots are bright, crisp, clean, and beautifully natural - not at all posed or cheesy. I absolutely love her attention to detail and how she is able to take the most creative, breathtaking shots in any setting possible. Liz truly makes you feel like the most beautiful version of yourself – I almost cried when she sent us our pictures because I never dreamed that my wedding photos could be so beautiful!

Our wedding guests still cannot stop raving about how amazing our pictures are, and I cannot stop staring at them (and probably never will). Hiring Liz as our wedding photographer was one of the best decisions I have ever made and I could not be happier!!

Daniel T.

Married on 12/06/2018

Best decision of the whole wedding

Hiring Liz as our photographer was the best decision of the wedding. She deserves 15/10 rating. From her calm, sweet and funny personality, to her professional and efficient work ethic, she was absolutely amazing! She gave so much structure to our hectic day, while at the same time being so friendly and personable (I even went out of my way to spend time with her during the reception I loved her so much). In regards to the actual photo quality, she is such a talented and artistic photographer. She gave us the most gentle directions while taking our pictures that we barely even realized she was asking us to "pose." We felt so comfortable around her during the shoot so she was she able to capture raw, natural moments. She really captured our essence and the sentiments of the day. ALL of our friends and family are obsessed with the photos and i am recommending her to anyone I know getting married.

Caitlin M.

Married on 10/14/2018

White Pear: The Best Decision We Made Besides Saying "I Do"

Other than deciding to get married, choosing to work with Liz at White Pear Photo was the BEST decision we have ever made. Liz pours her heart and soul into her work, and it shows in every photo she takes. We loved her style because she uses natural lighting and does not over-edit her pictures. She has a way of capturing the best side of everyone and has an amazing ability to make you feel comfortable in front of the camera. She is ultra organized and takes the time get to know the bride and groom prior to the wedding. At my wedding last month, we were running over an hour behind on hair & makeup and somehow Liz kept everyone on schedule to get every photo we wanted! Not only is she a talented photographer, but she is simply a wonderful human being. She is passionate and positive - just what every bride (and groom) need on their wedding day. Do yourself a favor and look no further for your wedding photographer!
Are you interested?
Send a message