62 Reviews
Recommended by 100% of couples
Quality of service

5 out of 5 rating

Average response time

5 out of 5 rating

Professionalism

5 out of 5 rating

Value

5 out of 5 rating

Flexibility

5 out of 5 rating
14 User photos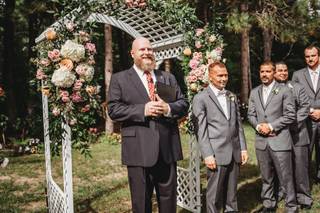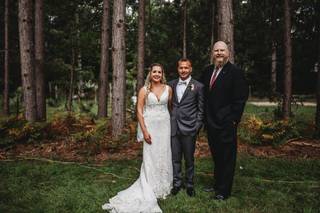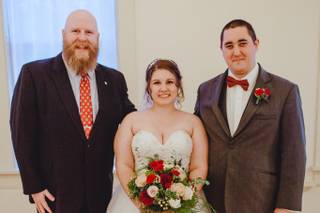 + 10

photos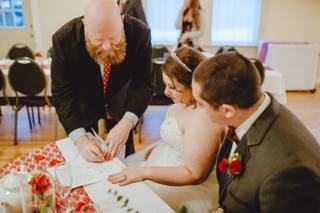 Hillary M.

Married on 10/01/2022

Our experience was very genuine and he's very fun to work with. Has a very open mind and lots of ideas .

Jay is someone who comes in an makes it happen. He hears your thoughts and ideas and gets to know you on a personal level and gives services that fit your wants to make your big day special and memorable. He is a genuine person who loves his job and makes people laugh. Very professional and we couldn't have chosen a better candidate for us.

Olivia B.

Married on 07/18/2020

The best ever!

Do you want your friends and family to rave about your wedding officiant for months to come? Pastor Jay is your guy. He was honestly the backbone of our entire wedding, and I cannot recommend his services enough. He is kind, incredibly patient, funny, and a joy to be around. He helped us out in so many different ways I can't even count them, but more than anything he felt like a friend when we got to our wedding day, and he made our day feel unique and special. Pastor Jay rocks!!

Mckenzie

Married on 05/02/2020

Best Officiant EVER!

Pastor Jay was not only a JOY to work with, but a LIFESAVER! Jay was so much more than an officiant for my husband and I on our wedding day and throughout our planning journey. From the very beginning he took the time to ask and learn details of our day and lives that most officiants would not. Being an out of state couple, he worked so well with us to coordinate in-person or zoom meetups. Even more than all of this you guys, when Covid-19 threatened to ruin our dream wedding, Pastor Jay stepped up even more. He became our coordinator, MC and kept Brandon and I cool throughout the day. I cannot recommend him enough. If you are looking for the best guy to be a part of the most intimate part of your day (the ceremony) and MORE, Pastor Jay is your man.

Are you interested?

Send a message

Mandy

Married on 10/05/2019

Amazing Officiant

Jay was amazing to work with. He helped us build a beautiful ceremony and gave great advice during the wedding planning process.

Bobbye K.

Married on 08/10/2019

Personable and flexible

I loved working with pastor Jay. He helped us think of things I otherwise wouldn't have. He offers much more than being an officiant. He is open to all religions and ideas for your wedding day.

Travis W.

Married on 06/15/2019

Conducted the ceremony and beyond!

He made everything way easier. Of course, unless you have had many weddings before, this won't be valuable to you, but for us, we truly appreciated his suggestions and ideas (even in real time during the ceremony. Awesome, professional and friendly! 100% recommend.

Kevin B.

Married on 06/01/2019

The Incredible Pastor Jay!

Pastor Jay exceeded any and all expectations we had when it came to an officiant for our special day. Not only was he extremely flexible, he followed through on every little detail that he promised that he would. We never encountered an issue on or leading up to our Wedding Day that Pastor Jay didn't handle for us, if he could! Truly amazing at what he does and it we could not have had a better Wedding Day without him!

Megan G.

Married on 05/25/2019

Excellent wedding officiant

Pastor Jay did an amazing job officiating our wedding ceremony! He got to know us before the wedding, he listened to our needs and he personalized our ceremony. He is very responsive and great to work with! We would definitely reccomend him as a professional wedding officiant!

Chelsea

Married on 11/10/2018

Amazing to work with

Jay was so great to work with. I like that we had a couple meetings before the wedding where he guided us through a couple report based on a questionnaire we filled out.
When it came to the ceremony, he worked with us to create a ceremony that was uniquely ours. We were able to use aspects from other ceremonies we found and liked, and were able to adjust and take out things we didn't like. He also had a list of questions he asked each of us separately before preparing the ceremony, so that he could get to know us and make the ceremony feel more personal. He was amazing to work with and I highly recommend him.

Amanda

Married on 11/03/2018

Pastor Jay will make you ceremony far from ordinary...

Pastor Jay exceeded all of my expectations! He was available for us every step of the way. From the moment my husband and I met Jay we were put at ease, the ceremony he preformed for us was individualized and simply perfect. Jay goes above and beyond the call of duty, throughout taking pictures he patiently stood in the cold in case we needed anything, from holding my bouquet to fixing my train even giving up his jacket because I was shivering. I cannot express how lucky I was to have had him officiate my wedding. The one comment so many of our family and friends mentioned was that Pastor Jay did an excellent job. Do yourself a favor and hire him, you will have the most memorable wedding ceremony imaginable.

Eva

Married on 10/19/2018

Jay was absolutely perfect! We planned the wedding long distance - he "met" with us via video chat on Skype to get to know us, gave us some great "homework" and tips. Showed up on time, with back ups of vows, breath mints, you name it! Talked to our kids, made everyone feel at ease. We loved the ceremony! THANK YOU!!!

Wes F.

Married on 09/29/2018

Couldn't be happier

Jay was very professional, and we couldn't be happier with his service. He provided everything we wanted, which led to us having a perfect wedding night.

Austin

Married on 09/08/2018

Jay did an amazing job for us. We had contacted him early on just to make sure that we were going to have enough time to get everything done. He met with us multiple times, gave us great ideas, and even though we finished everything a couple of months before the wedding - he was sure to continue to follow up with us. He always made it known that if we needed help with anything or just someone to talk to that he was there. Highly recommended. Thanks again!

Lisa

Married on 08/03/2018

Pastor Jay was the glue to our whole ceremony and wedding prep. We chose him after we loved the ceremony he did for close friends. Although my husband and I lived in California at the time, he was very flexible with meeting us over Skype for our first visit. He is so laidback, professional, adaptable to all situations and fun - we knew he was our guy! He was the only person who was the constant reminder during the whole planning process (which was two years for us) that our marriage was about the love and relationship we had built and how we are going to continue to build on that through the years. He was always quick to respond on any questions we had whether it related to ceremony questions or even how to change my name or get our marriage license. On wedding day, he went above and beyond! Whenever I thought in my head I needed another two hands or felt like I needed to be two places as once he was right there to help and was happy to do so. This relieved a lot of stress for me and my husband. All of our friends and family complimented us on our ceremony, said there was not a dry eye there. If you're still on the search for the perfect officiant, might as well stop here because you have found him!

Kyle

Married on 07/14/2018

Pastor Jay helped us in every way along the journey to our wedding! He helps out with things that you wouldn't even think about. He also pointed us in the right direction for the process to follow after getting married. We met two or three times before the wedding as well and figured out every little detail! He was also there for rehearsal practice which made things run very smoothly the day of. High Recommend!

Kami

Married on 05/19/2018

Jay was amazing, he went above and beyond of what was expected of him! He found us our location for the ceremony, even got the music lined up for us. We didn't give Jay much time to plan our wedding, and it was just beautiful! We can't say enough wonderful things about Jay!

Nathan

Married on 11/11/2017

For our wedding we hired Pastor Jay with West Michigan Ceremony. He came highly recommended from a neighbor of ours and we were not disappointed. He had great communication and took the time we needed to have the ceremony performed to perfection. He was very helpful when we were having trouble making some decisions. We were very happy with how things turned out and would recommend him to anyone. Thanks again Jay

Autumn

Married on 09/16/2017

Jay was absolutely wonderful to work with! We had such a beautiful and perfect ceremony that he helped shape for us. He made us feel so comfortable talking with him right away - which wasn't this case with some other officiants we talked to. Jay truly took the time to get to know us before our wedding and made sure our ceremony script was tailored to us - our beliefs, what was important to us, and words that had meaning to us. We had some very useful conversations with Jay regarding life after marriage - I know these conversations are going to stay with my husband and me. We would recommend Jay to anyone - he will do an amazing job!
~Autumn & Andrew

Robert

Married on 09/09/2017

Pastor Jay great! We had a unique situation and he was very accommodating. We were living in Mississippi while planning our wedding, and Pastor Jay was very flexible. We had a couple Skype meetings with him as well as an in person meeting when we were in MI for a week. From the beginning he made us very comfortable. It was a great balance of him understanding what we were looking for and him educating us at the same time. Our wedding was perfect and we couldn't have done it without Pastor Jay. Thanks again.

Taylor

Married on 09/09/2017

Pastor Jay was INCREDIBLE to work with!! He took care of things I had no idea mattered! Pastor Jay was uplifting, comforting, and truly awesome to work with. I would recommend him to EVERYONE!! Also, our guests loved our ceremony and we did too!! It was so perfect! Thank you so much for everything Pastor Jay!

Dangely

Married on 08/26/2017

Pastor jay was absolutely amazing , always so helpful, from the beginning to the end i recommend him to anyone, iwill always be thankful that he was part of our wedding and he did two ceremonies at church and hall just how we wanted my wedding to be thank youuu soo much pastor jay
-Dangely & Miguel ❤️

Allison

Married on 07/29/2017

We can't say enough good things about Pastor Jay! From the get-go he was personable, flexible and accommodating! He offered to meet us wherever we felt comfortable. He also did a great job getting to know us on a deeper level and used that to push us and mentor us- it was wonderful! He provided us with "homework" that pulled us closer as a couple. We also received some workbooks to work through important conversations in a unique way that allowed us to be open and honest in a very safe and comfortable way.

We met in person with Jay 3 times for about 2 hours each time- he is willing to meet for as long as is needed! He emailed us frequently to check in with us, to offer suggestions or insights, to give us ceremonies to look at in order to tailor ours to us, and to keep up in the know.

Because his schedule allowed, he joined us for our rehearsal dinner and stayed after the ceremony for dinner. This gave him and our family the time to get to know one another at a deeper level and everyone had spectacular things to say about him! Many mentioned that they could tell during the ceremony that we all had a deep and great relationship. It was great.

Pastor Jay has such a sense of humor but also one of calmness. He will keep you centered and offer nothing but support the day of the wedding and all of the days leading up to it. After the ceremony, he went out and got us waters and hors d'oeuvres from cocktail hour- always thinking ahead. It was SO appreciated!!! It is quite apparent that he is very familiar with what he is doing and will do whatever he can to make things go smoothly.

Our venue actually recommends Pastor Jay as their #1 pastor of choice to work with. They mentioned that they always feel so relieved when he is selected by the wedding couple since working with him is so easy and seamless. Without question or hesitation, we absolutely recommend Pastor Jay!!

Andrea

Married on 07/08/2017

Pastor Jay was amazing. Our wedding was everything we had hoped and more. From the beginning, he guided us through creating a ceremony that we both wanted, something nontraditional, but with a few traditional/religious touches. Also, he met with us 3 times and were given optional (but highly recommended) workbooks to go through together. These were a great way for us to discuss those difficult topics. Couldn't have asked for a better guy to make our day even more special.

Emily

Married on 06/23/2017

Pastor Jay was so great! Our family and friends loved him officiating our wedding. Would recommend to anyone!


Taylor

Married on 06/17/2017

Pastor Jay was absolutely amazing. Very helpful, easy to talk to and available for questions and concerns all the time. I would recommend Jay to anyone. Not only did he perform the ceremony and pray at the reception before dinner he was helpful to the photographer and family and friends. Remarkable guy!!
Are you interested?
Send a message