25 Reviews
Recommended by 99% of couples
Quality of service

5 out of 5 rating

Average response time

4.9 out of 5 rating

Professionalism

4.9 out of 5 rating

Value

5 out of 5 rating

Flexibility

5 out of 5 rating
2 User photos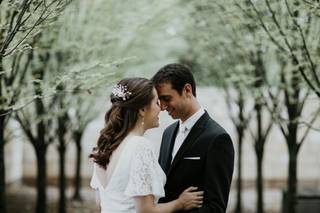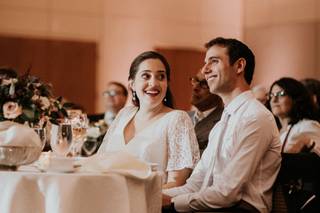 Jessica K.

Married on 10/28/2018

Couldn't have done it without Wendy!

TLDR: Wendy is the best, most professional, experienced and wonderful coordinator, and all her clients are the most lucky brides. We enjoyed every minute of our wedding, totally carefree, because of Wendy.

Hiring Wendy as our wedding coordinator was the single best decision I made throughout the entire process, except for choosing the groom! We had moved our wedding date up an entire year to make sure my grandmother would be able to be there, which gave me less than three months to plan. With the crazy time crunch, Wendy had our backs the whole way. She would drive in to town to make sure she was at every single vendor meeting, and she had a long list of trusted and high-quality vendors of her own that we could consult during our research. When we first met Wendy, we clicked immediately, and she had a wonderful, intuitive sense for the kind of wedding we wanted. She was always on hand to offer great advice, always keeping my vision front and center, reminding me of what was truly important whenever I got off track. All the tiny disasters that popped up were a breeze with Wendy - when my bustle fell apart a week before the wedding, she had me book with the best seamstress in my hometown who fixed it right away. When we were confused about which florist to choose, Wendy helped my mom make the best decision with her institutional knowledge and infinite wisdom.

Wendy is super professional, extremely classy, has marvelous taste, and when it came time for the wedding day, I didn't have to worry about ANYTHING. She had every single detail covered: she brought me my favorite smoothie to make sure I would eat even though I had bridal jitters, she knew exactly how to bustle my dress after the ceremony. She had created the wedding day schedule and was directing everyone - bridesmaids, caterers, videographers, the DJ - so that I wouldn't have to lift a finger or worry about anything. I was truly care-free during my wedding, and I was able to enjoy every single minute of the celebration because of Wendy. We are so grateful we found her!

Molly

Married on 06/17/2017

We truly have Wendy to thank for helping to make our wedding day the best day of our lives. Her skill and professionalism allowed us to execute every detail of the at-home wedding I'd hoped to have since I was a little girl. It was an absolute pleasure to work with Wendy throughout the planning process, and her attention to detail and thoughtfulness was evident with every email, every meeting, and every phone call. On the "big day," it was such a comfort to know that she was in charge of the timeline and every detail, so that we wouldn't have to be. Wendy allowed us to sit back and truly enjoy our wedding day -- and we did!

Her team was so courteous and pleasant and helped us execute the final touches of DIYs that we couldn't do in advance due to rain. She also masterminded a sparkler exit that was truly dreamy and the perfect ending to a perfect day.

More than anything, we loved having Wendy near us in the days preceding our wedding and on the wedding day itself. She became much more than a coordinator -- we also now consider her a true friend. She has such a lovely presence and offers a palpable calming effect. That was so important given the at-home nature of our wedding, which resulted in many moving parts and multiple vendors. We would not have been able to enjoy our wedding as much as we did without Wendy, and we cannot recommend her highly enough.

Alex

Married on 09/13/2015

Wendy is fantastic. We found Wendy during our initial search for help with our wedding this past September, and we didn't need to look any further. We had a great feeling about her from the get-go...and we were absolutely right.

Wendy is not only ridiculously sweet and caring, but she is so attentive to details (small, large and unforeseen by us) and really puts so much effort into making people happy.

I think it's rare today to be so pleased with the help and support you receive from others, but that's what Wendy delivers.

We're lucky to have found Wendy, and we really do consider her a friend...although we basically felt that way from day1. Next, we can't wait to hold a celebration in the future at Wendy's Phineas Wright House in Bolton, Mass.

Thanks, Wendy!

Are you interested?

Send a message

Cara

Married on 11/22/2014

Wendy is amazing and worth her weight in gold! I knew I was in good hands and did not have to worry about anything with Wendy. She takes care of business and makes sure that everything goes off without a hitch. Go with Wendy, and if you are concerned about costs, remember that coordinators have connections... she was able to save me thousands of dollars through a tent connection she had- more than making up for her fee.


Hiring Wendy was the best decision I made in my wedding planning. She was amazing and there is no way I could have had the wedding of my dreams without her. I don't know how people work full time and plan a wedding without someone like Wendy. I hired her right after I got engaged and she helped me with all the details. I didn't have a lot of ideas about what I wanted to do so she was very helpful with design ideas. She came to my vendor meetings and helped me make important decisions. She found my florist and my invitations person and they were amazing finds. She was an advocate for me during the entire process and was there for me whenever I needed her. She took care of everything during the last few weeks so I didn't have to really do anything. I was really relaxed for the two days leading up to the wedding since she was taking care of all the last minute details. Those last few days would have been a nightmare without her. I knew at our first meeting that she would be perfect and I was right. Everyone who had interactions with her at my wedding wished they had known about her when they got married. She is extremely organized, does everything in a timely manner, and has really great ideas. She had been doing this for a long time and her experience is priceless.

Christina

Married on 03/16/2013

Wendy is simply gifted at what she does. She's super organized and has great attention to detail, all with a classy style and creative ideas. I felt like she truly cared about my wedding and invested herself in it as much as I did. On the day of, I was able to let go of all the details and not stress about a thing because I had no doubt Wendy would take care of everything and anything. Our wedding day was perfect, it was everything I had hoped and planned and dreamed of, and it wouldn't have happened without Wendy!

Tracy

Married on 10/27/2012

Wendy helped my husband and I organize a beautiful wedding. The event would not be so successful without her expertise. She is very resourceful and has a network of excellent vendors. She helped to selected what suited our needs and provided valuable advice. She managed everything to a perfection (as much as it can be).

The most significant thing was how she orchestra the day of my wedding. She managed the flow and timing fluidly. All the programs ran nicely.
Everyone at my wedding had such a lovely time, including my husband and I. We did not need to worry about the logistics and coordination of things on our big day, and get to enjoy and take in every moments of joy. That's priceless!!

I highly recommend Wendy as a professional planner for events!

Lisa

Married on 09/02/2012

I hired Wendy for to be the coordinator my wedding on September 2 in San Francisco. She came highly recommended to me by a former co-worker who had been in many weddings she coordinated, including his own.
Though I had an initial conversation with Wendy shortly after I got engaged, it took a while in the wedding planning process for me to decide that yes, I did need the help of a coordinator in organizing my wedding. At the time I contracted her services, I had a couple of my vendors finalized, but needed help finalizing the others. Wendy was extremely helpful and always responsive in reviewing contracts with these remaining vendors. She also provided recommendations for other vendors I still needed to book, like a DJ. She also helped me secure a great videographer package with one of her recommended videographers, which was something I was only going to book if I could get a basic package at a low price.
As the wedding got closer, Wendy became more involved and was able to help out with anything I needed. She even came to my final dress-fitting since neither my mom nor any of my bridesmaids were local and I was going to need someone to know how to bustle my dress the day of the wedding.
On the weekend and day-of the wedding, Wendy took care of everything flawlessly. She made the rehearsal run smoothly, and very quickly so we could all get on to spending time with the guests that were in town. She even brought cookies for everyone at the rehearsal! On the day of the wedding, she took care of coordination with all the vendors so that all I had to do was show and enjoy the day. We even ended up needing a last minute dog-sitter since the hotel had policies about dogs being alone in rooms, and she took care of that calmly and quickly. If anything was going wrong that day, I never even heard about it because Wendy simply makes problems go away.
Overall, I would definitely recommend Wendy to anyone considering a wedding coordinator.

Jenna

Married on 08/03/2012

I can't fully articulate how thankful I am for Wendy's work on my wedding day. Her calm, sweet presence put me at ease and gave me the peace I needed to enjoy my planning process. Her input was always gentle and helpful, never pushy (which you could expect from someone with so much experience).

My mom and I did most of the planning but realized that we needed someone to coordinate the events on the day. Not only did Wendy do this, she also removed every bit of responsibility from us on that day and the few days leading up to the wedding. Everything that I was worried about managing - from making sure our homemade centerpieces were successfully set up, to hanging up last-minute decorations, to watching over my keys, etc - was effortlessly handled by Wendy. On the day of my wedding I had nothing (and I really mean nothing!) to worry about or stress over. The events ran smoothly and all of the details that my mom and I worked on were in place.

Wendy is the absolute best planner you could hope for. I can't recommend her highly enough!

Violeta

Married on 04/14/2012

I decided to look for a day-of-wedding-coordinator 2-3 months before the wedding. I had hired most of my vendors already and had a vision for how I wanted the wedding to run but was worried that I didn't have a central person who could execute everything I wanted on the actual day. Wendy came highly recommended by my florist and other rave reviews online. Hiring Wendy was one of the best decisions I made in the wedding planning process. Not only did she listen to my vision, she offered recommendations that only enhanced that vision. I was interested in crafting table number centerpieces but wasn't sure I could go in that direction because of time. But Wendy helped make it a reality, going above and beyond her role as day-of-wedding-coordinator. I appreciated that she was there for me in the weeks leading up to the wedding, meeting with me to help make decisions and offer direction. Her work on the day-of was most exceptional. She is professional yet has a wonderful sense of humor that just brings a smile to everyone's face. She kept us on schedule and took care of various mini-fires which didn't worry me because I knew Wendy could handle all of them! When stains landed on my dress before I walked down the aisle, she whipped out a survival bridal toolbox, and the stains were corrected flawlessly. When I noticed a bit of stomach upset after not having eaten for several hours, I rummaged through her tool-box to find TUMS! She was politely firm with vendors when she needed to be which kept us on schedule and allowed the day to progress smoothly. When I entered the reception space, it had the exact romantic, elegant ambiance that I had hoped for. She had arranged the candlelight in ways that were so unique and inviting. I literally just floated throughout the day without a care in the world because of Wendy. There are so many memorable moments from our wedding, and one of my favorites is when my husband and I walked out of the church where we married. As soon as we did this, the church bells struck, and I saw Wendy gush in joy and excitement. That moment tells it all -- Wendy loves her work so much, and our happiness was Wendy's priority. I can't thank her enough for helping to execute a practically flawless wedding day. Our guests continue to talk about what a great time they had. It was more than I had dreamt. Thank you, Wendy!!

Naphtalie

Married on 09/10/2011

I wanted to plan most of my wedding and take care of all the details of my special day but I knew that there was no way I could oversee everything coming together the day of on my own while still enjoying every second of my day. So I knew a few wedding planners but I only wanted to talk to one because I knew she would do an AMAZING job!!! So I talked to Wendy Harrop from It's Your Day and from the second we talked I knew I was in good hands! I was able to plan everything just as I had dreamed it to be but the week of the wedding I handed everything off to Wendy to ensure it was done properly. She did AMAZINGLY!!!!! She took all my information in with ease and helped bring it all together flawlessly! If there were any problems or concerns arose I knew who to look to for help so I could go ahead and continue enjoying my special day! She really works tirelessly from start to finish and is so fun and professional at the same time. I would recommend Wendy in a heart-beat for anyone: whether you want a lot of help or just the day of! She is wonderful =) Yay!!! Good luck to all you future brides!

Lauren

Married on 09/03/2011

Wendy was exactly what I needed in a wedding coordinator - part expert opinion giver and part therapist.

It is challenging for me to provide just a few examples of what makes her such a delight to work with, because everything about her makes her a perfect fit for this job. She helped me work through what my priorities were for the wedding - food, fun and a great photographer - and translate those to the choices we made and the schedule. She was able to work with my budget and helped me to find vendors that matched what I was looking for. She connected with my family and friends and was able to take care of some delicate situations because she had formed relationships with them. She's got a great sense of humor. My favorite part about Wendy is that she is always a professional and always has a smile on her face. This is exactly what a bride needs the day of her wedding and it was reassuring to know that everything was (always) taken care of.

I am blessed to have had the opportunity for her to be my coordinator and also to call her my friend. I would hire her again in a heartbeat!

Christina

Married on 07/02/2011

Totally worth it!!! If your even considering a coordinator-Wendy is your woman!!! She always carries herself with the utmost professsionalism, handles every "situation" with grace, and can even smooth over the awkward moments between families:-) If it wasn't for Wendy- I don't think a wedding would have even happened. She is THE best!

Kristen

Married on 05/29/2011

Wendy Harrop at "It's Your Day" is a dream. Thanks to her management of many tricky personalities at our various venues and last minute hiccups of several varieties, not to mention her outstanding attention to detail, warmth and kindness, we truly had the perfect day. I had complete confidence with Wendy in charge and had the freedom to relax and enjoy every moment of the wedding day without one concern about any detail. I initially didn't think I needed a wedding coordinator...I did and you will love having someone take care of you, who cries tears of joy with you, is excited for you in every step and sees you down the aisle and through a party with radiant glee. I am so thankful I hired Wendy and I can't recommend her services enough.

Alison

Married on 10/09/2010

Wendy is outstanding! Honestly, the best wedding coordinator I have ever met. She is extremely good at what she does and I will recommend her to everyone I know getting married. I thoroughly enjoyed working with Wendy, my wedding was perfect thanks to her!!

Amy

Married on 05/30/2009

Wendy is absolutely incredible. She played such a key role in our wedding by helping me plan from another state. She was able to handle potentially disastrous circumstances with professionalism, flexibility, and steadfast commitment to the bride and groom. She was able to gracefully deal with family members and the bridal party, while still commanding the attention necessary for things to run smoothly. Wendy has an excellent balance of sweetness and authority, perfect for a wedding coordinator. Because we chose to have our ceremony and reception at a small winery, Wendy's skills and expertise were invaluable to us. She helped us organize our thoughts and dreams before the wedding and took care of all of the details in the final days leading up to the event. She always kept our hopes and desires in the forefront of her mind as decisions were being made. I felt comfortable with all the choices that we made along the way and everything turned out SO beautifully! We could not have done it without Wendy, she is THE BEST!!!!

Rachel

Married on 04/25/2009

If there were 100 stars I would give Wendy 200! She was worth way more than she charged! I spent the morning of my wedding hanging out in my pajamas in a hotel room as calm as could be and this is all because of Wendy. Without her I would have been a wreck. All I had to do was show up. I was able to spend my wedding day enjoying all of the fun feelings and all of the fun people because I had peace of mind. I must tell you that my husband thinks that is priceless. To have a composed and relaxed bride was the best thing he could have hoped for. Thank you thank you thank you for all of your solutions and professionalism and care. You made my day wonderful!

Tina

Married on 09/21/2008

Wendy is the best wedding planner ever! I know every bride will say that about their planner, but Wendy just has this quality about her that makes you feel like you're in safe hands. Every bride needs reassurance and to know that everything will be OK. Wendy is so reliable, super responsive, very professional and always managed to fix any situation. She's not afraid to get her hands dirty and is willing to do any task that comes her way. She was always one step ahead of us and knew what to do before we even uttered the words. I was reluctant on hiring a planner at first because I thought I could do everything myself (and to save money of course), but hiring Wendy was the best investment ever!

Julie

Married on 08/31/2008

Wendy was wonderful! She was easy and fun to work with, and she had great ideas. On our wedding day, she was right there the whole day making things run smoothly. I didn't have to think about what came next. I just enjoyed my day! And I didn't have to worry because I knew Wendy would fix any problems and keep the day running smoothly.

Chrissy

Married on 08/30/2008

We absolutely loved working with Wendy. Not only was she professional and responsive to our questions and needs, we felt that she genuinely cared for us as friends and wanted to make sure that our wedding day was exactly how we wanted it. She was helpful in providing us with great vendor contacts, and was flexible to work around our busy schedules. I feel that her value far exceeded our expectations and we would recommend It's Your Day! to anyone.

Valerie

Married on 02/11/2006

Despite a personal tragedy in her life 1 week before my wedding, she stayed committed to me and the event and did a wonderful job on the day of my wedding. She is terrific!

Ellie

Married on 06/17/2006

I would consider Wendy more of a "wedding manager" than a wedding planner. The second the wedding rehearsal began, she really did an awesome job organizing and managing every detail that was involved. I honestly did not have to worry about any of the small details of executing the wedding because Wendy was in charge; everything was like a well oiled machine. Wendy has a lot of experience, is extremely organized, and knows how to get things done.

I say she's more of a manager than a planner because she doesn't do a lot of the actual planning. But if I did have questions, or needed recommendations for vendors, she always had really good suggestions.

Hilary

Married on 07/04/2015

Wendy has some amazing vendor contacts in the Boston area and without her networking abilities, our last minute, 4th of July, Boston, wedding would have been a nightmare. The day ended up perfect with just a few communication mishaps along the way (but that is to be expected when planning a wedding in 47 days with the couple living in Texas!) I could not have pulled this event off without Wendy!- That is for sure!!!

Emily

Married on 03/29/2008

Wendy is extremely professional, capable, and caring. She was an extremely good value for her cost; she handles everything and on my wedding day I was relaxed knowing that the whole event was not just under control but that it would be exactly as we planned it. I would highly recommend her to any of my friends.

Seri

Married on 10/07/2006

Wendy has a wealth of resources and is very accommodating. She will do what needs to be done and I absolutely trusted her to take care of the details.
Are you interested?
Send a message