22 Reviews
Recommended by 100% of couples
Quality of service

5 out of 5 rating

Average response time

5 out of 5 rating

Professionalism

5 out of 5 rating

Value

5 out of 5 rating

Flexibility

5 out of 5 rating
Awards
17 User photos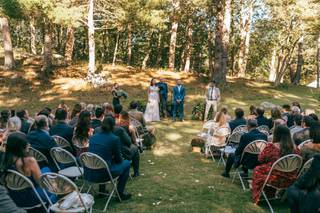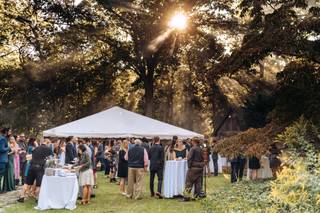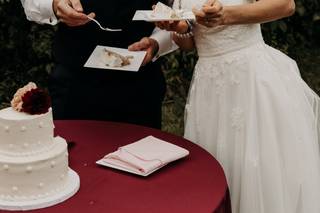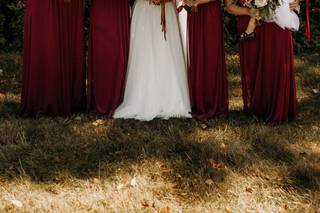 + 13

photos
Featured

Sam T.

Married on 10/07/2022

Incredibly helpful!

Regina was an absolute lifesaver! We hired her to help coordinate with vendors and any little details we couldn't think of. She's friendly, organized and so helpful! There are so many little details that I never would have thought of without her! She definitely helped make our day run smoothly, was flexible with scheduling and was so easy to work with! We can't thank her and her team for all of their hard work. Any questions we had, she was able to answer them no problem and suggested so many good ideas for us to work with. I would absolutely recommend having her help you with your big day!

Brian G.

Married on 09/05/2022

You need a Day Of Coorinator like we did!

We hired Weddings by Regina Marie for Day Of Coordination services and I can honestly say that's the main reason our wedding went so smoothly!

First off, Regina is a star and a wonderful person to work with. For someone we hired specifically for Day Of Coordination I strongly feel she went well above and beyond the rates she charges! She was with us the entire way through our wedding planning process. We were always able to reach out to discuss ideas with her or get vender recommendations months before even our wedding day. There was not a thing she didn't do to help us stay organized either. She uses plenty of online tools and task trackers to make sure we stayed the course even though we were doing most of the planning ourselves.

The day of our wedding, everything went perfectly which we attribute mainly to Regina and her assistant, Charles I believe. Regina and her team kept everything on track, made sure we were taken care of, and helped with breakdown/collection after the event was over. Working with Regina has made me a believer that most people NEED at least a day of coordinator to help them through the process. We wanted to have a stress-free wedding and having Regina on our team made that possible.

Jill N.

Married on 06/25/2022

Regina is exceptional!

Working with Regina was hands down the best decision we made when planning our wedding!!! We booked her for a partial planning package and couldn't be more grateful to have had the chance to work with her. She was incredible throughout the planning stages and truly magical at putting our vision into life to on our actual wedding day.

During the planning phase, she provided excellent recommendations for vendors that all turned out amazing, constantly answered our questions and the questions we didn't know we needed to ask (sharing her wisdom and expertise about weddings in general but also the local CT industry standards and options), communicated with vendors, came up with ideas to help us make the less conventional aspects of our vision a reality, guided us through so many decisions, and generally had really on-point taste and suggestions when doing so. She also did a great job of understanding our vision and preferences and also vibe/working style, and matching them. As a result, she was relaxed and respectful and professional and so fun to work with.

On the actual wedding day, we couldn't BELIEVE how amazing of a job she and her assistant Charles did of organizing all of the venue staff and vendors, getting everything set up and where it needed to go, communicating with all relevant parties, answering questions and addressing issues that came up, and just generally making everything run truly seamlessly. Everything literally went perfectly all day, despite the fact that we had a LOT going on (our wedding was more on the DIY side of things, with many moving parts and different parties involved to coordinate), and we were so grateful to be completely un-involved in managing any of the logistics—we got to just enjoy our wedding day without worrying about anything and it was truly a dream to see our vision come to life so perfectly and magically, all thanks to Regina. We will forever be so grateful to her and could not recommend her more strongly!!!!

Are you interested?

Send a message

Mike S.

Married on 09/25/2021

Best Day Ever

Regina and her team truly made our wedding day the best day of our lives. She knew exactly how much and how little to push us in the planning process and took care of every detail so that we could just enjoy our day. Any couple getting married would benefit from her kindness, organizational skills and gift of execution.

Joanna F.

Married on 09/25/2021

The Best Thing We Did For Our Wedding!

Regina was the best possible thing we could have done for our wedding. My husband and I had a small, COVID ceremony in my dad's back yard in 2020 and found that even with only 12 guests, my mom and stepmom were running around like crazy people trying to get every thing taken care of. We decided we needed to hire a coordinator and found Regina through our photographer, Cate Barry. Regina was a godsend. She started helping us plan our backyard wedding well before she was contracted to start and she never seemed overwhelmed (even though we were). I heard from many guests after the wedding that it was a great combination of elegance and backyard casual fun, which was all Regina. I cannot recommend her and her staff enough. Hire this woman!

Clinton F.

Married on 09/25/2021

Weddings by Regina Marie

Regina was absolutely wonderful, completely engaged and thoroughly knowledgeable. The wedding was a smashing success, in no small measure because of her work, compassion and vision. Highly recommended!!

Erica L.

Married on 09/24/2021

Helped plan the wedding of my dreams!

Regina and her team are amazing! Regina was the first wedding vendor I chose, and I sure lucked out!! I was planning a wedding at my home and I knew there would be many moving parts and I was overwhelmed. She jumped right in and recommended some really great vendors she had worked with and trusts for us to choose from. Aside from vendors she also helped with brainstorming and making sure we completed tasks timely. With her team attending so many weddings I fully trusted her insight. My wedding day was my most perfect dream wedding!! The day of she made sure everything ran smoothly and was so helpful, calming and kind. I believe Regina was my most important wedding vendor because she truly made everything come together. I would recommend Regina and her awesome team to anyone!

Tracey M.

Married on 06/06/2021

The perfect summer wedding

Regina and her staff helped us to create the perfect summer wedding at our farmhouse. Right from the beginning Regina was on top of the many details that we did not even think about when planning a wedding. She reached out to our vendors, created a timeline, and helped us with so many small and big items including creating a seating plan for sunshine and rain, parking plans, and doing a full dry run. She and her team worked so hard the day before the wedding helping us set up and throughout the wedding day. Regina is genuine and felt like part of the family by the end of the day and my family loved her as well. I would highly recommend Regina to create a magical day.

Harriet T.

Married on 03/08/2021

Weddings by Regina Marie

Despite being recruited two weeks before the wedding the services were wonderful, professional and courteous. Regina was also down to earth, always there for rehearsals, decorating the venue, typing and copying programs for the wedding she got the job done

Enaj T.

Married on 08/15/2020

I was the bride

Regina came in at such a hectic time during this pandemic and literally about 2 weeks before my wedding. I was amazed at the professionalism that was maintained by Regina although she was going through her own personal tragedy. Regina designed my programs for the wedding and made sure EVERYTHING went according schedule. Regina put A LOT of time, effort and energy into making my day as special as it could be and even took it a step further to help clean and set up. I am very happy with the service I received and I pray she can help the next bride be just as happy as I was!! Thank you!

Derron B.

Married on 08/15/2020

What A Amazing Time!!!

I was at Enaj and Taron's wedding!!! It was a blessed time.I will never forget it!! 08/15/2020 Yeeeeeaaaaa for you Two!!
#BESTMAN

Enaj T.

Married on 08/15/2020

Extremely happy, comfortable, supported and AMAZED.

Aawweessoommeee job she did for us. Very well pleased, supported, and happy about the services we received.

Penny

Married on 09/29/2018

Very nice coordinator

This was my first wedding and I needed a lot of help planning. Regina was perfect for me. She is very easy to talk to and really knows the wedding business. She came up with ideas and suggestions I never would have thought of. I hired Regina as coordinator of the day, but she did a lot more than just help the day of. She was instrumental in making this the best wedding day ever. She took all the stress out of it by me knowing she had everything covered from start to finish. She even helped pack up all the decorations at the end of the evening. I couldn't be happier with the way my wedding turned out and I thank Regina for helping me make it perfect.

Andrea

Married on 09/07/2018

Weddings by Regina Marie was a wonderful and absolutely necessary addition to our wedding day! We utilized the day of coordination services. Regina and her team went above and beyond to make sure all the details were executed perfectly! The communication with the team and coordination of vendors and services leading up to the day of the wedding, definitely eased my nerves as a bride. The day of the wedding can be hectic no matter how much planning is put into it, but having a team of coordinators definitely took the stress off of the us as the couple and allowed us to relax and enjoy the day. The team was an absolute delight to work with and were extremely professional. We highly recommend Weddings by Regina Marie for your big day!

Ernest

Married on 07/28/2018

Fun, fun, fun, professionalism, punctuality. Nice personality!

Anne

Married on 11/03/2017

We hired Regina Marie as our Day-of (technically Month of) Coordinator in September for our wedding in November. Our wedding is in a few weeks but Regina has been such as blessing that I felt she deserved a review even before her job is done. I can't stress enough how much more relaxed I feel knowing that someone else will be there to handle things behind the scenes instead of my mom and bridesmaids. Regina has handled the last of the RSVPs and tackled the seating chart for us. She has already put together our favors and ordered our Thank You cards. She invoiced all of our contracts and set up reminders for me of when the last few payments to our vendors are due. She spoke with all of our vendors and created a timeline so that there is no "grey area" as to when things will happen on the day-of. I did a lot of Pinterest DIY decorations with my bridesmaids and I was nervous about how things would be laid out. Plus I didn't want my bridesmaids or my mom trying to get everything set up when we should all be relaxing and enjoying the morning together. Regina Marie completely sees my vision and I'm sure she'll put all of my decorations together the way I see it in my mind.

One thing I was really concerned about was organizing the transportation of our guests. We hired buses to transport our guests from the hotel where our guests are staying and where our cocktail hour will be held, to the reception venue and back to the hotel again after the reception. Regina Marie incorporated a busing schedule into our timeline and our wedding website for our guests so that everything runs smoothly.

My wedding is less than 2 weeks out and I'm feeling more relaxed than I have the last 18 months because of all that Regina has accomplished in the last 6 weeks. I'm really excited to see what she does on our wedding day because I know it will be amazing!

Limattie

Married on 09/14/2017

I would absolutely recommend Weddings by Regina Marie to anyone planning a wedding or special event. I used Regina as an event coordinator and decorator four years ago before she officially became a wedding coordinator and opened her own business. Even then having not gone to school for wedding planning yet, she was an amazing asset to have. Originally I didn't feel like I needed a wedding planner, coordinator or decorator because I felt I could handle a DIY wedding on my own. I ended up hiring Regina six weeks before my wedding to help pull everything together and I'm so glad I did! She did everything from organizing RSVPs, creating the seating chart, ordering any last minute supplies, and decorating the ceremony and reception sites, in addition to giving my husband and I absolute peace of mind. We felt like guests at our own wedding, which is exactly what I wanted.

I recommend Regina Marie every chance I get and am so happy that she has finally opened her own business. I've just hired her for my 5-year vow renewal next year and can't wait to see what she does. Hire Regina Marie, you will be so glad you did!


Brittney

Married on 05/20/2017

Perfect everything was exactly what I hoped and more!

Regina

Married on 09/14/2013

I was lucky enough to be able to use Regina Marie to coordinate my wedding before she launched her business. As a nurse, I work a hectic schedule and since Regina Marie is also a nurse, she COMPLETELY understood why I was so overwhelmed. I originally came to Regina as a DIY bride having found a bunch of projects on Pinterest but having no idea how to pull everything together. Regina found creative uses for everything and even thought of things that I never would have imagined! She coordinated with all of my vendors and asked questions that I hadn't thought to ask. Her timeline for our wedding day was seamless and the day flowed perfectly because of it. My bridesmaids were so impressed when she emailed it to them and it put their minds at ease knowing exactly what was going to happen and when. She even booked our honeymoon! It was so nice to only have to deal with one person for everything involved in the wedding up to and including the honeymoon. Her compassion as a person is evident in her career as a nurse and carries over into her career as a Wedding Coordinator. Her demeanor is cool, calm and collected, even when I wasn't the nicest bride to deal with!

All in all, I would completely recommend Regina Marie to any couple who needs a Wedding Coordinator. She was an invaluable asset to me with little experience under her belt, so I can only imagine the Rock Star she is now! Good luck Regina and I wish you all the best!

Jasmine

Married on 09/14/2013

We used Regina for my sister's wedding in 2013 and it was absolutely beautiful. As a sister and bridesmaid, I tried my best to help out where I could but I could tell she was stressed. We found Regina less than two months before the wedding and she was a godsend. She organized the RSVPs and the seating chart and took control of the vendor contracts, making sure every vendor was paid on time and all supplies were ordered. She created this timeline that allowed for vendors to arrive in a staggered manor which seemed to make it less overwhelming. I've been a part of weddings where all the vendors arrive to set up at the same time and everything was chaotic but this wedding seemed to run like a machine. I know it sounds cliche but its true lol! My sister had a limited budget as it was the end of her planning process and funds were tight so I know Regina can work with modest budgets.

My sister has told everyone time and time again that she will use Regina Marie for all future events and her vow renewals and I can't wait to get engaged and start planning my dream wedding. I will definitely use Regina Marie before she becomes a hot commodity and is hard to get lol.

Jessica

Married on 09/22/2018

Regina was absolutely fantastic!!! I wasn't stressed more than a few moments before she was able to handle the situation and she kept us on schedule which was really important!

Miranda

Married on 03/26/2017

Awesome wedding planner. Did so much for us. Pleasant! Worked hard and so creative.
Are you interested?
Send a message