66 Reviews
Recommended by 100% of couples
Quality of service

5 out of 5 rating

Average response time

5 out of 5 rating

Professionalism

5 out of 5 rating

Value

5 out of 5 rating

Flexibility

5 out of 5 rating
38 User photos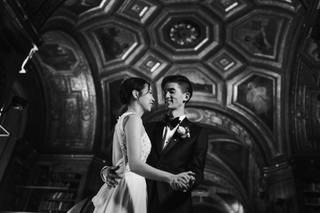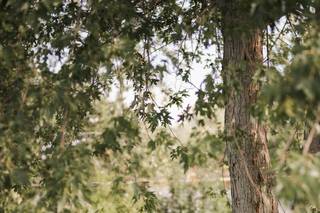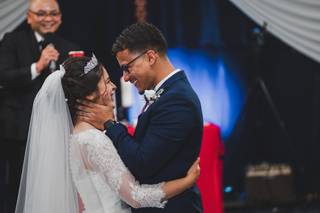 + 34

photos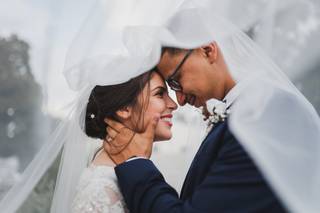 Ray

Married on 03/05/2023

Blissful Wedding Photography and Videography with mastermind editing

Having Hanel's team to be our storyteller is one of the best things on our big day. We love their delightful intimate style and we love that you can still be yourself in front of their cameras. Their attention to details, their expertise of utilizing the lighting, and most importantly, their personality really helped to ease all the anxiety and just to focus on enjoying the moment. We never imagined things could all happen on one of the biggest days in your life, i.e. when you realized the tuxedo buttons were missing a few mins before the guests arrival, etc. Mike and Adam are just like someone you've known for a long time, they calm us down and led us into our comfort mode quickly. The day passed by so quickly, we are very thankful that they have great eyes to capture the touching and beautiful perspective that we missed - immersing us with beautiful sounds and big smiles. Highly recommend getting the package with videography! His work captured our hearts, and allows us to relive the moment as if it happened yesterday!

Erin S.

Married on 09/30/2022

Hanel's work is beautiful!

Hanel was such an easygoing guy to work and brings such calm to a busy and exciting day! His shots were unique and creative and we loved the outcome of our videos. Hanel was quick to make a video edit we requested. The videos are creative and beautiful. We will cherish these forever. Thank you, Hanel! We would highly recommend him.

Joo Y.

Married on 09/25/2022

Very professional!

Let me say he is amazing at what he does. All his photos are amazing. He made me feel comfortable throughout. I didn't know how to pose but he was very patient with me and helped me get the best angle for the photos.
I would highly recommend!!!

Are you interested?

Send a message

Irene

Married on 09/24/2022

Top Notch Photos and Videos

We can't say enough wonderful things about Hanel and his talented team! Up until the wedding day, Hanel kept us on track and provided us a wedding day questionnaire to fill out a month prior to the day. When we met to discuss it, we greatly appreciated his expertise as he gave us advice to optimize our timeline. On the wedding day, my family and friends raved how Hanel and his team were taking pictures nonstop. They were a calming presence and were very easy to work with! We absolutely loved how beautiful and professional our pictures and videos came out!!

John S.

Married on 06/18/2022

We can't recommend Hanel highly enough!

We can't recommend Hanel highly enough! He is a seasoned pro in the way he navigated our event seamlessly and maximized every opportunity to get stunning photos that allow us to relive our wedding every time we look at them. He and his assistant Mike were very professional, competent and had such a calming presence on our big day. They were thoughtful and warm, even going the extra mile to help corral family and keep us on schedule. He clearly and calmly directed us while shooting and everything felt natural and easy, especially for two people who aren't used to having their photos taken.

Hanel has an incredible instinct for framing epic shots, capitalizing on the lighting and setting, and capturing sweet, intimate moments between a couple and their guests. No detail was missed! We got tons of beautiful first look photos, family portraits, and fun, candid party shots. He managed to take pictures of just about every guest who attended, which was a wonderful surprise for us. We were so taken with each and every single one of our photos, and will treasure them for the rest of our lives. We can't thank you enough for capturing our day so beautifully, Hanel! You are a truly talented, amazing photographer and we loved working with you.


Peter H.

Married on 04/15/2022

superb photographer

Hanel is a superb wedding photographer. Friendly, competent, professional, and exactly who you want for your wedding. We were so comfortable knowing we had him there to document everything for us. He's adept with staging and posing, helping put us at ease and directing the show when he needed to. During the ceremony, he was unobtrusive and never missed a beat. Ceremony, details, glamor photoshoot, family shots, dancing; or noontime direct sunlight, dimly lit libraries, or triggered flashes, he has it all covered. Extra shoutout to Mike too, his second shooter. General advice: your photographer is the vendor that you work closest with throughout your wedding day, so find someone you trust. Don't skimp (though Hanel's quite affordable). While we were searching, Hanel stood out to us because we thought we sensed a strong distinct style throughout his gallery. His work is both honest and dramatic. We will treasure these photos forever.

Christine S.

Married on 04/02/2022

Amazing wedding photographer for editorial and high quality photos

I couldn't be happier choosing Hanel as our wedding photographer! He was responsive, organized, professional, creative, committed to the shot, and very easy to work with. We got married in Philadelphia near Rittenhouse Sq. and our photos look amazing. I can't stop looking at our photos, they get better and better. I highly recommend Hanel!

Kate-Camilla T.

Married on 03/28/2022

The Best Out There

I'm not sure how to explain how amazing Hanel is. From the moment we met him two weddings ago, there was no doubt that we would hire him for our wedding. And were so thankful we did. You will gain a friend and an amazing photographer! He is hospitable, kind, eager and yet so focused on his craft. The process in preparing for the wedding was smooth and organized which I admired because every little detail was not overlooked. Every angle, every moment was captured perfectly - even more so, more perfect than I could have EVER imagined.

Julia L.

Married on 03/15/2022

Professional, efficient, friendly and great photos that captured the day beautifully..

Hanel was amazingly helpful and kept in touch when we had to delay our date for 2 years due to Covid! As we live in the UK our elopement-style wedding was organised long-distant and Hanel was really flexible around the time differences etc. On the big day Hanel ensured we got the photos we wanted (relaxed documentary-style) and even acted as our witness. And the photographs are amazing - thank you so much Hanel for being part of our day.

Mina

Married on 10/28/2021

Having Hanel for our wedding day for our films was one of the best choices we've made!

Even before our engagement, we knew how amazing Hanel's work is from our friends' wedding film. And after we decided to work with Hanel as our own videographer, Hanel helped us continually for over two years and during the unprecedented times. Hanel was always so professional and personal at the same time and made our planning and our wedding date effortlessly smooth.

With the outcome of our film, we are so amazed how Hanel was able to capture and edit the most precious and beautiful moments during our special day( and night).
We are beyond thankful for Hanel for the most sentimental film that we will cherish forever!!


Jack M.

Married on 10/21/2021

Hanel was amazing!

Hanel and his team did a fantastic job capturing our wedding. They thought of everything, had creative ideas, and gave us great service! The photos and videos were once incredibly high quality, would highly recommend!

Rachel

Married on 09/26/2021

Very professional photographer taking great pictures!

Hanel is one of the best photographers in town! He and his assistant are very professional and has great attention to detail. The pictures he took are also very artistic. His style and vision aligns really well with what we are looking for in a wedding photographer. Would definitely recommend him to any couples!

Enea B.

Married on 09/26/2021

Brotzman-Yard Wedding 09/26/21

We used Weddings by Hanel for our virtual wedding ceremony. As I have a large family, we decided to provide our guests the option of joining virtually if they were unable to attend in person. It was soooo incredibly successful. When I got to our sweetheart table, I glanced at my phone to find text messages from friends/family that tuned in virtually. They all proceeded to tell us how beautiful the ceremony was and how grateful they were able to be with us. Weddings by Hanel was kind, detailed, knowledgeable, and so pleasant to work with! For anyone looking for a videographer, this is the vendor to book!

Jun Y.

Married on 09/18/2021

Hanel the Best

We chose Hanel as our photographer and it was probably one of the best decisions we ever made! Here are the reasons why we loved Hanel:

1. His photoshoot and editing skills are great, I think that's obvious.

2. He is flexible and very attentive to details --we had our wedding in Rochester, NY, and he arrived there a day before the wedding day to survey the area, all the while getting a flat tire during the process. Diligent quality you want from anyone.

3. Has a great personality--we were a bit nervous about having photo shoots in the public area like inside the Central Park NY,; my wife and I are relatively shy about posing in front of others in public, but he made the entire photoshoot a really fun experience and we didn't make us feel uncomfortable at all.

It's a shame. I can't give him higher rating than the ones the system allows us to give, because we really loved Hanel and I would refer him to all my friends and family that needs a photographer.

Thank you Hanel!

Clarice G.

Married on 06/26/2021

Amazing and excellent photographers!

It was a pleasure having Hanel and his team as our photographer in both our engagement session and our wedding event. In our engagement session, we had it in a small town in NJ that had lots of nice spots, and he was so helpful in guiding us on how to pose for the camera. On our wedding day, he brought two more people in his team and they were all very nice and helpful, and my family liked them too! I saw them using walkie talkies, so I knew they had everything in check. There was some rain in and out before the ceremony, so I appreciate the quick response and creativity to find some workaround shots for our first look. Rest of the day, I was in cruise control and Hanel and co did their magic to capture important moments. I'm very glad that we had Hanel's talent and expertise to be part of the most important days in our lives. Highly recommend!!

Kat

Married on 06/19/2021

A Wonderful Experience

We found Hanel through my husband's coworker and I'm so glad that she recommended Hanel to us. Hanel and his team were such a pleasure to work with - extremely professional, knowledgeable, friendly, and paid such great attention to detail. We confirmed Hanel for both our engagement shoot and on our wedding day and we loved how all the photos and video came out! He was also so understanding and worked with us to reschedule because of covid. I seriously would recommend Hanel to anyone (and we have recommended him to our friends already)!

Kristelle

Married on 06/04/2021

Very professional team!!

Our first/ consultation zoom meeting with Hanel was so great that we knew we had to have them for our wedding! They're such a great team and very professional. They make you feel at ease and feel great being on camera the whole time. We can't wait to see how the video and photos came out!

Jordan C.

Married on 05/22/2021

Above and Beyong

My husband struck gold finding Hanel as our photographer. It was easy talking to him from our first initial phone call. We are not photogenic people or picture visionaries but Hanel was able to make us feel comfortable, spot key picture opportunities and pay attention to little details (fixed hair, told me how to position myself, remove hairties on wrist) so that he and the team could capture beautiful shots at our engagement shoot and memories of our big day. I can watch our highlight video over and over again it's so beautifully put together. He was by far our favorite vendor for our wedding. He truly went above and beyond for us (even though he lost his phone at one point he was just focused on us)!

Chris N.

Married on 05/08/2021

Incredible!

We were a 2020 couple and had to pivot to a much smaller ceremony in 2021, but were looking for a way to incorporate all of our original (and much larger!) guest list. We found Hanel and his team online, and could not have been happier with our decision. Incredibly professional, responsive, and flexible. The livestream of our wedding was top notch - it was so incredibly professional (photo of us and classical music played for guests while waiting for the ceremony to begin), various shots/angles, clear quality, etc. We heard from so many guests who watched virtually and they said it was incredible! We also watched ourselves after the wedding and were blown away, and are now so happy we have this keepsake! Highly recommend, for live-streaming or regular video services, you will not be disappointed!

Nicole

Married on 05/08/2021

Nicole P. (Bride)

Best stream quality, lovely to deal with

Serenity

Married on 02/10/2021

Excellent and professional videographers

Hanel and his team were professional, experienced, and great to work with. We used their videography services for our wedding in October 2019 and are very pleased with the results. Adam, our videographer for the day, went above and beyond to capture footage from multiple angles. Hanel put together a lovely highlight reel that really captured the joy of the day. Throughout the process, Hanel was easy to get in touch with, made sure everything was discussed in advance so the actual day went smoothly, and followed up at appropriate times. We got a package that included full footage from both the ceremony and the reception, and we are looking forward to revisiting our wedding day for many years to come! I would highly recommend Weddings by Hanel for your wedding videography (and photography) needs!

Raymond F.

Married on 02/10/2021

A true professional and artist

Hanel is a true artist and professional. From the moment we met him, he exhibited a meticulous attention to detail and understanding of the flow of weddings. He put us at ease with the thoughtful questions he asked, things that we would have never thought of or expected, and he continued to communicate to maintain our confidence in having chosen him. When it came to the day of the wedding, he was punctual, prepared and mindful of time. He was very proficient in posing us, getting his shots quickly, and made creative use of our surroundings. He did a great job capturing the moments we shared, the details we had put thought into, the mandatory group photos, and the fun that was had. As a semi-pro photographer, I hold photos to a high artistic and technical standard and Hanel delivered on all fronts! His work was worth every penny and I couldn't recommend him enough!

Nancy

Married on 02/01/2021

Wedding Zoom

Hanel was amazing! Our guests from afar all felt as if they were in the room. Excellent job!!

Alicia G.

Married on 11/14/2020

Literally the best

Hanel was my favorite wedding vendor for a couple of reasons. First, his actual work is incredible, the photos from both our engagement session and wedding are breathtaking. When an idea for great framing strikes him, he will literally run across the street or parking lot (or wherever) to get the shot and it always turns out amazing and well thought out.

Second, he is extremely gracious and easy to work with. We went into 2020 thinking we would have one wedding of ~150 people. Through scaling back to 20 people due to COVID, and rescheduling the larger reception event for 2021, then later cancelling the 2021 event, Hanel was extremely fair and flexible when it came to adjusting plans and contracts as necessary. Highly, highly, highly recommend working with him.

Stuart W.

Married on 10/10/2020

Amazing! Highly highly recommend

We can't recommend Hanel highly enough.

He is detail-oriented, super competent, and incredibly thoughtful. He communicated clearly and quickly throughout the process and on the day itself he was punctual, took care of everything without adding any stress at all, and quickly delivered us a totally memorable video.

Our guests who attended via Zoom started emailing us immediately to say how great it was on their end!
Are you interested?
Send a message