35 Reviews
Recommended by 99% of couples
Quality of service

4.9 out of 5 rating

Average response time

5 out of 5 rating

Professionalism

5 out of 5 rating

Value

4.9 out of 5 rating

Flexibility

5 out of 5 rating
10 User photos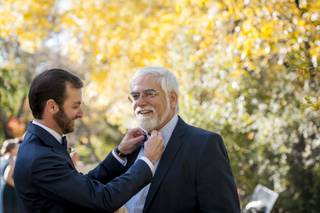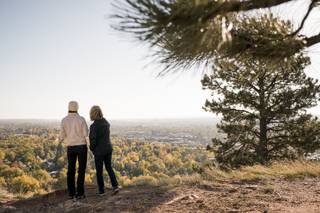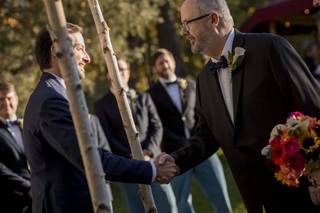 + 6

photos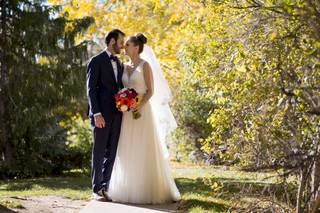 Angela

Married on 10/14/2017

Dana was just incredible! Hands down one of the best parts of the whole wedding process was working with Dana for our photography. She did our engagement session and our wedding day and we are THRILLED with the results. Dana is more than a photographer, she is a story-teller and she told the story of us so well. As I look back at photos from the day (which I do all the time...) I feel transported right back there. She is so easy to work with, and to say she goes the extra mile would be an understatement. At one point at our engagement session, she was nearly waist deep in a cold January Colorado stream in fishing waders...just to get that one perfect shot. Truly amazing artist. From our pre-wedding girls-hike to the last dance of the night, she captured details I never got a chance to see that day. Priceless. Highly, highly recommend!!

+ 7

photos

Laura

Married on 04/01/2017

Working with Dana was amazing! We were thrilled to have her join us for our celebration in Vieques, PR and even more excited about the moments that she captured and shared with us from our wedding! Dana truly capture the magic of our event- she is a true artist!

Rob

Married on 07/25/2015

When my husband and I were looking for a wedding photographer, we wanted a keen observer who would pick up on those little moments that make weddings so memorable. Dana is that person. She is creative, insightful, and adventurous. She moves quickly between a range of scales. One moment she might capture a private moment between a groom and his mother from across the room, and two seconds later, she might capture the flower girls dancing in a meadow as the sun sets. She is quick and adept, identifying moments that might elude another. We look back on our wedding album now with such gratitude and fondness, knowing that this was something that only Dana could provide to us.

Are you interested?

Send a message

Heather

Married on 08/31/2014

We absolutely love Dana's photography work. She is very talented and a true professional and artist. The fact that she shoots weddings and we've had the fortune to work with her is incredible. She is a photojournalist, capturing the bride and groom's day as it unfolds and all the intimate moments in between. And she is so down to earth and pleasant to be around. We love referring our brides to Dana! Heather from Calluna Events.

Steven

Married on 08/31/2014

Dana has a magnificent eye. We were so privileged to have the chance to work with her. After interviewing many photographers, we knew we had the perfect match when we met Dana. She is so creative and ambitious. She is able to capture emotion and document each moment in accurate and unique ways. With a perfect blend of candid shots, she always seems to be in the right place at the right time. When looking at her product, it is obvious that she take the time to carefully plan shots while seamlessly blending into the wedding background. She is incredibly professional and easy to work with. Coordinating is a breeze if you are local or even planning a destination event like we were. Out of all of our vendors, Dana was the one we did not have to worry about at all. We trusted her eye, her judgement, and her product implicitly and are so happy we made the right decision. We would eagerly recommend her to anyone and hope to be able to use her again for our future events.

Rachel

Married on 06/07/2014

Dana did an incredible Job on our wedding at C Lazy U Ranch, she took such beautiful pictures and was so dedicated to getting us the perfect shots. She was totally flexible and has been very responsive and helpful -- even now 2 years after the wedding! I would 100% recommend her for your wedding!

Raina

Married on 03/08/2014

Dana was an absolute dream come true. I couldn't have asked for a better photographer. Leading up to the wedding, she kept in constant contact with us and my wedding planner. She also made sure that we had all details taken care of for her to travel to Mexico. Because she has traveled extensively around the world, I never once worried about her ability to get around Mexico and to find qualified professionals to work with at the site. Her ability to obtain someone local greatly reduced the price we had to pay if she needed to fly an assistant to Mexico. It is obvious she takes her work very seriously and is also a joy to be around. The night before our wedding, we had a large rehearsal dinner with lots of dancing and weird lighting effects. Despite her and her assistant walking around with a large lamp and a camera, I barely noticed her. I now have wonderful candid pictures that truly capture the excitement and fervor of the evening.

On the day of the wedding, she was incredibly calm the entire time. One unique thing she did, which I don't believe any other photographer would do, is that she set up this incredible shot on an old wooden pier. She noticed the pier the day before the wedding. She spoke to some local fisherman/boatmen she saw out by the pier and arranged my husband and I to take the boat to the pier to have our "first look" at the end of the pier. This resulted in the most special, unique and amazing pictures of our first look. I owe our favorite pictures of our wedding day to her creativity and initiative.

She did a great job capturing the wedding. One piece of advice I have is to make sure you write down every single portrait picture you want taken, including those that you would assume would be taken at a wedding (e.g. pictures with all the bridesmaids/groomsmen individually with the bride/groom). You will not be disappointed in the pictures she makes and she is an absolute pleasure to work with.

Sunna

Married on 09/28/2013

Dana was the best vendor we chose for our wedding. The photographs were incredibly important for me so I took my time and did my homework on photographers. I'm an amateur photographer and all I wanted was someone that I would trust enough to not make me want to break out my own camera on my wedding day. When I met with Dana, I knew immediately that she was the perfect fit for us. Not only did I kinda want to be her best friend (ha!), I also knew that she was actually going to help me on the day of our wedding. I knew she was going to capture the day and all the details the way that I would've wanted to. She nailed it. Love her, and I can't rave enough about the photos. She's the coooooolest and the photos are exactly what I was dreaming of. Thank you Dana!!

Christina

Married on 06/08/2013

Dana is an extraordinary photographer. She instantly put my husband and I at ease when we met with her in person to show her our wedding venue in advance of our big day. She was charming, genuine, and she had both a great eye for details and an instant ability to envision how our big day would look. On the day of the wedding, she and her amazing assistant had us rolling with laughter. The greatest gift she gave me was the environment for us to be ourselves. Their personality and ability to seemingly disappear (while being right next to you) allowed us to be us and the end result was naturally beautiful and glowing photographs. The best gift of all is that there are no hidden costs. The hundreds of photos are yours to keep. The only problem is that she's way too dang good at what she does and our photo album is going to be too large to actually flip through in a single sitting ;)

Thank you, Dana! You're the second best decision we made that day. (The first being to get married, of course!)

Best,
Christina & Dave

Meredith

Married on 05/23/2013

Dana did bridal portraits for me prior to the wedding. I wasn't sure that I wanted to do them, but my friends back east encouraged me to do bridal portraits because it's a great way to get beautiful pictures on a more relaxed day, know that the weather worked and then see the photos to know what hair/make-up/visual aspects you might change for the big day. The pictures turned out absolutely incredible and I'm so happy I did them, but honestly, the experience was worth the cost alone. It was SO MUCH FUN to do a dress rehearsal and then go shoot fun photos before the wedding on a day with no pressure - I was smiling for hours after because it was such a blast, without having even seen the photos. I had nothing else to worry about (like I will on the wedding day) and no time commitments so we could catch the light without a schedule concern. Dana was particularly awesome because she scouted and found a spot that worked perfectly for my taste and personality. I didn't really know what I wanted and was not very specific, but knew I wanted something outside and maybe a landscape. Dana found the most incredible place (I'm absolutely sure of it) with a running river and mountain scene that even looked like Virginia, where I'm from, which is pretty much impossible to capture all at the same time in Colorado. She also made me feel so pretty - which made for really fun photos to last a lifetime!



Megan

Married on 09/01/2012

Dana was absolutely wonderful to work with. She was extremely kind and made everyone in our wedding party feel very comfortable. We also loved the photos!

Tracey

Married on 06/29/2012

Dana was absolutely amazing! She was the photographer at my wedding and we have the most beautiful and artistic photos from her. She is so professional, fun to be around, and has such a calming presence. She really knows what she is doing and takes wonderful candid photos that really capture the moment. I highly recommend her to anyone.

Dana is an INCREDIBLE photographer. If you want photos that capture the energy and emotion of your day with an artistic and journalistic style, then Dana Romanoff is the photographer for you. When you meet with Dana she'll explain that her approach to weddings is that she wants to be like your good friend that happens to have a camera so that she blends into the background, rather than becoming a focal point of your day. Dana did this masterfully, capturing intimate moments when we never even knew she was there. The quality of her finished product is second to none!!! If you've ever looked at a wedding photos in magazines that seem to have an ethereal or sublime quality that makes you say, "I soooo want THAT for my wedding" look no further. Dana will capture those very images for you!! We are beyond THRILLED with our photos!!! THRILLED!!! On top of all this, Dana is kind, courteous, professional and fun to work with. Our guests even commented on how great she was. She worked with her assistant, Mel (who was also great!), who maneuvered the lighting equipment and helped set up shots. Dana met with us twice before our wedding to go over what we were looking for and walk through our venue. During our walk through, she was willing to check out a trail and barn we had found that we wanted to incorporate into our photos. She willingly hiked and climbed over fences with us and those pictures turned out AMAZING. I can't rave enough about Dana and recommend her to you without any reservations. She is THE BEST!!!

Mike

Married on 02/24/2012

This review is being provided by the groom and all I can say is, outstanding!
Dana has a gift that enables her to catch not only the perfect moment but the emotions that are felt as well. I honestly cannot believe how beautiful our pictures came out. Non stop compliments from all our friends and family. Dana brought our destination wedding back to our absentee invites with her photos. She was so easy to work with and she went way above and beyond to capture our memories. I am so glad (and thankful) that we were able to take her to Mexico with us.

Guys/Husbands to be - Your wife will have her perfect day captured just the way she wanted.

Courtney

Married on 10/09/2011

The thing that drew us to Dana is her ability to tell a story through images. We wanted to look back on our wedding pictures and see the day unfolding from one picture to the next. Happily we got what we expected and more!
Working with Dana was an absolute pleasure- she showed up to our wedding location early to get a feel for the setting and scout out locations for pictures. She scouted out beautiful on-site and off site locations. She was very professional, yet made everyone feel at ease which made it possible for her to capture the true emotions of the day.
We were very impressed with the turnaround time in receiving our pictures and wedding story video. The results were fantastic- both the portraits and candid shots were beautiful. It made all of our family and friends so happy to get a look at the images so soon after the wedding. I would recommend working with Dana to anyone, it will be one of the best decisions you'll make regarding your wedding day.

Lisa

Married on 08/27/2011

Dana is an amazing photographer. Because Dana documents in a photojournalistic style, the photographs become more than something pretty to look at; Dana is able to capture personalities, poignant moments, and atmosphere in a way that allows her work to become a visual narrative of your wedding day. She works with the utmost professionalism, passion for her work, and focused energy. Some of my guests commented that they couldn't wait to see the pictures simply based on watching Dana work! Our products turned out beautifully. I highly recommend Dana Romanoff Photography.

Sharon

Married on 06/25/2011

Dana is a photographer who uses her creative eye and natural affinity with people to capture a true representation of who you are through the pictures. They weren't just photographs of our wedding, they were a glimpse into our personalities. We were equally moved and blown away by the wedding video she created using the photographs. Watching it made us feel as if we were reliving the day and it is a wonderful way to keep the memory alive. As friends and family have commented, they have seen many wedding photos but never any that matched what Dana did. We plan to make a large poster of a photo of us walking in the forest as we feel the setting and mood she captured really sums up who we are as a couple and we would like to hang that as art on our wall. And I guess that is what makes Dana's photography different - she truly is an artist. Highly, highly recommend Dana Romanoff Photography.

Melissa

Married on 03/19/2011

We loved having Dana as our photographer. She is a very down to earth and very talented. She really did everything to make sure we had the best pictures possible. We got married in the mountains of Colorado in March and wanted some shots on our skies after the wedding. we had our skies and boots, but I forgot socks, so Dana gave me hers. I really couldn't ask for much more.

Natalie

Married on 11/20/2010

Having Dana Romanoff Photography was the greatest decision we made for our wedding!!! She was absolutely amazing!!! We decided to use her because of her wonderful talent and she was absolute pleasure to work with!!! We cant wait to see the final product!!! What an amazing talent she has!!!!! Everyone should use her!

Christine

Married on 08/14/2010

Dana was phenomenal! Her photos are beautiful, but even before we saw the first print, we knew she was the best. She is a pleasure to work with, is both creative and responsive, and brings out the best in everyone in every shot. We actually hired Dana after a friend sent us a candid from her wedding--we used that photo as our "engagement shot" and hired Dana immediately to shoot our own wedding. We were on a tight budget, but splurged a bit to bring Dana in from Colorado to shoot our wedding in Vermont. She's that good.

Gabriela

Married on 07/17/2010

Dana was amazing! We not only had the wedding photos we dreamed about, but we also have a great new friend. She traveled to our wedding in South America and was super nice with the whole family and our friends, participating in the pre-wedding traditions and gatherings. She speaks perfect Spanish, which was very useful when dealing with our guests.

Dana was on time every time we met and the day of the wedding. She captured all the moments we wanted captured and the spirit of the ceremony and the reception. I would highly recommend her for any wedding!

My aunt was really happy that all the folks from her generation looked so great in the photos!

Ling

Married on 06/05/2010

I am very glad we had Dana as our photographer. Her pictures are vivid, and she has the eyes to capture the best moments of the wedding.

Dana is very responsible. She came to the ceremony location several hours before wedding started.

Conclusion: Strongly recommend.

Alissa

Married on 05/22/2010

I was really picky about photographers and I couldn't be happier that I went with Dana Romanoff!

I am not exactly the most traditional bride, and I find most wedding photography to be cheesy and generally horrifying. All of the jumping and clearly staged poses most photographers do are a total turn- off for me. I found there are a lot of bad wedding photographers out there! Thus, I had a long search for a photographer.

I happened across Dana's website and I was really impressed. I was looking for someone who would capture the day as it was happening, not monopolize my time, or have me posing like a fool. Dana's documentary style was exactly what I wanted. Unlike so many photographers who claim to be photo journalists, Dana actually is one. Her pictures of Mexico that were featured in National Geographic caught my eye and I knew I had to talk to her.

After interviewing Dana I had no doubts. She was down to earth, and she completely understood what I wanted. I told her that I wanted some family portraits (for my mom) and otherwise I wanted a bunch of candid shots that captured not only me and my husband, but also all our family and friends enjoying the day. I got exactly what I paid for. She was fantastic. Besides the portraits I really never saw her, and her work was stunning. I don't know how she made me look so good and she really captured my guests at their best. Plus, she had the images up on her website in about a week.
In addition to being talented she is such a great person and I walked away hoping to see her again, in a social setting. Most people would not say that about their wedding photographer.
If you want a really great person who is an amazing photographer capturing your day, contact Dana. She is beyond worth it!

Erin

Married on 03/28/2010

What more can I say then that Dana Romanoff is the Most Hard Working, Sensitive, Talented woman in all the land. She brings a level of energy and enthusiasm to her work that inspires!! She was with us from the time we landed in Colorado until we departed-4 days, from morning til night capturing the details and tender moments so we will never forget them.

Dana Romanoff photography offered us both the artistic laid back free lance style photos, the top notch National Geographic Action shots on SKIS, as well as the portrait style that delights our parents and all types. She is a great communicator, a fabulous skier with camera pack baby!, a talented eye for space & light & mood, and so easy going she fits into any situation making it bloom into art!

Thanks to Dana, my wedding with always be with us and our guests in a vivid collaberation for all to enjoy!

Lauren

Married on 02/27/2010

Dana is a superstar! From the moment she arrived, you could see her snapping photos in her head. And she was seemingly able to capture every moment, every joy, every tear, every hug, every jig...The day to me is a blur, but the magic of it all was captured by Dana's incredible eye. The story of my wedding will be forever told through her amazing photos, full of creative landscape and adventuresome moments. On top of all that, she is incredibly professional and charming. 5 stars doesn't say enough!
Are you interested?
Send a message