100 Reviews
Recommended by 100% of couples
Quality of service

5 out of 5 rating

Average response time

5 out of 5 rating

Professionalism

5 out of 5 rating

Value

5 out of 5 rating

Flexibility

5 out of 5 rating
22 User photos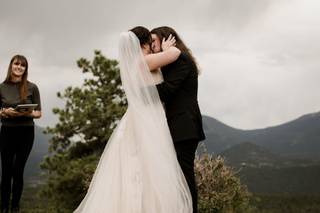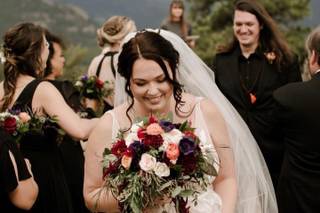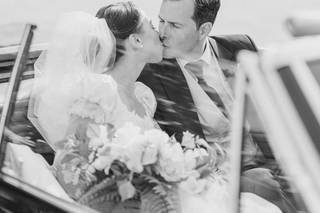 + 18

photos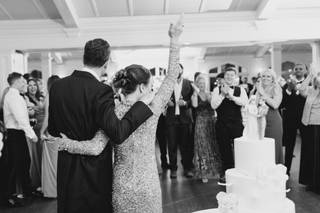 Featured

Jamie P.

Married on 06/26/2021

Don't walk- RUN & book Wedding Videos Colorado for your wedding RIGHT NOW!

Wedding Videos Colorado was the most amazing videographer! My husband, Kevin and I are constantly talking about how happy we are that we hired Zac to capture our wedding day. When people say things will go wrong at your wedding- they're 100% right and the most unexpected things go wrong... in our case, our photographer cancelled on us the day before our June 26, 2021 wedding. We are beyond thankful that Zac and his second shooter, Mark were there for us on our big day to lead the way for the replacement photographers that we had never met or worked with before.

Zac and Mark were extremely professional, kind, funny, and easy going. They made us feel comfortable and kept us laughing all day. Every time we turned around, they were there to capture the moment- Zac even surprised us and somehow knew to follow us out to our ice cream truck at the end of the night without us asking!

We are absolutely in awe of our wedding videos. I've watched our highlights video about 1000 times and he made our rainy summer day look bright and cheery. He captured everything in the best possible way and it's been so amazing to be able to relieve our favorite moments over and over again. It was fun to be able to be part of the editing process and ask for different clips to be added as well. We absolutely love our reception highlights video and our ceremony video too. Without Wedding Videos Colorado there to capture our day, we would've missed out on so many important moments and memories. They were truly one of our favorite vendors and I'm sure they'll be one of your favorites too!

Lauren C.

Married on 09/17/2022

The best videographer!

We LOVED working with Zac for our wedding video. My husband and I eloped, and we wanted something to be able to show our families/friends later. He made us feel so comfortable in front of the camera - he made us laugh and come out of our shells. He really captured our day beautifully, and we couldn't be happier with the final video. He captured some really cute moments that we didn't even realize were being filmed! Zac made it easy from the very first phone call to the very final video delivery. You won't be disappointed if you hire him!

Renee

Married on 09/08/2022

INCREDIBLE videographer!!

Zac from Wedding Videos Colorado was amazing to work with - highly responsive, accommodating to suggestions, & incredible editing! Our day-of videographer was Katie, and quite possibly one of the SWEETEST people we've ever met. She made us feel so special & we had so much fun working with her! The final video practically brought us to tears. It was so beautifully done and we loved showing it to all our friends & family. So grateful to have this memory for the rest of our lives!

Are you interested?

Send a message

Emma T.

Married on 08/02/2022

The best decision!

Hiring Zac was easily one of the best decision we made for our wedding. For months we were on the fence as to if we wanted to hire a videographer- and we are so glad we did. Specifically we are so glad we hired Zac. Leading up to the day he was prompt & informative with all of our meetings. He was able to capture every important moment of our day without us even noticing he was capturing it. He made us laugh, kept us comfortable, & worked seamlessly with our other vendors. The best part is that we can admire his work for years to come & share it with those who couldn't be there. Hire Zac. You won't regret it.

Aly V.

Married on 06/05/2022

Zac is the best!

We had so much fun on our wedding day with Zac as our videographer. Recommended to us by Sean Lara our photographer, the two worked in sync alongside their assistants all day. We are so excited to get our video from Zac and already know how incredible he is from working with him this past year and seeing all of his other work! We hadn't even met in person before our wedding day and it was like he didn't miss a beat - everyone got along so well and his vibes were great. So much fun with Zac, highly recommend using him for your wedding videography!

Carrie A.

Married on 05/29/2022

Great Experience!

We had a lovely experience with Wedding Videos Colorado. Brendan was our day of person and he was so chill and easy to work with! We are so happy with the way the footage came out. We did the highlights package with a 2nd shooter. The 2nd shooter was very worth it, so we could have 2 angles of everything versus single pane shots. We were on the fence with video at all because we couldn't find any vendors we liked until Wedding Videos Colorado. We couldn't be happier we did this as we will cherish these videos for years to come!

Melissa J.

Married on 05/28/2022

Amazing experience with Wedding Videos Colorado

We were so happy with the level of service that Mark, Brandon, and Zac provided to us on our wedding day. From our initial call to the pre-wedding meeting to the actual wedding day and post production, they were professional, personable, and a pleasure to work with. We felt very comfortable with Mark and Brandon on our wedding day and they led us through multiple shots and ideas that came out beautifully post production. Post production we had an opportunity to go through a series of edits and Wedding Videos Colorado was easy to communicate with and delivered the perfect video for us to share with our family and friends. Choosing them as our videographers for our wedding day was one of the best decisions we made!

Alexandra C.

Married on 05/26/2022

WVC & Zac Fabian are a MUST for your Wedding Videography!

Writing this review in 2 parts as I couldn't possibly feel more strongly about video / working with Zac.

1. WHY VIDEO - with an aging family, and considering our wedding was the first and probably only time our families will all be together under the same roof (with mine hailing from the West and East Coast of the US, and his from the UK) - capturing everything on video was crucial for me. Not to mention, with 85 guests, being able to rewatch our wedding day will mean we won't have missed a single thing. Many argue that videos aren't watched and so aren't worth the expense. But I couldn't disagree more. You only get married once (or so we hope!), so opting not to capture it on video would be a huge mistake and major regret. Further I've spoken to many who have had issues with their photographer (either missing shots, or losing footage), so not covering yourself with video is not worth the heartache.

2. BOOK WVC / ZAC NOW! So if you're convinced and looking for a videographer - stop and book WVC & Zac Fabian now...wherever you are! My husband and I planned our wedding at Whitby Castle in New York this past Memorial Day weekend (where my family are from and with strong ties to Whitby in England it was the perfect venue). And I had heard of Zac through a close friend whose wedding he captured brilliantly in Aspen, CO but never thought we could afford him / his travel to the East Coast so tried desperately to find an alternative. But having spent weeks reviewing and contacting 20+ videographers across the tri-state area (and being shocked frankly by the cost and poor quality of their work) I thought - what the hell? Let's see what Zac can do for us. And my Gosh am I glad I did.
From the moment Zac and I spoke, he made me feel so heard and special - and not only helped meet us on price (for his service + travel from CO to NY) and our contractual concerns - but he listened to all the creative elements I wanted filmed and mentioned in my questionnaire / intro call and executed every single one seamlessly. You couldn't find a more authentic, genuine and incredibly talented guy than Zac. We respected and appreciated his advice, determination and dedication. In the lead-up to our big day, I distinctly remember our Facetime call going on for over an hour, and feeling badly for taking up so much of Zac's time. But he reassured us that the questionnaire review call was organized not only to review our questions but really to get to know us better. Can you imagine? THAT is a TRUE example of really caring about your couples if ever there was one.

And day of, Zac wowed not only my husband and I - but my family and friends besides. His attention to detail was noticed by all and he was a complete joy to have around. Working together with our photographer Zac, and his second shooter which he sourced locally from NY, captured every detail I wanted. From getting ready at our hotel and walking down the church aisle, to our cocktail hour and wedding reception... both Zac and Kevin even stayed late after their agreed package timings joining in on the dance floor and continuing to film besides!

So to wrap up my cheesy arguably over the top review of WVC, book him! Words can't fully describe how incredible and worth it he is. And we are so looking forward to seeing the final product in the coming weeks as it will no doubt showcase our day in the best possible way so we can relive it over and over again.
- Video not yet released.
- Photos by - @JessPalatucci

+ 9

photos

Stacy H.

Married on 05/22/2022

So grateful for Wedding Videos Colorado

How do we thank Zac enough for our amazing video! Planning and the day were just so easy. Most of the time, I wouldn't even know where he was and then I see the video and everything he captured and I'm stunned! To be able to look back and watch our videos and see everything that happened that day is just so special. The quality of the videos and everything he puts into his editing is just amazing! Zac is so talented and we are again so grateful and thankful we found him! If you are questioning on if a video is worth it, the answer is yes but make sure you hire Zac so you can be sure to have the best there is!

Catalina

Married on 04/30/2022

A memory captured in time

Our videographer Zac was outstanding. He was easy and flexible to work with during the drafting and editing of our video, and our final product was outstanding. We laughed and cried even after multiple viewings. He truly does an outstanding job of telling a story with his videos, they are far far away from being just a collection of clips set to music. He worked seamlessly with our photographer and venue and did an excellent job at staying behind the scenes while capturing incredible footage. He was professional and personable, and did a great job at making us feel comfortable in front of the camera during the planned shots. He truly has a wealth of experience and it shows with the quality of work he puts out. We would absolutely recommend him to anyone looking for an incredible keepsake of their wedding day.

Katie J.

Married on 12/30/2021

Exceptional!!

I am OBSESSED with our wedding vides. Zac was professional, responsive, and such a delight to work with! I felt like Zac really cared about us through the entire process - from our initial phone call to the day of the wedding to making edits and finalizing our perfect videos. I cannot recommend Zac & Wedding Videos Colorado enough!

Libby D.

Married on 10/10/2021

Your videographer search is over!

10/10 recommend Wedding Videos Colorado! We planned our destination wedding from Texas so I had lots of phone conversations with potential vendors- and from my first conversation with Zac I knew I was in good hands and made the decision to go with him right then! He is fun to talk to, really approachable, and very receptive to questions. He is clearly very knowledgeable about what he does and has worked at many different venues, so he was familiar with our chosen venue and already knew how things worked there. The whole experience at the wedding was great, and communication was excellent throughout the whole process. He made it clear that he wanted me to love the video and walked me through the editing process so I knew exactly what to expect. I cannot rave about the finished products enough!! Zac and his team captured our day beautifully, and the result of his work is something I will cherish forever. Watching the videos makes me feel like we are there all over again, and that is absolutely priceless to me. Thank you so much to Zac and everyone at Wedding Videos Colorado- best decision ever!

Makayla G.

Married on 10/04/2021

Julie Gibbins

We decided on a videographer at the last minute and so glad we chose Zac. He was great to work with and professional. The wedding video is beyond amazing and such a lifetime gift!

Tasia R.

Married on 08/20/2021

We are absolutely obsessed with how our wedding video turned out

Zac did such an amazing job with our wedding video! We have watched our video over and over again. Zac was on time, ready to go! It seemed as he was filming before he even showed up. He was on top of everything, filmed all the key parts, and even more creative shots that we would never have even thought of. He was very professional and so nice! We would definitely recommend Zac for anyone's wedding. 


Andriana E.

Married on 08/01/2021

Loved working with this company!

LOVE LOVE LOVE! Wedding Videos Colorado was one of my best vendors! I'm so glad I hired them! Zac (contact person/editor) and Mark (videographer) were so easy to work with. At first, I was nervous to have a different videographer than editor. However, it ended up being another thing I worried about for no reason!

Unfortunately, my photographer was not what I expected. But Mark saved the day and captured all of the details beautifully! He was super nice, easy to work, professional, and was prepared the day of. He also showed us some clips while working which was so cool to see.

Zac had GREAT communication. I can admit I was a crazy bride, asking questions, making specific requests, and emailing A TON throughout the process! But he was always there to answer in a timely manner, which I appreciated so much. He also helped me with my schedule for the day down to the minute, making sure we got everything in during the allotted time. Zac also listened to ALL of my edits/requests during the editing process. As a bridezilla, I loved that I was able to get 2 rounds of editing. This made the final product be EXACTLY what I wanted!

Overall, great experience. Totally recommend this company 🙂 Best price around too! You will not be disappointed!

Alex L.

Married on 07/24/2021

Amazing experience on short notice

Zac surpassed all of our expectations by a meaningful margin. He was easy to work with, both in person and over the phone. Despite a last minute booking, he quickly grasped our vision and brought it to life with a fast turnaround.

Annie

Married on 07/10/2021

You won't regret hiring Zac!!!

I honestly don't have the words to describe how amazingly our wedding video turned out. It perfectly captured the emotions of our day. We were on the fence about hiring a videographer, and I am SO glad we did. The wedding day becomes such a blur, but watching our video helped us relive the little and big moments that made the day so special. Zac was a delight to work with. He made us feel so comfortable on the wedding day and in the process leading up to it, including check-in phone calls and meetings about what we were envisioning for our day. He was so easy to work with and balanced getting amazing shots while also being in the background. We of course aren't used to being filmed every day, but Zac made us feel so comfortable and at ease. Please hire Zac - best decision we made! Doesn't hurt that his rates are far and away the best around. And the end result is STUNNING!

Jaeda S.

Married on 06/12/2021

AMAZING! Beautiful Video!

Zac and his assistant were absolutely wonderful! They were professional, funny, helpful, brought all of the fancy equipment, and so much more. Everything I read online told me to hire a videographer. I had a hard time convincing my now husband of this, but after the wedding day he told me "you were right! I am so excited to see what Zac does with that video".
Do yourself a FAVOR and HIRE Wedding Videos Colorado. Working with Zac was truly a pleasure from start to finish!

Griffin A.

Married on 06/10/2021

Very helpful and affordable!

Zac was extremely helpful and very easy to work with! He was quick to offer additional help that we didn't realize we needed and we came out with a video we love that fit our budget.

Antranig T.

Married on 04/26/2021

We love our wedding video!

Working with Mark and Zac for the recording and editing process was a great experience. Mark was our videographer on the day of the wedding, and he is so passionate about his work. He truly seemed to enjoy himself and made things fun, he had great ideas, and he made us feel very comfortable. The footage was absolutely incredible and so professional. We are extremely happy, and we received our video in a very quick and timely manner, as well. Thank you, Mark and Zac!

Hannah E.

Married on 04/17/2021

Best Videographer

We chose Wedding Videos Colorado off of the vendor list at Black Canyon Inn. Zac is truly an AMAZING videographer!! The work he does is so special and he does an incredible job! We are so thankful to be able to relive our special day for the rest of our lives thanks to Zac! I am still so shocked he was able to capture every big and small detail of our special day! If you are looking for a wedding videographer, you won't get any better than this awesome company! Thank you so very much to Zac for capturing our magical day! The highlight video and teaser are so precious to us and we cannot wait to share your amazing work with our friends and family!

Chestina C.

Married on 03/29/2021

Destination Wedding- CW 3/29/21

One thing that I would definitely recommend to any couple getting married, is a videographer. My wife and I chose to have a destination wedding in Colorado. Having a videographer was important for me to relive our wedding and moments that I missed. After a quick research, google led me to Wedding Videos Colorado. I fell in love with the variety of packages and had to give Zac, the owner, a call. His vision and approach gave me clear reason to believe he would be the best for the job. And that he was! Zac is very flexible with payments and with anything you need/want. I sent countless of questions to him and he did not hesitate to respond in a timely manner.
At our final meeting, approximately 2 weeks before our wedding, we did a zoom call with Zac. He was very welcoming. My wife and I were at ease knowing we were in good hands by the confidence and creativity he displayed.
The Wedding day was superb and Zac and his crew are first-class professionals. They filmed everything we wanted and gave great directions on shots that only the best could capture. Even though there were a lot of cameras, Zac and his crew made everything feel effortless and comfortable.
The finished product will also be sent in a timely manner. They will not disappoint.
Thank you Zac for everything, you made our wedding become more alive in the truest form. We love every single video and moving forward, you will be our number one call to capture our defined moments.

Madison C.

Married on 12/06/2020

A Dream- perfect in everyway

When we decided to elope in Colorado, we had no idea where to start. The main priority for us, after having family there, was to have memories of our special day. Upon our first talk with Zac, we knew instantly that we were talking with a consummate professional. Zac was attentive to every request we made, provided incredible ideas and original suggestions, and helped us bring our wedding to family and friends that couldn't be there through his amazing videography. Zac played a pivotal role throughout the day and I can honestly say it would have been a completely different (and probably diminished) day without his guidance and expertise. There were so many moments that would have been forgotten if not recorded by Zac, he perfectly captured our full day and was an extreme joy to work with. He even captured videos that I don't even remember happening, everything went so fast and Its so nice to be able to look back and appreciate the whole day. There is no hesitation- I recommend Zac to everyone looking to save a special event for years to come. If you are looking for a videographer who is professional, thoughtful, original, takes pride in his work, and goes above and beyond- look no further.

Chrissy J.

Married on 11/11/2020

Exceptional

There are not enough words to communicate the breadth of Zac's skills as a videographer. From his high-quality cameras and equipment to his keen eye and persistence to capture moments perfectly, everything about Zac's work is exceptional. I looked at hours' worth of videography footage before finding Zac's portfolio. From the first moment of watching his videos, I could tell that Zac is the best at his craft. His shot selection, use of color, framing, and knack for finding the best angle solidify his skills as a first-rate professional, but his kindness, empathy, attention to detail, and communication style set Zac apart from the rest. I highly recommend Zac to any couple for every event. We're indebted to Zac for helping secure our wedding day memories and creating videos we'll cherish for the rest of our lives.

Julia M.

Married on 11/07/2020

Our magical night captured!!

Zac captured our entire night perfectly. He was very helpful, communicative, and inquisitive to make sure he captured every little thing that was important to us. This was my one wedding purchase that was super important to me, and he nailed it.
Are you interested?
Send a message