24 Reviews
Recommended by 94% of couples
Quality of service

4.7 out of 5 rating

Average response time

4.4 out of 5 rating

Professionalism

4.8 out of 5 rating

Value

4.8 out of 5 rating

Flexibility

4.8 out of 5 rating
Awards
1 User photo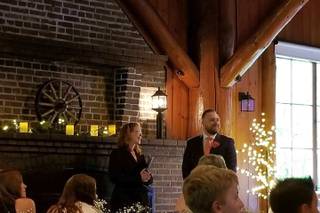 Jun S.

Married on 10/28/2018

Betsy is great

Betsy officiated our wedding on 10/28. She was professional and great! Highly recommend her.

Kim

Married on 09/13/2018

Betsy was fantastic. She even had recommendations for other vendors when I reached a dead end. On the day of the wedding she helped us stay organized and on track. I think my family thought she was a personal friend of mine who happened to be an officiant. Because I live out of town, I had never met her!

Kim

Married on 09/13/2018

Betsy was amazing, fun, relaxed and easy to work with. She had great ideas, kept the ceremony on time and took charge in a couple of areas where there was chaos. She can easily read a situation and tell where advice of gentle corralling would be welcome. My family raved about her officiating and her help.

Are you interested?

Send a message

Kaelee

Married on 05/19/2018

Betsy was amazing! She helped us with writing our perfect vows. Day of the wedding, she jumped in to make sure that everything went off without a hitch. She is friendly, and exudes confidence when doing what she does best...helping couples have the wedding of their dreams. Thank you again for making our day so perfect!

Hannah

Married on 10/01/2016

We are so lucky to have found Betsy. She has a wonderful personality and is full of warmth and enthusiasm. After our initial meeting, Betsy sent us a list of ceremonies to review, and we ended up using pieces of a couple different ceremonies to craft our own. They were also helpful in writing our own vows too. Throughout the planning process, Betsy was communicative and supportive. And on our wedding day, she showed up dressed professionally (her shirt color matched our bridesmaids dresses!) and she helped me feel calm and centered. We received many compliments from wedding guests about the ceremony!

Holly

Married on 07/03/2014

Betsy was AMAZING. We had a quick elopement ceremony and it was exactly how we wanted it to be. She was very helpful and flexible, and we felt like we knew her by how warm she was towards us, even though we met her 5 minutes before the ceremony started. Very fast at filing the license too, which was great!

Amanda

Married on 07/20/2013

Betsy was great. She made our day even more special and stress free with advice ranging from photos to the music selection. She made me and my husband feel at ease. The ceremony was awesome, she customized it to fit us. I couldn't imagine our special day with out her there

Ashley

Married on 07/13/2013

Betsy was beyond amazing! She helped me through the whole ceremony process! She had great ceremony's to choose from, was so accepting of any changes that needed to be done and she always got back to me in a timely manner! She arrived to my wedding early looking profession! She even helped me find some new shoes that I could actually walk in haha! I would recommend Betsy to everyone! Her prices are amazing and you get beyond what you pay for!

Betsy, from We Do ... I Do's was fantastic. From the beginning she was professional and friendly. She offered us a small discount as I am a college teacher under their hometown heroes program! She sent us a large number of ceremonies to review. In the end we decided to do a sort of mash up of several. She gave us some advice over the phone about a month ahead of time about the paper work part of the process. I think we were rather independent about the ceremony. I got the impression, though, that if you need a lot of help writing vows, etc, that she could do it. On the day of the wedding she showed up right on time, wearing an attractive suit with a blouse that coordinated with our wedding colors! She delivered the ceremony beautifully. Not overly formal, but not too casual either. She got a few chuckles out of our guests, which we loved. She managed the signing of the paper work efficiently and made sure our woman of honor new exactly what to do with it all, since we were so distracted. We invited Betsy to stay for dinner, which she did. She sat at my father's table and hit it off with some of my high school friends. It turned out we have mutual friends. Afterward my partner and I agreed, that she officiated our wedding like a (trained) friend would have. I highly recommend her!

Laurine

Married on 05/24/2013

Betsy is wonderful and very understanding! We decided to have a simple elopement. She organized everything and provided us two witnesses within a short notice!
I had the possibility to choose the text for the ceremony. The ceremony happened at their home and Betsy and Bert were very welcoming! Betsy is an amazing person that really cares about making a wedding ceremony that corresponds to your expectations.
HIGHLY recommend! Thank you very much Betsy!!

We wanted a unique non-denominational ceremony that would be both memorable and fun for the guests. Our guests are still talking out the ceremony as one of their favorites they've seen. It was about 15 minutes (the perfect length for an outdoor wedding) and had just enough levity to be entertaining throughout. Everyone thought Betsy did an amazing job. The ring ceremony added a unique touch that our guests just loved. We couldn't be happier with our ceremony!

Justin

Married on 02/25/2012

We were looking for an officiant that would give us a ceremony that represented who we were as a couple and thats exactly what Betsy delivered. She worked closely with us and listened to our vision and the results were exactly what we wanted.

Michelle

Married on 10/22/2011

Use them! Meet them and then use them! I was so nervous about finding the right person to do my wedding... someone warm, personable, who would do exactly what we needed! Someone who could step in and "pretend" like we had known them for years! Betsy did an amazing job. She helped us find the right words to use in our ceremony... she came to our rehearsal dinner and got to know the wedding party, when the day arrived... she came in and she was like family. She took care of all of the paperwork and made the day flow so smoothly! I cannot express my many many thanks to her! Amazing! Thank you Thank you Thank you! If you have any doubts... meet her for coffee and see what you think! It is worth the meet!

Phil

Married on 04/07/2017

Betsy was great! She helped us craft a custom ceremony and we wrote our own vows into ceremonies she provided us with. Our elopement was out at Cape Flattery and she arrived early, was very helpful and kind enough to assist our guest/witness after they had trouble on the trail and fell a couple of times (it was pouring rain!). Betsy ensured our ceremony went smoothly and went the extra mile to help out, she was patient with us knowing she'd miss her reserved ferry. Very reasonable rates compared to other officiants around Seattle who wanted to charge travel costs more than the cost of officiating! Would highly recommend! PLEASE NOTE: The only reason We Do...I Do's isn't rated higher is because of a very old review with 0.3's which is clearly someone who was angry and it really doesn't represent our experience with this great officiant.

Betsey served as our officiant, and provided day-of wedding coordination. From the moment we met Betsy at a Starbucks, we knew we were in good hands. She was warm, friendly, outgoing, and savvy. When it came time to talk through wedding logistics, she thought to ask about details we hadn't even considered. She also made some recommendations that made things flow much more slowly. The day before the wedding, we endured a family emergency that forced us to change up our timeline. She handled these changes on the fly with ease. She helped make our big day memorable, and delivered a ceremony that we'll always cherish.


Angela

Married on 09/10/2011

Betsy was great to work with. She was super friendly and knowledgeable. She provided us with a number of vows and ceremony choices and also gave great advice/ideas. She was very flexible with what we wanted and worked with us to help make it reality. We got a discount because we paid in full the day we booked her which was a plus! We definitley enjoyed working with her!

Disa

Married on 10/28/2018

Exactly who I was looking for!

When I first started looking for a wedding officiant, I was so disheartened by the quotes that I was receiving back for their services that I thought I was going to break the budget just to find someone reasonable. Then I found We Do... I Do's, with their many great reviews. I loved working with Betsy! She was always receptive and willing to make the ceremony what it was I wanted while also making her own suggestions to make it even better. The day of the wedding she was right there in the middle of the action chatting with the photographer and venue coordinator while helping to pin a boutonniere on the father of the bride. She managed to be professional and commanding in her delivery while also matching the intimacy and solemnity of the occasion. While it is certainly not a requirement of a wedding officiant, her handwriting on the marriage certificate is really lovely and nice to see on such an important document. She is warm and fun and I enjoyed laughing over coffee with her as we discussed the wording for the ceremony. She was a pleasure to work with and she helped make our wedding day perfect!

Caitlan

Married on 09/04/2014

Betsey was awesome! We had a small intimate wedding of about only 40 people, and she helped make the ceremony so amazing. She was so down to earth and willing to really do just about anything. She gave us advice on writing our own vows, and kept a copy for each of us in case we forgot them (which we did). She seemed more like a friend than an officiant and it made the experience much more natural and comfortable. I highly recommend her. Be patient as she is busy taking care of her new baby and it might take a day or two for a reply, but she was very quick to reply in the couple weeks proceeding the big day and was accommodating the day before with our rehearsal because we had some issues with our hotel stay so the rehearsal ran a little bit late. She didn't rush us at all, and we got done in a timely manner!

April

Married on 05/26/2014

Betsy was so great to work with! Once we booked, she sent us a huge library of ceremonies to work from. We were able to cut and paste to create our own dialogue and personalized ceremony. She led us through it to make sure the flow and transitions made sense. On the day of the wedding she was prompt and even wore our wedding color! I would definitely recommend her for weddings of all shapes and sizes!

Kaitlin

Married on 06/27/2017

Betsy was great. Because of several unfortunate circumstances that took place the day before and the day of the wedding, we were running behind schedule. Betsy was incredibly flexible and willing to push back the ceremony time which allowed everyone to get ready and the ceremony was beautiful.

Allie

Married on 07/25/2015

Betsy officiated a beautiful ceremony for us! She gave us a huge list of ceremonies to choose from. We picked pieces we liked and Betsy added transitions and organized it for us. She added a wonderful introduction that several guests said was the best they ever heard. During the ceremony she worked to help organize us and worked well with the DJ to make everything go smoothly. I highly recommend Betsy if you want a personalized wedding ceremony and an extremely helpful officiant!


Kathleen

Married on 07/13/2012

We Do...I Do was very flexible and affordable. They had a large selection of pre-written ceremonies and readings that we could choose from, and didn't bat an eye when we ended up picking totally different readings and writing half the ceremony ourselves. They looked everything over for us and made sure it flowed well. Day of, Betsy was very professional and lovely.

It was very hard for me to find a non-denominational officiant for a reasonable price, but this is it. Betsy did a great job of letting me alter the ceremony. My biggest complaint is that she would not respond to me for a few weeks, or she would say she would send me the ceremony the next day, and I'd never hear from her. That being said, she was newly pregnant so I'm sure she was busy. She did a great job though, and other than me being OCD about hearing back, I was very pleased.

Do not use! Took my money and wouldn't return my calls. Even with a month notice that our plans changed and literally JUST HOURS after scheduling with Betsey and paying her, she said I was cancelling at short notice, not sure how it was short notice when it was just scheduled that day and cancelled the same day.
After leaving several msgs, she did call me back and said she would THINK about giving my money back and then continued to ignore my phone calls.
Please save yourself the trouble and find someone who won't just take your money and run!
Are you interested?
Send a message