89 Reviews
Recommended by 99% of couples
Quality of service

5 out of 5 rating

Average response time

5 out of 5 rating

Professionalism

5 out of 5 rating

Value

4.9 out of 5 rating

Flexibility

5 out of 5 rating
3 User photos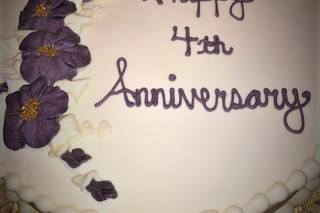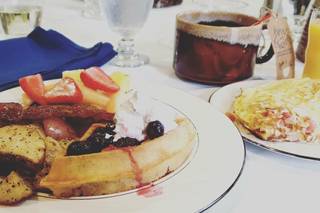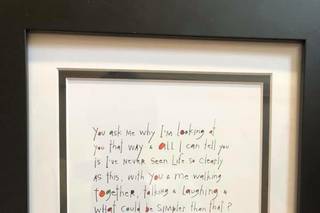 Dominic

Married on 03/06/2022

Highly flexible & professional

We Cater to You did an incredible job of serving our guests for our wedding reception in the middle 2020. Kym and her team were highly flexible in working with the challenges of our change in venues and limited prep time. Their menu is beautiful, hearty, and delicious. The service provided their by servers to our guests was second to none. For their great flexibility and professionalism we highly recommend We Cater to You to cater your wedding reception!

John W.

Married on 01/04/2022

Wedding during COVID

Our daughter's wedding was planned pre-pandemic, and all the arrangements were made for a 225-person reception, including food from We Cater To You. Kim and her staff were all set to go. Then, with the onset of the pandemic, everything changed and we had to pare the guest list down to 10. Kim and staff couldn't have been more accommodating and flexible, starting with their offer of a full refund of our deposit. We decided to stick with We Cater to You for our small reception, and we're so glad we did. They provided box meals, and the food was delivered on-time, beautifully presented, and above all else, delicious.

Laura S.

Married on 10/11/2020

Outstanding

Kym and her team were outstanding from start to finish!! Everythimg was perfect. Everytime we had questions Kym answered immediately! She decorated our venue just beautifully and paid attention to every detail! Our food was delicious! The dessert table was wonderful and cake and cupcakes were yummy! We would use them again and again. Hire them for your event or wedding and you will be very very happy!.

Are you interested?

Send a message

Ron T.

Married on 10/10/2020

Ron and Laura's Wedding, 10/10/20

Kim was amazing to work with! There was nothing she couldn't help us with! She will be our go to person for any future events! She and her staff were helpful in every way for the planning and service for our event!

Thank You Kim

Tony R.

Married on 09/10/2020

You will never find a better catering company!

Such a great find! You need to use them for all your wedding/event catering needs! We used them for our wedding and also for a 50's Birthday party. They absolutely hit the mark on both events! They even replicated a small wedding cake for our anniversary for FREE and delivered! They are such an amazing group of people and they do a fantastic job at what they do. Very professional and the food is delicious! The best wedding food I've had in a long time! 5-Star Review and will be a long time customer!

Karla C.

Married on 09/05/2020

Amazing! Highly recommend.

Kym from the start was responsive, friendly, and informative. We ordered a pasta buffet for our wedding and she was very flexible with our last minute changes and requests. Her whole team was so helpful and kind during the reception dinner. The prices are fair and the food was delicious. You can't go wrong with their service. Thank you so much!

Caleb S.

Married on 03/10/2020

Great Experience

goo experience overall. bartending was amazing. service and staff great. the cake was to die for.

Bruce/Kathy W.

Married on 02/10/2020

Excellent choice- you will be glad you hired them!

We had to change our daughter's wedding plans and location to our back yard because of Covid. We Cater to You came to our house, reviewed the location, helped plan the logistics for serving a meal in 45-50 degree weather. The food was hot, delicious and big portions! They did an excellent job in challenging conditions. We highly recommend them for any event.

Rae

Married on 01/10/2020

Amazing all around!

Kym and her team are amazing! They are so friendly and responsive during the planning process. During the event, they were incredibly accommodating and professional. Everything was delicious and all of our guests were so happy!

Jenna L.

Married on 10/12/2019

Delicious food and great service!

For our wedding reception, we chose a plated dinner through We Cater to You (beef tenderloin and stuffed chicken breast). From the time we booked the catering to the night of our wedding, Kym and her team were beyond amazing. Her response to emails was quick and professional, and she was flexible in our planning. During the wedding, she checked in with us multiple times to make sure things were going well. She was accommodating to dietary needs and was willing to go above and beyond in helping our event run smoothly. We had numerous comments throughout the night of how delicious the food was and how polite and kind the staff were. We were so pleased with our meal selections and the quality and flavor of the food. We would highly recommend We Cater to You!

Elly O.

Married on 09/19/2019

Exceptional catering!

We Cater to You did an exceptional job catering our event! The food was great and the team was very easy to work with throughout the planning and implementation of our party. We highly recommend We Cater to You!

Christine Popp
OutFront Minnesota
Manager of Operations, Volunteers, and Events

Anna L.

Married on 12/01/2018

December Wedding

We had a large wedding with a lot of dietary needs and We Cater to You was amazing about making sure that all of our needs were met! Plus the food was amazing!

Nancy

Married on 12/01/2018

Awesome Caterer!

Thank you so much Kym and Lynn!!!! We decided on the Pasta Buffet. The food and the service turned out better than we could have ever imagined for our daughter's wedding!! Everything tasted wonderful, looked beautiful and your team was exceptional! Everyone kept telling us throughout the night and the days that followed how great it was. They were also able to cater to all of our guest specific food needs which was incredible. They offered their expert advice for flipping the room from wedding to the reception. Your partnering with Jeff at Knollwood Liquors worked out great too!

Emily S.

Married on 10/20/2018

We Cater to You = Wonderful to work with

We Cater to You was wonderful to work with. They were quick to answer any questions that we had. We decided to have a waffle bar for our wedding and the guests loved it!

Jonathan F.

Married on 10/14/2018

Lives up to the name!

At first, my wife and I were apprehensive about hiring a caterer. Everything out there looked expensive, and even the tastings for many caterers cost a significant amount of money. We also weren't sure how flexible different vendors would be, especially concerning menus and timing.

We Cater To You absolutely earned their moniker in our whole experience. Here are the highlights:
-Worked on our time to schedule a tasting and had us check out a huge variety of options.
-Allowed us to mix and match multiple items from the menu.
-Absolute most affordable pricing for a plated meal, which we definitely did not expect.
-Coordinated with beverage service and linen service so everything was handled and we barely had to worry about it.
-Was prompt and punctual to all appropriate times, and was even extra flexible when we needed more time to set out table toppers; they stayed until we were ready, even if they had other places they needed to be.
-Bartender service was exquisite, as were the staff passing appetizers.
-Dinner service with plated meals was timed perfectly. At one point I and my wife were visiting with guests and one of the servers discreetly let us know that our next course was at our table for us so that we could get it before it went cold.
-All of our guests were expecting great food because my wife and I are known in our social circle for being kind of foodies, and they all commented on how amazing the food was. The tofu in peanut sauce was a huge hit, and both the stuffed chicken breast and peppercorn tenderloin were applauded.
-Cake cutting and serving was impeccable.
-Clean up was fast and effective. Our venue frequently had WCTY as the caterer and commented on how they are so good at making sure everything is cleaned appropriately.

There is no better caterer for the price point. You can try to find something elsewhere but We Cater To You is the smart choice if you want a team that absolutely knows what they are doing.

Emily

Married on 07/14/2018

My husband and I got married at Silverwood Park in St. Anthony a little over a month ago. We Cater to You was the best caterer we could have hoped for. We had a list of caterers to try, but this was first on the list, and we didn't need to try anyone else! Kym was extremely accommodating, and Lynn was able to use my husband's grandmother's Greek recipes to create our menu. They were also able to work with us to create a unique and beautiful cake (my high-maintenance moment was requesting a honey-quince cake, and Kym was able to source quince!). The food was fresh, delicious, and exactly what we had hoped for.

The catering staff at the event were professional and really lovely. The cocktail hour, dinner, and dessert went seamlessly, and we heard great things about the catering from our guests.

You don't just get delicious food and great service, however. Kym was able to provide all sorts of really helpful guidance about room layout (she is familiar with our venue) and table settings. She is extremely responsive and accommodating. To top it all off, We Cater to You is a wicked good deal.

Natalia F.

Married on 05/25/2018

Great experience, great vendor

We Cater to You provided excellent service for my daughter's wedding and was so helpful through every step! They offered options to cover all of our guests' dietary needs and the food was top quality and delicious. We Cater to You's policy of working directly with a liquor store allowed us to stay on budget and have a wide variety of options. They were willing to be flexible with several changes, and on the day of the event, they were professional, friendly, and courteous which made the day great. I would always recommend them!

Olga L.

Married on 05/25/2018

Stunning and personalized service as well as delicious food!

For our wedding we were looking for something that wouldn't break the bank, but we did not want to compromise on the quality and taste of food. I couldn't be happier with our choice to go with We Cater to You. Here are the factors which influenced our decision and in which We Cater to You FAR outperformed every other caterer we considered:
-The quality of food
-The flexibility
-The affordability
-The service
We Cater To You's price was very comparable to other "affordable" venders, and the food here was 10 times better. Everything was bursting with flavor and freshness and was unquestionably delicious. We had a lot of vegetarians and gluten-free guests, and were easily able to find delicious dishes to make everyone feel welcome and satisfied. The caterers even went out of their way to make two traditional Armenian side dishes for me following a recipe I provided! In my wildest dreams I never thought a caterer would be willing to take this on, but they did, and it turned out fantastic. Another key differentiating factor was their flexibility. They let us bring in some small appetizers and snacks ourselves and the alcohol was contracted through a local liquor store so you know you are getting real and not exaggerated prices. The best part of this system was that we were able to return unopened bottles which brought our cost way down. Throughout the planning process, they were wiling to work with our schedule as we planned an out-of-state wedding and were professional and friendly on the big day. We couldn't be happier with our decision and I would highly recommend them to anyone looking for a caterer for any event!

Elena

Married on 11/11/2017

From the moment I made contact with Kym and explained my situation dealing with a catering company before contacting her, she was all too familiar with the "bait and switch" method I had explained. Kym assured me that's not how she ran her business and that I wouldn't encounter any of that.
I couldn't have been more pleased how everything turned out. I can't thank the staff enough for the amazing food and making this process effortless.

Sara

Married on 10/14/2017

We got married on October 14th at Gale Woods Farm and happened upon Kym from We Cater to You at a wedding fair that was hosted by the Three Rivers Parks. Wow are we glad we did! We could not have asked for a better catering company! Kym and Lynn are THEEEEEE best! Our first meeting with Kym felt like a happy hour chat with a friend we had known for years! She has so much knowledge about weddings in general that she was not only helpful with catering, but also helped us with suggestions for DJs and Linens, etc. She is very passionate about her job and she is absolutely wonderful at it! Lynn is one of the best chefs ever! We had our tasting with Kym and Lynn and it was so laid back, we would like to have a wedding every month, just so we can go to more tastings! There was no pressure and they are flexible in working with whatever you want. We wanted to do heavy appetizers for our wedding and I feel like we tried no less than 30 options at our tasting. All were so yummy! My wife even had a strange request for a cotton candy machine because she loves Cotton Candy and We Cater to You made it happen. We can't even being to count how many people have told us that our wedding food was the best wedding food they have ever had! Kym and Lynn truly cared about our wedding and working with them felt like having friends as guests at our wedding, not paid employees. Their staff the day of was respectful, knowledgeable and efficient! My wife is gluten free and they went above and beyond to make sure she could eat everything they provided at our reception, even making gluten free bread crumbs for their amazing stuffed mushroom and providing gluten free graham crackers for the S'mores bar. The best part is their prices are so reasonable! I cannot believe the disparity between catering quotes that we received from other companies compared to We Cater to You. Honestly they were 50% lower than most and we loved working with a smaller company! Loved them!

Taryn

Married on 09/30/2017

Kym went above and beyond as our caterer! She came to the venue on two separate occasions with us and even helped in the planning process. Not only was she amazing to work with, the food was incredible!

Mika

Married on 09/22/2017

"Lynn's team is so accommodating and efficient! Our wedding shuttle ended up running late - which pushed our dinner back later than expected. The We Cater to You staff didn't bat an eye and patiently waited for our "go-ahead". While running around figuring out other wedding logistics, I didn't have to worry about the buffet once. They quickly and quietly set up all the food and kept a close eye on the taco bar. Which by the way, TASTED AMAZING, and very reasonably priced! We got so many compliments on the food from our guests - we'll definitely be recommending Lynn's services for future events.
A huge thanks to the WCTY crew!!"

Tracy

Married on 09/16/2017

We loved working with Kym and her staff for our big day! Kym was with me every step of the way... meeting, planning menu, giving ideas, being open to suggestions and change! Such a relief to a you are in good hands! Even though we had a "smaller" wedding, she still treated it like it was the only thing her plate! They really did cater t
o us!!
Food was amazing and we got plenty of compliments!

Erica

Married on 11/12/2016

We Cater to You was an amazing company to work with! Lynn and Kym were extremely helpful, and helped guide us through the process. The food was amazing, the staff was amazing, and we will definitely use them for our future catering needs!

Courtney

Married on 10/14/2016

Kym, Lynn and the We Cater to You team were OUTSTANDING in their service of our wedding with 200 guests. From the moment we met Kym and Lynn at their commercial kitchen, and tasted Lynn's amazing food, we knew we were in good hands. Not only did Kym and Lynn help us plan a cohesive meal (and meet all the special dietary needs of our guests), but Kym was essential to our organization of the space in our venue and the timing of our day. Kym went above and beyond to give us advice, answer our questions, and even took care of resolving a non-catering related issue with our venue. Now, the important part: serving 200 people. The We Cater To You team was beyond impressive with their service at our wedding. The floor team were like cleaning/busing/water filing NINJAS! The bartending team was quick. Everyone was SO friendly. And the FOOD. Oh my. We can't say enough about how delicious the food was. Neither can our guests--everyone we have seen since the wedding has RAVED about the delicious meal. Many thanks to Lynn, Kym, and the We Cater To You team for making such a central part of our day so memorable!
Are you interested?
Send a message