26 Reviews
Recommended by 93% of couples
Quality of service

4.8 out of 5 rating

Average response time

4.7 out of 5 rating

Professionalism

4.7 out of 5 rating

Value

4.5 out of 5 rating

Flexibility

4.5 out of 5 rating
Awards
3 User photos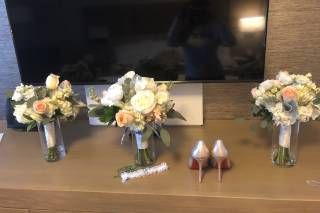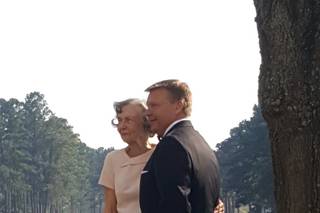 Courtney M.

Married on 12/31/2019

Blew me away!

From the very beginning, we loved working with the event staff and team at the Washington Duke. The venue is simply gorgeous and was the perfect size for our wedding. Bethany was so helpful and very responsive every time I had a question. Her patience with us was so great! The dinner reception the night of the wedding was just perfect and we got so many compliments on the food choices we had made. The staff were all great to work with and we had such a wonderful experience right from the very beginning all the way through. Thank you!

Cyndi

Married on 04/12/2018

Excellent service.. perfect venue

Doug

Married on 07/30/2016

The Washington Duke Inn hosted our wedding reception last month. We worked with Bethany Butti to plan our wedding. She went above and beyond to make sure that us and our guests had a great evening. We were extremely impressed with the space and the entire Inn staff. The service from The Fairview Dining Room, Bull Durham Bar, and catering staff was top notch throughout the whole weekend. The entire Inn was beautiful and the Washington Duke Inn made the day run smoothly for us. We could not imagine hosting our out-of-town guests at a different venue.

Are you interested?

Send a message

Christina

Married on 12/26/2015

PERFECTION!!! Where do I begin to explain how utterly perfect and amazing the staff and the venue was for our wedding? Angie Wright, our event planner, guided us through all the selections and captured very minute detail - nothing was missed and EVERYTHING was TOP-NOTCH! The venue was held in the private Rotunda room which was breathtaking. The food selection was superb.

The room we booked for our overnight stay was one of the best I've ever stayed in; I only wished we have more time to take advantage of all the place had to offer.

From the time we pulled up to the time we check out, we encountered only the highest caliber of professionalism, courtesy, and friendly dispositions. Even at 3 AM after I woke in a panic when I realized I had left my handwritten wedding vows on the table at the reception, they quickly sent someone to investigate and retrieve them if they were still there. I thought for sure they had been swept up in the trash and were gone forever. The next morning when we checked out, I was handed a small white envelope and tucked neatly inside were my vows! I nearly started to cry.

It's easy to understand why they continuously rate so high in customer satisfaction. And even though we live only 30 minutes away, my husband and I plan to go back often and even spend a night or two in this enchanting place that welcomes you in like family.

The Washington Duke was absolutely wonderful, and working with Diane Tighe was a great experience. Her helpfulness at teaching us about the process was incredibly valuable, and when it came time to pick a vendor that was one of the things that made us most comfortable! Family kept complimenting us on the quality of the food and the beautiful venue, and we're so glad that they had an opening for us!

Meghan

Married on 06/27/2015

We were coming from out of state. Everything was ready for us before, during, and after the wedding. I was feeling a lot of stress, but I had nothing to worry about. The staff was so easy to work with and took care of anything.

Beth P. was absolutely the best!! We had a small intimate wedding with 20 guest. As a bride it can be challenging to leave major task to others but Beth made my day STRESS FREE!! The room set up was great and I appreciate how staff assisted in putting up and taking down the pipe and drape which we rented from an outside venue. Beth's suggested up-lighting was a nice touch to the pipe and drape and the floral decor added a gorgeous touch! Additionally the dinning staff were professional and very helpful.

Beth was organized and very responsive to my request. Overall we had a fully satisfactory experience and hope to visit again in the future!!

Ashley

Married on 03/08/2015

My husband and I had our wedding reception at the Washington Duke Inn & Golf Club (WaDuke for short) on 3/8/2015 and worked with Beth Pendergrass. Beth did a phenomenal job taking my vision of a sparkly princess-worthy reception into a reality! From the first meeting with Beth, I knew I had found the perfect reception venue for our Duke wedding! The WaDuke's reception package took the stress out of planning the reception! Beth helped us figure out the timeline for the reception, as well as linens, chairs, food, lighting, food, and even in reserving a room for the night! The reception package gave us the option of a 5 course plated dinner, a buffet, or food stations, and we are so happy that we chose the stations! We chose a carving station, a mixed grill station, and a shrimp and grits station, and everyone at the reception loved the food! We also got a choice of linens and Chivari chairs/chair cushions, and I was able to put together the navy and pink princess look I envisioned! It was well worth the price! I also really appreciated how easy Beth made it to make sure everything and everyone was at the right place at the right time! Before the wedding day, we dropped off our favors, pictures, table numbers, etc. with Beth and she took care of setting everything up for us! She and the catering staff made sure everything ran on schedule! The catering staff was also very amazing and were very efficient in clearing away empty plates and glasses, manning the food stations and passing hors d'ouvres, and evening ensuring that my husband and I could eat some of the food while mingling with guests! Overall, Beth and her staff at WaDuke kept the reception organized, fun, and beautiful without adding stress to the wedding planning! Beth was really a wonderful person to work with and really surpassed what I had envisioned for the reception! Thanks so much for everything, Beth, and James and I will see you next time we're at WaDuke! :)

They made our special day that much more perfect!!!

Claudia

Married on 05/24/2014

We had our wedding reception at the Washington Duke Inn in late May 2014 and we could not be happier with how everything went. The WaDuke is a beautiful place in itself and everyone we worked with was great. We had Danielle as our coordinator and she was amazing. She was very responsive during the planning process and made me feel very comfortable throughout the way. Danielle and her team did an awesome job the day of our wedding - everything was planned perfectly and executed exactly as we had asked for it. Additionally, Danielle and her team made sure that my husband and I had everything we needed throughout the night. Our guests loved the WaDuke as a venue and being able to stay at the hotel that evening (at a very convenient rate) was also a plus. I would highly, highly recommend the WaDuke and Danielle to anyone looking to have their wedding in the Triangle area.

Washington Duke Inn & Golf Club's reply:

Thank you Claudia for taking the time to complete a review! It was such a pleasure working with you and Jude throughout the planning. Thank you again for selecting the WaDuke for your wedding weekend & Congratulations again on your recent nuptials!

Warmest Regards,
Danielle Massey


Amanda

Married on 12/29/2012

I worked with Beth Pendergrass when planning my ceremony at the Washington Duke Inn. Working with Beth was a delight. She provided suggestions when I asked for guidance, assisted in arranging beautiful table arrangements with centerpieces I provided as well as fabulous decor on the cake table that I hadn't expected. Every aspect of interaction I had with Beth was seamless. At the event, she didn't hover and smother me. She appeared at the perfect moment when I needed to move to the next stage of the event and was exceptionally polite and professional.

In addition to the fabulous assistance Beth provided, the venue was exceptionally accomodating. They provided me space to store my cake overnight (thankfully it was the end of December and there were few large events occuring), the food looked and tasted savory and delicious (many guests commented on the variety and splendid taste of the food for weeks after the event), and the president's gallery provided a stunning backdrop for photographs. I only wish I was able to take more food with me to eat later.

I highly recommend this venue for the high caibur staff, aesthetics, atmosphere, and food.

The Washington Duke Inn is the premiere location for a reception in Durham. Their team of event coordinators made sure our reception was absolutely perfect, and their wedding package was very reasonable, considering the high level of quality we received. An absolutely stunning venue!

The wedding day was absolutely wonderful. Diane Tighe is organized, detail-oriented, professional and will help you with things that you haven't even though about! My entire family and my husband's family enjoyed our wedding day because we weren't stressed out by any details. The service and professionalism of the catering and banquet team is unmatched. We are so happy that we chose the Washington Duke Inn! Highly recommend!

Sherry

Married on 07/23/2011

We had a block of rooms at the Wash Duke Inn for our wedding at the Duke Chapel and reception at the Duke Gardens. It is the perfect location for these venues and the group rate was very reasonable for the very shnazzy accomodations. The hairdresser needed a power strip and they brought it up right away without charging us. They were very nice about letting us hang out after the reception as well, until we got a little loud and they asked us to leave the patio around 2am. They were always very professional and I have zero complaints about my stay here. I would recommended this hotel in a heartbeat!

Dia S.

Married on 06/25/2011

The Washington Duke Inn and Golf Club is a beautiful venue to host a wedding and/or reception. The cordial venue coordinators are professional and flexible, doing all that they can to make your day effortless and memorable to all.

Desiring an elegant wedding with a conservative budget, the coordinators at the WaDuke met my needs and provided several options for my wants and created an awesome day to remember.

By hosting our rehearsal dinner, wedding ceremony and reception here, our family and friends were able to relax among the tranquil landscapes and enjoy each other's company without the concern of transportation to the next location or being hurried to get there. Our guests are still nostalgic about their WaDuke experience.

Stephanie

Married on 09/13/2014

The thing about the Washington-Duke is that they are wedding machines. While you won't have the Most Original Wedding in the world, it's worth it to ensure a seamless process. Everything is provided for you, so no need to look elsewhere for catering, linens, lighting, etc. You get what you pay for; although it's expensive, the service is extremely streamlined and professional. They compensate one night at the hotel for the bride and groom and give two room upgrades to junior suites for guests. The package deals are easy to understand, and we had rooms reserved for centerpiece assembly and bustle preparation. The tasting ceremonies are fun and they are very sensitive to individuals' needs. We had no complaints!!

Stephanie

Married on 10/12/2013

Great venue, great food, great drinks, great service! We worked with Danielle Massey who was great from start to finish. Very helpful, flexible, offered great suggestions, and felt like she really had our best interests in mind throughout. Their overall per person price is high, and seemed like there were lots of extra add-ins at the end that ran up the final bill, but we really felt like it was worth it. Would highly recommend!

Leonore

Married on 06/28/2008

Great hotel, very professional. If you have a wedding there you'll either work with Diane or Beth, both are great and really know what they are doing. They will never have more than two weddings at a time so they'll always have enough time for you. I worked with Beth and she usually anticipated my needs and took care of rentals and made my life so much easier!

Dana

Married on 10/08/2005

The new ballroom at the WDI is a great place for a wedding reception. There is a beautiful prefunction area for cocktails or an ourdoor terrace. The food was great -- many guests said best wedding food ever. We had a raw bar plus a plated three course (ahi tuna app, sweet potato sout, duet of lobster and filet). The only weird thing was that we had to either cut the cake before dinner (so they would have enough time to cut into servings for guests) or cut a fake cake after dinner and have a sheet cake ready in the back. We opted for latter. We also had midnight snacks and an extra hour of bar time after the band ended and the guests seemed to like that too!

Beth

Married on 08/06/2005

We had our bridal luncheon here before the wedding. It was wonderful.

Isabella

Married on 11/15/2014

I chose the Washington Duke Inn as the site for my wedding reception because it was the closest possible venue to the Duke Chapel (where I had my ceremony) and because it was beautiful and experienced when it came to weddings. While initially I wasn't thrilled with the idea of a hotel ballroom wedding (it seemed a little over-done) it was the easiest way to go (because of proximity), the staff seemed the friendliest and most accommodating of all the venues we toured, and it provided many services in neat packages so I had less things to worry about. The venue also offered us a very generous military discount, giving us the price for Sunday weddings on a Saturday night; this sealed the deal for my deployed groom!
The weekend we chose ended up being a weekend with three big games (two basketball, one big football) so the hotel booked up over two months before the wedding date. I wasn't warned when the hotel was near capacity or that my room block was full, so there were guests that were unable to get rooms. I also hadn't yet thought about booking a room to get ready in on the morning of the wedding, and having a large bridal party and hair/makeup team I needed more than a normal sized room. The team at WDI worked hard to help me find a solution, and eventually we came up with something that worked but it was very stressful for me. It took a while to come up with a workable solution to the getting ready room problem, and the scramble to get rooms on the wait list for some of my maids made for a stressful, confusing, and time consuming check-in process on the day before the wedding. All that being said, Beth Pendergrass was lovely to work with. She was sweet, patient, and went above and beyond for us. Our wedding ended up being perfect (I'm hard to impress!), guests raved about the food, and I think it was a good value. I would recommend WDI to other brides!

Keisha

Married on 07/15/2006

very beautiful venue. very professional services. great food!!

Lorean

Married on 07/01/2006

This was a wonderful site for our wedding and reception. We chose to do everything outdoors overlooking the golf course, which was beautiful, as well as the best value. They did everything from the food to planning. We did not have to worry about a thing. The food was fantastic and everything went off without a hitch.

Ana L.

Married on 07/21/2011

Even when the venue is amazing we were a little disappointed with the service. Our wedding was very small and we had a little hard time trying to accommodate our needs with the event planner. Unfortunately in the groom's dinner plate he found a vegetable sticker. Our in-laws wanted to surprise us with a wine bottle in our suite during the evening which we never got.
The waiters were wonderful, and the rest of the food was very good.

Karen

Married on 08/21/2010

Overall, my husband and I were extremely pleased with how the event came off: a beautiful setting on the terrace and in the Ambassador Ballroom, delicious food, and excellent, professional service at the event.

However, the pre-event planning process was less than desirable:

- The catering manager made several errors in the planning process. She mixed up the date for our food tasting, which forced us to rearrange meetings with other vendors when we only had a few days left in town (she never acknowledged that she had made the error and instead assumed I had gotten it wrong; when I checked our email exchanges, I had the correct date).
- In general, I felt that the Catering Manager was always trying to add on extra expenses to our event. While she would not prod when I politely declined, I consistently had to ask "how much this cost," etc., rather than being presented with that information up front.
- Several errors were made in the initial bills. The price for beverages was higher than quoted; similarly, extra, incorrect service fees were added (this was corrected once I called it to her attention; however, I felt like I had to scrutinize all invoices to ensure no added fees).
- When the ceremony ran longer than expected by 20 minutes, the Catering manager would not flex the schedule. She insisted that we cut out photography time (which had originally been 1 hr) to 30-40 minutes in order to start the banquet on time. I requested that we just push the dinner back by 15-20 minutes; that way, we could take our photos, and also our guests could enjoy the full hour of the appetizer + beverage station. She did not do this, and repeatedly hassled myself and the groom to return to the ballroom. All and all, it was a very uncomfortable and irritating experience that could have marred an otherwise wonderful day.
Are you interested?
Send a message