327 Reviews
Recommended by 99% of couples
Quality of service

5 out of 5 rating

Average response time

5 out of 5 rating

Professionalism

5 out of 5 rating

Value

5 out of 5 rating

Flexibility

5 out of 5 rating
9 User photos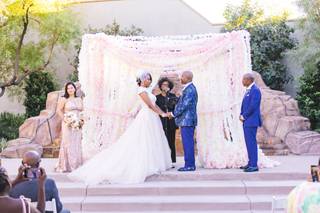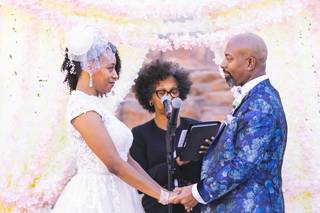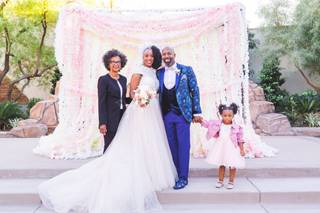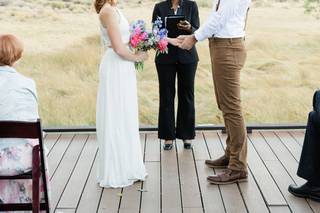 + 5

photos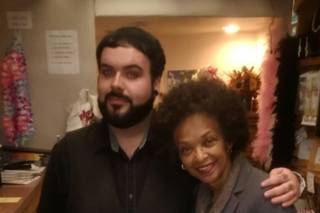 Vinicius R.

Married on 11/22/2022

A truly wedding fairy officiant

Wanda was the perfect officiant we could have wished for.

She created such a beautiful ceremony - where pure kindness, love & true passion of what she does was transpiring. With such beautiful sincerity, we felt like having with us a (new) family member during this very intimate elopement.

She exceeded expectations, providing so much support for all the legal paperworks we needed - let's be honest: this can be a one of the very stressful part of organising a wedding.
In fact, she worked around her schedule to make sure that these were completed (as promised) before our leave to Las Vegas.
We would highly recommend her for any couple that needs international documentations, as she clearly knew how to navigate through some of the legal requirements that you might need as a foreigner in addition to the marriage certificate (apostille) - nothing worse than getting married and not having it recognised in your own country!

Anyone that has her as an officiant is blessed/lucky and her cost services are more than fair.

She is truly a wedding fairy !

Wanda's Weddings's reply:

Dear Anna and Vini,
Navigating the twist, turns, and obstacles with getting the Apostille processed before you departed from Las Vegas was truly a bonding experience for the three of us. (LOL)

It was great working with you. More than you could ever imagine, I appreciate you so much for being patient, open and for trusting me throughout the process.

Now, the best part of it all, the bonus for me was meeting both of you in person. It's a lovely, love blessing to be the one who officiated your union. In our hearts, we are FAMILY! XOXO

Ciera H.

Married on 11/08/2022

You must have Wanda officiate your wedding!

Wanda is so talented in her craft. There are things she said in our wedding that still resound with me to this day and our wedding was two months ago. Her tone is calm and soothing to help with wedding jitters. She is calm, cool, and collected. She officiated our wedding as if she already knew me and my husband. I 100% recommend her to anyone and everyone who is looking to get married!

Wanda's Weddings's reply:

Dear Ciera,
The words that were spoken at your wedding ceremony was a reflection of what you and Thomas have created together. It is effortless to speak of love when we are able to see it.

Your beautifully written posting is validation of your thoughtfulness, warmth and kindness. I am grateful for having met you and Thomas. It was a pleasure to meet both of you and an honor to serve your wedding ceremony. I appreciate you and thank you for using this platform to share your experience with others. Wishing you an overflow of well deserved blessings!

Megan C.

Married on 07/10/2022

Elopement ceremony

Wanda was able to give us the perfect words during our ceremony. I couldn't have asked for a better officiant.

Are you interested?

Send a message

Silvia I.

Married on 04/23/2022

Professional, Heartfelt, Comfortable, and very articulate.

Everyone at our wedding commented on how beautiful the Officiant Wanda was, very heartfelt, professional, making me the bride at ease. I highly recommend her for your wedding. Thank you Wanda.


Tiffany B.

Married on 03/19/2022

Fabulous ……..

I would never hesitate to recommend her to anyone who wants a true professional.

Robert R.

Married on 11/11/2021

Better than extraordinary! 5 plus stars

There ARE NOT enough words to describe Wanda Tracey. Simply Put....... AMAZING!!! She was responsive, attentive, fun-loving, endearing, personable, poised and knowledgeable. We had the "I DO" type of ceremony and she orchestrated exceptionally. Her words were heart-felt and full of wisdom. She made our wedding ceremony a DREAM COME TRUE.

A. Renee H.

Married on 10/17/2021

Wanda Tracey is an amazing Officiant

Wanda Tracey was absolutely amazing. Originally a close friend of ours was supposed to be our officiant. My husband received a call from him saying he could no longer do it. Our wedding was about a month away. I quickly located the vendor list I got from my venue and contacted Wanda. She responded quickly and by the grace of God she was available and able to accommodate us! "It was meant to be!" The ceremony was so warm and loving our guest swore we had known Wanda for years. Having a destination wedding was a lot of work but totally worth it. I would highly recommend Wanda Tracey to everyone in need of an officiant!

Ian S.

Married on 10/15/2021

Went through Cactus Collective

Wanda was absolutely amazing and was the perfect officiant. Her words we heart warming and brought tears to both my brides and I's eyes.

Michelle H.

Married on 09/14/2021

Awesome officiant!

If you're getting married in Vegas, I would highly recommend having Wanda as your officiant. She was so warm, sincere and it felt like she had known us forever.
Our guests raved, even family that couldn't make it Vegas raved after watching the video. She was encouraging and hopeful. There was not a dry eye in the house!

Adrienne L.

Married on 05/01/2021

Sweetest person I've ever met!

Wanda was absolutely amazing! I now see why she's highly sought after. Her communication is top notch and extremely flexible when my venue had to change our rehearsal time. She did an absolute amazing job with our rehearsal and crazy family dynamic, helping my husband and I relax our nerves. Absolutely everything she said on our wedding day will be with us forever. I loved every minute of it! Thank you so much Wanda!!

Wanda's Weddings's reply:

Absolutely Amazing are words to describe you & your husband! Throughout the entire process it was great working with you, but most of all it was a blessing to meet both of you and your wonderful family, too! Your wedding rehearsal was soooo much fun and your wedding day was simply fabulous! Happy Hugs with Much Love

Mark A.

Married on 11/02/2020

Excellent Service

We absolutely loved Wanda. She was very kind and warm, respected and enhanced all of our wishes. Such a pleasure.

Anthony M.

Married on 10/10/2020

Anthony & James / 10-10-2020

Miss Wanda, served as our wedding officiant. She was professional, well prepared, articulate and friendly.
Prior to arriving in the Las Vegas area Miss Wanda provided a phone consultation with us to clarify specific details related to our dream wedding.
On the day of our wedding, she provided updates on her location and time of arrival via text messages.
Miss Wanda was more than our officiant that day, she was like a member of our family.
As our officiant, she brought such a warm, loving, and calming spirit to our service. Miss Wanda help to make our wedding day memorable and special

We highly recommend Miss Wanda's services.
Anthony & James


Wanda's Weddings's reply:

Dear Anthony & James,
We could call it luck that I was able to serve your 10/10/20 wedding when my schedule was completely booked up...HOWEVER, on deeper spiritual level, we know luck had nothing to do with it.
We know the power of Mother Betty's love for both of you orchestrated what was to be for her sons' wedding day! I am honored, I am humbled, and I am blessed to be the one chosen to serve your wedding ceremony and officiate your marriage.
I am forever grateful to be part of your ever expanding circle of love.

May your marriage be the greatest source of your blessings!

Sonia

Married on 07/31/2020

Amazing Officiant

Wanda went above and beyond!
She was very accommodating and understanding during COVID-19. She was flexible to make sure we got what we wished for so that we could be married on the date we originally planned. We were very happy with the ceremony and whenever we had any questions or needed anything she was quick to respond. Not only was she more then happy to marry us, but she also offered us the flexibility we needed to make the day happen. She delivered a short but sweet ceremony and we were fortunate to have stumbled upon her. I would recommend Wanda to any of my friends and family getting married.

Wanda's Weddings's reply:

Congratulations Neweds, Mrs & Mrs...
This morning I was greeted with multiple email pings from all of your review postings! My thanks to both of you is beyond words to express my gratitude. I truly appreciate your generosity for posting & sharing your experience on multiple sites. Thank you for placing your trust in me to Officiate your marriage.

If there is such a thing as putting a positive spin on COVID-19, it's this...it lead you to me. LOL!

May your marriage always reflect how much you love & care for one another...wishing you many awesome years together, forever!


Betsy S.

Married on 07/05/2020

Perfect Wedding Thanks to Wanda

We were making ourselves crazy trying to arrange our Las Vegas wedding from Mexico. Until we found Wanda's Weddings. From the moment we spoke, I knew that we had found the perfect contact to make our wishes come to fruition. After a short conversation, she listened to our thoughts and planned the perfect location and made our "day" even more special than we had hoped for. Everything went off without a hitch and we feel that we have found a lifelong friend in Wanda. Without knowing us, Wanda made the ceremony feel intimate and personal.
You can't go wrong by contacting Wanda!
Thank you Wanda for starting our marriage off on such a happy, positive note.

Blaze

Married on 11/09/2019

An Honest Truth.

I have been in the good fortune to have worked along side Wanda for two years now as she often joins us at the chapel where I myself work.

in this time I have seen many ministers and many different approaches to how we celebrate the nature of love for couples on their wedding day.

And in all this time I have never seen a better example of living with the reality of love and the virtue of patience that I have witnessed in her. I have seen Wanda resolve issues for couples with grace, go above and beyond and bring balance to the sometimes frantic moments for young and old a like and treat everyone with the same love, patience and kindness you'd only dream of on your wedding day. with her calm attitude and tone of a loving nature I have witnessed many couples cry tears of loving, passionate joy on their special days.

I myself recommend Wanda to anyone looking to truly honor their love and who wish to have a ceremony that will be treated with the seriousness and respect that it deserves. she will tell it to you straight, but with the loving tone of a mother. she will guide you through the chaos that is planning, without telling you how it HAS to be done. she is everything you could want in a minister, especially here in Las Vegas.

if my words have made you feel any sort of way, I can only hope that it is confidence in your decision to choose her as your minister for your special day.
.

Jennifer G.

Married on 10/20/2019

She's a Shining Star !

One of the best decisions we made was hiring Wanda to be our officiant . She was 100 % present to the moment , completely grounding us and our guests in the crazy Vegas heat . Her  voice  and demeanor were  cool , calm and collected. Her presence was outstanding . Sorry it took us so long to write this. You were and are a true blessing. Thank you!!!!!

Wanda's Weddings's reply:

OMG...Jennifer, I love you for making my day, my weekend, my week with this truly heartfelt note!
My 10/20/19 couple...Happy Upcoming Next Wedding
Anniversary...keep on loving & going strong!
Happy Hugs

Theresa S.

Married on 09/25/2019

A great experience

If you are looking for a great wedding vendor Wanda's wedding is the place. Very professional honest and sincere. I didn't have to worry about a thing and our wedding was perfect every on time.

Wanda's Weddings's reply:

Congratulations, David & Theresa,
My good fortune is being blessed with meeting & serving wedding ceremonies for couples like both of you. I truly appreciate the trust you placed in me to take good care of you.
The warmth of your loving spirit puts a smile in my heart. Thank you, Theresa, David and thank you to your best friends in the whole wide world, too! Happy Hugs to all of you

Clare D.

Married on 05/29/2019

Highly recommended.

Wanda is a kind, gentle person with a soothing voice who chose lovely vows for us to say.
She responded to my many emails with patience and promptness which I appreciated.
I am so glad we chose her for our wedding.

Wanda's Weddings's reply:

Hello Clare,
It was such a pleasure to make your wedding day special for you! Take good care of one another. Wishing you and your husband the best.
Wanda

Leslie

Married on 01/25/2019

Beautiful Experience

Minister Wanda was a wonderful addition to my wedding. Wanda was helpful, attentive and easy to communicate with prior to my wedding. Wanda was so pleasant and easy to talk to and was so helpful in making our day perfect.

Athena

Married on 10/13/2018

Perfect and unforgettable

Wanda was so sweet and sincere. She made us feel so special with her one of a kind ceremony. Her words are so special and she really connected with all of our guest.

Ciera

Married on 03/18/2018

Wanda made our ceremony feel so personal. She took care of everything we needed, including hair, makeup, flowers, and the venue. Our wedding was perfect and not complicated at all, thanks to Wanda.

Tiffany

Married on 02/04/2018

Wanda is extremely professional and easy to work with. She made me feel confident that my day would flow smoothly and that I made the right decision hiring her from miles away. Thank you Wanda for everything.

Sakura

Married on 11/08/2017

Wanda was absolutely wonderful, attentive, warm and hospitable! My husband and I couldn't have asked for a better wedding officiant and just better human being. We only had one week to plan our wedding, and Wanda's made it so easy and pleasurable at the same time. She asked all the right questions, helped us create a memorable script and vows, and then interacted with my family and friends like she had known them for years. Her webpage, questionnaire and online payment options were nothing short of professional. I recommend Wanda wholeheartedly! THANK YOU AGAIN!

Abigail

Married on 10/27/2017


astonishing, awesome, fascinating, incredible, marvelous, prodigious, shocking, stunning, unbelievable, wonderful

My husband and I got married on October 27, 2017 at the Ghost Bar at the Palms and Wanda was our officiant and she was amazing beyond words.

We were looking for an officiant that would do our ceremony the way we wanted. I kept coming across others that were telling me what they would do. Wanda, was asking what I WANTED in our ceremony. Gave suggestions of what she offers. I explained we wanted it pretty much straight to the point, without religions, (as I didn't think our 4 year old son would last during a long ceremony) and Wanda performed just that. a few days prior to our wedding, she sent us a script of what she was planning on saying, and I was able to tweak in any way. After reading it, nothing needed to be changed.

Come October 27th, while waiting in the Lobby to get to our floor, walked up Wanda, with a smile on her face. She right away started interacting with my wedding party, learning names and becoming a friend of ours. Once on the floor, I looked at her and was like" we are going to have to cut out personal vows, (with all the planning and traveling, we never got to writing them). Wanda's response was "No problem, we can do that".

Our venue offered us a microphone for those that could hear us, and my first response was that we didn't need it.., but a family member suggested it, and before taking the mic, Wanda came to us and relayed that and wanted to know if it was okay before taking it upon herself. The level of respect that she had for us to make it "OUR" special day was incredible. She spoke so passionate during the ceremony, like she knew us and was speaking from the heart. She truly loves what she does and I will recommend her to anyone I see looking for an officiant in Las Vegas.

Thank you so much Wanda for everything, you helped make my Wedding night so amazing!

Gina

Married on 08/13/2017

As the "wedding manager" of my daughter's wedding, I was tasked with planning a weekend destination wedding, To make this a success, I knew I had to find rock solid vendors. There was a snafu and in a panic I contacted Wanda via email at 7:30 am. I do not exaggerate when I say two minutes later, Wanda CALLED ME, calmed me down, stepped in, stepped up AND worked within my budget! Communication with her was seamless and I could tell she truly enjoys her work. And, when the big day arrived, she acted as the most professional yet charming "host" of the ceremony. And, from the minute Wanda delivered her opening statement, she had engaged everyone with her words and tone. It was like listening to a wise friend give the couple great advice-with love and some laughter. Here it is three days after the ceremony and guest are still talking about the heartfelt sentiments and asking how long had we known her. It's difficult for them to believe she was not a family friend. One guest proclaimed "I hope I get married soon, just so she can be the officiate". Guest usually go on and on about the dress, the food, the location-how many weddings have you been to that guests gush over the Officiate? I believe that the most important thing you should look for in a Wedding Officiant is someone who you could enjoy hanging out with even after the wedding is over. You need someone who listens and who does not have a long list of rules and regulations about your ceremony and no preconceived ideas as to how it should go. I hope these few words of advice will help you and serve you well in your decision making on probably the most important person at your ceremony besides the bride and groom.
Are you interested?
Send a message