47 Reviews
Recommended by 100% of couples
Quality of service

5 out of 5 rating

Average response time

5 out of 5 rating

Professionalism

5 out of 5 rating

Value

5 out of 5 rating

Flexibility

5 out of 5 rating
94 User photos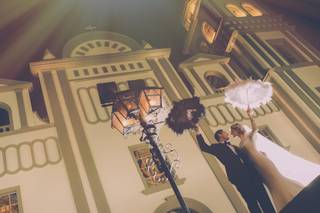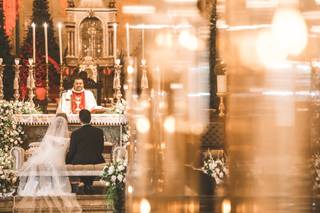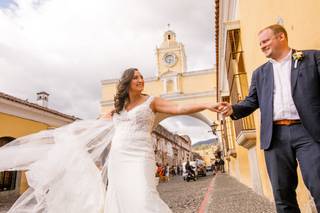 + 90

photos
Elena L.

Married on 03/11/2022

Outstanding talent + outstanding customer service = never letting go

The minute I got engaged I knew that what I wanted the most, was exceptional photography (over food, music, etc.) for our wedding. So, I began my search for the perfect photographer, and after reviewing a gazillion portfolios, Walsh's stood out the most to me. I live in Honduras and even though our wedding took place in the middle of the pandemic, he demonstrated outstanding willingness to be here no matter what! What's more, our wedding date fell in between two of the most devastating hurricanes we've had in my country in the last 20 years. Guess what?? Walsh was in Tegucigalpa 2 nights prior to our wedding event!! I couldn't believe his level of professionalism and commitment. Since the moment I contacted him, he was cordial and followed up on our wedding plans. I payed up in advance for his services to book the date and I have to say, it's the best investment I could've done. What he did with our wedding photos is pure magic! I couldn't believe my eyes when we received them. One does not find such level of attention to detail every day! More than a picture his work is ART. He went above and beyond to make us feel comfortable in front of the camera and his cheerfulness was so pleasant and contagious. We couldn't be more grateful, for he captured our special moment in the dreamiest of ways! He has such a gift! It was truly a pleasure working with Walsh. Outstanding talent + outstanding customer service = never letting go. We can't wait for our next shoot! We're bringing him with us to our honeymoon once pandemic goes away!

Walsh Wedding Stories's reply:

Wow Elena. Thanks so much for your beautiful words! I somehow missed your review and just read it. It fills my heart to know that you were so happy with my service! I really enjoyed photographing you. You're a very special person!

Br Mcgintee

Married on 02/20/2022

exceeded expectations

Months after my wedding and I am still in awe of Rodolfo's work! He is patient, flexible, transparent, and above all, very professional. He arrived on time with a clear plan to execute and really listened to our requests while also offering helpful suggestions. He has an eye for capturing the right moments and making you feel like you are the most important people on the planet!! He helped my husband relax, go with the flow and he'd stop anytime he saw we needed to gather ourselves.
Everyone still raves about our photos and video. Apart from us, he captured Antigua's essence and when it all comes together, it truly is a work of art! I am forever thankful for these memories and can't wait to use Rodolfo again for our next journey to parenthood.

Walsh Wedding Stories's reply:

Thanks so much for the great review Rossana. You are truly a special couple and it was a real honor taking your photos and video. Looking forward to our next photo shoot!

Andrea S.

Married on 05/22/2021

Rodolfo Walsh is the best!

Rodolfo was the best choice we could make! We had to change the wedding date several times due to the pandemic and he was always willing to support us. The day of the event, he showed off! He took the most beautiful photos of us and he always did it with the best attitude, giving his best. You can see that he loves what he does and that is reflected in the photos

Walsh Wedding Stories's reply:

Hi Andrea. Thanks so much for the great review. I really enjoyed meeting you and photographing such a special and fun couple!

Are you interested?

Send a message

Paulina S.

Married on 03/13/2021

The Perfect Experience

The best wedding photography experience we could ever ask for! Rodolfo made it fun and comfortable for us! And of course, the final work is breathtaking! Very easy to work with, and super attentive to details. We did pictures and video the day of our wedding, and an additional personal session through the town after the wedding (highly recommend). We would recommend Walsh Wedding Stories to everyone looking for a photographer for their big day! Thank you for everything!

Walsh Wedding Stories's reply:

Thanks for the great review and your beautiful words Paulina. It was a real honor to share with you your Big Day!!!

Gabriela B.

Married on 10/11/2020

Best experience i've ever had!

Throughout my life I've worked with many photographers and videographers for family events, I love getting photographs of important moments taken. My experience with Walsh Wedding Stories has been by far the best one of them all. Saying that the videographer and photographers were the best vendors in my whole wedding it's not enough. They really went above and beyond to make us happy... They were there on time, they were so patient and took all the shots I asked them to. Our wedding took place at Coatepeque Lake, El Salvador. My husband and his family didn't speak Spanish but the whole team made sure they felt included and comfortable the whole day. It's also important to mention that the communication before the wedding was amazing too, fast replies, easy booking and easy options for paying the deposit to reserve the date. If I would recommend Walsh Wedding Stories to anyone out there getting ready for the big day and wanting to get your pictures taken by the best team there is!!! Thank you everyone in this team for making our big day more than magic.

Walsh Wedding Stories's reply:

Thanks so much for the great review Gabriela! It was an honor taking your photos and video. Really happy to know that we were your favorite wedding vendors!!!

Camila Z.

Married on 10/10/2020

BEST decision we ever made! Thank you!

Rodolfo and his team were incredible! Their pictures are so unique, he is a true artist. They were able to capture our wedding day perfectly, and were always professional, energetic, and made sure we had a great time. I would recommend them to anyone looking to capture their special day.

Walsh Wedding Stories's reply:

Thanks for the great review Camila. It was an honor to do your photos and video in Houston!!!! Wish you all the happiness in the world.

Eddy R.

Married on 08/09/2020

Very professional team and great person


First off I would like to let you know how much aida and I love the trailer!!!!! It is perfect in every way, we really feel like you really captured the entire wedding mood our how our special weekend was. Your team was amazing at everything they did and I am so thankful to have found the right person for our special day.

Walsh Wedding Stories's reply:

Thanks for the great review Eddy. It was a real honor to have done the photos and video of your special day!!!!

Ruby B.

Married on 07/27/2019

Truly Outstanding

Words cannot express how grateful my husband and I are that Rodolfo and the videographer worked at in capturing the most important day of our lives.
We got married at the Waldorf Astoria Pedregal Resort in Los Cabos and were lucky to have found Rodolfo after tons of online researching. I loved Rodolfo's work so much that I wanted to lock him down right away by signing a contract and placing a down payment before anyone else could claim him on our wedding weekend. I believe that anyone can take photos however not everyone has the talent and creativity that Rodolfo has. Rodolfo made sure to get the perfect angles, background, and pose to capture our most cherished day.
Prior to the wedding Rodolfo took his time in getting to know us. We were in close contact and upon meeting Rodolfo and the videographer in Cabo we immediately felt as if we were in safe hands. It was like having two friends there with you. Their experience and professionalism allows you to relax and enjoy the best day of your life.
Rodolfo and the videographer are truly talented. When we got the photos I was blown away and when we got the video I was in tears because it was so amazing.
The drone photos were absolutely phenomenal. It takes skill to work the drone and capture photos at the perfect moments. Everyone has been commenting on the drone photos and asking who is the photographer/videographer.
Rodolfo genuinely has a passion for what he does and it shines through in his work. We could not be happier with the outcome of the photos and video. We sincerely appreciate all the hard work, time, and care they put into capturing memories we will cherish forever.

+ 9

photos

Walsh Wedding Stories's reply:

Wow Ruby!!!! Can't thank you enough for the wonderful review you just wrote. I'm speechless. It makes me extremely happy to know that our work blew you away and caused you tears!!! It was a real honor to have met you and thanks so much for the trust you laid upon us.

Daniela

Married on 06/22/2019

Fantastic photographer!

We are so glad we chose Rodolfo and his team to be our wedding photographers! He did an amazing job from start to finish. His style captures the candid, romantic, touching, and funny moments so beautifully. We had so much fun taking our posed photographs and Rodolfo made us feel very comfortable and relaxed. We are absolutely in love with all of our beautiful wedding pictures and we couldn't have asked for a more perfect experience. He also created a beautiful wedding movie and worked with us to make it exactly as we wanted, and we are currently working on creating a wedding photo album with him.
We chose Guatemala as our wedding destination, although my husband and I were living in the US. Rodolfo was very responsive via email, text, and phone and we had no issues working with him from a distance while we were planning the wedding. We sent him the payment from the US, it was very easy and although we hadn't met him in person, we had no doubts whatsoever about his trustworthiness. I would recommend Rodolfo to anyone without any reservations whatsoever!




Walsh Wedding Stories's reply:

Hi Dani. Thanks so much for your amazing review. It was an honor to do the photos and video of your beautiful destination wedding. Wish you all the happiness in the world!!!

Ana L.

Married on 05/11/2019

Best of the best

Rodolfo is a fantastic professional. He captured every single moment with great focus on detail and spontaneity. His creativity and passion, created everlasting memories of our wedding day. The prompt communication and trustworthiness were very appreciated as our wedding was planned from abroad. On the wedding day, Rodolfo had no limits in doing his best to create a phenomenal ambiance and best effects ever!

Walsh Wedding Stories's reply:

Hi Ana. I already thanked you via WhatsApp but didn't do it through Wedding Wire. Sooooo, thank you, thank you, thank you for your kind words. It was a real honor!!!

Melissa N.

Married on 04/06/2019

Wedding Photos/Videos: Life-long treasures!!

Photos and Videos: The second most important decision to make for your wedding!!! (the first is of course the groom!) But choosing a great photographer is something you are NEVER going to regret!! It is amazing how the day goes by so fast! You dream about it and plan it for so long, and suddenly it is all over!! So having Walsh Wedding Stories pictures/videos afterwards is like having the opportunity to live the moment again, feel all that bucket of emotions all over and remember that moment forever... that is PRICELESS!!!

He and his team have 2 abilities that, in my opinion, makes them THE best option for your wedding, truly different from any other:

1) Calm, serene, confident personality: That day can be filled with nervousness, stress, million things going on, delays, last-minute decisions, emotions all over. You want someone whose presence calms you down and makes you feel comfortable and confident. I was so happy with how Walsh and his team handled the situation, took advantage of the delay (yep, priest arrived 1.5 hrs late), looked for perfect shot spots, made me laugh and enjoy the moment even more. They don´t add stress to your wedding, they help you keep it away be being very professional and skilled!! You will not have doubts weather they are doing their job correctly, they know exactly how to take the perfect pictures and how to handle each moment in order for it to be captured forever.

2. Psychic abilities!! The day will have lots of moments that will surprise you, excite you, move you…. and even though you can´t see them coming, apparently Walsh and his team do! They knew exactly when to take the shot, from which angle, in order to capture that face that expresses a million feelings… that unique, once-in-a-lifetime look, smile, tear that represents the essence of marriage, the true reason you are celebrating a wedding. Those moments last literally 1 second! They saw it coming and were able to click on the camera botton and the PERFECT timing!!! You don´t want only normal pictures (all standing in line smiling), you want AMAZING, UNIQUE, SPECIAL, MIND-BLOWING pictures! Looking at those pictures afterwards makes you and your spouse experience those feelings again….and again and again!

I recommend Walsh Wedding Stories 200%!! This pictures and videos are our most valuable treasure from that day… they will be part of our great love story for all the years to come, and will always represent the real and true love that brough us together in the first place.

WE WILL BE FOREVER GRATEFUL!!


+ 8

photos

Walsh Wedding Stories's reply:

Wow Melissa!!! A priceless review! As you recommend us I would recommend all brides to be just like you! You are the exact reason of why I love to do what I do! A real honor to have shared that wonderful day with you!

Raquel Z.

Married on 02/23/2019

The pictures of your dreams!!

He did a fantastic job. He listened to what we wanted and created the most stunning pictures. His pictures seemed out of a magazine and the candid nature of his shots told the story of the day allowing the atmosphere of the day to be felt by anyone who views them.

Walsh Wedding Stories's reply:

Thanks so much for the great review Raquel. It was an honor to photograph your wedding in El Salvador.

Stephanie M.

Married on 01/15/2019

Sent from above!!!

Let me begin by expressing my infinite gratitude to Rodolfo for doing all that he did at my wedding shoot. I had decided to have my wedding dress/honeymoon shoot in Los Cabos, Mexico in January 2019. Unfortunately with the frenzy of it all and the confusion of so much information my fiancée at the time and I were unable to sit down and analyze a variety of photographers. At our hotel room we decided we needed to find the best one there was because there was no time to narrow anything down. We came across Rodolfo Walsh's official wedding photography page instantaneously. It was as if sent from the heavens. He was everything we were in need of: had outstanding reviews and to our surprise very limited, but open availability (for our weekend!)
In a matter of a few hours we touched base with Rodolfo - him being overseas, my now-husband and I being in Mexico. We agreed to fly him out, book his stay, have him work his magic and get the waters to calm. I was a WRECK, as any bride can imagine (those pictures needed to be perfect!) I entrusted Rodolfo entirely and decided to give him a shot based on much more than my gut feeling; more so on the great aura he transmitted to me. He was so cool, calm and collected and considering I was none of the above it was such a refreshing feeling.
Upon booking Rodolfo Walsh we solidified our business by paying him before meeting him. He flew into Los Cabos, booked a local Airbnb and we got the ball rolling from there.
To make a long story short - my wedding pictures were adventurous, hectic, tiresome, and undeniably unforgettable. I was told to climb rocks in 95 degree weather Fahrenheit. I was tied into a corseted white dress with over +1100 Swarovski crystals under a blazing sun. I was also stared at by my husband like I've never been stared at before.
We laughed.
We cried.
We posed for the selfie. And here I am. Two years later, happily married and reminiscing these pictures as if they were taken just yesterday. #takemeback thank you Rodolfo!

- Stephanie & Adam x

+ 5

photos

Walsh Wedding Stories's reply:

Thanks for the wonderful review Stephanie. It was definitely an adventure (not for the faint-hearted) under the blazing sun, under a desert rainstorm, and on a rocking boat! It was such a grest time! Thanks for your trust!!!

Daniela V.

Married on 10/27/2018

Simply the best!

Rodolfo is without a doubt the best photographer out there! We loved how he wasn't afraid to stand under the rain, lay down in the grass, walk trough mud etc...to be able to take the perfect shot!
I recommend Walsh Wedding Stories 1000%! I promise you won't regret having your pictures taken by them!!

Ps. He even made sure to include our little pup in the pictures! ❤️

+ 3

photos

Walsh Wedding Stories's reply:

Thanks for your wonderful words Dani! It was an honor taking your photos and video! You guys are great!

Ivanna

Married on 08/04/2018

I really enjoyed working with Rodolfo! I am from Honduras and was looking for an artistic photographer who could capture my wedding day in the most magical way! One of my friends hired him for her wedding, and once I saw the photos I knew I had to hire him too!

Even though I had never met him in person, I payed the total amount before my wedding. I am really glad I hired him! Photos turned out amazing!

+ 4

photos

Walsh Wedding Stories's reply:

Hi Ivanna. It was a great honor and a great experience travelling to Honduras to do the photos of your gorgeous wedding! It was great to meet both of you. You guys make an amazing couple. Thanks so much for the great review! Wish you all the hapiness in the world.

Maria

Married on 02/03/2018

I have the best memories from my wedding thanks to Rodolfo Walsh from Walsh Wedding Stories. I contacted Rodolfo through his web page around 10 months before my wedding, I had seen some of his work and loved it, and after a short email exchange I was convinced. I made the payment in full (half right away and half 15 days before the wedding).
My wedding took place in Cardedeu, Lake Coatepeque, El Salvador on feb 3 2018. Rodolfo was there at 2:00 p.m. sharp, right when I was starting to get ready with my mom, my maid of honor and my three dogs. I can honestly say, since the moment he got there, the whole experience was amazing. It felt like I was being photographed by someone I had known for years, he made me feel confortable, no stress at all, even made my husband smile (which NEVER happens), and was the sweetest with my pups! Rodolfo and his crew were very professional, and most of all very kind and fun. They shot genuine moments, from my mom's (happy) tears, the jokes between me and my bridesmaids, the kisses with my dogs, the groom and his groomsmen, to the magical ceremony and fun reception!
The end result was amazing, the pictures are magical, he captured the perfect moments and I couldn't be happier!
p.s I fully recommend asking for the drone!!! The pictures taken with it are breathtaking!


+ 4

photos

Walsh Wedding Stories's reply:

Hola Bea. Thanks so much for the amazing review. From the moment I stepped into your room I felt the same way....like I had known you for years!!! There was an instant connection! Yours falls into the category of weddings I will never forget.....everything was so perfect, relaxing and lots of fun! Wish you all the happiness in the world!!!

Gina

Married on 12/08/2017

The best photographer I have ever met and worked with ... and trust me, I've worked with more then a few.

Jose

Married on 12/08/2017

We had a great experience with Rodolfo and his crew. It was a true joy to have our picture shoots with him. We highly recommend him!

+ 4

photos

Walsh Wedding Stories's reply:

Hi José. Thanks so much for the great review. I really enjoyed meeting both of you. It was an honor to do your photos and video. Have a wonderful married life!!!

Ximena

Married on 12/02/2017

Rodolfo Walsh is a very talented photographer. Spontaneous, creative, and nice to be around with. We felt very comfortable with him and with his way of work. The pictures and the video of our wedding were better than we expected. He was able to capture the best moments of that special day. We are very happy we chose him.

Walsh Wedding Stories's reply:

Thanks for your great review Ximena. It was a real honor to do your photos and video!!! Wish you all the happiness in the world!

Ariane

Married on 11/12/2017

We are so thankful to have found Rodolfo. He is extremely talented! He knows how to turn everything he sees to an opportunity for a creative shot. He captured every precious moment. We are also extremely thankful for his team that helped us get around and make sure every detail was in place for the shot. Best decision and investment, it's worth every penny! We could not have asked for a better photographer or team to be with us on our special day! THANK YOU!

+ 7

photos

Walsh Wedding Stories's reply:

Hi Ariane. Thanks for the great review! It was a real honor to do the photos and video of your beautiful wedding. You guys were really wonderful to work with!!! I wish you all the happiness in the world!!!

Sebastian

Married on 09/15/2017

Where to start? What a ride our wedding was. When someone tells you planning a wedding is "stressful…" it is the understatement of the century. Every possible thing that could go wrong at a wedding, went wrong at our wedding: Hurricane devastating the country, earthquakes, strikes at airport in Madrid for guests flying out of Spain, hundreds of canceled flights, 42 guests stranded at a myriad of US airports, makeup artists walking out on the bride 90 minutes before the wedding due to a massive hangover (who she flew from the US to Guatemala for this event,) difficult hotel staff, bridesmaid getting strip searched at airport by sleazy agents, landslides on road reaching venue, missing tuxedo bowtie, a plethora of additional charges made by vendors hours before the wedding with threats of walking out on us if we didn't pay additional charges upfront, rain, police trying to shut us down mid-wedding for noise, missing groomsman, 18 more guests showed up than confirmed so we did not have enough dinner places for guests… The calm in our storm was Rodolfo.
We reviewed a plethora of online wedding pictures from social media, selected our 3 favorite photographers and planned to interview each. Rodolfo was the second person we saw and didn't even need to check the 3rd. He was charming, kind, incredibly attentive and professional.
Fast-forward several months to our wedding, he said he'd arrive by 4pm and he was there 1 hour early to make sure everything was prepared. He and his staff we prompt, professional and always on top of capturing the next best moment. What we'll carry in our hearts from that day was the smile Rodolfo always managed to turn for us. He shed a different light every difficult situation that arose, and we couldn't help but laugh. What started out to be stressful and problematic ended up in laughter and amazing photographs. The pictures he took look like magazine covers, he's amazingly talented. I'll share 3 of my favorites here.

Walsh Wedding Stories's reply:

Wow Sebastian. That was some review!!!! Thanks so much for taking your time to write it. It was definitely a very stressful day for the two of you! Realizing that my photos can bring back the happy moments of the day, makes me feel like my mission has been accomplished! I really appreciate your trust and your kindness. You guys make an amazing couple.

Daniela

Married on 09/02/2017

Me encanto la experiencia con Walsh! Las fotos quedaron increíbles y el me entrego todo super a tiempo! Muy recomendado!!!!!!!



Walsh Wedding Stories's reply:

Hola Daniela. Fue un honor haber estado con ustedes en Honduras para su GRAN día!!! Muchas gracias por la confianza y por el excelente review. Que tengan la mas linda vida matrimonial!!!

Cecilia

Married on 08/05/2017

It was really amazing. We felt very comfortable with Rodolfo, he and his crew were very professional!! His creativity captured moments that made our wedding day more magical and special that exceded our expectations. Thank you for making our day the best!!

Walsh Wedding Stories's reply:

Thanks for your great review Ceci. It was our honor to do the photos and video of your BIG day!!! Huge hug to you!!!

Javier

Married on 06/24/2017

Increíble fotógrafo, nos tomo fotos increíbles en guatemala y en San francisco, súper profesional y atento, súper cómodo trabajar con el, súper recomendado!

Walsh Wedding Stories's reply:

Hi Javier . Thanks so much for your great review. Your photo session in San Francisco, California was memorable!!! Enjoyed every second with you guys!

Edna

Married on 05/27/2017

Excellent work and experience!!!! Before I even started planning my wedding I had been following Walsh wedding photography on Facebook for a looong time and always loved his work. So when it was time to look for a photographer I contacted Rodolfo via messenger and soon got a quick response. He was very friendly and easy to communicate with. He sent me different package options by email and was very flexible when it came to changing a few things in the package and adding extra hours. For my wedding being in Los Angeles California, him and the videographer both had to fly out here which the pricing was included in the package as well. He made everything very easy to plan. I picked them up from the airport And they stayed with my family, were very friendly and had a great time. Now, the PICTURES AND VIDEO of our wedding was BEYOND OUTSTANDING!!!! Love loved loved every single one of them! I didn't have to be worried of them capturing the special moments of the night because they were on it. They paid attention to every detail and even took shots of surrounding areas. They even looked up some places near by to take us there to take some more pictures. Overall we are super satisfied with their work, professionalism, and friendliness. My family loved their work that even my sister and brother in law are looking forward to using Walsh Wedding Photo in their future weddings. Will totally recommend to anyone who wants an outstanding work of your special day!!! :)



Walsh Wedding Stories's reply:

Hi Edna. Thanks so much for the wonderful review. It was such an honor to share your special day with both of you and your lovely families!!! Had an amazing time at your wedding in Los Angeles. I´m so happy you loved both your photos and video!!!!
Are you interested?
Send a message