Vision Weddings by Christina Amos Loker Reviews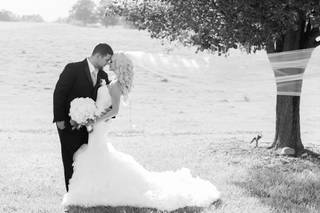 Vision Weddings by Christina Amos Loker
Elkton, VA
View more information
21 Reviews
Recommended by 65% of couples
Quality of service

Rating 3.2 out of 5

Average response time

Rating 3.2 out of 5

Professionalism

Rating 3.2 out of 5

Value

Rating 3.3 out of 5

Flexibility

Rating 3.3 out of 5
Chelsea

Married on 08/06/2021

First meeting

Christina has been very attentive since our first conversation. We had our first meeting today to go over my budget and it was so helpful and stress free!

Erin O.

Married on 10/05/2019

Great experience!

The entire crew helped put together the perfect day and everything was able to happen without a hitch! Would recommend to anyone!

Jodie B.

Married on 10/04/2019

Great Coordinator!

Christina is really reasonably priced and so nice! She did a great job as our day of coordinator for our wedding. I had a detailed list of things for her and she was great at following exactly what I wanted. It was clear how much effort she put into making our day great and we really appreciated it!

Lisa P.

Married on 07/20/2019

Lifesaver coordinator!

Christina was a LIFESAVER for my wedding. I booked her frantically, after my venue had replaced their coordinator 4 times! She was able to work with my budget for day-of coordination, helped with the Rehearsal, and made sure everything went smoothly the day of. We had some Big issues with the florist and decorations, but she and her assistants came to the rescue and made it all work. She checked in with me constantly to make sure everything looked just how I had envisioned it, and honestly helped make my dream wedding a reality!!! I could NOT have done it without her help and I'd recommend her 100% for ANY bride and groom planning a wedding, no matter how big or small. There were details I didn't even think of that came up, and she dealt with them! She made sure all the vendors were accounted for, on time, and in place. She worked with the timeline, even with delays, and made sure things ran smoothly the whole day!

Phoebe H.

Married on 06/15/2019

A total dream come true!

When i started planning my wedding i was really stressed out, not even just with the wedding itself just life in general. Vision weddings helped me through this with patience and nothing but kindness. They took there time to cater to every single one of my needs and didn't miss anything i said! They really take to heart what you want and make it come true! So thank you vision weddings for making my dream a reality!

Macayla

Married on 06/10/2019

Amazing Experience

Christina has been so amazing from the start. She has answered every question I've had and taken every worry and all the stress out of my big day. I'm so thankful to have her be apart of this experience. If you want someone to make your dream wedding come true smoothly and perfectly contact her, you will not regret it!

Vision Weddings by Christina Amos Loker's reply:

You are such a sweetheart. We love working with you ! Your wedding day is going to be incredible! I can not say enough good things about you and your family.

Kate F.

Married on 06/01/2019

Stress Free and Amazing

Christina is very attentive! She is always checking in and asking how I'm doing and what I need help with. I couldn't have asked for a better person to work with! They truly help relieve the stress!

Vision Weddings by Christina Amos Loker's reply:

Kate you are simply the sweetest bride ever. I can not wait to make sure your wedding is the absolute best day of your life. You deserve it sweetie.

Melissa E.

Married on 05/18/2019

Wonderful Experience

I'm so glad we went with Christina for my daughters wedding. She's genuine and I feel like from the start we've known her for so long. She has made my daughter so happy and it makes me happy knowing that on my daughters wedding day I don't have to stress over anything. She will be there to make the dream come true!

Jensen

Married on 02/16/2019

Wedding planning

Christina is the BEST! I can't imagine using anyone else to plan my friend's big day. She cares about every single detail, and makes sure your entire dream comes true.

Vision Weddings by Christina Amos Loker's reply:

Thank you so much! We just love making everyone happy on the big day ! Everything about wedding planning can be stressful but we Are here to take that away!

Beth S.

Married on 10/16/2018

Professional and friendly!

Christina and her team are extremely professional! They made sure the bride didn't leave out ANYTHING on her big day! She is very outstanding with her attention to detail!

Jennifer N.

Married on 05/27/2017

Personalized Service!

Christina made our wedding a dream! Everything came together just how I imagined it and I didn't have to worry one bit! All my friends have been so stressed about their wedding day but I wasn't at all. Christina made it all happen and all I had to do is show up! It was such a relief and completely worth it!

Vision Weddings by Christina Amos Loker's reply:

Thank you so much for choosing us as your wedding consultant. You all were a pleasure to work with. I am so happy we delivered your dream wedding.

Crystal H.

Married on 09/11/2021

Looking for a explanation to the negative reviews? Read this

Writing this review as an honest reflection of my interactions with this vendor. I hired Christina to help plan our wedding in August of 2019 for our 2020 wedding (which provided the lock-downs all end, will still happen). To date, I have never met her personally but have texted and spoke with her several times on the phone.

When we hired her, the reviews were all positive and all interactions I had with her had been professional and fit my needs. I am a full-time teacher and did not have much money to give for a DOC service, so I was very glad that she was willing to work with our low budget.

**please keep reading, this post will answer a lot of questions about the previous reviews** My fiance was contacted randomly by a former client of hers via Facebook (we do not know this person, and don't know how they found us- but we have suspicions). This person informed us that this vendor was a "scam artist" and "stole money" and "stopped calling us back". We then did our homework and saw the negative reviews that had been posted after we hired her. I can't speak to these women's experiences, but I will say that we had NO ISSUES getting in touch with Christina to discuss this troubling situation. She immediately told us her side of the story, and we asked for our money back as a show of good faith, on the understanding that she would be paid upon completion of services. We figured "if she is a scammer, the money's gone anyway." To our pleasant surprise she then returned all our money via Venmo. She also provided us (per our request) a copy of her LLC and insurance policy, professional references and her training certificate.
I am rating Christina four stars only because my wedding has not happened yet and I can't honestly speak to her physical day of coordination services. However I CAN vouch for the morality of this vendor, simply put, a scam artist does not return money.
It is my opinion that this is an individual who, like many of us at one time or another, was hit with a hard time and an unfortunate situation came out of that. Again, I can't speak to these women's experiences, but given that everything seems to be legally above board and we received 100% of our money back we are going to honor OUR end of the contract we signed with her and keep her as our DOC.
I know negative reviews can be scary, but I also truly think that DOC services are sinfully overpriced industry wide. I also know from experience as a maid of honor and now a bride, that it is almost impossible to get through a wedding without a DOC. Bottom line, Christina's rates are affordable and for many people that's what it HAS to come down to because money does not grow on trees.
My advice would be to those who are looking to hire her. Speak to her first, and if the fit feels right ask if she is willing to be flexible on payment procedures. She is a very reasonable person and may work with you to do something where you pay her the day of the event. I hope this was helpful. Cheers!

Samantha S.

Married on 10/17/2020

R U N !!!!

I had such high hopes for my DOC and I had to cancel her services less than a week before my wedding. Very unprofessional, goes MIA when there are scheduled meetings, changes her number and then you have to hunt her down. The first time she went MIA, I found her business page on Facebook and then soon after was blocked from it. I do not recommend! A DOC is supposed to make your wedding day less stressful and this was anything but. I felt like I was hunting her down the entire time and trying to figure out what was needed. Do yourself a favor and do not use her!

Ariana S.

Married on 10/17/2020

This is a fradulent business

Christina Amos Loker/Vision Weddings has scammed at least 8 couples in the last few months alone, including me and my fiance. She takes your money and disappears. This is not a real wedding planning business, and I am reaching out to WeddingWire corporate about how they are giving a platform to a fradulent business. The positive reviews on this vendor profile do not reflect reality. While we were able to get our money back, we now need to scramble to find a new coordinator.

Ashton

Married on 08/22/2020

Fraud fraud fraud fraud fraud fraud

I never send out reviews but for this fraud I will. Just like other reviews stated she started out great by calling us on the phone to talk. She wanted to set up a meeting with my fiancé and myself. Needless to say the lunch never happened. We booked her in May 2019 for our August 2020 wedding and didn't hear from her at all. I had reached out to her at the end of November 2019 and was informed her and some other girl would attend my wedding but the message was brief in regards to the long one I had sent her. However, 8 months before our wedding my fiancé and I decided to change plans to an outer banks destination wedding. We no longer needed a coordinator and reached out for our deposit back. The number we had was disconnected and Christina would not reply to emails. Just as soon as I was about to start getting angry about the situation I was informed by the mother of another groom that this woman had ripped off her son weeks before his wedding. She has also ripped off many other couples. Thankfully the mother of the other groom had managed to find her number and I was able to text her for my refund back of $400. 1. She never reached out to me stating she was changing her contact info. 2. She has changed her name to Allie Mullins. She is a local of the Harrisonburg area so I'm not quite sure how she expects to get away with screwing over brides. We have all banned together against you and hope legal charges are filed. I'm lucky we changed our wedding plans and never used her. Other brides and grooms have not been so lucky and have scrambled for someone else to come along and help coordinate their wedding day. She is a scam and no one should let her get away with this

Kristina W.

Married on 06/13/2020

This woman is a fraud

This business is an absolute scam just like those listing reviews above. I paid Christina for 3 month planning that was supposed to begin on March 13th 2020. She has been unreachable in every way and my story aligns the same as everyone else's on here. Super sweet to start, particularly responsive when wanting more money from you, particularly unresponsive when you decline to pay her more. The weird thing for me here is that I personally know someone who has left a positive review on this page for her, and after being in touch with her, she said she had a totally great experience. She was there for her rehearsal and the wedding and things went as they were so planned. Not sure if she bit off more than she can chew here, but she is certainly fraudulent. I have finally informed her that I will take legal action to get my money back from her and have still not received a response. I have even been in touch with someone who has worked as her assistant at different weddings and she says that she won't even answer her. I am not sure what or who to believe at this point. All I know is my venue requires me to have a coordinator and I am now less than three months away from my date, robbed of my money and a vendor. Would love to hear people's insight on their ability to get money back from her, etc.

Caroline B.

Married on 06/13/2020

Scam alert

Please do not go with this wedding planner!! After one phone call and immediately hitting it off my mother paid $1,200 (half of a deposit) for her full-service package to help me with my upcoming June wedding because Christina sounded very professional and caring. However as soon as she got her money Christina became difficult to reach and barely responded to our texts and calls. We met ONCE after first booking to go over a basic wedding plan where she took notes and had lunch with us. This came after weeks of begging. After that the only time we heard from her again was when I had to BEG her for two weeks to send me a list of recommended vendors. The list was comprised of 10 people with NO INFORMATION about them besides names and phone numbers. This is something that I could have easily done myself with a simple google search, which we have basically been doing since then. Despite her contract promising things like a vision board, budget discussion, selecting vendors, helping to book vendors, and planning the wedding out Christina has made no effort to do any of these things. Just the one meeting and the short list. After that she became almost impossible to contact unless she wanted money. She will only contact you if she wants more money, either through you paying the rest of the deposit early for her "Black Friday Sale" or to promote her self-photography business. She has tried to take advantage of me multiple times by going directly to me instead of my mother to promote her other ventures instead of doing her job. Eventually, after not hearing from Christina for over a month after doing everything to call, text, email, and facebook message her we did finally hear back after threatening legal action. We learned from another victim that Christina had changed her phone number without telling anyone, but she gave us an excuse about her google account not working. Christina tried to argue that there were still 6 months until my wedding, there are FOUR. Then when she was called out for her poor quality of service she tried to play up a "poor me" persona. She told us she had to borrow from family in order to pay us back the money that she STOLE as if we were supposed to feel sorry for her. After a back and forth my mother was eventually able to get her money refunded in full, however Christina promptly BLOCKED her from calling her or accessing the Vision Weddings facebook page in an attempt to keep my mother from leaving any negative reviews. According to the other scam victim we've been in touch with Christina tried to guilt her into taking down a personal facebook asking for information after being scammed by mentioning her three children. This victim used taking down her facebook post as leverage to get our money returned and we are so grateful to her for it. Christina boasts about being a wedding planner, a dental hygienist, a skincare sales rep, and a photographer. Her husband also works fulltime. If you have been scammed DO NOT LET HER MANIPULATE YOU INTO TAKING YOUR REVIEW DOWN OR GIVING HER ANOTHER CHANCE. We missed out on several amazing booking opportunities with local vendors because we wasted time waiting for Christina to do the bare minimum of what she PROMISED IN HER CONTRACT. To any new brides, grooms, or parents reading this: DO YOUR RESEARCH BEFORE SELECTING A WEDDING PLANNER.

Josephine

Married on 06/06/2020

Do not hire!

This vendor is changing her name to Allie Mullins and the name of the business to Love Weddings in order to dodge what she's done to 6 different brides in just January 2020 alone. Rather than take accountability and responsibility for her actions, learn from her mistakes (you can't just plan your own wedding then hang a sign calling yourself an expert), obtain some education in this field and get some credibility, etc, she's right back at it hustling. Nothing in her contract is done after she receives the deposit money. In fact, she then only contacts you if she wants more money by offering discounts for paying early or if she's trying to sell other bogus options. The common theme in each negative review by independent brides is that she drops off the face of the earth after being so sweet in the beginning. When found and then threatened with court actions and police report filings, she finally responds and says oh sorry I lost my phone. She's told people she..."changed her number." Or, that messages aren't being sent from her google account to her phone when you text her (Whatever that means. When she wants your money though she's right there texting you or when you text her). She's been sick. He computer is broken. On and on. This is a person who knows nothing about this business and her contract is lifted from somewhere else and someone else. She doesn't know how to fulfill even one item that is listed as her duties in her own contract. All the positive reviews are fake and have common words and themes, and/or are made by her friends. It is very evident. There are 6 brides left without plans for their wedding with wedding dates less than five months away and having to fight to get their money back. DO NOT USE THIS VENDOR NO MATTER WHAT SHE CHANGES HER NAME OR THE COMPANY NAME TO. If you have used this vendor and you have had the same experience, please reach out to anyone who has placed a negative review to get help. Christina will be held accountable no matter what she changes her name to or her company name. She has other businesses she runs, a job, etc, and she's jokingly and flippantly admitted on her Facebook in a post that she can't keep up with them. We were led to believe that the wedding planning business was full-time and out of her home in a professional office with 5 employees. That this was her entire focus 24/7 per her advertising. This is completely opposite of the actual situation. There is no truth in any thing she has advertised or stated.

Vignesh K.

Married on 06/04/2020

Disappeared 4 months prior to wedding and blocked our numbers

Summary: Do not hire Christina! She took our $400 deposit and stopped responding to our texts and blocked our numbers 4 months from the wedding! Absolutely a nightmare to work with.

When we initially contacted Christina in April of 2018 she was very responsive and great. We put down the $400 deposit and decided to go with her as our day of coordinator. We continued to work with her on a few items regarding our wedding planning. While she was responsive until December 2018 her responses were often confusing and unsatisfactory. Overall, she was mostly unhelpful. From December 3rd onwards she stopped responding to our text messages entirely. When attempting to call her we found out that both of our numbers had been blocked.

After 27 days of no response we consulted legal advice and were left with no option but to terminate our contract with her on December 30th given that her ignorance of our text messages constituted material breach of our contract in accordance with Virginia state law (Horton v. Horton, 254 Va. 111, 115-16, 487 S.E.2d 200, 203-04). She failed to fulfill the obligation of her contract that states that she will be available 24/7 via text. We sent her numerous messages over a period of 27 days that she never responded to. We asked for our deposit back due to her violation of the contract.

As of writing this we have still not heard from her and plan on beginning legal proceedings unless the deposit is returned.

Alyssa S.

Married on 04/11/2020

She is a fraud...

Unfortunately, this woman is a scam. She has mastered the art of making happy individuals give her their money and then never provided her services that she contracted. She had promised that she would be there for her couples 24/7 before the wedding, but that is not the case. She has sent my fiancé and I into a rush to find someone who will assistance on one of the most important days of our lives. She has no longer responded to any messages that I have sent in over a month as her contract states. She has stated that her phone is broken and has needed to get a "new number," she is a complete fake. Please protect yourself and find someone who will provide the services that they have outlined in their contract.

Haley F.

Married on 02/22/2020

No Communication. Don't Waste Your Time.

If you don't wish to read my entire review, please just hear this. 25 days out from our wedding, my fiancé and I decided to fire Christina with Vision Weddings. In short, our reasons include a serious lack of communication, and zero professionalism - changing emails + phone numbers and not informing fully paid clients of these changes. I would encourage you, as a bride or groom, to carefully read her reviews, not just on this platform, but also The Knot and Google.
To share my experience in a bit more detail - we hired Christina for day-of coordination. She was very quick to respond to us in the beginning, take our deposit and make us feel like we made a very wise choice. Not too many months after paying our deposit, Christina reached out to us informing us that if we went ahead and paid in full, she would give us a discount. We did that - no problem. Fast forward a bit, we emailed Christina four times to ask if she could send a copy of her business insurance to our wedding venue. With no response, I finally texted her. She got back to me stating my emails must be going to spam and shared a new email with me. This bothered me as a fully paid client I was not informed of this email change. We looked past this. Now, at the beginning of the year we finished our wedding weekend itinerary and sent it to her. We didn't hear anything, so I followed up to confirm that she received it and asked if we could schedule a call to discuss the flow of the day in the upcoming weeks. No response - so I followed up again. I did get a brief response stating yes, let's get something on the schedule. Quickly responded to her - and then again, nothing. After trying to call the number I had previously used with her, it instantly went to a recorded message saying the phone number was unavailable...goodbye. With this information I was so confused because at this point I wasn't sure how to get a hold of this person I have trusted to coordinate my wedding...and the women that I have already paid. Then, I found three reviews on The Knot, from January 2020 stating she was a fraud, etc. This concerned my fiancé and I. After a series of events, we were finally able to talk to Christina and we let her know that based on this experience we have had and the reviews we were seeing online, we would like to discontinue service with her and get our money back. To Christina's defense, we did get our money back. BUT - this whole experience has really dulled the spark of wedding planning for my fiancé and I. So - in the long and short of this - don't put yourself through this. Enjoy wedding planning and this experience with you loved one and don't use Christina.