Reviews
5.0 out of 5 rating
Quality of service

5 out of 5 rating

Average response time

5 out of 5 rating

Professionalism

5 out of 5 rating

Value

5 out of 5 rating

Flexibility

5 out of 5 rating
100%
Recommended by couples
8 User photos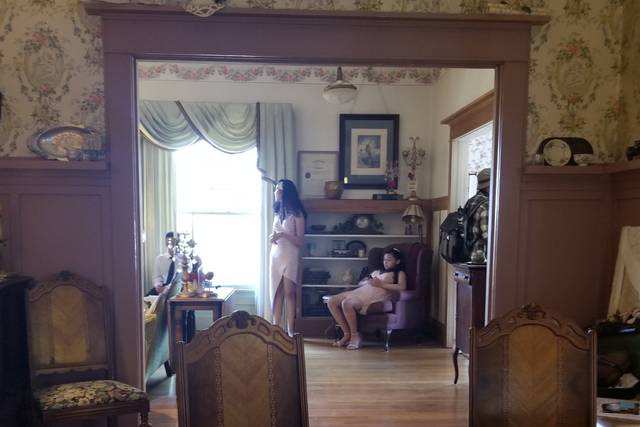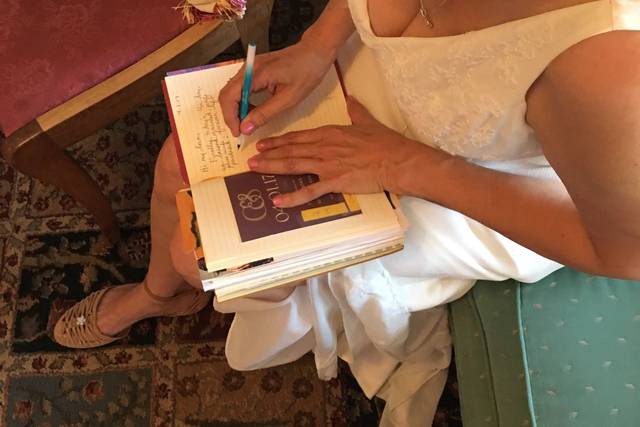 + 4

photos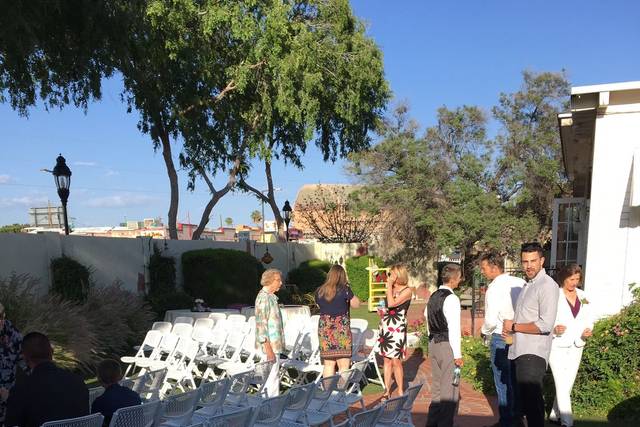 Stacey K.

Married on 03/23/2023

Perfectly vintage

We used this venue for our wedding and couldn't be happier! It was easy and affordable and the wedding package exactly what we wanted. The venue itself was so cute and vintage. We absolutely fell in love with it! The owner, Natalie was amazing! She made me feel comfortable and she took care of everything. We can't wait to use her venue again to renew our vows someday.

Noemi

Married on 04/09/2022

It was fun, memorable, cozy, romantic, we'll managed. Woukd definitely recommend

Natalie and her staff were amazing. Quick to answer any questions we had. They will literally make everything very stress free for couples /family to enjoy the wedding. Our entire family and ourselves were surprised on how fast time went by, no one wanted the night to end. It was just wonderful.

Laurie P.

Married on 10/12/2021

Amazing and beautiful!

The staff was wonderful and the venue is beautiful.

Highly recommended

Are you interested?

Send a message

Kelli H.

Married on 03/27/2021

Amazing is an Understatement

Natalie & everyone at Virginia's House really are God's gift to weddings.
After having my wedding planned for a year, I had a venue cancel on me last minute.

Natalie was quick to help get my day booked and went above and beyond to ensure I would have nothing to worry about the day of.
My wedding was so much better than I could have ever imagined and that was largely in part to all of the hard work from the Virginia's House staff.

The venue itself is so beautiful and quaint--so many of my guests raved about how perfect & elegant the setting was.

Natalie really did everything for me. Some things that I wouldn't even have thought about, she took care of before I thought to ask.

This venue is amazing--no exceptions.

Virginia's House's reply:

Thanks so much, Kelli! You were truly a dream to work with. I'm sorry you were dealt a cancellation, but so glad we could turn it around for you.

Jesse G.

Married on 01/04/2020

Perfect wedding!

I couldn't be happier with our wedding at Virginia's House. The photos speak for themselves, so needless to say, it is beautiful and full of character. In your search for a venue to host your wedding, you may find other beautiful places but one thing you won't find is Natalie. She is warm, caring, thorough, and the definition of a professional. You can trust her to make your special day perfect as she did ours.

Thank you again Natalie. It was day we will never forget!!

Virginia's House's reply:

Thanks! You and Alain are EXACTLY why I love what I do! Your kind words mean a lot to me!
-Natalie

Sandi W.

Married on 11/16/2019

Amazing Venue

We had my daughters wedding here this past weekend and it was beautiful! Natalie and her staff were amazing! Natalie pays very close attention to detail. She is very sweet and responds quickly to any question you may have. I would definitely recommend this venue to everyone!

Virginia's House's reply:

Thanks, Sandi! We surely loved having you all here. So glad you chose us for your sweet daughter's wedding.

Laura C.

Married on 08/20/2019

Travel Agent

I love their open houses. I always feel super welcomed! Natalie always makes me feel at home.

Tommy F.

Married on 08/10/2019

Great place for wedding, or company function!

I actually had the opportunity to DJ a wedding at Virginia's House. It is an excellent venue, and the owner works tirelessly to make her guests happy. Definitely would love to have my wedding there!

Virginia's House's reply:

Thanks, Tommy! We loved having you here. So glad you're back and available for referrals! Come on down and we'll take good care of you, too. :)

Saskia

Married on 03/17/2018

There is so much i could say about Virginia's house. First off Natalie is the sweetest person you could meet. She is willing to work with you and do whatever it takes to make sure you day goes the way you want it to. I am beyond thankful to have found Virginia's house. It was exactly what we were looking for in not only a venue but the person working with us. I recommend this venue to anyone! Thank you so much for all you do !

Virginia's House's reply:

Kia - you're the sweetest thing ever. Thanks so much for the kind words. I've loved getting to know you and Connor and work through all of the challenges thrown at you.

-Natalie @ Virginia's House

Valerie

Married on 12/30/2017

I cannot express how wonderful our wedding was at Virginia's House. Natalie the owner is a wedding guru who makes wedding planning a breeze. The venue is charming and every vendor that Natalie uses is amazing! I highly recommend having your next event here!

Virginia's House's reply:

Thanks, Valerie! Our vendors are truly the best! We loved having you and your family here. It was our pleasure to host your special day.

Jennifer

Married on 11/18/2017

We got married at Virginia's House in November. Natalie was amazing to work with as we're all of her vendors. We got many compliments about how much our guests liked the venue, atmosphere and service. This price includes venue, catering, cake, officiant and decorations/centerpieces provided by venue.

Ariel

Married on 10/28/2017

Natalie was always so quick to respond to any question or concerns I had and did an amazing job at making sure our special day went as smooth as possible. The venue was gorgeous- I miss having a reason to go there so often!!

Virginia's House's reply:

Ariel, you're too kind. We truly loved having you and your amazing friends and family here. And because you'll always be part of the Virginia's House family, you can stop by whenever you want!

Jody S.

Married on 10/21/2017

Virginia's House Is Unique

Our family has hosted weddings, a vow renewal, and numerous showers at Virginia's House. It is where we go when we want to feel away from the harshness of the world, and transported to a space where kindness prevails, the flowers are blooming, and somebody genuinely cares about the event that we are putting into our memories.

Natalie Stahl makes the magic because Natalie is sort of a magician. She is approachable, unflappable, and seems to know what you might need even before you do. Her venue is a genuine antique home, and retains a vintage charm that can't be artificially produced.

And her prices are so far below the "going rate" that they might make you hesitant to ask "what's the catch?" There isn't any. That's just how Natalie does business, because she believes that every couple deserves a beautiful wedding day.

Melissa R.

Married on 10/14/2017

Most magical wedding day

Absolutely amazing from introduction all the way to wedding reception! You will not find a more vintage beautiful venue for a great price, not to mention the owner!! You would not regret your decision to allow Natalie to make your wedding day something unforgettable!

Virginia's House's reply:

Melissa - you are Jeff are the best! Thanks for the kind words, but more than that - thank you for trusting me with your special day.

Diane

Married on 07/22/2017

Natalie and Virginia's House was the best choice I made for my big day, besides my husband of course. This historic house is so beautiful and I could not have been in better hands. From the smallest detail to the overall theme, everything worked like a fine tuned piano, smooth and sweet. Natalie made me feel so calm and relaxed because I knew that everything was taken care of. Her years of experience work in your favor. Have your special event at Virginia's House; all you have to do is relax and enjoy the ride. When is the last time a bride said that?!?

Tucked away near Old Town Glendale, Virginia's House is part enchanted cottage and part garden complete with a Fairy Godmother (AKA Natalie Stahl). Over a 10 month period, Natalie and her team helped us plan our perfect wedding; on the Big Day we were able to relax and savor each moment knowing Natalie had everything under control. Our guests left smiling, so did we! Great value, excellent, professional service, and a beautiful, unique setting.

Virginia's House's reply:

Girls - thanks so much for posting the photos!! I truly loved working with both of you. I'm pretty sure you were two of the most excited people we've ever met that just couldn't wait to get married! Your excitement was intoxicating and contagious.

Sd Fulton

Married on 04/01/2017

A Perfect Wedding

We're getting ready to celebrate our 6th Wedding Anniversary on 4/1 - a date we chose because it made us smile (and no one forgets our anniversary). Every moment of our wedding was perfect - Natalie walked us through options, helped us find the perfect vendors, provided creative ideas (and the decor to match), and on the big day she was there quietly ensuring things went exactly as planned. Virginia's House is a part of our forever memories - beautiful setting, worry free service. A bit of magic.

Ella

Married on 02/11/2017

Natalie was warm and welcoming. Planning our daughter's wedding went smoothly. The venue was beautiful and the setup was exquisite. We would highly recommend Virginia's House to everyone!

Virginia's House's reply:

Ella - thanks so much for the kind words. We love your daughter and were so glad to host not one but two of her special events here! Here's to many more! <3

Taiwah

Married on 12/14/2016

If you're looking to go to other places stop right now and you found the perfect place; Natalie was an amazing vendor to work with she is without a doubt the very best nerve Whisperer, situation Handler, and an all-around event Guru. There are not enough words in the English language to describe how truly blessed and fortunate we were to have been able to work with such an amazing woman and her team.

Virginia's House's reply:

Taiwah - you are the sweetest thing! I literally got misty-eyed reading this. Both of your families were amazing. We're so glad you chose Virginia's House for your special day. May you love happily ever after!

Shay

Married on 11/26/2016

This the place to have your special day. I, like other brides that have left reviews cannot say enough nice things about Natalie and her venue. She is so easy to work with, so calm, so sweet, and just genuinely cares about her brides, her grooms, and all the people involved. We had had a rough year and she just made planning our wedding during a family crisis, was a God send. Please, please have your wedding with them, you will not regret it.

Virginia's House's reply:

Shay - that was the sweetest thing EVER! Thanks so much for the kind words. You and your family are amazing. You've been through a lot, but came out even better for it. So glad I got to be a part of it!

Choosing this vendor was the best decision ever!! Natalie is the greatest! She was always answering all my crazy questions so quickly and she is so down to earth. What you get for your money is amazing and worth every penny! You will not regret picking this place for your special day! The house is adorable and makes for great pictures as well.

Lisa R.

Married on 09/11/2016

Quaint and relaxed

5 stars aren't enough! I cannot stress enough how beautiful Virginia's House is first of all. On top of that working with Natalie made my wedding stress free. She guided me where I needed it and the vendors she suggested were as amazing as she is. If you are looking for a quaint, relaxed setting to start your life together, I highly recommend Virginia's House.

Tania

Married on 06/25/2016

I was extremely pleased with my wedding

Natalie was great from the start. She took care of all of my questions/concerns. The venue is extremely beautiful with vintage decor that my guest loved. Very affordable for anyone who is looking for a friendly budget but a great experience. Have great pictures and memories that I adore looking at with my family 💜

Virginia's House's reply:

Tania - thank you for the kind words! I'm so glad that your memories and photos are still bringing you joy. Thanks for trusting us with your day.

Christina

Married on 04/10/2016

The owner and corridinator Natalie was phenomenal!!! Absolutely loved the venue and she was AMAZING!!! She was so helpful and always had words of encouragement!!! Everything turned out perfect and more than we could have asked for. Very affordable even with the catering! It was a beautiful wedding and so stress free. HIGHLY RECOMMEND!!!

Virginia's House's reply:

Thank you, Christina! We sure loved your little family. I'm glad we could help you through the planning, organizing and your special day. You sparkled!

I highly recommend this venue. The food was amazing the cake was so good, nathalie helped with everything and she did an amazing job!
Are you interested?
Send a message