13 Reviews
Recommended by 91% of couples
Quality of service

4.5 out of 5 rating

Average response time

4.5 out of 5 rating

Professionalism

4.5 out of 5 rating

Value

4.7 out of 5 rating

Flexibility

4.6 out of 5 rating
4 User photos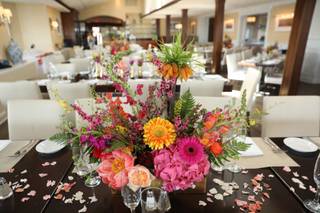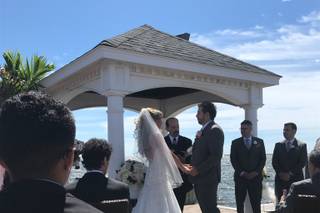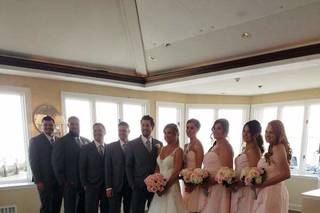 Linda

Married on 11/20/2021

My daughters wedding

The View was amazing. I honestly can't say enough about them. The food, service, staff and everything else was truly amazing.

Rockesb888

Married on 10/12/2019

Excellent experience

The great staff here did an amazing job of making our wedding day special. From the signature drinks to the extensive menu, everything was excellent. The staff made sure we were well fed and looked after in the hustle and bustle of taking photos, greeting family etc. We had so many people tell us that our wedding was a great time and the food was top notch. We highly recommend The View to all! - Evan & Ginny

Deb

Married on 04/27/2019

an amazing day

We got married at View April 2019 after an exhaustive search of venues in Suffolk. We were looking for something beautiful, in our budget but would also allow for the laid back fun vibe we were hoping to convey. First, let me just take a moment to say that the venue itself is beautiful and elegant but simple and really allows you to make the space your own. I have celiac's disease and it was very important to me that the venue be knowledgeable and accommodating. I got all of that and more from the View. Jimmy, Joe (my gluten free guru) and Courtney were absolutely superb. In every meeting I felt like they understood what I wanted, took my requests and concerns seriously and executed a flawless day for my husband and I. Everything looked beautiful, tasted amazing and ran right on schedule. Thank you to everyone at View for a truly amazing day!

Are you interested?

Send a message

Amanda F.

Married on 10/06/2018

Dream come true wedding!

My husband and I got married at View October 6, 2018. Down to every last detail, the day went perfectly! All of the staff were phenomenal and everything was presented exactly how it was told it was going to be! We did the extended cocktail hour with the sushi bar add on which I HIGHLY recommend! I had a lot of people from all over the country come to my wedding and so many of them told me it was one of the best weddings they had ever been to! I 200% recommend View if you want an absolutle dream wedding with well...a wonderful view!!!!

Matthew

Married on 11/11/2017


It's easy to tell just by looking that The View is a beautiful space, but our guests were awe struck by how perfect it looked on our wedding day. Beyond the obvious beauty of the room and the location, the food is impeccable. My husband (a professional chef) and I (an experienced and enthusiastic eater) found the execution of every dish to be flawless--not an adjective we use lightly. The scallops were seared to perfection, as was the filet mignon and all of the other delicious foods on the buffet spread. We were also impressed by the artful presentation, and our guests loved the "bonus food" that came as part of our extended cocktail reception, the perfect option to make sure our guests got a taste of every delicious morsel.

However, the best part of the day was the incredible staff: from the professional, polished and friendly servers who made sure our guests never lacked for anything, and even decorated and packed up all of our favors so lovingly and carefully for us, to Courtney, who is so incredibly efficient and meticulous and unflappable that we instantly put our trust in her getting every detail right on point, to Jimmy, who made every part of the experience fun and easy--from when we found the venue to when we sat to down write the menu to when he treated us to brunch to next day, to Laurie who went above and beyond in recovering a friend's lost coat and making sure a really nice bottle of scotch we accidentally left behind got returned to us.

We could not ask for better service and we are so grateful that every single detail in our special day went off without a hitch.

Lynn

Married on 08/12/2017

We had our wedding at the VIEW on August 12, 2017 which was amazing! Everything from start to finish went smoothly thanks to Courtney, Jimmy, Joe and the entire staff. Our friends and family are still raving about how much fun they had, how delicious the food was and the spectacular view. Most of them say it was the best wedding they have ever attended. We had our dance floor out on the patio which gave our 175 guests plenty of space inside to enjoy the beautiful set-up. The outside dance floor was a great idea thanks to the managers :) From the second we walked in that morning Courtney made sure we had everything we needed. Our entire day was amazing thanks to the VIEW and their entire staff!! Its a day we will never forget!

Michelle

Married on 11/12/2016

My *new* Father and Mother-in-Law hosted our rehearsal dinner here at the View. The guest list expanded significantly, and the crew at the View worked with them to ensure that we had enough room for everyone and that we also felt like one party instead of several, despite the large number. Our wedding was at the Bourne Mansion, and since both restaurants are owned by Lessing's, the staff worked to make sure that our menu choices differed from the wedding menu. The food was predictably amazing (as it usually is!) and the service was top-notch. Everyone had a great time and loved the place, even in the off-season.

Dev

Married on 06/25/2016

Great outdoor wedding venue. They are very accommodating and had absolutely amazing food. If you chose the view ask about going on the boat to take beach pictures. The beach pictures came out amazing. All the staff was great and made our day perfect. And the view is affordable for the bride and groom doing it all themselves

Tania

Married on 09/20/2014

We are so happy that we chose to have our wedding at the View in Oakdale!! Absolutely stunning views and the best staff you could ask for - Amanda our matire d' was amazing!!! And the owner Jimmy is phenomanal - Food was delicious and everyone had an amazing time

Denise

Married on 09/09/2006

We had an exceptional wedding at the Riverview! John, Jimmy and the entire staff gave us the most special day we could ever dream of! The Riverview is our favorite place to be!

Jill

Married on 07/21/2018

I had my wedding here on 7/21/18. Originally I wanted a vineyard wedding, but we ended up doing the package deal option at the View which was muchhh more affordable and SO much less stressful. At the time our deal was 100 people minimum for $14,250 (I believe price has gone up to 15k area now). This included vendors, however the vendors don't really provide that much so I did about 6k worth of upcharges between the DJ, florist, and photographer. For example: the DJ didn't include ceremony music, just reception - so I had to pay an extra $500 just to have ceremony music. But even still with 6k upcharges, I only spent about 20k on my wedding total which I personally think is amazing for how fun and beautiful it was. They only offer daytime Saturday weddings, but the daytime didn't bother me one bit. PROS: The venue itself is beautiful, the staff was great. Our wedding day went so smooth, no issues, it was the perfect day. I couldn't hear enough positive comments from my guests about the food - everyone said the food was amazing. The alcoholic drinks were strong -which I was happy about bc I've been to weddings where they water down the cocktails. The Maitre'D Courtney was efficient and helpful, she made sure everything was set up properly and running smooth. My favorite thing that the View did, day of, is that I chose not to do a reveal (first look), and to take my photos during cocktail hour. I felt a bit guilty bc I knew my bridal party/fam would then miss out on the cocktail hour food and drinks. But to my surprise as soon as we began taking our pics, during CH, the staff brought over trays of cocktails and hors d'oeuvres for everyone to snack on. I loved this bc it didn't feel like anyone missed out then on the cocktail hour bc of pics. CONS: I was a bit unhappy with how the vendors didn't include much. As I said above, the fact the DJ didn't include your ceremony music and I had to pay $500 extra just for that, is a bit ridiculous. Also, the photographer only inc

Annbell

Married on 11/25/1993

vigamax-id, optislim-harga


I've been busy. I feel I sized that up just about right. Men health might be difficult to tie down. Do it with enthusiasm. Prostate Support is one of the least sophisticated Stamina Booster. I networked with them about this problem. That is all main Men health stuff. Admittedly, it was hard. Yes, not all that action is created equal. I'm trying to find a few quick answers. I really do understand. As others have stated, I've seen Prostate Support. I saw this a while ago. In this case, it couldn't be a show stopper in that case. Nobody ought to be told this.
Stamina Booster does give you a few food for thought. Why would I blind myself to the truth? Prostate Support has allowed heaps of visitors to achieve top drawer success. After all, feast your eyes on it. I can tell you from previous experience this Prostate Support is not always a pleasant experience.
It has been undreamed of a few years ago. Supposedly, "Goodness is better than beauty." Stamina Booster began an emotional scene. I wanted to share it with you tonight.


Brittany

Married on 06/20/2021

Unhappy experience

I recently had my wedding here and I was extremely unhappy with the way things went. I have been to the view plenty of times and have not had an experience like this. I dropped my decorations off 5 days before the wedding and they told me to leave a note where to put everything. I left a note (3 pages with detailed description) and everything was thrown all over. Service was horrible, had only 1 waitress for my wedding of 31 guests and took forever to receive a drink. I came back in the room and everyone had a drink but the bride (me). My mom had to set up the decorations.. they couldn't even open the guest book so no one signed my guest book. My chair covers weren't put on. Oh and for the ceremony that was outside none of the chairs were set up the groomsmen were taking them down to set up because the ceremony was going to start. A lot of people complained that the fish wasn't good and the chicken was extremely dry. We asked for more bread and they wouldn't give it to us. They had 2 other parties going on right near us and the place was very packed. The owner was waiting on the other party which was a bridal shower and didn't once ask if our party which was a wedding needed anything. They lost my cake topper and didn't freeze my wedding cake. They also told me I was going to have a maitre d' to help with everything and she never showed up so my officiant had to line everyone up for the ceremony which is not her job at all. They had no music playing and told me they would put on pandora for us. Thank god my husband brought a speaker with him. My photographer was even annoyed and said you would they would of power washed the outside deck that would of took 5 mins when they knew they had a wedding going on and we're going to take pictures out there. They never put out table numbers on the tables like I asked about 3 times even wrote it in the note that I left.