27 Reviews
Recommended by 100% of couples
Quality of service

5 out of 5 rating

Average response time

5 out of 5 rating

Professionalism

5 out of 5 rating

Value

4.9 out of 5 rating

Flexibility

5 out of 5 rating
Awards
4 User photos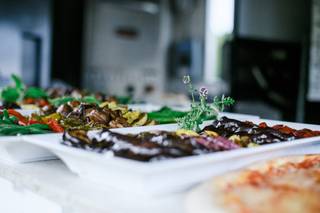 Kelly

Married on 07/02/2022

Delicious and friendly!

Bruce and his staff were wonderful! From the tasting to the event he was incredibly accommodating and flexible with our plans for our day and the food was delicious. I think the biggest testament comes from my uncle, who loves his food, who was a little apprehensive to the idea of pizza at a wedding, but raved about it after the day. Bruce let us choose 6 different pizza options which were great for accommodating all of the dietary needs of our guests. We also added chicken and salmon which was delicious. Our apps were a charcuterie and a raw bar which was a big hit with our guests! And the gelato dessert was so good, we loved having this option. Bruce was very receptive to all our ideas and flexible with our menu up to a few weeks before the event, something we really appreciated. He was available via email or phone call from the time we booked with him until the big day which was super helpful. We also really appreciated his flexibility on the day of the event. There was an unexpected, half hour downpour that he and his staff quickly accommodated to and kept everything running smoothly despite being set up outside, not sure how he managed this but he did and we could not be more thankful! We have nothing negative to say about our experience with Victoria's Brickoven Pizza, it was everything we wanted and more!

Steph B.

Married on 06/11/2022

A Pizza Lover's Dream wedding

We wanted to share our love for pizza with our family and friends on our wedding day and Victoria's did not disappoint. They were able to accommodate our guests many food restrictions. The vegans and gluten intolerant were delighted. Plus we had several delicious appetizers as well as cake and coffee service. Bruce was absolutely lovely to work with. And going to the pizza shop to try all the pizzas was one of the highlights of the wedding planning process. I would definitely recommend them!

Andrea N.

Married on 07/10/2020

Delicious and professional wedding catering

We had Victoria's Wood Fired Pizza cater our wedding welcome dinner in October 2019 in Hudson,NY, and it was amazing. They were easygoing but professional and prepared throughout the process. We had many guests complement us on their pizza afterwards! The pizzas came out quickly, and they catered to our guests gluten free needs. Grace and Bruce were also wonderful to work with. Two weeks before our wedding we found out that our welcome dinner venue was closing for good, which sent us into a frenzy to find a new location for Victoria's to cater. They were professional and reassuring throughout the process, and helped us to find a venue that would both work for us and work for them. We would highly recommend Victorias to anyone looking to cater their wedding events, or any event!


Are you interested?

Send a message

Jake O.

Married on 10/12/2019

Professional and Delicious

Bruce, Grace, and all of the on-site staff chefs and serving crew were absolute professionals through the entire process. From initial calls and menu planning, to wedding day prep, execution, and cleanup, they went above and beyond in providing their catering services.
Grace was always in touch and available to answer any questions or concerns, and the company's experience showed in their knowledge and recommendations regarding menu, service style, guest count, etc. They hosted us for a tasting months before, and prepared us all that they could that was in season and available.
Pricing breakdown was upfront, with no surprises. Day of execution for our 110 guests was fabulous, and on the schedule we had worked out. Somehow the food tasted even better than it did at the initial tasting! Roasted veggies were cooked perfectly and plated beautifully. Chicken and salmon were delectable. And the pizzas, of course were creative and sublime! We received a ton of compliments from family and friends, and we got exactly what we wanted- a simple, yet flavorful family-style meal that catered to vegetarians and meat-lovers alike.
Cleanup was fast and professional, and they left the venue with no complaints.
If you're looking for a professional, communicative, and talented catering crew for your wedding, we highly recommend the team at Victoria's.

Meghan

Married on 09/14/2019

Delicious Pizza - the best wedding food around!

People doubted our wedding food choice, but walked away with the best taste in their mouths! The quality of ingredients and unique pizza topping combinations made this a highlight of our day! Bruce and Grace were great and super helpful through the whole experience! I wish more people had pizza weddings and I can't wait to stop by their little shop for more pizza soon!

Becca

Married on 09/01/2019

Victoria's was amazing!

I can't even start to explain what a good choice hiring Victoria's was. We were struggling to manage some dietary needs, and were convinced we'd have to serve pb&j when we came across Victoria's. They were easy to work with, affordable, and the food was INCREDIBLE. It is definitely not "just a food truck." Everybody really enjoyed themselves, and loved the pizzas. We are so appreciative that we found Victoria's!

Raphael P.

Married on 07/13/2019

The absolute best way to feed your guests

Bruce & Grace were absolutely incredible to work with every step of the way. We can't overstate how great they are. We met with Bruce about a year before our wedding and sampled various pies. He spent several hours talking with us, asking us questions about our needs, making suggestions, and describing how Victoria's works. Throughout the entire process, whenever we wrote to them, they responded to us immediately and their responses were always helpful. They also had so many good/helpful suggestions for us along the way. The pizza is delicious and they're flexible if you have guests with different dietary needs (vegetarian, vegan, gluten free, etc. On the day of the wedding, the operation went like clockwork. They set everything up on their own, the pizzas came out quickly, and the guests loved the food. Everyone was super impressed with the whole setup as well. If you are trying to feed a large group of people for your wedding, there is no better deal out there and, honestly, this is will be the best wedding meal your guests ever have. (Several of our guests told us as much). I realize this is so enthusiastic it sounds like an ad, but they really are the best.

Carrie

Married on 06/08/2019

Great Experience for our special day

Bruce, Grace and the team at VWFP were great to wonderful to work with. From our initial tasting with them where the team was so gracious to host us at their restaurant, to all the back and forths to figure out the menu and specifics to finally executing on our wedding day. Our guests commented on how great the food and service was. To top if off, many of our guests raved that it was the best pizza they've ever had! Hats off to providing incredible food and for being such a special part of our day. Thank you again team!

Allison E.

Married on 05/18/2019

Beyond Delicious

(May 18th Wedding - Owls Hoot Barn): I highly recommend Victoria's Wood Fired for wedding catering! Since pizza is both of our favorite food, it seemed like a no-brainer to have it at our wedding, but our expectations were beyond exceeded by the Victoria's team! Our guests thought it was very cool that we had the wood-fired oven right there on the property and were even more thrilled with how delicious everything was. The pizzas were perfectly crispy, and all of the ingredients were very fresh and great quality. We decided on a buffet setup for the reception, and good lord the food was AMAZING. They really knocked it out of the park with absolutely everything they served. Guests were raving all night about how awesome the food was, and many noted that it didn't taste like "wedding food", since it was all so beyond good. They even worked with us to make sure we had a vegan option for the pizza, entree options, etc. which my few vegan family members were so excited about (and honestly everyone devoured anyway- shout out to whoever got tofu to taste that good)! Food aside, the staff were all incredible. Bruce, Grace, and the entire Victoria's team were not only professional and friendly, but really helped make the day go super smoothly and ensured that everyone had a great time. They were all really on top of their game, and made sure all of the details fell into place perfectly. Would hire again in a heartbeat. THANK YOU Victoria's Wood Fired team!

Jayne P.

Married on 07/06/2018

Best caterer ever!

Hiring Bruce was one of the best things we did for our wedding! From start to finish, everything about the process was wonderful! Bruce and his team were so professional and kind. They showed up early and did such a wonderful job. They made the entire night so seamless. The food was absolutely delicious! The presentation was gorgeous. All of our guests were so impressed! They were highly communicative and so easy to work with. Thank you!

Stephanie

Married on 12/31/2017

Bruce, Grace, and the whole Victoria's Wood Fired Pizza team were incredible. We hired Bruce for our New Year's Eve wedding. Bruce was flexible and offered his recommendations based on the size and feel we wanted to achieve with our wedding. The pizza is to die for. Bruce knows this, but my Father's side of the family is Italian and my uncle traveled from Italy for the wedding. He could not stop raving about how delicious the pizza was! If you're looking for catering that is memorable and flexible, look no further. The buffet set up was beautiful and everyone complemented the food. Bruce also allowed us to keep some of his equipment and return to him later since we had a cheese board setup late into the night, which was around the time he was leaving. Also, he was more than gracious with allowing us to come up to the shop in Bethel (from Brooklyn) to taste the different pizzas. Everything was fabulous and we cannot recommend him more highly. Thanks, Bruce & the Victoria's Team!!

bruce, grace, and the victoria's team is top-notch and the food they make is *DELICIOUS* - i can't say enough good things about how communicative, professional, and thorough they are. they catered our party and did not disappoint -- their pizzas were exceptional, both in variety and flavor. i highly highly recommend them.

Christa

Married on 09/16/2017

When we started planning our wedding, our number one "need" was to find a great caterer. After talking with countless options, we started to lose hope that we would ever find what we were looking for...then we found Victoria's. A little back story: we both went vegan over a year ago, and we decided early on that we wanted to share that with our guests on our big day. We figured of all days, our wedding was the one day where we shouldn't be the ones eating the side dishes while everyone else ate the main course! That left us with a big problem: how the heck do we serve vegan food to 85 guests who are far from vegan, and still have everyone raving about our wedding food? Answer: Victorias! The amazing thing is Victoria's isn't a "vegan" caterer, their options for catering go far beyond pizza. Bruce has such an extensive background in food that he didn't even hesitate when we asked what our options would be if we wanted a vegan wedding. After our first phone call we both knew we found what we had been looking for. Both Bruce and Grace were so helpful and quick to respond to any questions or ideas we had. In the end they helped us to created an amazing cocktail and dinner, from the bruschetta to the custom pizzas, everything was just perfect. The food was INCREDIBLE, and the presentation was so beautiful and elegant. We had A LOT of skeptics between family and friends when they found out the menu was going to be vegan. Not kidding...our guests were coming up to us and APOLOGIZING throughout the night because they couldn't believe how delicious the food was! It's been almost a month since our wedding and we are still hearing friends and family say "oh my god your food was the best wedding food we've ever had!" Seriously, whatever you are dreaming of for your wedding menu, call Victoria's. We can't thank them enough for making our food dreams come true!

Samantha

Married on 09/08/2017

Bruce and the team at Victoria's are amazing. I am still blown away by the service, food and professionalism. I am so grateful to them for making our wedding memorable. All of our guests are STILL talking about the truck. I highly recommend hiring them for any event. My husband and I plan to stop by sometime because we just love them and their pizza. Thanks so much!

Alyra

Married on 07/30/2017

Victoria's catered our welcome dinner deep in the Catskill mountains, and went above and beyond to provide DELICIOUS pizza that accommodated the various dietary restrictions of our family (celiac, dairy-free, vegetarian, etc). Each pie was made fresh and served immediately, though few pies actually reached the buffet table as our guests eagerly sought out server bringing each fresh pie. Bruce and Grace were amazing to work with - we highly recommend them for any catered event that they're willing to drive to!

Christie

Married on 06/10/2017

We need to go back to their main shop in CT to eat more ASAP! Bruce and his team entertain and speedily deliver the best pizza pies and food- people were surprised by out food choice, then could not stop complementing how it was soooo delicious! Great wedding food truck and truly a joy to work with- so helpful and wonderful, seamless service all around! Best, Christie and Pat

Jen

Married on 06/03/2017

Bruce & the Victoria's Wood Fired crew were amazing at our wedding! We've gotten nothing but compliments from our guests on the pizzas (of course), as well as the cocktail hour carving station and brownie desserts. They absolutely hit the nail on the head for making something fun and joyful feel upscale at the same time. This was no surprise at the wedding, because Bruce invited us to his place in Connecticut before we finalized our contract and made several pizzas for us to try. We were blown away, and it was easy to go into the wedding confident that our guests would be too.

Megan

Married on 06/18/2016

We had Victoria's cater our welcome dinner in Catskill, NY and it was a flawless event. We were able to enjoy every minute of the party knowing we had the incredible staff from Victoria's taking care of everything. The staff was accommodating, professional, and delivered some AMAZING food. From the delicious salad and appetizers to the incredible pizza (absolutely one of the best pizzas I've ever had--and I live in Brooklyn!), everything was perfect and a ton of fun. Everyone loved the wood-fired oven on the property and the gelato desserts were the perfect way to top it off. Bruce was great during the planning process and we created a great menu for our guests. Everyone was going on and on about how great the food was and everyone wanted to take some home with them!!! Victoria's is fantastic--thanks for a great event!!

Brian

Married on 10/24/2015

The first time I called Victoria's Pizza to inquire about booking them for my wedding, the owner Bruce spoke to me on the phone for 45 minutes explaining various options in a totally casual and non pressurized manner. I felt comfortable with him from the get go.

Throughout the entire planning process Bruce kept in contact as needed to make sure he knew exactly what we wanted come our wedding day.

Victoria's Pizza exceeded our expectations. The pizza was delicious and received rave reviews from our guests. The clam pizza was phenomenal, I could eat that every day!

Towards the conclusion of the wedding Bruce even offered to help us cut our wedding cake which was a truly classy gesture.

Kellie and I are thrilled with the service provided, and you would be well served using Victoria's Pizza for your event.





Absolutely the BEST !!! I cannot say enough about how fantastic /delicious the pizza, salad, and roasted vegetables were. The iced tea, lemonade, and gelato were just the right accompaniments. All who joined us on this special day raved about how good your food was. You better be on the look out for "party crashers" by any of us who may spot your rig somewhere. : ) Thanks so much Bruce (and your crew too) for making the food on our day truly unique and perfect !
Anyone looking for a hassle free day with the best food imaginable just contact Bruce Lyons at Victoria's Wood Fired Pizza and Catering. You will be glad you did.

Mary

Married on 09/12/2015

Our son was married in September 2015 and we had Victoria's Wood Fired Pizza cater the rehearsal dinner at Stoneover Farm in Mass. Being from southern CT, I could not find a pizza truck in our area to accommodate us, but alas on line I found Victoria's and never regretted a moment since first contacting them.
I can't say enough good things about Bruce and his crew. Bruce was so easy to work with, always prompt and staying on top of things before hand. The day of the party, the truck pulled up and they went right to work. The set up was fantastic and professional. Bruce and his crew were helpful, not intrusive but polite and welcoming. And did I say the pizza was fabulous?? All the food was wonderful!!! . I would not hesitate to recommend or use them again. They made a very special time for us just perfect!!!

Karen

Married on 07/27/2015

In New York City, you can spend THOUSANDS of dollars to cater a wedding. My husband and I set out to defy the odds, and get great food at a much more reasonable price. ...AND WE DID!!! Just one state over in Conneticut!
Bruce Lyon gave up hours of his time one evening, to talk me through his menu top to bottom. Him and his lovely wife Grace then welcomed us into their home, and cooked us the most delicious pizza dinners we've ever had. We were sold immediately.
At the wedding, all of our guests were RAVING about the food. We were concerned that people may judge us for having a pizza dinner at our wedding, but not a single person thought it was anything less than perfect.
We were able to "fancy" it up in the cocktail hour by serving filet mignon, and chicken skewers (along with a variety of veggie and anti-pasto platters). But people are STILL talking about the main event, those pies. SOOOOOOO yummy!!! Bruce was beyond accommodating of all dietary needs, and everyone left completely satisfied.
I can't recommend them enough! The personal attention, impeccable service, and of course...that delicious, delicious food.

Kathy

Married on 05/23/2015

Looking for something new that will wow your guests? Tired of the sit down chicken, beef, fish entree? Our recent experience with Victoria's Wood Fired Pizza catering was beyond our expectations! Bruce and his staff were exceptional from the planning phase right though the presentation the day of the wedding! The compliments from our guests were constant and I only wish that this venue was local! Thanks to the staff for making my daughters wedding one to remember and to be talked about!


My fiance and I were determined to have a pizza truck at our wedding. We were married up in Catskill, NY and other trucks either wouldn't come up that far, or were charging ridiculous fees (one quoted in the price of a flatbed to cart the pizza truck!) but after much searching, we found Bruce who was like Manna from Heaven!

He was quick to respond to all of our emails and we felt like he was genuinely excited about our wedding which kept us at ease during the whole planning stages. Victoria's was based out of CT, and unfortunately we didn't even get a chance to try any of the pizza before the big day, but based on the menu we were pretty confident that it would at least be decent. We were wrong. It was INCREDIBLE.

The day of went without a hitch. Bruce had already scoped out our site and had a seamless setup. When the pizza came out, you could see everyone sniffing the air and turning their heads and everyone mobilized to the table immediately. Being the bride, I got two slices right away and they were HEAVEN. The whole time I was jumping around saying hi to everyone, almost everyone mentioned how amazing the pizza and food was! I didn't even get to try the salad and gelato, but almost two months later I am still hearing all the positive feedback. Bruce and his staff were incredible beyond words and we can't wait to throw another party and have them back!

John

Married on 06/16/2018

Bruce & Grace were awesome! We hired Victoria's as our caterer for our wedding at the Catskills Mountain House. Bruce is an extremely humble and accomplished culinary chef. Ask him about his past experience! He has a clear love for people and a passion for food. The two came together perfectly for our wedding, not to mention the pizza is some of the best I have ever had. Our guests raved about the pizza! I hope we stay connected with Bruce & Grace. Genuinely great people with a fantastic business concept.
Are you interested?
Send a message