52 Reviews
Recommended by 100% of couples
Quality of service

5 out of 5 rating

Average response time

5 out of 5 rating

Professionalism

5 out of 5 rating

Value

5 out of 5 rating

Flexibility

5 out of 5 rating
17 User photos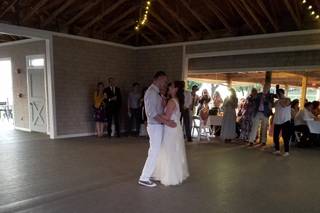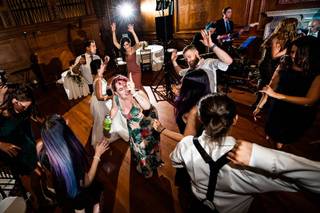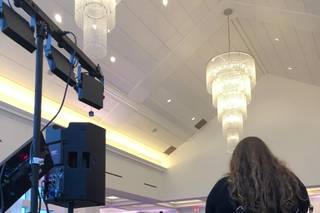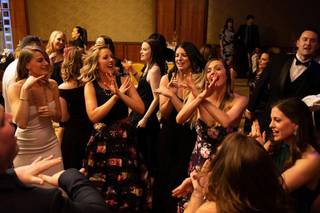 + 13

photos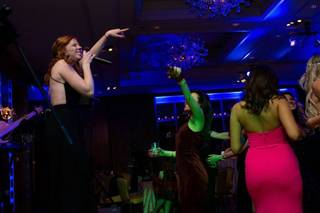 Featured

Tina

Married on 10/22/2022

Best. Band. Ever.

Five stars isn't enough. From flawless, gorgeous solo piano at the ceremony, to classy guitar jams at cocktail hour, to fun and friendly MC-ing at the reception, to an EPIC performance after dinner, I can't rave enough about Vibrant. Every musician in the band blew us away with their talent, stage presence, and superhuman stamina. Guest comments ranged from "this is the most fun I've ever had at a wedding" to "this is the best wedding band I've ever heard" to "where the HECK did you find these guys?"

(My favorite, from a curmudgeonly relative, was "I don't like weddings, but this band makes it a great party". If anyone has the guts to say that to a bride on her wedding day, you know the compliment is sincere.)

From the moment we first emailed Justin, he was communicative, up-front, friendly, and thorough. At our final meeting, he left us feeling like our wedding was in good hands. When we spoke to our day-of coordinator before the ceremony, she said (quote!) "I spoke to Justin from the band; he's a real professional and has everything under control."

Logistics aside, the music was absolutely INSANE. No online recording could possibly do their range, energy, power, and raw talent justice. We had an eight piece band with horns and oh my GOD were they good. I'm talking seamless transitions between Whitney Houston, Walk the Moon, The B-52s, and Blink-182 kind of good. The musicality and balance was truly professional; some of the songs they chose had mind-melting solos from the trumpet, sax, guitar, and bass that were absolutely *nailed*. Their crowd work was as good as their phenomenal performance, and they kept me and my guests (kids included!) out on the floor until closing time. My little nieces were up at the front the whole time, starstruck. I was equally starstruck. They were *that good*.

Vibrant, thank you for turning our wedding into the best dance party I've ever been to.

If you're planning a wedding and are on the fence about whether hiring a live band is worth the investment and risk, DO IT. The energy they bring will make your day 10x more magical, I promise.

Elan M.

Married on 10/15/2022

Best Decision We Made!

Hands down best choice we made for our wedding! Justin was super easy to work with and was such a huge help in providing mics for our officiant and playing music during the wedding and happy hour. When the band started playing live music after dinner people immediately got up to dance and didn't leave the dance floor the rest of the night. I had numerous people asking me who the band was and the owners of the house even asked for their details for future events! This band is incredibly talented and we are so glad we booked them!

L Bijur

Married on 08/27/2022

Vibrant Entertainment is THE wedding band of New England!

We hired the full band (trumpets, trombones, male & female lead singers) and could not be happier with our decision. They made our event SO MUCH FUN. They brought great energy and the quality was exceptional. Furthermore, we had some odd requests for processional and recessional music and even at the last minute were super accommodating. Justin the band leader was so kind and even planning a wedding from afar gave us full confidence that the event would be a success. I cannot recommend this band enough. Thank you Justin & Company!

Are you interested?

Send a message

Sara L.

Married on 06/19/2022

Fantastic!

During and after the wedding we received tons of compliments about how great the band was and how energetic they were. One of our guests even said it was the best band he's seen. They really brought in lots of energy and we really liked how they engaged with our guests. Justin was great and super communicative and flexible throughout the planning process. Would highly recommend!

Leann

Married on 08/28/2021

Don't hesitate!

Do notttttt hesitate to hire Vibrant for your wedding! We've been communicating with Justin for many months as we had to postpone our August 2020 wedding to August 2021. Throughout the entire planning process he was patient, professional and very responsive. Our big day came and went and we had a BLAST! They built the perfect playlist for our reception and we danced the night away and received so many compliments on their performance! Thank you for an unforgettable evening!

Emily O.

Married on 08/28/2021

Perfect band for our wedding

Vibrant Productions absolutely KILLED it at our wedding! Having a band was #1 on our list of wedding must-haves, and they blew us out of the water with their performance. Our guests did not stop raving about the band either! Not to mention, they were fabulous to work with during the planning process. Would absolutely recommend Vibrant to anyone who is looking for a top-notch wedding band!

Erin A.

Married on 08/07/2021

Vibrant -Above and Beyond!

If you're looking for a well organized, communicative, professional, affordable, outstandingly talented band who will make your celebration incredible, look no further! Vibrant fulfilled all we could have hoped and dreamed for our wedding reception.

From the start they were amazing. Justin was very kind and supportive with email correspondence and our requests. On the day of they were timely, friendly and also flexible with a VT backyard wedding celebration. They did an awesome job with learning a requested song and kept everyone dancing all night long. They were fantastic when it came to interacting with the crowd (the lead singers danced and sang with our family and friends) and keeping the energy level high. I was so appreciative that they kept checking in on me during the event and calling me out to the dance floor to have fun with my friends and family. My Dad had a smile plastered to his face all evening because of Vibrant. Everyone raved about them during and afterwards. The most asked question of the night, "How did you get this band!?" Our family and friends are already requesting that we throw an anniversary party and have Vibrant again!

We cannot thank Justin and the Vibrant team enough for helping us, our family, and friends create priceless memories. Cannot wait to have you back in VT soon!

Anthony

Married on 07/24/2021

Unbelievable time

Unbelievable band and an incredible time all thanks to Justin and the Vibrant production team.

I have been to three other weddings where Justin and his team played and they really impressed us. So we decided to book them for our wedding and were blown away.

Every single person danced the entire night away. All my family and friends talked about was how awesome the band was the next day.

Huge thank you!!

Vibrant Entertainment's reply:

Thank you so much! We had a blast with you and your guests. It was a pleasure to work with you! All the best!

Sienna M.

Married on 05/29/2021

Everything and more

We loved Vibrant. Could not have been happier. From the get go they were so easy to work with and really bent over backwards through the pandemics and all the re-scheduling. They really made all our dreams come true!
Starting with the beautiful ceremony music that created such a gorgeous atmosphere for our guests to arrive to. The pianist played my favorite Beyonce song, halo, and did an amazing job. It was the perfect setting to walk down the aisle.
The band kicked in and brought the party to a whole other level. They were so accommodating to add our requests and play all the songs we asked of them. They kept the dance floor packed until the place kicked us out.
If you're lucky enough to grab this group, and especially the singers, who were amazing! You've got yourself a great wedding!

Brianna M.

Married on 05/22/2021

Vibrant Made It Happen!

If you're looking for a fun, young band with exceptional talent, I highly recommend Vibrant!
Justin and Vibrant were so great to work with.
If I could give them 10 stars for flexibility and reliability, I would. We had to reschedule our wedding several times and they were so helpful every step of the way. Such a relief!

The band was phenomenal and kept the party going until the very end. Even though we had to reduce our guests from 200 guests to 50, you'd never know it from the packed dance floor The energy in the room was amazing! They also allowed my Maid of Honor to join them for a special performance that made the night even more incredible than it already was.

In addition to the reception, they went out of their way to set up mics for our officiant and readers during our ceremony. We also had the guitarist preform instrumental covers of pop songs during the ceremony processional and some jazzy tunes during cocktail hour.

If you're looking for above and beyond, personalized service, and incredible music for every part of your wedding, look no further!

Joanna K.

Married on 04/09/2021

Better than we could have imagined

Vibrant really went above and beyond to make our day special. Our ceremony was out on a golf course where there was no power. They worked with us to provide mics for the officiant and musicians to perform our music selections. They made a difficult situation seem easy. The reception was amazing! They learned several songs for us. Including our favorite Bob Marley and Springsteen songs. Rosalita was kickass! People can't stop talking about it. Guests danced all night. Thank you so much Vibrant!

Mariella K.

Married on 03/07/2021

Packed house all night!

Everyone raved about Vibrant. My dad was in BeatleMania for over 30 years and couldn't get over how good the band was. Music was SO important to us and Vibrant went beyond our expectations. They had a beautiful ceremony with Violin and Piano out on the lawn. They provided us with mics for the officiant. The reception was fantastic, from Justin's hosting to the band's performance. The dance floor was packed all night!

Meriam

Married on 04/11/2020

Beyond Our Expectations!

We were absolutely ecstatic with Vibrant's performance. We could not have been happier. Everyone has been raving about it since the wedding, still. They really out did themselves and blew us away with how easy it was to work with them. They came through big time! Thanks again!

Brooke D.

Married on 02/12/2020

Vibrant- Great band and great to work with!

Vibrant was absolutely fantastic. Justin was so easy to work with and there performance really made a huge difference on a day that ended up being very challenging. The weather did not cooperate and led to many last minute changes and challenges. Justin did a fantastic job making sure the ceremony, cocktail hour and reception was still phenomenal. I can't say enough how much they made this day really great and stress free. Thank you all again so much!

Sydney W.

Married on 12/10/2019

Everything we asked for and more

Vibrant was fantastic! I would highly recommend them to anyone. Very attentive to details and committed to the vision of our wedding. The dance floor was packed all night. We loved partying with Danielle and Jimmy!

Sara C.

Married on 11/05/2019

If the Venue didn't shut us down, we would have had them play all night!

Thank you so much for being a part of our wedding, and being so flexible and easy to work with. You all made it such a memorable night. From the Ceremony pianist to the band packing the dance floor all night, You guys were awesome! Too bad the place wouldn't let you guys keep going, we would have had you there all night.

Elizabeth

Married on 09/28/2019

The J. O. Trio was an ideal group to work with. Justin was responsive, accommodating, and easy to contact by phone and email. Their performance was perfect for our event- loud so everyone could hear the music, but guests were able to talk. They also brought all equipment and only required an outlet! Professionally dressed. I highly recommend! A great price for value.

Vibrant Entertainment's reply:

Thank you so much! We had a blast! We're so happy to have been a part of your day.

Sara

Married on 09/07/2019

Vibrant was incredible!

In addition to being extremely talented musicians who know how to read a room and keep a party lively, they were also extremely professional and really easy to work with (for both booking & event prep). Friends and family have gone out of their way to tell us how much they loved the band!

Kevin B.

Married on 08/17/2019

Great Performance and Highly Professional

Vibrant had a terrific performance at our wedding, we danced all night with most of our guests! Many people said that it was the most fun that they have ever had because the band was able to build the energy throughout the night. They played a few songs which we requested and otherwise were able to adjust their songs based on the energy in the room. They were also very professional yet flexible in working with us throughout the planning process. We are elated with how everything turned out!

Jennifer N.

Married on 06/08/2019

Vibrant in Vermont!

It was a wonderful experience to have Vibrant perform at our wedding. They were incredible and very accommodating. We sprung a request to do a first dance on them only an hour or so before the wedding and they put it together for us playing a great cover of Thinking Out Loud. We had a backyard wedding in a very rural area for about 150 people. We had all kinds of issues with the generators, but Justin and crew really helped us and got them working. Everyone danced all night and had a fantastic time. They are truly top notch!

Stephanie C.

Married on 06/01/2019

Vibrant rocked!

Vibrant was unbelievable. They were incredibly talented and kept the night moving and the dance floor packed. We had them for our ceremony, cocktail hour and reception. Justin was so accommodating and easy to work with. The venue required a lot of paperwork from the band beforehand and Justin got all of it in to them in no time. Made it easy on us for sure. We had to do the ceremony cocktail hour and reception all in the same area which made it tricky but the band worked through it easily. We had a pianist perform for the ceremony and he did a great job with all of our selections. I can't stress how easy it was to work with them. Cocktail hour was a beautiful jazz trio that fit perfectly with the venue. And later the reception kicked off and we had a blast all night long. Thank you so much.

Katherine P.

Married on 04/05/2019

I wish all my vendors were this good and this easy to work with!

We had Vibrant perform at our wedding this past week and couldn't have been more happy. They were SO easy to work with. It was such a breeze to plan with Justin, he was fantastic to work with. The singers are phenomenal and the whole night was just fantastic. Thank you so much.

Sabrina

Married on 03/23/2019

Best Event Ever

We had Vibrant perform for our yearly fund raiser recently. They were fantastic, so versatile. We were hoping to find a group that could cover a wide range of music and mood settings. They had a wonderful pianist for cocktail, then small group for light music as a background for dinner. It was beautiful and didn't interfere with the mingling or conversations. Later they shifted to the full band and blew the roof off the place. The dance floor was packed all night. We will definitely have them back next year for sure!

Jamie W.

Married on 02/07/2019

Fantastic! I had to leave a review...

I know this is a wedding site but I had to leave a review about them anyway. We had Vibrant perform for our Alumni Casino Night here at Northeastern University. We could not have been happier. They are excellent performers, and true professionals. The planning was easy. Justin was very easy to get a hold of, and great to work with.

Alice

Married on 10/27/2018

Look no further, even the pro's were impressed!

Justin and the entire Vibrant band were outstanding! Their energy level drew people to the dance floor who I never expected to be dancing. Our guests, and even our professional photographers, videographers, and restaurant staff were asking "what band is this? they're amazing!" They definitely have a new set of groupies.

The planning process leading up to the day was seamless. Justin was very flexible with our last minute changes moments before our introductions the day of, which really speaks to his ability to handle situations.

So glad I found this band online via other online reviews. Hope this helps others make a confident choice in Justin and the Vibrant band. Out of all the wedding planning decisions, this is an easy one to make!
Are you interested?
Send a message