72 Reviews
Recommended by 36% of couples
Quality of service

1.8 out of 5 rating

Average response time

1.9 out of 5 rating

Professionalism

1.8 out of 5 rating

Value

1.8 out of 5 rating

Flexibility

1.8 out of 5 rating
4 User photos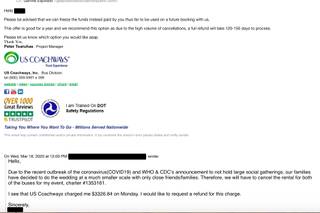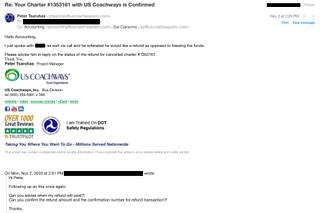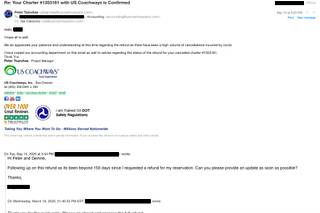 Sylvana

Married on 08/07/2021

Very prompt, professional, and flexible

Please note - I didn't actually end up using them for my wedding day as we ended up scaling back significantly due to Covid. That being said, I had multiple interactions with them by phone and email. Every single email and call was responded to promptly and professionally. They usually answered within hours, longest was 24 hours. I had to cancel and they refunded my money. It did take quite a while to receive it but they always answered my emails or calls quickly with an update. Based off of their professionalism and flexibility, I would definitely recommend!

Morgan V.

Married on 10/17/2020

Reliable!!!

Very reliable and responsive. The bus arrived on time and departed on time. Very, very reliable.

Nancy

Married on 06/15/2013

US Coachways, Winter Park, FL

We rented a bus to shuttle the groomsmen and bridesmaids back and forth between the wedding ceremony and reception venue in Winter Park, FL. The bus was very clean, actually brand new, and on time. The driver was polite, friendly and very accommodating. We had him shuttle back and forth numerous times and also sit in parking lots waiting for different groups on occasion. He looked out for the bride and groom and all passengers. He played celebratory music in the bus, which made it a lot of fun! Thank you for taking such good care of us!

Are you interested?

Send a message

Nicole

Married on 10/24/2009

Allen

Married on 08/02/2007

Booked them for transportation of guest 4 days before the event. The original transport fell through. Very quick to respond. Great service...the guest were happy. Very prompt...they made a 1.5hr trip pleasant for the guests. Highly recomended. Since it was last minute I cant really judge the price accuratly. They were a bit more expensive than my original vendor but that would be expected due to the timeline.

Catherine L.

Married on 10/16/2021

Responsive and very nice driver!

Both of the shuttles for our Golden, CO wedding showed up on time! We were really worried about the guest shuttle because we had originally contracted that service with another vendor, and when we heard that that other company was leaving guests stranded, we immediately switched the shuttle service over to US Coachways. Michele was incredibly helpful and responsive. Our driver for the Bridal Party Shuttle on the day of the wedding was AMAZING! He was so nice and pulled off a difficult turn on a small road. Would highly recommend!

Kathryn

Married on 10/10/2015

I have read the negative reviews from other users, and had a very positive experience with this company. Perhaps it depends on the part of the country? I am located in Fairfield County, CT. I booked a mini-coach bus (24 person) to pick up my husband and the groomsmen at his house, drop them at the church, pick up me (the bride) and bridesmaids at my house, stop for pictures on the way to church, wait at church during the ceremony, stop for pictures after the ceremony, and take the whole bridal party to the reception. We also chartered a 60 person coach bus to make two trips from the hotel with our guests to the reception/cocktail hour, and make two trips from the reception back to the hotel. We booked about a year before the wedding, and the consultant was wonderful and took time to go through all of the options and help us save money. I was able to login to a website and view all of our charter quotes, and manually added all of our itinerary addresses and stops for each vehicle. They took a deposit, and did explain that it only included a 5% gratuity for the driver. We chose to bring tip envelopes for them to bring it up to the normal 18%. The staff answered every question I had in a timely manner through the phone or e-mail, and I could always login to the site to request changes. They sent text messages when my itinerary was confirmed by the company as well as dispatch information for the day of the event. The drivers arrived on time and had GPS systems with all of our itinerary stops and addresses. They were pleasant, professional, and courteous. On the way home, the coach bus did have some trouble with windows fogging and the defrost not working quickly enough, but the driver did a great job navigating the dark and windy roads and getting us to our destination safely. Professional company from my experience that did everything we asked, as expected. My guests were happy they didn't have to drive, and we got to each stop on time with no issues.

Jenny

Married on 06/27/2009

I found their website online and was a little nervous that the company was nation wide, but book a party bus with them anyways. I kept emailing this guy to send me pictures of the limo, just to make sure I didn't just reserves a dirty, old school limo bus, he assured me that all their vehicles were nice, new, and clean. Thankfully when it came the limo bus was awesome, it fit our entire wedding party, and immediate families (32 people), it was one of the most fun parts of our wedding and it was so easy to book online. We also booked a town car to take us to our hotel at the end of the night through them and the same guy who drove our limo bus came back later with a town car for just us, he was very nice and very professional.

Trudy

Married on 06/11/2010

had my wedding in june and let me say that the experience i had booking my wedding limo and also shuttle service from US Coachways was beyond dream-like! soooo helpful. trust me, i wasn't in the right frame of mind when i spoke to this girl, Sally. but she was calm and helpful, understanding and accomodating towards my demands (bad mood and all). i think she meditated while talking to me. i have profound respect for this girl now. :)

Dawn

Married on 11/17/2018

Professional bus company

I booked US Coachways for our wedding in Stokesdale, NC. I believe they use other bus companies in the area and work as an overhead. I initially had some issues trying to get into contact with them to make some changes after booking, but everything worked out and they were on time to take our guests in a chartered bus to our venue, and back. The cost was not bad, but the bus was a little older than I expected based on pictures on their site. It was clean and got the job done, though. I would recommend, just know it's not JUST like the pictures.

Donald

Married on 06/09/2012

gary, the person we dealt with, was flawlessly professional in every aspect. handled our wedding limo and guest shuttle services seamlessly. the limo was grand and the shuttle bus amazing, beyond our expectations.

Megan

Married on 07/09/2010

I was a little worried, initially, but my friend, Connie, told me that she used them before and that it was superb or something so, i thought, why not? My friend doesn't have a reason to lie to me or mislead me. Being a bit of a perfectionist, I worried nonetheless.

However, I wish that I didn't worry so much before because the wedding limo and shuttle bus for my wedding guests were excellent. The bus didn't have wheels at falling-off point, the bus driver was wonderfully friendly and professional in the way that he dealt with us and was on time.

The wedding limo was GLAMOROUS! So, yes, the experience was a good one. The quality was absolutely there :)

Ileen

Married on 07/16/2010

first time we hired a bus for a bachelorette party as a present from my husband. he just told us to get on the bus and have lots of fun! and boy, did we? i don't remember much of everything but the bus was surely heaven-sent.

and yes, i went on to use their wedding limo and a shuttle bus for the wedding guests. they all appreciated the nice buses

Vernon

Married on 06/11/2010

my cousin recommended them and am happy that everything worked out great. the bus was clean, comfortable and extremely cost-effective :-)

Lauren

Married on 05/07/2011

We booked a large bus to transport out-of-town guests on our wedding day. The booking agent was very responsive and helpful. The bus was clean and on time, and all went smoothly. The only glitch came at the end of the evening, when the driver had fallen asleep and wasn't answering his phone. It was raining and we weren't quite sure where he had parked, but an uncle quickly found the bus and knocked on the door to wake the driver! Just a bit of excitement, but overall, a good experience.

Peter

Married on 04/16/2010

Used their bus and wedding limo and it was great. Would recommend them as they have a wide network of centers all around the country so, it is pretty much a one-stop shop for transportation.

Jane

Married on 11/19/2011

Dear future brides!

We used this company to get our guests from the hotel to the church and then reception, and back again. When discussing the trip, we found out they do limousines as well. We were able to get a few xtra dollars off all by ordering both from one company so that was kinda neat.

Otherwise, they did a good job with everything on time. The driver John was very nice to our guests.

Hank

Married on 11/19/2009

working with US Coachways for my wedding was incredible. this girl on the phone was super-friendly and even when my wife took over the communication, she was flawlessly helpful. the wedding limo was luxurious (as per website images). i would recommend their services to people that I know :-)

Lotus

Married on 08/20/2010

my company uses US Coachways for our transport needs whenever we have a corporate event and road shows...A LOT. and i have always been quite impressed with their staff. so, naturally, i used them for my wedding.

the record continues to be clean...on the dot, comprehensive fleet of limos and buses and professional all the way!

Maryse

Married on 08/31/2018

I recently booked US Coachways for a trip (From Manhattan to Southampton and back again after a sit and wait of 4 hours) because they were the most responsive and most reasonably priced when I quoted a bunch of different companies in New York. After making the booking, there were a few little things that caused me some concern (I was struggling to get on to my rep, the itinerary was slightly wrong and I was bugging them to fix it) so I started to search for reviews about them and I started to FREAK OUT. Wedding Wire reviews in particular made me pretty much panic and have a mental break down. I basically assumed the company was completely dodgy and going to scam me, or the bus was going to break down, or just not turn u - based on the reviews here.

I proceeded to borderline harass the company the Saturday before my event - they don't really have customer service over the weekend and my rep was out but eventually I got on to someone through dispatch and a lovely lady called Salee spent about an hour and half reassuring me everything was good to go. The next day, I had an email to confirm the bus was on it's way, a personal phone call from dispatch and the driver could not have been more professional or polite. Plus the bus was really nice, much nicer than I was expecting.

I don't know why they seem to get it wrong so many other times and it seriously concerned me after booking but I will say that my day of experience was close to perfect.

Maggie R.

Married on 10/15/2022

Amazing shuttle drivers, corporate was so-so

We hired US coachways for our wedding and to be honest, planning with them was so-so, but the execution was great in the end. They sent us a standard contract with timings for the bus to go back and forth between the hotel and the venue. Standard stuff. Our wedding planner mentioned that most bus companies are flexible with timings, and they'll gauge trips at the end of the night based on how tired guests are looking. When we tried to set up such an arrangement, our point of contact was adamant that they had to stick to a hard schedule and there was no flexibility in when they would make those trips. HOWEVER, the bus drivers were so nice and accommodating and willing to be as flexible as we needed. They were prompt, shuttles were clean and had bathrooms, and they even helped some guests that drank too much and were stumbling. Don't understand how there's so much of a disconnect between the amazing drivers and corporate.

Sarah

Married on 06/01/2013

I would never book with US coachways again. The driver was very rude to my guests and got lost three times on the way to the wedding ceremony arriving only as the ceremony started.

Vane

Married on 04/26/2008

The buses were nice, but at the end of the night, people were left waiting on the bus for a good 20 minutes with no driver in sight, and another bus just left without people. Not exactly the kind of service we were looking for.

Jill

Married on 11/10/2012

We used U.S. Coachways to rent a 56 passenger bus to transport our guests from the hotel to the reception. We chose this vendor because they had the best price, but the service was mediocre. I had to negotiate a lot on the contract as I wasn't OK with the terms and the person I worked with wasn't terribly responsive. I ended up just making the changes I wanted in the contract and they signed off on it. Then, I was supposed to pay a 30% deposit up front and then the rest 30 days before the wedding. They charged me the full amount up front without telling me and then they actually over charged me with an admin fee that was negotiated out of the contract. It took 2 months for them to refund me the amount that they over charged and about 10 emails back and forth. In general responsiveness wasn't great. They only confirmed with my wedding planner less than 24 hours before the wedding despite several calls from her.

The service the day of the wedding was largely fine until the end of the night. The bus was clean and our guests were happy with it. At the end of the night, we had more guests stay until the very end of the wedding than we expected so when what was supposed to be the last bus came, about 15 people couldn't get on the bus. My wedding planner was working with the driver and he was pretty rude to her about coming back for an extra trip. My husband and I had left at this point but would have paid extra to make sure all of our guests got back. The driver also wasn't very helpful in making an extra stop at a bar for the after party, even though it was in the contract. I realize that we were asking the driver to do something that he wasn't paid to do, but he could have been more helpful to work out a mutually agreeable solution. He ended up coming back for an extra trip, but by that point, most of the guests who were left took a cab back to the hotel. This company is reasonable, but just be extra clear about expectations up front.

Jalanda

Married on 09/06/2009

The bus drivers just simply did not know where they were going, which is ridiculous becasue isn't that their sole job? And with GPS and google maps, how could you not figure it out! Luckly i gave all the transports twice the amount of time it took to get where they needed to go. It's a little worrying to know that your guests who are unfamiliar with where they are, are on a bus with i driver who knows no different. The one time i had to ride on one of the bus transports (we had many) i immediately was like "where are you going?!" my brother had to sit in the front and give him directions from his phone. Why can't these companies get GPS's?! i have one and it's not even part of my job! Oh, and calling the office to talk to someone about your contract? FORGET IT! everytime i'd call they put me on hold and then i could hear them hang up on me. And i went through like 3 supervisor changes...it took them a week to "work on" a change in my contract...with me calling every other day the check in on them...i mean at the end of the day, everyone got were they needed to go, but i just didn't like the stress in between...
Are you interested?
Send a message