105 Reviews
Recommended by 100% of couples
Quality of service

5 out of 5 rating

Average response time

5 out of 5 rating

Professionalism

5 out of 5 rating

Value

5 out of 5 rating

Flexibility

5 out of 5 rating
52 User photos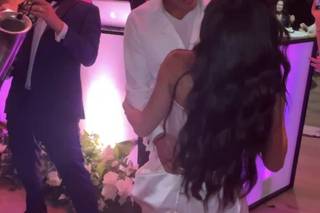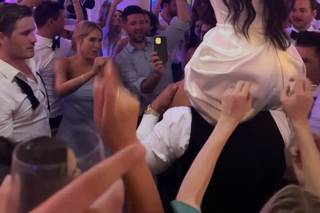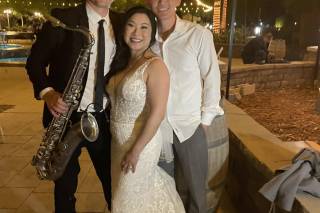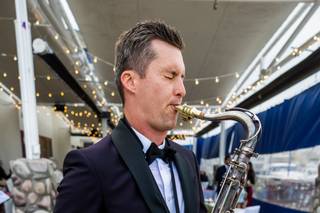 + 48

photos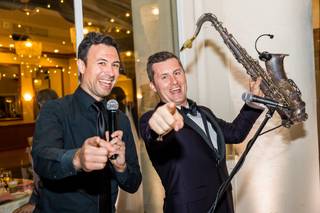 Featured

Jeff S.

Married on 07/17/2021

Best Decision of My Wedding (Other than my wife!)

Tyler is the best in the business. The GOAT. A Renaissance Man. An absolute legend. Stop your search as you have found your guy.

From a music perspective he is incredibly talented. His sax game is electric, piano on point and Dj/Emcee perfect. Our dance floor was rocking all night. Did I mention how epic the surprise sax appearances are?!

As a person, he is so calming, kind and thoughtful. Weddings are stressful enough and the entire process with Tyler was seamless and fun. He's knowledgeable and really tries to tailor each experience to the couple.

My wife and I have not stopped receiving compliments about how amazing Tyler was. Tyler was the best decision we made (other than marrying each other). Can't wait to have him party with us at another life event in the future!

Hayley A.

Married on 11/11/2022

The best investment we made

Tyler was hands down the best investment we made for our wedding. Every single person couldn't stop talking about how good the sax guy was. He was accommodating and communicative and gave great insight and suggestions. He knew exactly what to play, when to play it and MC'd the night flawlessly. He is essentially a 3 in 1 deal and a memorable addition to any wedding and event. I want to get married again just to have him play! Thank you Tyler for making the night unforgettable!

Austin W.

Married on 11/05/2022

Hire.This.Man!

WOW! Do yourself a favor and book him! Tyler is absolutely amazing and made our wedding day so special. My body is still sore from dancing so much. His sax/DJ skills are unmatched! I can't imagine our wedding without him. He took the time to get to know us prior to our wedding and made sure everything we wanted was incorporated into our day/night. Thank you so much, Tyler!

Are you interested?

Send a message

Joseph V.

Married on 10/22/2022

Tyler is the greatest!

If you've come across this review, all I have to say is: Don't hesitate and book him while you can! When my wife and I saw Tyler perform and DJ at my best man's wedding, we knew that we had to have him at ours! Even though our wedding was about 15 months later after meeting Tyler, we contacted him the next day so that we can retain him for our wedding day. We had him perform saxophone for our cocktail hour and reception and he was a hit! People could not stop talking about him the day after!

Communication with Tyler was effortless, and he was able to work alongside our lifelong DJ to provide a very smooth transition between mp3s and Tyler's track list. He was even able to learn songs that wasn't on his track list, but was mandatory for our special moments such as first dance, mother-son, and father-daughter dance. Having Tyler play the saxophone live during these moments made these even more memorable! I wish I could have another event so that I can party to Tyler's music again! Maybe that wish will come true, as many of my guests grabbed his business cards and stated they want to book him for their events: maybe even just a family party! Trust me all, he was that good!

Kassia V.

Married on 10/01/2022

Best everything

I cannot stress enough how lucky my husband and I were to have Tyler for our wedding! Seriously, he's an all-around entertainer. Live saxophone/piano, DJ, and emcee?? What more could you ask for?!

First off, during our planning meeting, Tyler was so attentive to what we exactly wanted for the music and vibe we wanted for all the different parts of our wedding. He even recreated music I wanted for our ceremony exit song; I wanted to have the ceremony exit song (with the live music) from the movie Love Actually, and it was difficult to find the song online, but he was able to recreate it so beautifully! He really matches the vibe you want for your wedding, and made it so personalized for us. He created so many atmospheres for our wedding: from classy/romantic to dance party/rave. And all with his saxophone mixed in!!!

If there was anything we felt like we needed guidance on, his suggestions were AWESOME (i.e. placement of lights/music during the wedding/reception so that guests would feel more involved and pumped up to party). We could tell that he really knew his craft.

Tyler even had some add-on lighting packages (up-lighting, light batons, etc.) to make our wedding look amazing! He was even able to accommodate us by coordinating with some pyrotechnics that I rented from another vendor, so that it would synchronize with the music! All around best best best music dude. **Make sure to get Tyler's lighting add-ons, they're SUPER WORTH IT**

Anyways, everyone at our wedding loved Tyler! Our engaged friends (and even our pre-engaged friends) are planning on having him at their weddings! He really made our wedding incredibly special. If you're looking for an awesome and unique music vendor to keep the party going for your wedding, Tyler's your guy! I would rate 6 stars if I could.

Kira R.

Married on 09/24/2022

14/10 Recommend!!!!

All I can say is..... WOW!!!!!!!! Tyler truly made our wedding day. I know people came to see us get married, but they didn't realize they were coming for a show and a dance party. Tyler frickin rocked it the whole day!!

From the keyboard before the ceremony, to you and our family friend singing making me hysterically cry down the aisle, to rocking it at cocktail hour (and remembering the songs we really wanted to hear), to perfecting mcing, to your At Last suggestion on the dance floor, to CRUSHING IT ALL NIGHT ON THE DANCE FLOOR.

I have never had more fun or felt more alive. We knew Tyler would be great, but he exceeded all expectations. Tyler truly made our wedding perfect. You have no idea how many people loved you. My friend's husband, who I have never seen dance at a wedding (not even his own) was on the dance floor ALL night. Also I am so happy we went with the lights and light wands. It truly made it an epic dance party. The curation of the playlist was perfect and the mix of songs all night was great for everyone.


Bret

Married on 09/03/2022

A true professional - and he actually cares!

Tyler made our wedding different, classy and memorable. Everyone absolutely raved about Tyler and his sax! Absolute game changer! Recommend him without reservation.

Bridget

Married on 09/03/2022

Game Changer!

Having Tyler play at our wedding ceremony and reception was hands-down the best decision we made in planning our day. I emphatically recommend him - his music, approach, professionalism, care and enthusiasm were all highly exceptional. Our wedding felt so fun and classy thanks to Tyler!

Belinda

Married on 08/20/2022

Best Decision We Made - Hire Tyler!

Tyler is one of the FIRST vendors we booked almost a year before our wedding. That is because we were immediately certain about that choice. It is rare to find someone who can be a charismatic emcee, lively sax player, and romantic piano player all at the same time. He provided romantic pre-ceremony music on live piano, playing both classic and top 40 hits. For our grand exit, he wrote his own live sax set to accompany our song choice and welcomed us into marriage at the end of the ceremony aisle. The guests were shocked and so excited to find out he played the sax too. The rest of the night was SUCH a hit as he found the right pockets during cocktail hour and the reception to come out into the crowd and jam on his sax. Tyler plans well in advance of the event, so the night went smoothly from start to finish. He knew how to read the room and found the right moments to play soft music for the crowd to mingle and talk, and the right moments to get the crowd jumping on their feet. After my wedding, so many of my guests told me that Tyler was the highlight of the night. My friends and family said they will require Tyler to play his sax at all wedding events moving forward because no other wedding will be the same! Most importantly – Tyler is a nice, sincere, stand up guy. He truly listened and remembered what songs I mentioned during our meetings. During my wedding, I smiled and looked at him when he played a bunch of my favorites throughout the night. It's little moments like that I will forever remember and appreciate. It is a true talent to do what Tyler does. He does it with grace and is always fun and professional. You will not regret hiring Tyler for your event -- It was one of the best wedding decisions we made!!!

Jessica S.

Married on 08/19/2022

11 out of 10

If you're looking to have an absolute blast at your wedding Tyler is your guy!! He went above and beyond to make our wedding night so much fun! Custom song for our first dance incorporating the saxophone, amazing communication with us the whole year, great energy, and super talented! Our guest were all amazed and we felt like we were at a concert at the reception. Nobody (including the bride & groom) wanted to leave the dance floor! 11/10!!!

Alex T.

Married on 07/30/2022

Absolutely Superb

Tyler was, frankly, perfect. Start to finish he was quick to respond, very thorough, and completely professional. But the craziest part was how good his performance was. Many of our guests, including us, were blown away. His performances on the dance floor were electric, and his ceremony and cocktail performances were beautiful. He's an impressive guy and if he's free on your weekend, do it. It will probably be the best part of your wedding.

Sammi F.

Married on 06/24/2022

Amazing performer

Tyler did an amazing job from start to finish throughout our wedding day. He played the piano during our ceremony, then brought out the saxophone during cocktail hour and our reception. We had a dry wedding (no alcohol) but our guests still had a lot of fun! I think a large part of the positive guest experience is music. Tyler worked with our suggestions of what music we like and everyone had a great time! I highly recommend Tyler Varnell for your wedding or other special event.

Kirstie

Married on 06/24/2022

Best Decision Ever for our Wedding!!

Tyler made our wedding so amazing!! I kept his card years ago and knew I wanted Sax music for our wedding and he exceeded our expectations. He was the best addition to our wedding and I could not be happier. He does it all!!! Sax, Piano, emcee & dj, it all was amazing. Pleasure to work with him on our wedding. Every song was a dream! We got so many compliments during the wedding and still receiving the most wonderful comments about our wedding because of the sax.

Jay T.

Married on 06/18/2022

Elevation Station

Just WOW - Tyler Varnell's contribution to our wedding experience was even more than we could have ever imagined! In addition to being an incredibly talented musician (he can literally improv over anything), he was incredibly professional, responsive, flexible, and went above and beyond to make our wedding day a customized experience. For example, he effortlessly infused top 40s and classic Bollywood music (which he learned specifically for our event) into our cocktail hour, giving all of our guests something to be effusively excited about. This brought a fun yet sophisticated vibe to our cocktail hour. Additionally, he seamlessly coordinated a saxophone solo into our first dance, complimented the DJ with a few saxophone covers during dinner, and even hopped on the dance floor and tore it up with some solos during peak party energy. Tyler truly elevated our wedding experience and will forever be someone we gratefully and fondly remember when reflecting on our special day. His musically abilities and commitment to us as a couple were outstanding. Would 100% recommend to any couple who wants maximize their wedding's musical experience.

Marisa D.

Married on 05/28/2022

Best DJ/Saxophonist/Pianist/Emcee/Party Dude EVER!

We just celebrated our wedding this past weekend and when I tell you Tyler was a hit, I mean he was a SMASHING SUCCESS!! All of our guests raved about him all evening and I continue to get texts from friends and family about how he was such a cool and unique touch. He was so kind and fun and accommodating through the entire planning process. And then day of he made everything run so smoothly. He emcee'd like a boss, killed it on the keyboard for our guests pre-ceremony and for our processional, and slayed the sax for our cocktail hour and our first dance. It was a dream. A true dream. And then the dance floor??? Don't get me started. I was PUMPED!! And so were my guests! Tyler kept the party going and nobody (especially me) wanted it to end.

I have to add…when I first started checking out wedding vendors, I came across a review for Tyler in which a bride and groom said they CHANGED THEIR FREAKING WEDDING DATE because Tyler wasn't available on their original date. Now I know why!! Book him. Book him now. No…book him yesterday! You will not regret it.

Janet L.

Married on 05/14/2022

Highlight of Our Wedding!

I want to kick myself in the butt for taking so long to write this review - reason being that there is no review I could ever write that would accurately portray how amazing Tyler is! I was honestly hesitant at first due to wedding budget and the fact he'd need to travel from SoCal to NorCal for us, but the stars must have aligned, because I reached out anyways and had absolutely zero regrets. He was awesome to work with right from the first meeting. I booked him as a surprise for my fiancé at the time and Tyler was so kind, approachable, and adaptable to all the ideas and custom pieces I'd pitch to him. In between all the wedding stress, he was the one vendor I'd always feel positive and optimistic working with. We could never thank him enough for all he did at our wedding - the custom ceremony songs, keeping our cocktail hour and reception unique and exciting for everyone, and then then his energy on the dance floor! Part of us felt so guilty asking him to try so many new things (EDM renditions of songs on sax), but he knocked it all out of the park. He was the highlight of our wedding and all our guests could not stop talking about him, even to this day! He was the most memorable part of our wedding (aside from the marriage of course)! We could never thank Tyler enough. What made the entire experience even more unforgettable and amazing is the fact that he didn't just provide a "service" to us. He was always kind, genuine, down-to-earth, and just all around a great person. He mingled with our friends and made himself comfortable with all of us, which put an even bigger smile on our faces!

Danielle S.

Married on 04/30/2022

Beyond Amazing

If you want entertainment, you can't go wrong with Tyler! He's amazing not only musically but personally. Best decision we made for our wedding. Book him! You will not regret it!

Kristen S.

Married on 04/22/2022

Best part of the wedding!

Tyler was amazing! We were told about through a friend and said we absolutely had to book him. We do not regret it! He was so amazing and made our wedding! He really listens to what you want and I would highly recommend him!

Rachel A.

Married on 04/10/2022

Flawless wedding entertainment!

Tyler was the talk of the night! We kept the live music as a surprise to our guests and, boy, were they surprised. I am so glad that google led me to Tyler with the simple keywords, piano, saxophone and DJ. He really does it all! Tyler and his associate are the ultimate professionals. We had some unforeseen circumstances and needed to rearrange our floor plan at the last minute, and they were so gracious and accommodating. Our guests got to dance under the stars to the sound of a live saxophone and it truly became the night of our dreams. I'll be recommending Tyler and his team to everyone I know, because I can't wait to party with them again!

Marie K.

Married on 04/02/2022

The best decision we made!

In search of a DJ/Emcee/Musician/Live Performer for your wedding? Look no further! Tyler Varnell is your guy!!

Tyler brought our wedding to the next level! His music selection was on point and he knows how to read the crowd. Our favorite moments were when he would jump in with his saxophone and we all went wild! Having Tyler perform at our wedding was the best decision we made to celebrate our special day and we thank him for doing an outstanding job!

Alik

Married on 01/30/2022

Amazing! 5 stars!

I don't have enough space to write how wonderful it was having Tyler preform at our wedding. He played the music for the ceremony, played the saxophone during cocktail hour, and was our DJ/MC for the reception. During the reception he made special saxophone appearances which everyone loved. People are still talking about how amazing he was. The reception flowed seamlessly. Tyler is super accommodating and easy to work with. Highly recommend!

Cory B.

Married on 12/04/2021

Don't think, just hire him

I can't say enough good things about Tyler. Don't even think about it and just hire him, he will single-handedly make your wedding day less stressful, and significantly more epic. Starting from when we hired him, he was a calming presence, very responsive, and gave us the confidence that everything was going to be OK. At the wedding itself, he is the single best wedding resource we've ever come across. The cocktail hour piano / sax, and the dance floor sax + DJ is an experience that every single guest will remember and wish they had though of at their own party. Again, don't think about it, just hire this man.

Tyler Varnell - Saxophone + Piano + DJ/Emcee's reply:

Haha right on thank you so much Cory! What an amazing night & many blessings to you and your bride Zoe!!!

Lindsey K.

Married on 10/16/2021

Incredible Experience- An Absolute Must Hire Vendor

Tyler Varnell is an absolute wedding/ event experience- we couldn't have picked a better vendor to play at our wedding. Not only is he an amazing musician, but he was able to become the star of the show and really rock the dance floor (or in our case, a second story balcony over looking reception). He can set a classy, romantic, vibey tone during cocktail hour and then turn around and play hits next to you on the dance floor during reception. He was even able to learn a few songs that were special to my husband and I to play at our wedding. Our guests were in literal awe at the talent and showmanship of Tyler- have you ever heard a sax play EDM hits?- this guys brought it! If you're not hiring him for your wedding, its a total missed opportunity.
Did I also mention his communication was always prompt, positive, and top notch? What more can a couple ask for?!

Dana

Married on 10/09/2021

Amazing!!!

Tyler was excellent! He made our wedding extra fun and extra special. Tyler was so nice, so calm and so professional! I would highly recommend him for any event!

Dahlim K.

Married on 10/03/2021

Best vendor we ever found

OMG. Where do I even begin?!

Tyler is AMAZING and so multi-talented. His piano brings out the emotion during the softer moments in the ceremony. His sax brings the perfect cocktail vibes right after the ceremony. And finally his DJ/MC/surprise sax appearances bring an energy to a wedding that is sooooo fun. You cannot find a better person for this than Tyler.

On top of that, he is so organized, friendly, and responsive. He is such a professional and a great guy all around. Hiring Tyler was the best decision we made for our wedding, and I'm so glad we found him!!!
Are you interested?
Send a message